Summary: This blog highlights problems such as loss of critical data after a failed macOS Mojave upgrade.

Further, it shares a method to regain the missing files from macOS by using one of the best Mac data recovery programs available in the market.

View the video for a crisp introduction and recover data lost after macOS Mojave update.
Resisting a macOS upgrade might be difficult for tech-savvy Mac users who like to keep their Apple machines up-to-date. While there is nothing wrong with riding the new wave, but it has certain caveats. Upgrading to a new version of macOS without necessary preparations like taking backups and gathering complete knowledge of system changes could lead naïve users into a world of troubles, the worst being accidental data loss. Thus, having detailed technical knowledge that can help you recover Mac files after macOS Mojave upgrade is the best fail-safe.
macOS Mojave Upgrade Data Loss Scenarios
The macOS Mojave upgrade though truly beneficial is often a risky venture for a novice. Here is a list of things that can go wrong during or after the upgrade:
Data Loss due to Lack of Backup: Before you initiate the process, your Mac will prompt you to back up your important files using Time Machine. If you have recently taken a complete Mac backup, you can skip this option. However, if you proceed accidentally without taking proper file backups, you are going to end up with complete data loss since your Mac installs the new macOS Mojave after erasing all previous files on the storage drive.
Failed Installation: Installation of the new macOS Mojave might fail unexpectedly leaving your Mac with neither the old macOS nor the new one. As a result, the volumes on your Mac could become inaccessible leading to data inaccessibility.
Excessive Disk Fragmentation: When you upgrade an existing macOS to macOS Mojave, the storage drive undergoes erasure of old system files present on the startup volume. This ensures excessive hard drive fragmentation, which may eventually lead to its corruption. Disk fragmentation issue exists only in the hard drive and hybrid SSD but not on pure SSD. Thus, if your Mac does not have pure SSD, you need to defragment your Mac hard drive before initiating macOS Mojave upgrade.
Access Permission Errors: After the macOS Mojave upgrade completes, the new operating system may reset access permissions to a few or all files to their default values and can cause the "Access Denied" error to appear. This can result in data loss.
Is Lost Data Recoverable?
When you delete a file accidentally or intentionally, macOS deletes the pointer to the file and not the actual file. Hence, the data still resides on the Mac storage drive; only, the macOS does not know how to find the inaccessible data from the storage medium. Your macOS does not physically delete data from the storage drive unless it overwrites the old data with new data.
Therefore, if you cannot find your data after the macOS Mojave upgrade, stop using the Mac immediately to avoid writing any new data on the storage drive. Refrain from downloading media or files, moving the location of remaining files, installing or uninstalling applications, or performing data edits as all these involve writing data to the storage drive. Ensure you did not perform any write operation, and then use Stellar Data Recovery Professional for Mac to pull back all the seemingly lost files from the storage drive.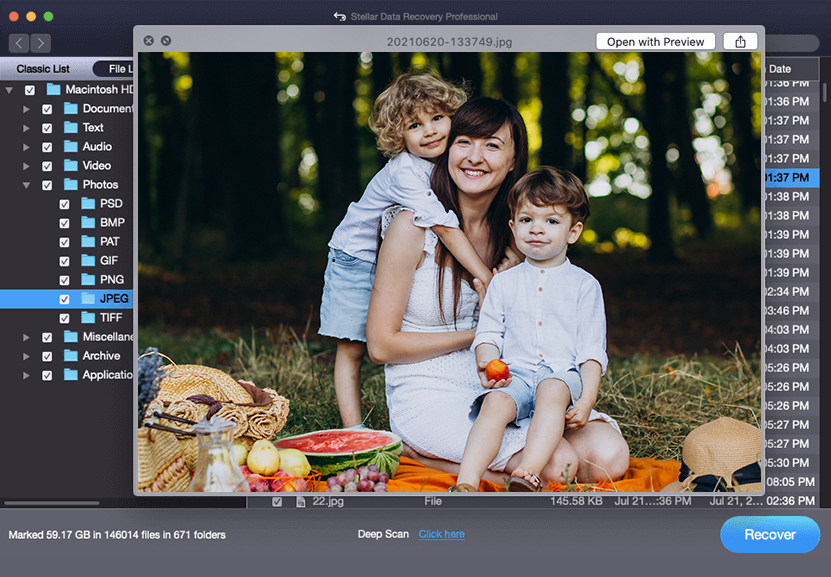 Recovering Mac files after OS X/macOS Upgrade

Apple does not provide any utility to recover deleted or inaccessible data; however, in case your data and media files are missing after macOS Mojave Upgrade, you can employ the trustworthy third-party data recovery software Stellar Data Recovery Professional for Mac.
This nouveau software performs a safe and accurate recovery of inaccessible or lost documents, emails, archives, photos, music files, and videos from APFS, HFS+, HFS, FAT, exFAT, and NTFS format-based file systems. The tool is capable of recovering missing files on a variety of Mac devices such as MacBook, MacBook Air, MacBook Pro, iMac, iMac Pro, Mac Pro, and Mac mini.
What is more, if the standard recovery procedure does not yield your desired files, you can use its Deep Scan recovery feature for performing physical or RAW recovery on the drive to conduct rigorous scans basis file signature and salvage lost data.
Another superior feature of this Mac data recovery software is its ability to reclaim deleted data from encrypted file systems smoothly. If you have lost data from a password-protected Mac storage drive, you do not need to worry about recovering the data from it. This advanced tool will prompt you to unlock the drive with its password and then proceed to restore data as usual. It also enables you to recover lost or deleted data from the Time Machine backup drive.
Over and above these impressive features, this data recovery Mac software is equipped with an interactive GUI that makes working with it extremely simple, even for non-technical users. In addition, quite a few handy utilities such as file preview before recovery, imaging or cloning of storage drive, optical-media recovery, drive monitoring functionality, etc. have also been included within this new product.
With system requirements as low as 1 GB RAM and 50 MB free disk space and wide compatibility extending from macOS Mojave 10.14 to other lower versions till 10.7, Stellar Data Recovery Professional is bound to be your one-stop solution for Mac data loss troubles after a macOS upgrade.
The Way Forward

We hope the blog has helped you in fully recovering data lost after the macOS 10.14 Mojave upgrade using the veritably useful software for Mac—Stellar Data Recovery Professional. To understand the benefits of this software as well as the full functionalities, avail the trial version.
Just click the Free Download DMG Link to save a copy of the software; install and launch the utility to scan and preview recoverable data after macOS Mojave upgrade.

If you are satisfied with the result, then you can go ahead and buy the licensed version to save the files to an external storage drive. The registered version of the software uncorks a new bundled tool—Stellar Drive Monitor, to check the health of your drive in real time.