There's a trend of showcasing your pics on Facebook, Instagram, etc. and have literally exploited the use of hashtags, tagging, check-ins so on and so forth.
Here's how this works. You go on an exotic vacation or your cupid act worked which eventually led to the altar. Tropical weather, outlandish location, food and libations, joyous moments, you're in the euphoria of getting married. All of these makeup for a perfect moment for getting clicked and it couldn't get better.
Sounds familiar? Remembering the day you tied the knot. Let's unpack how this can be a problematic situation. The problem arises when you're unable to access your pics. On finding that your memory card is inaccessible can be really frustrating, after all, you will not walk the aisle to get to the altar again.
Whether someone unintentionally formatted the memory card or the memory card is corrupt, it may erase the pics.
If you're caught up in a similar situation, you still stand a chance to recover formatted marriage pics. Before that, here are some Do's and Don'ts that will prevent further damage. Let's have a look at it.
Things to keep in mind:
Deleted or formatted pictures are not gone forever, they can be retrieved, until and unless the memory card is being overwritten. Once overwritten, the data is beyond recovery. Things to keep in mind:
1. Stop using the gadget
If your deleted pictures were on your mobile phones, put it into sleep mode or switch it off. If the pictures were on your camera, turn the camera off and safely pull out the card. Prevent the device from overwriting the deleted pics.
2. Refrain from using free stuff
The market is thronged with free utilities which claim to efficiently recover formatted marriage pictures. Most of them seem to work; but, there's also a risk of losing your data, furthermore, you don't want to compromise on the privacy of your data as well.
3. Avoid using the same memory card on multiple devices.
4. Seek the assistance of a professional and reliable data recovery software.
Stellar Data Recovery Professional comes to your rescue
You can recover your formatted pictures in an efficient manner. Stellar Data Recovery Professional for Windows lets you recover all your lost or deleted data from any formatted partitions or storage media in a few simple steps.
STEP 1: Connect the affected memory card to PC.
STEP 2: Download and Run Stellar Data Recovery Professional on your PC.

STEP 3: Select What to Recover
After installing it, on the main interface, select the data you want to recover. For instance, you can select multimedia files to recover your pictures.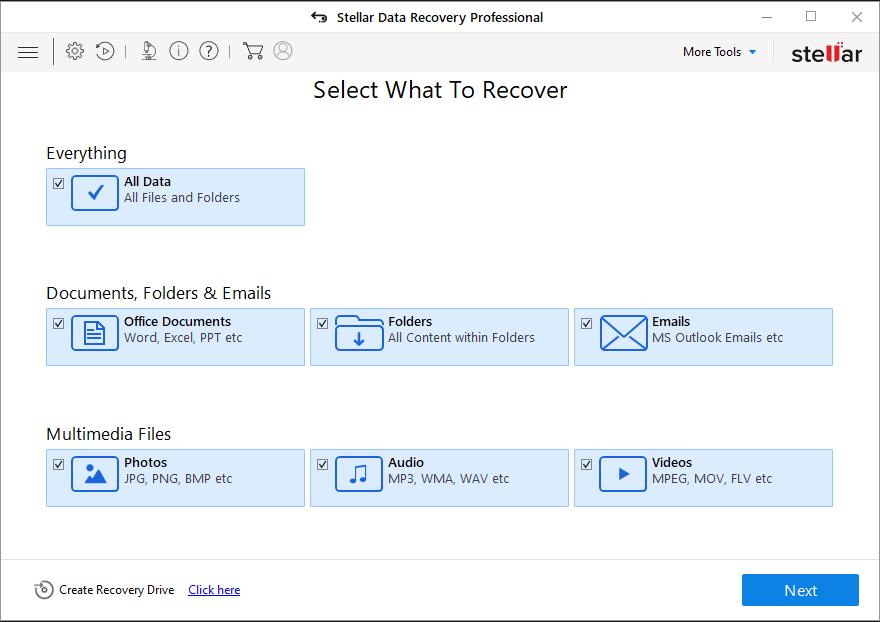 STEP 4: Recover From
Select the respective location from where you want to recover the formatted pictures. Probably, you may need to select New Volume.
Important: If unable to find the drive, simply select "Can't Find Drive".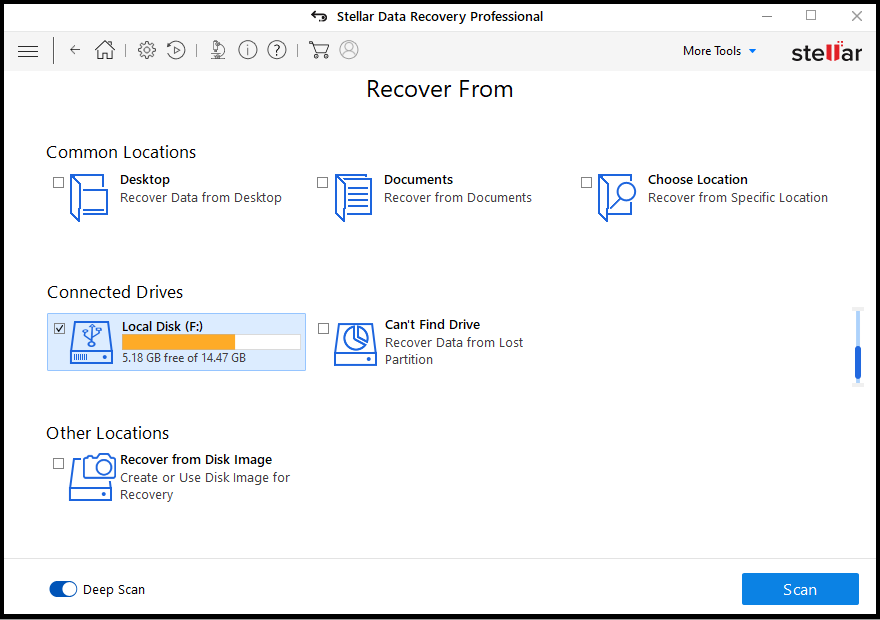 STEP 5: Scanning Process
After selecting the location, press the Scan tab at the bottom to start the scanning process. After the completion of scanning, all the scanned files can be viewed under different mode.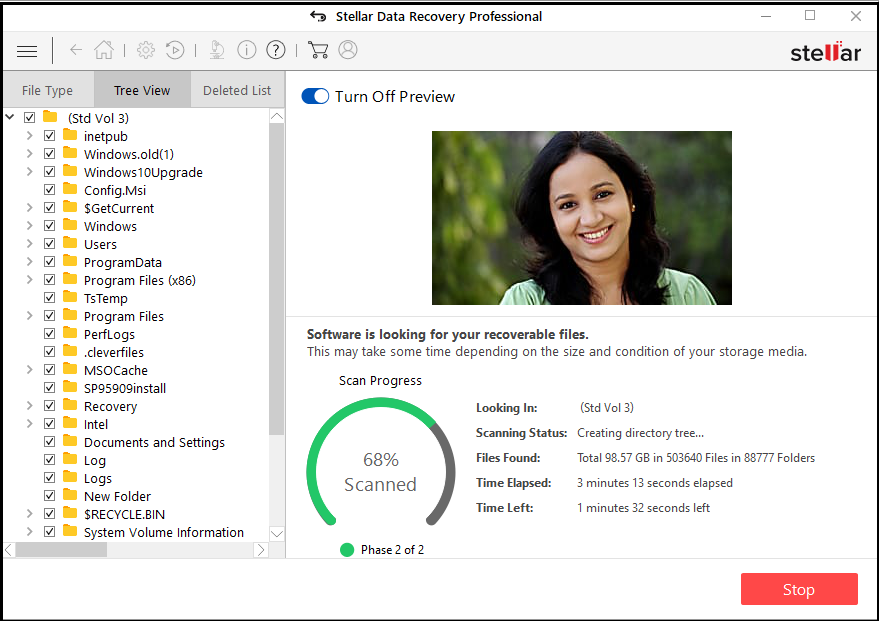 STEP 6: Preview and save the pics to the desired location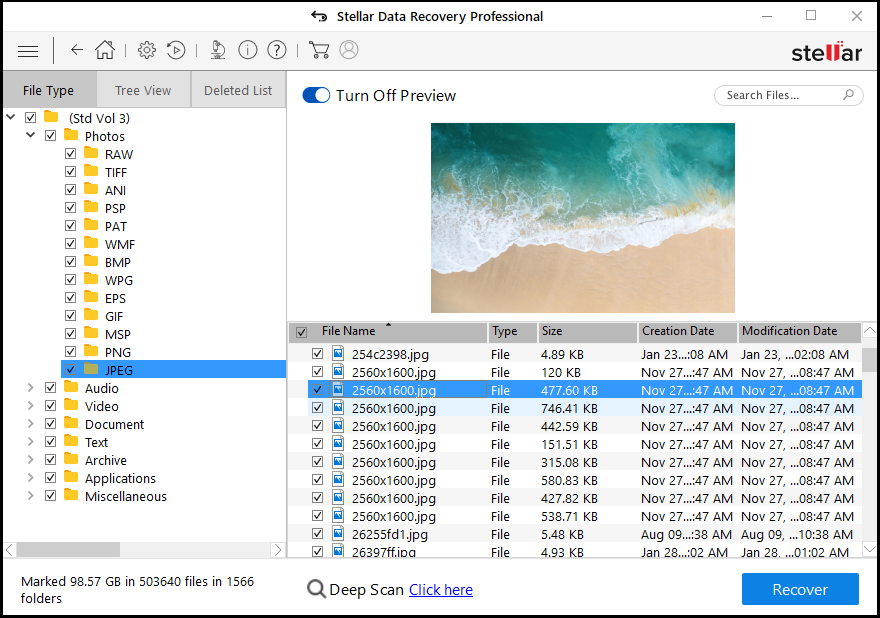 You can Turn On/Off Preview option to view the recoverable files. Upon the completion of the scanning process, select the respective file to save it to the desired location.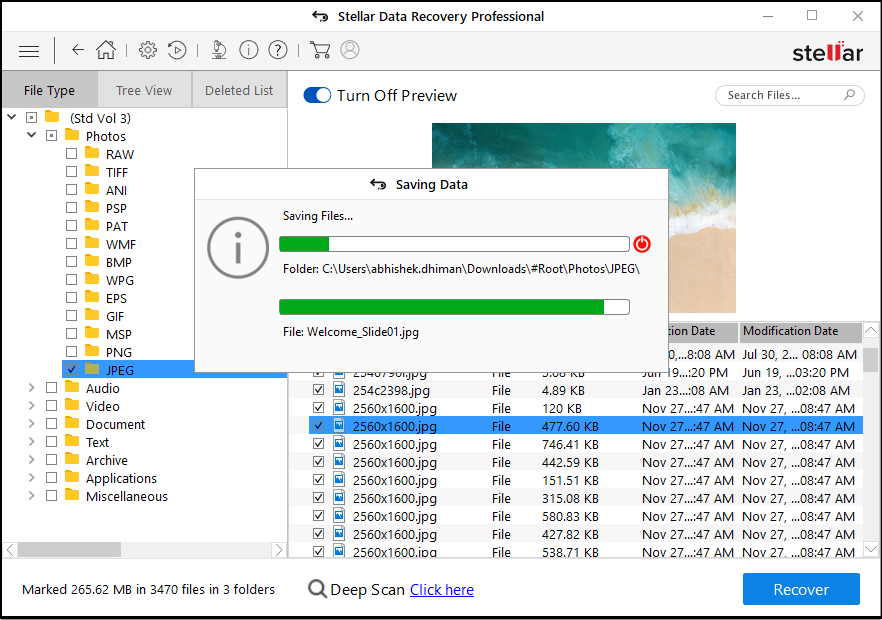 Important: You can save multiple files simultaneously. Select the checkbox next to the files and save them.
Why Stellar Data Recovery Professional?
Stellar Data Recovery Professional recovers severe damaged or corrupt files and folders from a wide range of storage devices. It is a one stop destination for all your inaccessibility issues.
Some of its key features are:
Efficient recovery of different file types (Photos, videos, audios, office documents, emails etc.).
Supports recovery from FAT, NTFS, exFAT drives and partitions.
Supports Optical Media Recovery.
Quick and Deep Scan feature for thorough scanning process.
Option of Resume Recovery. Saving scan information saves you time as you can pause the scanning process at any point and then resume from the point without scanning the drive again.
Recovers data from the previously created disk image of your drive. Moreover, you can specify 'Starting' and 'Ending' sectors to create image of the selected region.
Inference Drawn
You can get back your memories, all it requires is some precautions and a reliable data recovery software. When the file is deleted or formatted, it is only removed from the file system and those ones and zeroes are still present in the memory card. Stellar Data Recovery Professional can assist you in getting your pics and that too, without leaving any space for errors.