Summary: Offline Storage File (OST) to Personal Folders File (PST) are both Outlook data files that helps save mailbox data locally. The need for OST to PST conversion may arise for one or several reasons. In this blog, we have explained why and how using Microsoft OST to PST Converter free download software from Stellar® can help you perform the conversion task with ease and precision.
Situations may arise that necessitates converting an OST file to PST file. For instance, the need to move data from Outlook offline data file to another location call for conversion. You can manually convert selected or all email folders within an OST file to PST by using the Outlook built-in 'Import and Export Wizard'. However, the built-in utility cannot convert an orphaned or inaccessible OST file to a PST file. You will need an OST to PST converter tool to perform the conversion.
Other Reasons Why You Need OST to PST Converter
For seamless migration of data from Exchange mailbox database to Outlook.
For quick and easy access to mailbox data when Exchange database becomes dismounted or non-functional due to system crash.
To restore data from an inaccessible/orphaned OST file to PST.
Lack of effective and efficient built-in OST file repair utility.
Extracting data from accidentally deleted or corrupted OST file.
If you are looking for converting OST to PST, we have mentioned an efficient Microsoft OST to PST converter online free in the following section.
Free Download Microsoft OST to PST Converter Tool from Stellar®
Stellar Converter for OST is the best OST to PST converter tool trusted by MVPs and administrators worldwide for converting an OST file to PST, maintaining the original folder hierarchy and data integrity. You can easily restore deleted or inaccessible mailboxes from corrupt or damaged Outlook's offline (OST) data file with the use of this Best Rated OST to PST Converter Software by Stellar Data Recovery Company.
Why Choose Microsoft OST to PST Converter from Stellar®?
Extracts all mailbox items from a corrupt or inaccessible OST file and saves it in a PST file.
Converts large-sized/encrypted Offline Outlook data file to PST.
Previews all converted file items before saving them.
Allows saving 20 items per folder from an OST file to PST
Saves converted file in multiple file formats such as PST, PDF, HTML, EML, MSG and RTF.
Maintains the original structure of mail items.
The technician edition of the software supports batch conversion of multiple OST files.
Direct export of OST files to Office 365 feature is available in technician edition.
How Microsoft OST to PST Converter from Stellar® Works?
Free download Stellar Converter for OST – The steps that should be executed to convert Outlook OST file to PST file with Microsoft OST to PST converter free download have stated here. To download the software, click on the Free Download button below: 

Execute the configuration/registration process and post that run the software.
The home screen/main user interface of the software opens.
In the Select OST File for Conversion window, click on the 'Browse' button if the location of the OST file is known.
Note: Click on the 'Find' button if the location of OST file is not known or forgotten. On clicking on 'Find' tab, the 'Find Mailbox' dialog box shows up. Here, choose a specific drive for the software to search OST files. Select the drive by clicking on the 'Look in drop-down' menu or clicking on the 'Look in' button. Thereafter, click on the 'Find' tab. On doing so, all the OST files are enlisted in the 'Find Results' section of Find Mailbox dialog box. Choose the required OST file and click on the OK button.

Once you have selected the file for conversion, click Convert.

A three-pane preview window that displays all the Outlook mailbox data comes up. All the Outlook mailbox data that already exists is presented in the left pane tree-format. All folders and the stored data can be previewed by choosing the specific folder.
Go to the File menu and click on the 'Save Converted File' tab present in it to save the converted OST file into PST and more file formats that are provided.
The Save As dialog with multiple file saving options come up. The several file formats in which the converted mails can be saved PST, MSG, EML, RTF, PDF and HTML. To save in the required file format, choose the respective radio button. Then, to select a destination location to save the file, click on the Browse Further, click on the OK button.
In the end, the converted file is saved to the desired location.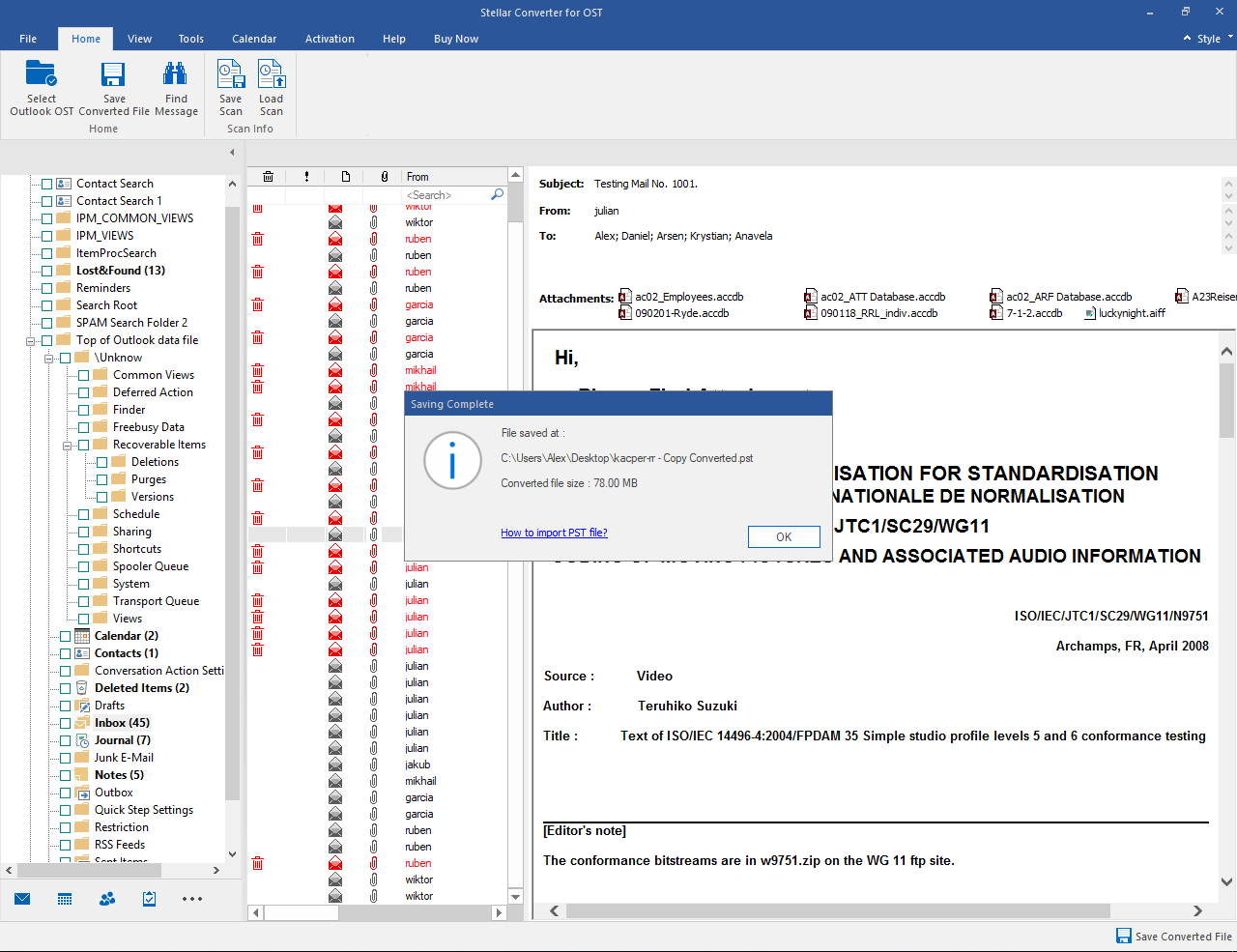 The converted file gets saved to the desired location.
The free demo version of the software allows converting 20 items per folder from an OST file into a PST file. However, for saving all the mail items to PST or multiple file formats, you need to activate the licensed version of the software.
Read this: Get Stellar Converter for OST License Key or Activation Code Online
Concluding Lines
You can convert data from an OST to PST file easily by using a free OST to PST Converter software such as Stellar Converter for OST software. The software helps perform the conversion in a few simple steps as discussed in this blog, without technical support.