Missing Codec 0xc004f011 Error on Windows 10 or 11
Summary: Are you facing the missing codec 0xc004f011 error on your Windows 10 PC? If you're encountering the issue while playing media files on Windows 10/11, follow this article. Here, you'll understand why it occurs and discover easy solutions to resolve it.
Microsoft provides a variety of media players such as Groove, Windows Media Player, Xbox, Films & TV, etc. All of them have decent features when it comes to video playback, but sometimes when we try to play a new video file on any of these players, the system shows an error. This error comes with the title "Missing Codec" and with the code 0xc004f011. It mainly occurs on Windows 10 or 11 devices, according to the most recent user complaints on technical forums.

Even if you close this pop-up, you can only play the audio of your file but not the video.
If you're in a similar situation, you don't need to worry. You should know that, most probably, the issue is with the codec program of your system, and it can be settled easily. In this article, you will find easy methods to fix the missing codec 0xc004f011 on windows 10 and 11, along with learning why this error occurs in the first place. Let's get started.
What causes the 0xc004f011 error on Windows 10/11?
Lack of required codecs
For a media player to play a video properly, different video file formats require different codecs. You could be facing the missing codec error due to the lack of the codecs required for your video.
Unsupported video format
Your video file could be of an unsupported format for the media player, which is why it is unplayable.
Outdated display adapters
The display adapter is responsible for creating pictures and video playback on your computer. It sets resolution, frame rate, etc. for it. If your display adapter is outdated, it could interrupt video playback.
Corrupted video file
There could also be a possibility that your video file is corrupted, and that's why it can't be read properly by your computer's media player.
Minor updates not installed
Microsoft regularly gives minor updates for Windows. Sometimes, such updates contain driver updates or bug fixes for video play. Ignoring system updates might cause the missing codec 0xc004f011 error.
How to fix Missing Codec 0xc004f011 Error
1. Update Display Adapters
By updating the display adapters or graphic card of your computer, you can fix the problem. Simply follow the below-mentioned steps to do this:
Press the Win + X keys, and a pop-up menu will appear.
From the list, open Device Manager.
In Device Manager, double-click on the Display Adapters option to expand it.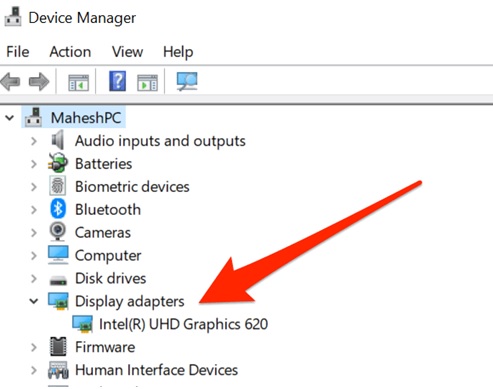 Now right-click on the graphic driver of your computer and select Update Driver.
In the pop-up window, click on the Search Automatically for Drivers option.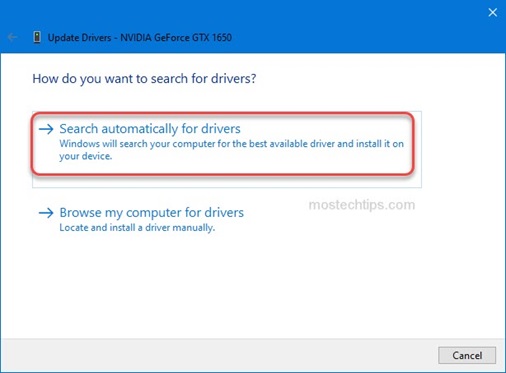 After this, follow the given instructions by the system and restart your device.
2. Install the missing codec pack
If your PC doesn't have preinstalled codec or codec pack, you can set up Windows Media Player to download the required codecs automatically. By doing this, you can remove the 0xc004f011 error easily.
Here are the steps to download the most popular video codecs on Windows 10/11:
Go to Windows Media Player and click on the Tools menu.
Click on Options and select the Player tab.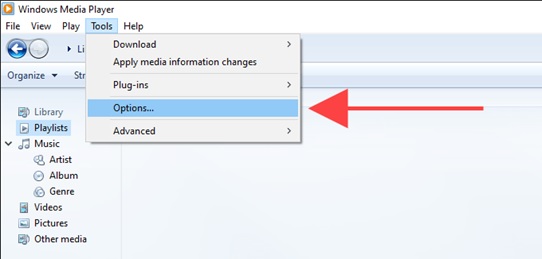 Check the Once a Day option under Automatic updates, and then click OK.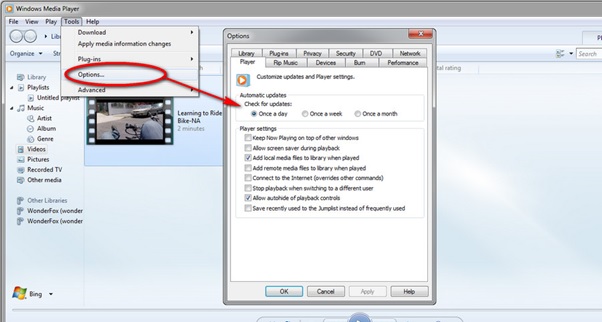 Now, if you're prompted to install the codec, click Install to install the missing codec on your system.
After this, you can try to play the video file again and see if the 0xc004f011 error is gone.
3. Convert the file into a suitable format
Converting your video files into a different format can help to eliminate the 0xc004f011 error. Manual conversion of video files cannot guarantee success and can even damage the files. Thus, experts recommend using a powerful tool like the Stellar Converter for Audio Video. This tool can convert any media file format to another format. For example, it can perform the conversion from AVI to MP4.
Follow the below-mentioned steps to convert your video into a format supported by the VLC player and also by any other media player: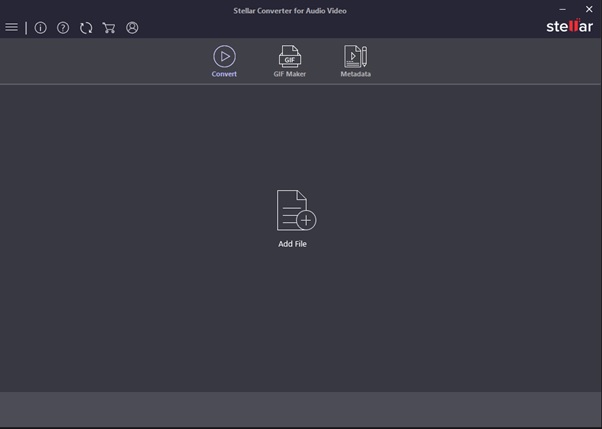 After selecting the video, select the video resolution and format in which you want to convert it. You can choose MP4 given its versatility.
Now go to the Advanced Settings tab and select codec, frame rate, etc.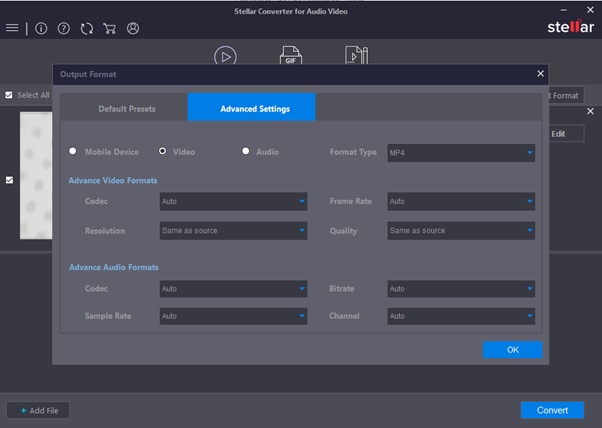 At last, set the destination and click on OK to save everything.
Now, click Convert and wait until the process is completed.
Once your video format is converted, try to play it on your Windows media player to check if the error persists.
4. Play video on another media player or device
If even changing the video format doesn't help you get rid of the error, you can try other media players to play your video. For instance, VLC Media Player is one of the most famous and advanced media players. It is a free application that supports all the major file formats along with other amazing features. After installing the VLC media player, you can easily drag and drop your videos on it or can play directly by the 'Open With' option. Additionally, you can also consider playing your video on other systems or mobile devices.
If your video doesn't play on other devices and media players, it is confirmed that the file is corrupted. For the best remedy to this situation, check out the next method.
5. Use video repair software
After trying all the above methods, if you're still not able to fix the 0xc004f011 error, repairing your video file is the last option. There are several video repair applications available on the internet but choosing a genuine one is necessary for absolute and safe repair. Stellar Repair for Video is recommended for this task due to its high rate of success.
This video repair tool can fix any corrupted video or audio file format. It supports the repair of more than 17 video formats such as MP4, MOV, AVI, etc., and can even repair severely damaged files. Follow the below-mentioned steps to repair your video with this amazing tool:
Install and launch the software on your Windows PC.
On the home screen of the software, click on the Add File option in the center.
Now choose all the files you want to repair and click on the Repair button to start the process.
Wait until the repair is completed. You can track the progress with the green indicator.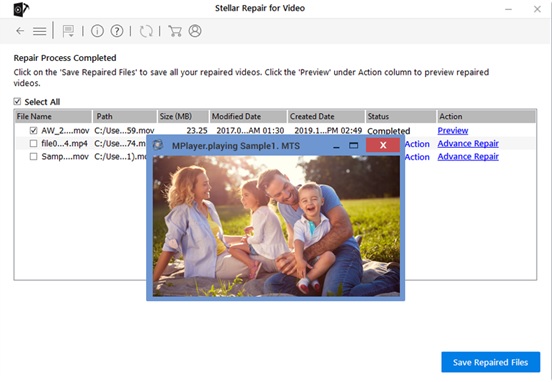 After the repair is done, you can preview your files before saving them.
At last, click on the Save Repaired Files option to save your files to the desired location.
Conclusion
The missing codec 0xc004f011 error is common in Windows 10 and 11 versions. If you're facing this error during video playback, try the above-mentioned methods to overcome it. Hope the information in this article will prove to be enough to understand this issue properly.