From Outlook 2013 and onwards, there have been many changes in how IMAP accounts are managed. Indeed, the prior versions of Outlook used to create two IMAP files (OST and PST files). In Outlook 2010, one file managed emails and the other file stored contacts, notes, calendars, and other related mailbox items. However, in the versions from Outlook 2013 and onwards, only one.OST file gets created for one IMAP account. By default, no PST file gets created that stores messages along with attachments.
This change was bound to have an effect on the way Outlook accounts are managed. Therefore, now it has become a huge problem to move an IMAP OST file to another computer or profile using Outlook 2016 while recovering contacts, notes or other important details. In prior versions of Outlook, one could simply save the .OST file in an Outlook Mail folder and the emails would show up in the Outlook application. In more recent versions including Outlook 2013 and 2016, in case of Outlook can't find the appropriate folder, the data is only saved under a " This computer only" folder. Furthermore, the .OST can't be easily backed up and the recovery of contacts etc. becomes a greater challenge. In this case, the folders need to be exported regularly in order to back them up reliably.
The different methods to move an IMAP OST File Outlook 2016
Every email that comes from Outlook 2016 gets saved to the IMAP's server, which is followed by the server data getting copied on one OST file and getting saved locally. This OST file should not be copied or changed in any way as modifying it will make the mailbox data disappear from the Mail app. The OST file can be moved onto Outlook 2016 using the following methods.
Option 1: Manual Solution
Since IMAP accounts don't create a .PST file on Outlook 2013 and later versions, a single .OST file gets created instead. In order to move an old .OST file onto Outlook 2016, the OST file needs to be converted into a .PST file. The PST file can then be opened into Outlook 2016.
Step 1: Export old IMAP .OST file data to the new .PST file and copy this new PST file to the other computer
Step 2: To upload the new .PST file, launch Outlook 2016 and click on File, then Open and Export and then Import/Export
Step 3: From the Import and Export Wizard window, click on Import from another program or file and click Next.
Step 4: Proceed to choose the relevant Outlook Data File (.PST) and then click Next.
Step 5: Browse and navigate to the folder that holds the .PST file and click OK.
Step 6: Proceed to click on Finish.
Limitations of the Manual Method
The manual method discussed above has many limitations. First of all the process is tedious and time-consuming. It also requires a lot of human intervention to move an IMAP .OST to an Outlook .PST file. Considering the fact that most mailboxes are many is number and large in size, the manual process becomes very long and tiring. Not to mention, in order to create the .PST file from an old .OST file, a licensed version of Outlook 2010 or earlier versions is required. This is quite irrelevant and the situation can be avoided altogether by using Third-party automated solutions.
Option 2: Use Third Party tools
You can choose to do it the hard way or you can choose to make your life easier with using Third-party tools for moving IMAP OSTs to Outlook 2016. The best workaround seen until now is the OST to PST Converter by Stellar Data Recovery as it will make your conversion miraculously easier. Stellar Converter for OST tool will help move Outlook offline data within computers as it can easily convert .OST files to new .PST files regardless of which version of Outlook one has.
This reliable, efficient and easy to use software does nothing but help convert IMAP OSTs to PSTs seamlessly and consequently moves the OSTs to Outlook 2016. This effective migration tool help in the direct migration of OST mailboxes to PSTs and Office 365 mailbox. It is extremely reliable as it recovers the loss of recent data from the old .OST file. It also helps upload the exported .PST file onto Outlook 2016 without any issues. You can try out the tool for free here: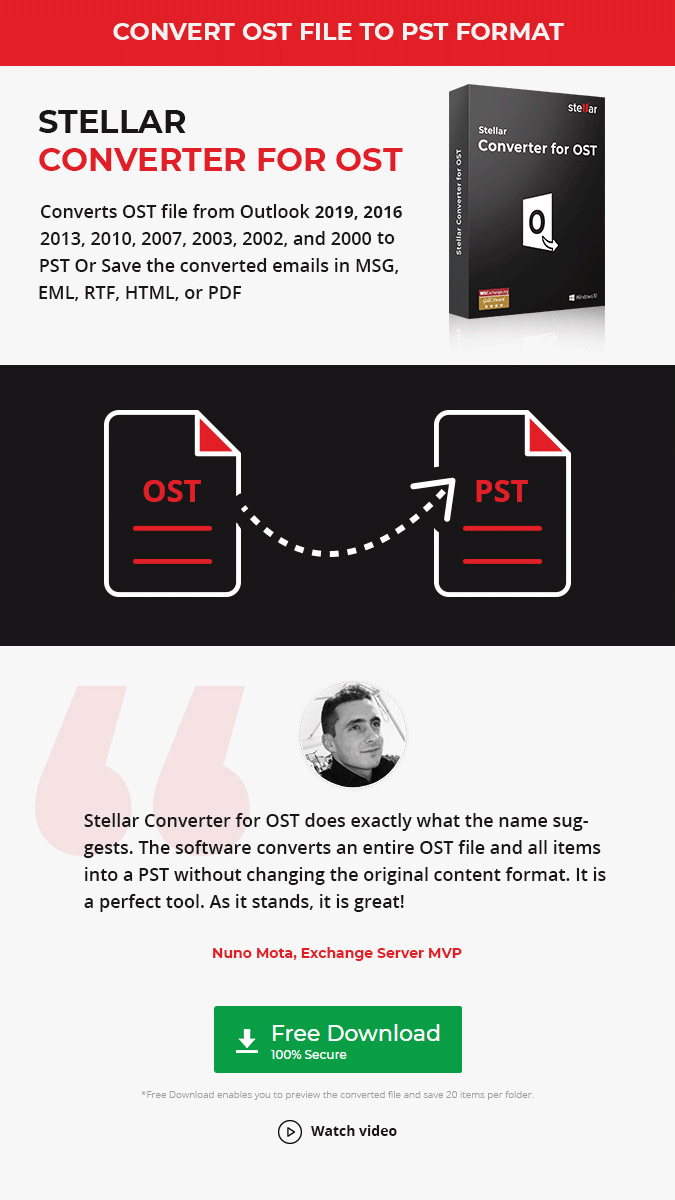 Final Words
That's it! You're all set to convert and move your IMAP OST files to Outlook PSTs. Given that the recent versions of Outlook have made life easier for us by allowing users to set IMAP accounts as default data stores on Outlook; they have also created many inconveniences for us such as backup concerns relating to non-mail folders and moving OSTs to Outlook 2016. One can opt for the manual method by exporting to PSTs separately and then uploading them onto Outlook 2016, but the hassle can be avoided completely by using the recommended Third party automated tool.
Do check our MVP review about OST to PST Tool from Stellar.