To work with Exchange mailbox accounts in offline mode through MS Outlook, what is needed is an OST (Offline Storage Table) file that presents to you the exact replica of your Exchange server account. Whenever you're Outlook account is connected to the server, the OST file is synced with all information in your online mailbox. This file is extremely useful when the server is experiencing downtime or an unexpected crash or is unavailable due to scheduled maintenance. In such cases, you can continue to work normally with your mailbox owing to the OST file and any changes you make are merged with the server account when the server comes back online.
However, if you switch your machine and need to access the OST file data on another computer, a simple copy paste of the file doesn't work as in the case of PST (Personal Storage Table) files. So the best way to transfer an OST between different computers is by converting it to PST format. Additionally, extracting data from a corrupt or damaged OST file is another factor that gives rise to the need of OST conversion.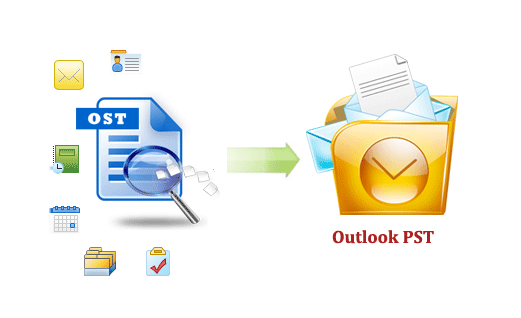 Methods for OST to PST Migration
When we talk about converting OST to PST, there are quite a few ways to do it. While some methods need manual steps to be performed, other easier and safer methods are fully automated. Here are the best ways in which you can perform accurate ost to pst migration:
1. Professional Software
Probably the safest, most accurate and easiest way for OST PST conversion is by using third-party software like Stellar Converter for OST. This competent software performs the conversion of all OST components to Outlook importable PST in their original format and structure without any data loss or damage. Plus, it has an easy to understand GUI that makes working with it very comfortable.
Though such third-party tools come at a price, roping in expert help like this has its benefits – you are absolutely sure that all the data will be converted, in minimum time, with no technical expertise required and accurately. So this option outweighs the others by quite a margin.

2. Outlook's Built-in Import-Export Wizard feature
Another simpler way is to export Outlook Offline Folder file to PST file is by using MS Outlook's inbuilt "Import/ Export" feature. In addition to migrating the data to PST format, users can also convert the OST to CSV and Excel formats using this technique. Plus, being inbuilt makes this feature a perfect blend of manual and automated techniques.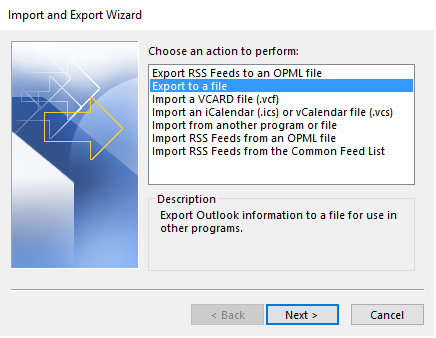 However, the catch with this method is the need for technical expertise. If you've never undertaken this kind of conversion before, you might find yourself a bit lost at some places. You'll need to acquaint yourself with all terminologies and functions of the exporter before starting the process.
3. Drag-and-Drop items from Offline Folder File to PST
This is a truly manual way to migrate data. It involves literally dragging and dropping mailbox items from the OST file to a new PST file. To use this method you'll first have to create a blank new PST file in Outlook and then drag the desired items from the OST into it. Though it sounds really basic, this method actually works.
But there's a catch. Using this method all you can migrate are individual items from the OST. Folder structure and default folders like Inbox, Contacts, and Calendar etc. cannot be migrated. You'll have to create them again in the new PST file and reorganize all data. Plus, individually transferring data can take a long time.
You can also check the manual method: https://social.technet.microsoft.com/wiki/contents/articles/44756.microsoft-outlook-fixing-ost-corruption.aspx
Conclusion :
Any technical work done manually is a bit risky at some point. Though a manual and free method might seem alluring, any mistake during the process could lead to terrible effects like OST corruption or worse, data loss. So make sure you take proper backups of your data before starting the conversion. Plus, the recommended way to go would be through an automated Offline Folder File to pst converter that is trustworthy.
Read on what experts say About software MVP Reviews