RAW SD Card Recovery — Recover RAW Files from SD Card
Summary: RAW SD cards can become inaccessible, putting your data at risk. If you are looking for a secure solution to recover deleted RAW files from SD card, read this post.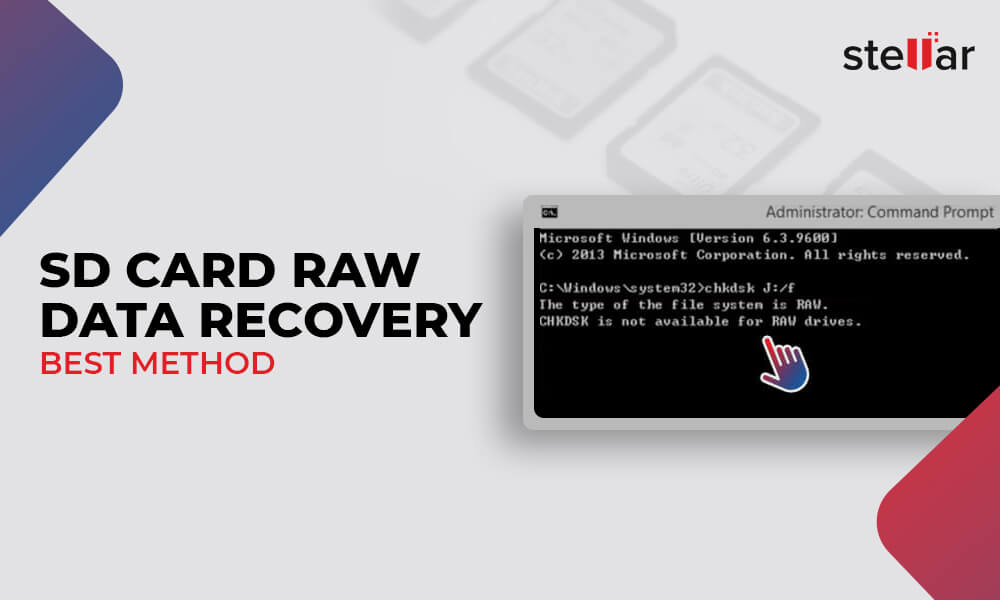 A RAW SD card indicates that its file system is damaged or has corrupted. Since a file system is necessary for operating systems to access data stored on a drive, you cannot open a RAW SD card or any other storage drive.
What is a file system in an SD card? A file system organizes the drive's data in tabular form so the operating system can steer to this data. SD cards are formatted to FAT 32, exFAT, NTFS, or other file systems. If the file system gets corrupted, your SD card becomes raw. Besides, a brand new SD card is also RAW until it is formatted to a specific file system for usage.
Signs of RAW SD card
Further, a RAW SD card can throw different error messages while trying to open it. These error messages are signs of RAW SD card, hinting that your data is at risk. Here are some common error messages that a RAW SD card would display:
'SD card is blank or has unsupported file system'
'SD card is not formatted. Do you want to format it now?'
'Windows cannot access the disk'
'The type of the file system is raw. CHKDSK is not available for RAW drives.'
'0 byte error.'
Why do SD cards become RAW?
There can be various reasons why SD cards become raw. A malicious software, virus attack, sudden power cut or disconnect while transferring files from SD card to computer, etc. The file system of an old or unusable SD card over a long period can also get corrupt, making its files RAW.
Can RAW files be recovered from SD card?
A simple answer is 'yes'. You can recover RAW data from SD card. Your data on RAW SD card is still present but uncategorized. Therefore, unreadable by the operating system. However, no manual hit and trial method will work. You require a professional SD card recovery software to recover RAW SD card data.
Meanwhile, solutions like formatting can only make your RAW memory card reusable but cannot get back the lost or deleted data on it. Further, it will permanently delete your current data on SD card.
RAW data recovery using SD card recovery software
If the photos and video files on RAW SD card are crucial, the priority should be to recover them. Before you fix corrupt SD card, try to retrieve the files using a RAW recovery software to avoid overwriting data.
The advanced search engine of Stellar Photo Recovery software can scan RAW memory cards of all kinds as long as the computer detects them. Its 'Deep Scan' feature searches the deleted files sector-by-sector based on file signatures making it possible to retrieve multimedia files from raw, formatted, corrupt, or bad sector SD cards.
You can scan and recover RAW data from SD card of capacity over 18TB. Meanwhile, the scanning and recovery time depends upon the SD card size and the amount of RAW data on it.
Stellar Photo Recovery supports commonly used SanDisk, Toshiba, Western Digital, Samsung, and other memory card brands. The software has Mac and Windows versions and is compatible with Windows 11 and macOS Monterey.
Step-by-step guide on how to recover RAW files from SD card
Download Stellar Photo Recovery on your PC or Mac.
Connect the RAW SD card to the computer and launch the software.
On the first screen of the software, select Removable Disk (RAW SD card) option under Connected Drives.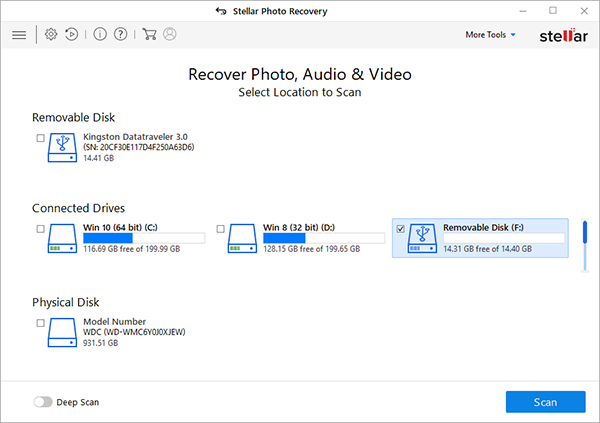 Turn on Deep Scan at the bottom.
Click Scan.You will see the `scanning progress on the screen.
After the scanning finishes, click on the Preview option to view the recoverable photos, videos, and audio files.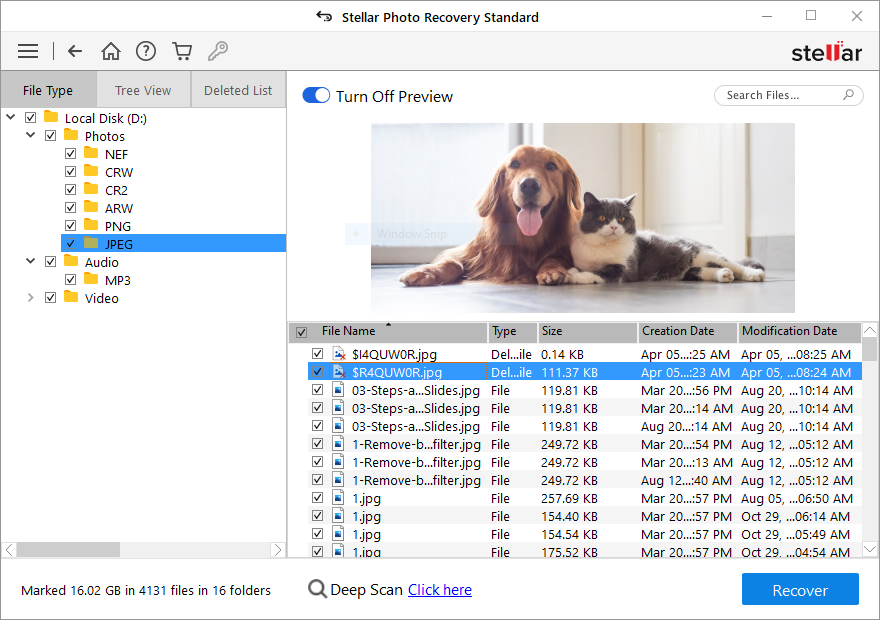 Select the multimedia files you wish to restore. Click on the Recover button to save the RAW deleted files from SD card.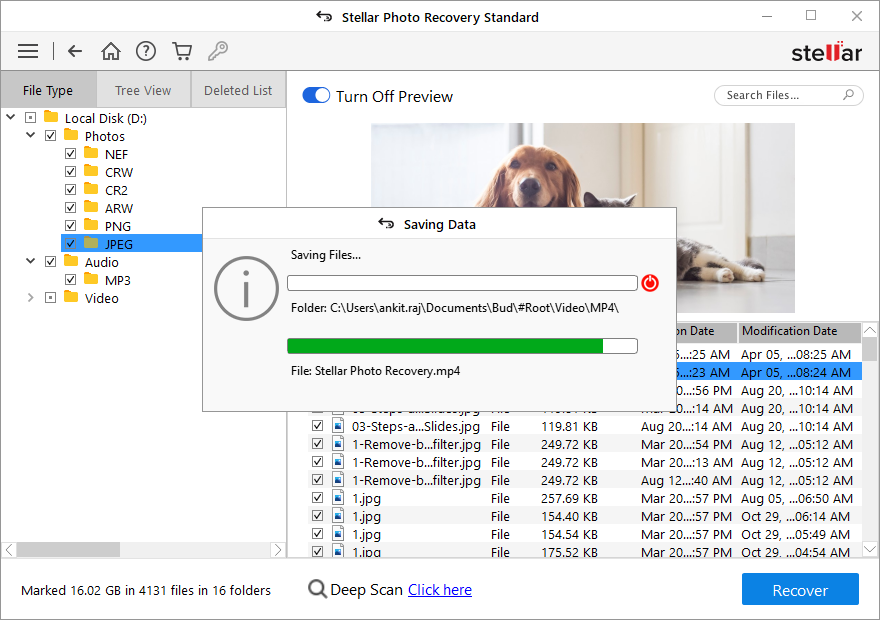 Test the SD card RAW data recovery software
The free trial of Stellar Photo Recovery is available. Before making a purchase decision, you can test the effectiveness of the software by scanning and previewing the recoverable files on your corrupt or RAW SD card.
In case of any query or if you are stuck during installation or recovery process, contact tech support through e-mail, chat, or call.
Note: Try the Free Edition of the software to recover up to 10 RAW files from SD card free.
How to fix RAW SD card for free?
Once you have recovered data, try to fix the RAW SD card using Windows error-checking tool. If this doesn't work, format the SD card to reuse it as new.
Read this guide on how to fix corrupt SD card step by step.
Hope you found this post helpful. Do share in the comment box how you were able to recover RAW files from SD card.