Summary: Accidental deletion is a major reason for data loss and it mostly occurs due to human errors. Here, in this guide, learn to restore the deleted data in Windows 10 and also the steps to recover lost data using World's best data recovery software Stellar Data Recovery. Download a free trial of the software to get started.

To err is human—it's natural for humans to make mistakes!
Today, human errors cause more data loss than any other reason like virus attack, logical corruption, etc. In fact, after hardware failures, human error is the top cause of data loss across the globe.
Accidental deletion – a major reason for data loss – mostly occurs due to human errors in the modern computing scenarios. Evidently, it's significantly common and can lead to irrecoverable data loss situations.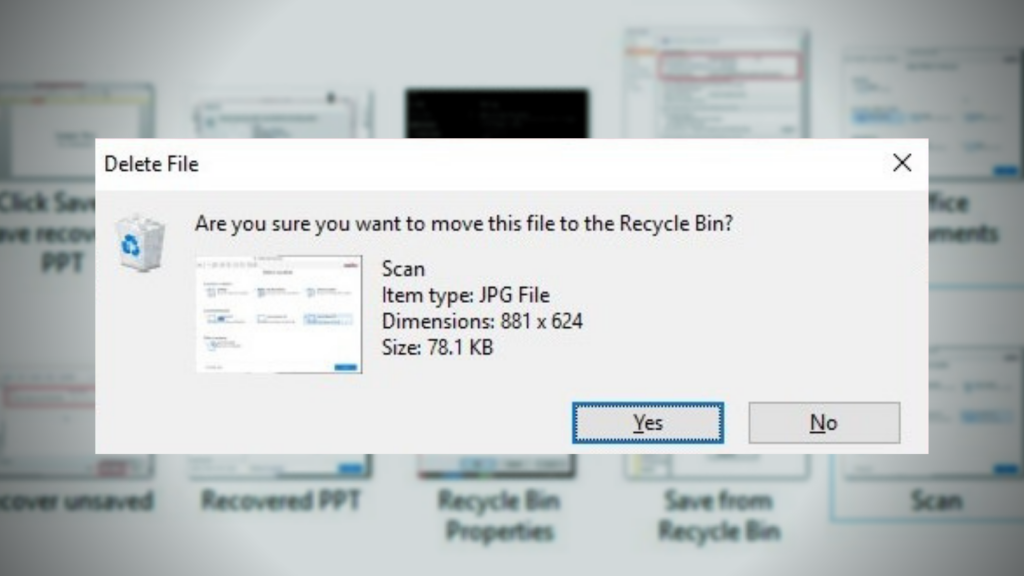 Therefore, in this post, we are going to discuss how to recover accidentally deleted files such as photos, videos, documents, emails, and audio files, etc. in Windows 10. Also at the end, we will list a few critical measures that will help you safeguard against the inevitable data loss situations.
Recover Accidentally Deleted Files in Windows 10
Usually, when a file is deleted in Windows, it moves to the Recycle Bin folder – unless you have customized or tweaked the Recycle Bin properties. Thus, in case a user accidentally deletes a file or folder in Windows 10, they can restore the deleted file or folder from the Recycle Bin in just a few clicks.
However, if you have used a Shift+Delete key combination to delete a file, you will require either a backup or a data recovery software to get back the deleted data. Also, when you have used a system cleaner app or emptied the Recycle Bin folder, the deleted files are permanently lost.
To help you, we have mentioned a few steps to recover accidentally deleted files in Windows 10.
Steps to Recover Deleted Files in Windows 10
Step 1: Stop Using the PC or the Drive
After files are deleted from a PC or a storage media, it's critical to stop using the system or the storage drive to prevent data overwriting.
When a file is deleted, its space is marked as de-allocated. As you continue the system use, new data is created which might get stored in the de-allocated space. This causes overwriting which corrupts the accidentally deleted files and can potentially destroy the lost data beyond the scope of recovery.
So remember to immediately stop using the PC or storage media after data loss.
Step 2: Look into the Recycle Bin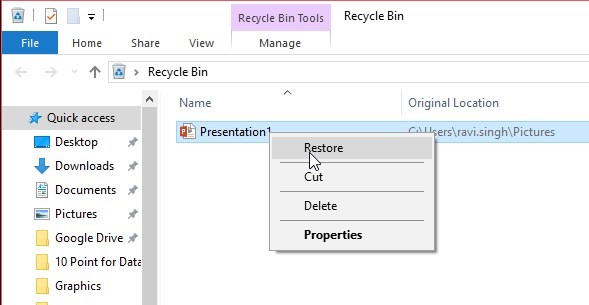 Go to Desktop and open the 'Recycle Bin' folder
Find the lost file in the Recycle Bin folder
Right-click on the file or the folder, and select 'Restore.'
The file or the folder will be restored to its original location. Alternatively, you can select cut and then paste the file at your desired location.
Change the Recycle Bin properties – as shown in the screenshot below (right-click Recycle Bin>Properties) – to prevent permanent file deletion without confirmation.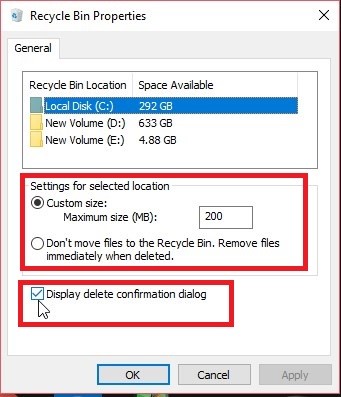 Step 3: Restore From an Older Backup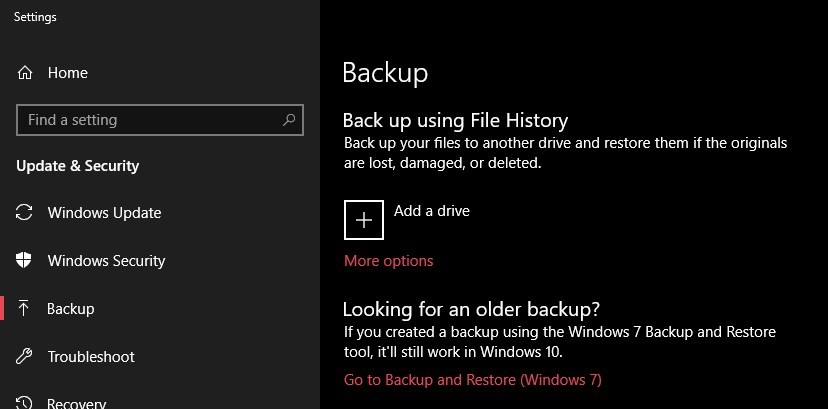 If you follow the best practices for data safety, chances are you should have a backup. Use the backup to recover the accidentally deleted files in Windows 10. However, if the backup isn't available or is obsolete, immediately get a reliable data recovery software.
Step 4: Use a Data Recovery Tool
After backup, a data recovery software is the only economical and reliable way of getting back lost and accidentally deleted files in Windows 10. Software such as the Stellar Data Recovery Professional comes with advanced utilities and recovery features to not only recover lost data from various storage media but also safeguard against future data loss.

After installing the software, run it and then follow the three simple steps to get back the accidentally deleted files and folders in Windows 10:
1. Select the files you wish to recover and click the 'Next' button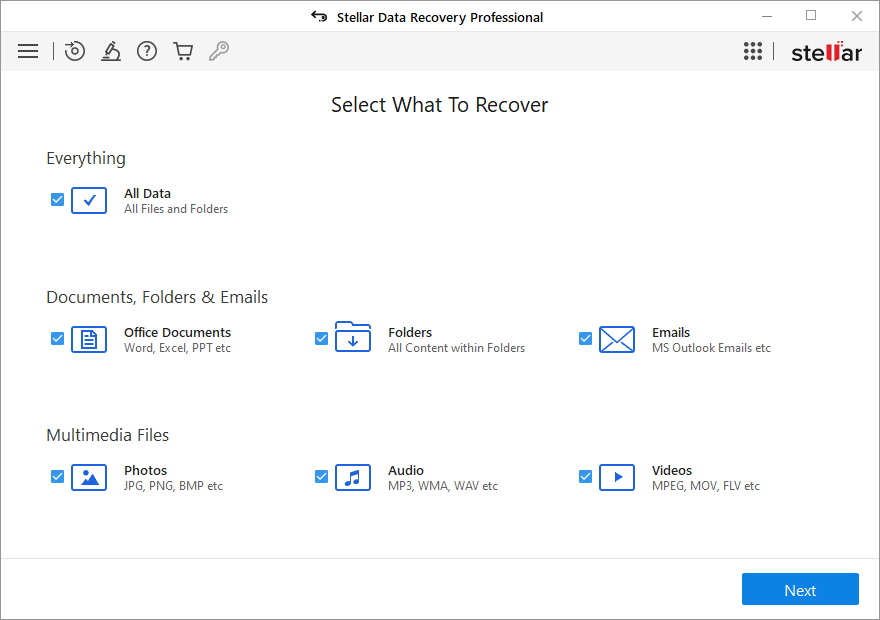 2. Select the drive or folder location from the 'Recover From' window and click 'Scan'.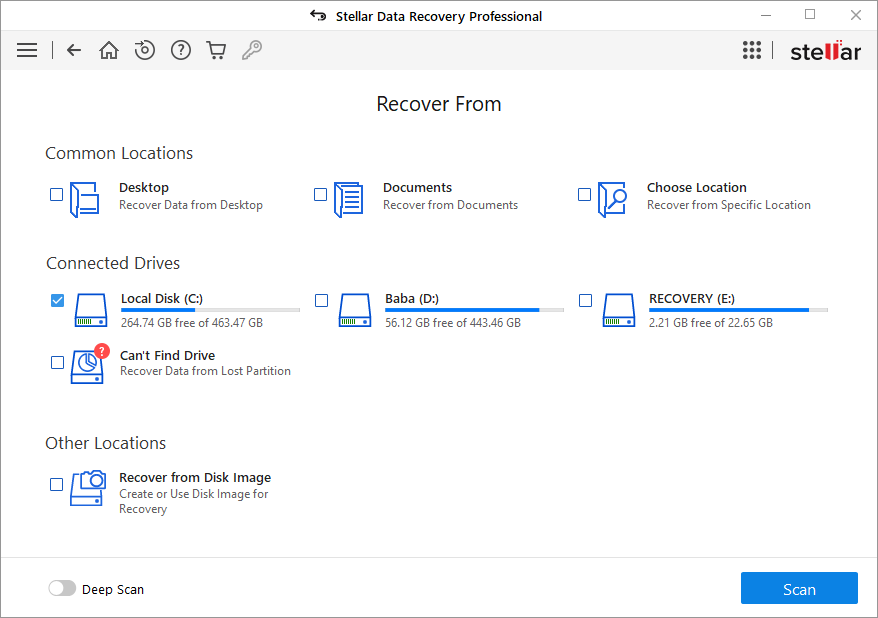 3. Search, filter, and sort to locate the desired file from the scan results and then select the files to save at your desired location using the 'Recover' button.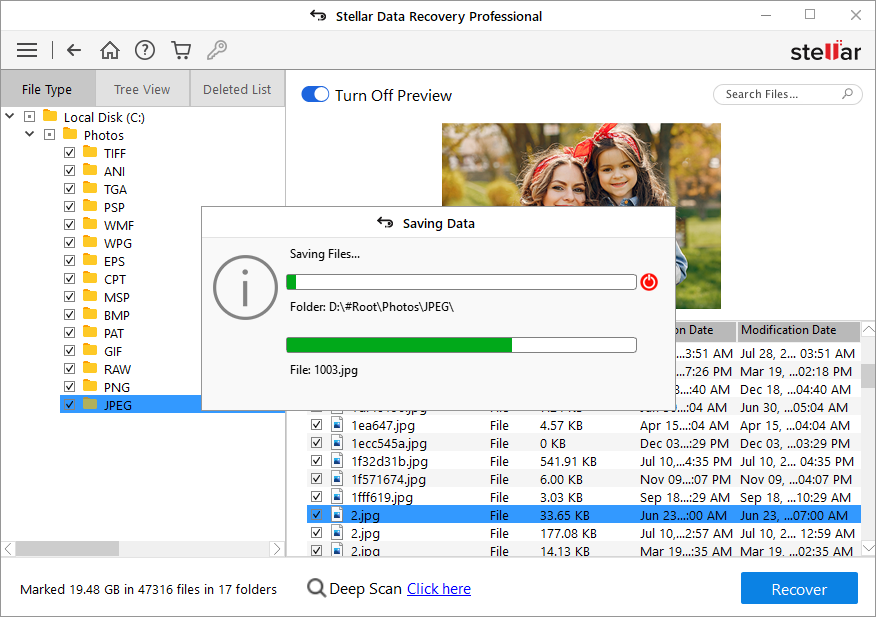 NOTE: If the files are not found in the scan results, use 'Click Here' link at the bottom of software screen to run a deep scan, which thoroughly scans each sector on the drive and recovers lost and deleted files from any windows supported media even if it's corrupt or formatted.

Optionally, you can also preview the recovered file before saving them. Files such as images, documents, video, and audio can be previewed.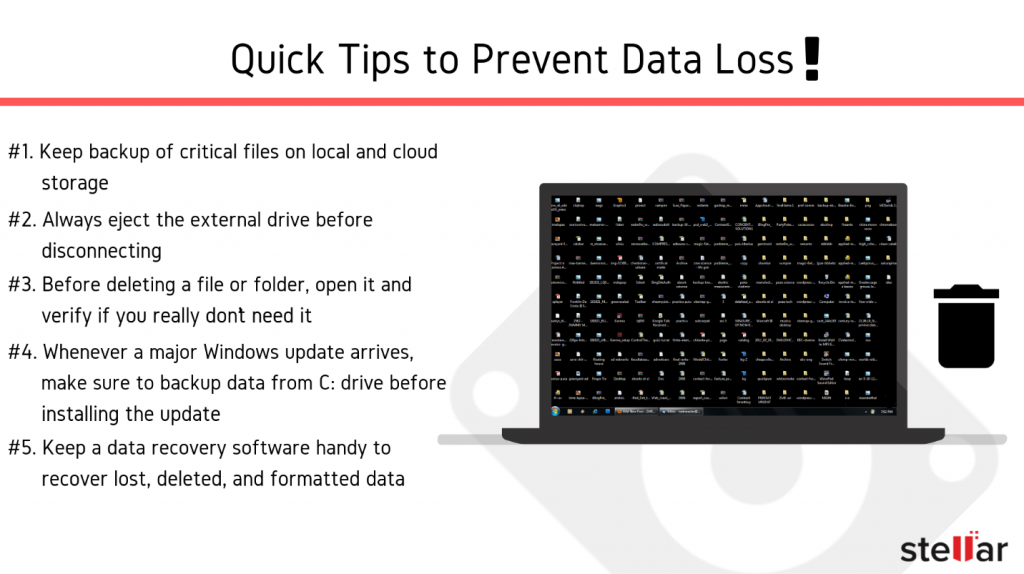 Conclusion
Accidental data deletion cases are prevalent. But today, fortunately, we have access to some of the most reliable data backup and recovery solutions. These solutions are readily available and can help you recover accidentally deleted files in Windows 10.
To prevent data loss, you can use Windows inbuilt backup options such as System Image or File History, upload critical files to the cloud, and use a software such as Stellar Data Recovery Professional in the event of data loss.
Finally, we suggest that you keep at least two backups—one local, another on the clouds— and a data recovery software handy to safeguard against future data loss situations.