How to Recover Data Deleted from Boot Camp Partition?
"Hi, I've recently deleted a few files from the Boot Camp Partition on my MacBook Pro. These are valuable files and I don't even have the Windows backup. Please suggest a quick method to recover my deleted data from the Boot Camp Partition. Thanks a bunch."
macOS allows you to install Windows 10 operating system on your Mac through the dedicated Boot Camp Partition. You can easily switch between macOS and Windows by pressing and holding the Option key when Mac starts up. If you are using Windows and have accidentally deleted some files, then the data present in the Boot Camp partition is removed. You need to recover Mac data from the partition ASAP to avoid data loss.
In this blog, we'll help you recover permanently deleted files from a Boot Camp Partition on macOS Catalina 10.15 & other OS versions. We'll also tell you how to search permanently deleted Boot Camp Partition (NTFS volume) and restore the contained files.
You may lose data permanently from the Boot Camp partition in the following ways:
Deleting files then emptying Recycle Bin
Using Shift + Delete key combination to remove files
Deleting Boot Camp Partition from macOS
Corruption in Mac storage drive that doesn't allow Mac to startup
Recover Lost or Deleted Files from Boot Camp Partition
If you've deleted some files in Windows OS, then check for the same in Recycle Bin. If found, select them, right-click, and choose "Restore" to get back the deleted files in their original folder structure. In case, you have deleted files from Recycle Bin as well, then you need to recover the data by using a Windows data recovery software.
You can also perform the same through your macOS by using a Mac data recovery software that supports data recovery from NTFS file system.
Steps to recover deleted data from Windows C: drive on Boot Camp Partition:
Step 1- Download & install the trial version of Stellar Data Recovery Professional for Mac

Step 2- Launch the software then choose "Recover Everything" or toggle on respective file type switches to customize your scan. Click Next.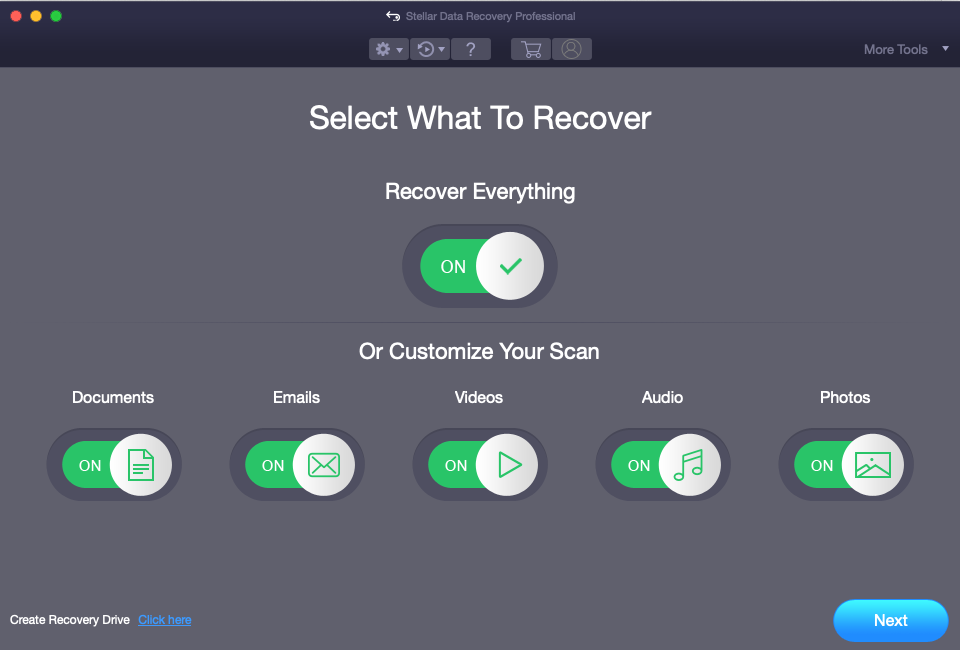 Step 3- From the "Recover From" screen, select the "Boot Camp Partition" then turn on "Deep Scan". Next, click Scan.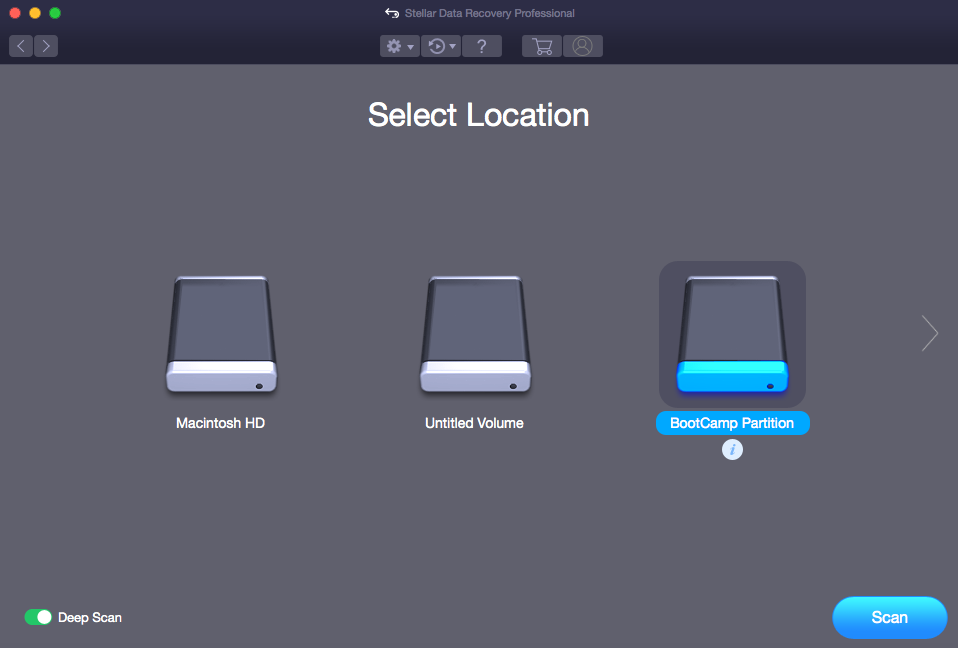 Step 4- After the scan is over, preview the recoverable files from the Boot Camp Partition. Double-click a file to launch preview.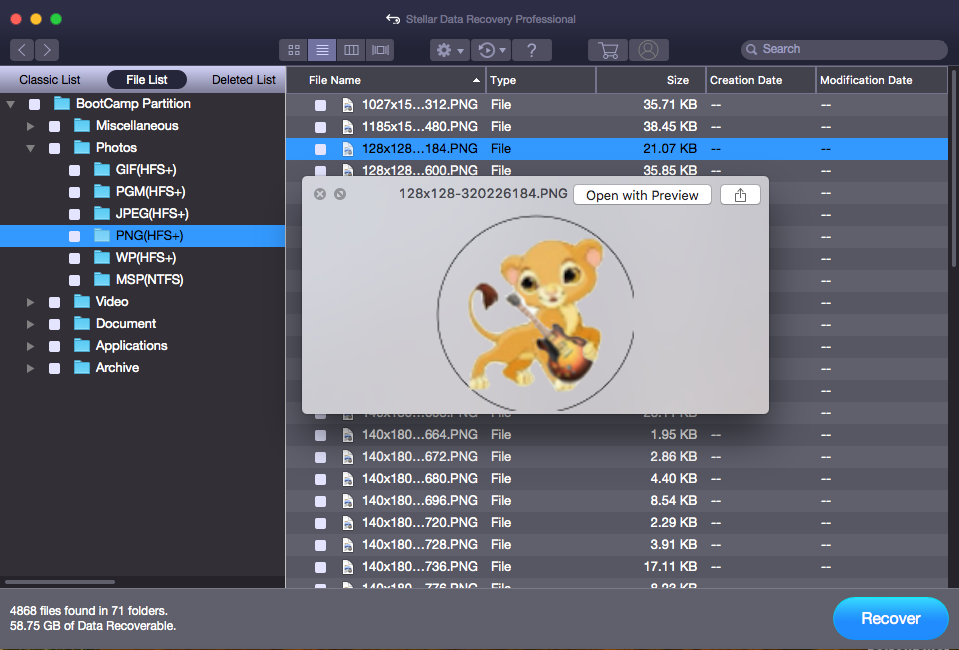 Step 5- To recover and save your recoverable files, get the complete version of Stellar Data Recovery Professional for Mac using the activation key.
Step 6- Once the software is registered, select all the required files, then click Recover. Specify the save destination, and click Save. The software saves all the files to the specified location.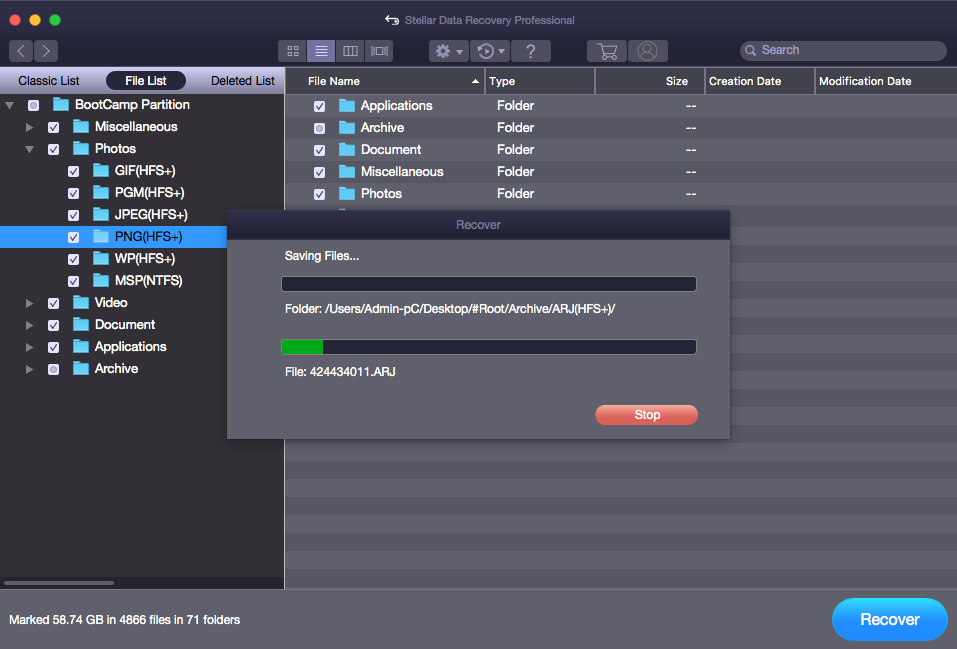 Recover Deleted Boot Camp Partition (NTFS) on Apple Storage Drive
You may also accidentally delete the Boot Camp Partition while using Disk Utility in your macOS Catalina. However, you can recover the deleted partition and its data by using the same software.
Steps for recovering deleted NTFS Boot Camp partition are as follows:
Step 1- Launch Stellar Data Recovery Professional for Mac on macOS Catalina. From "Select What To Recover" screen, customize your scan or 'Recover Everything'. Now click Next.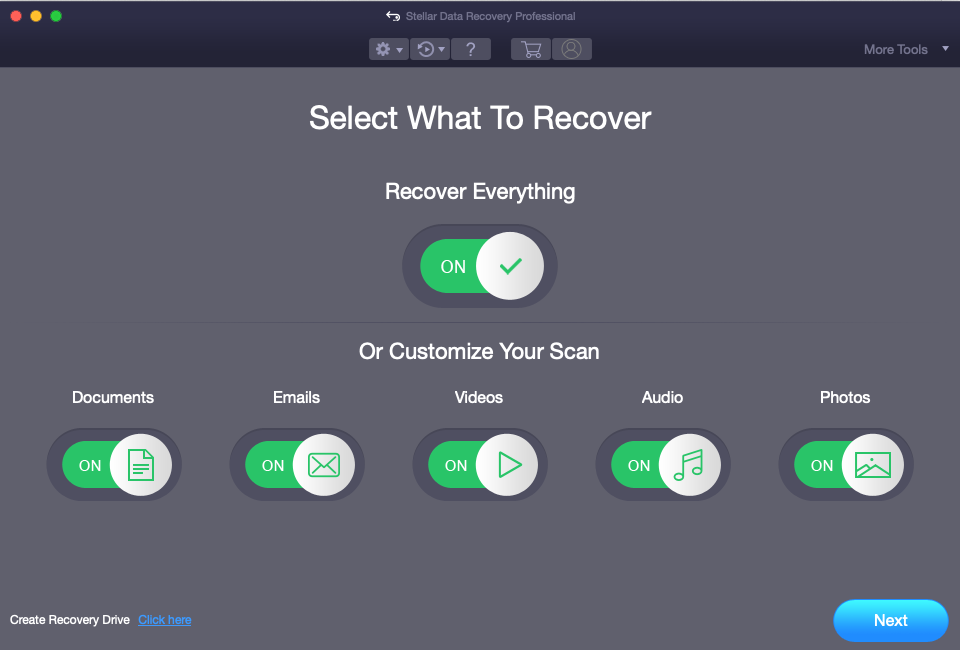 Step 2- On the "Recover From" screen, choose "Can't Find Volume" to look for the lost Boot Camp Partition.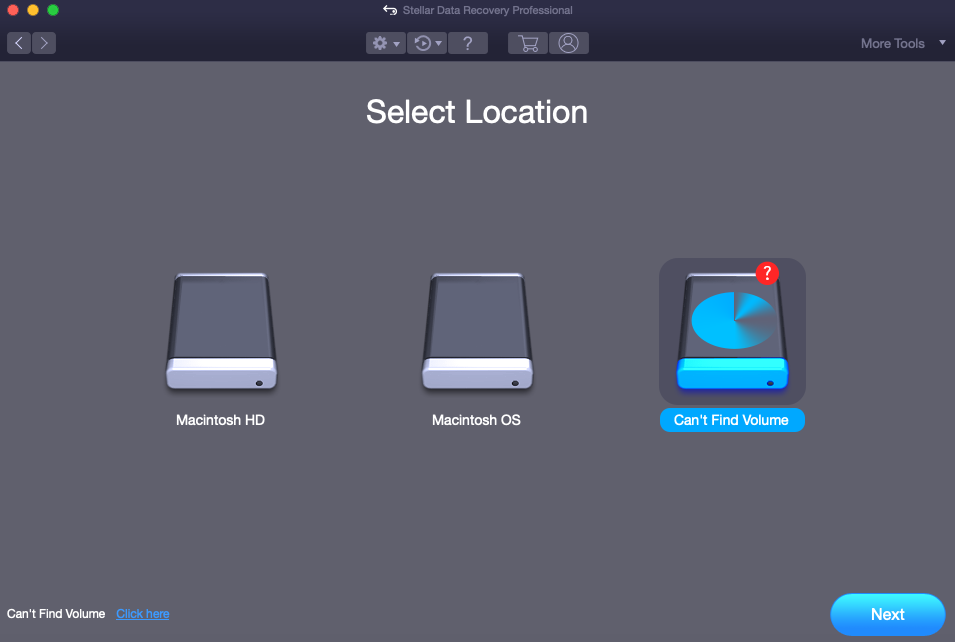 Step 3- Select your Apple storage drive and not a partition. Then, click Search to begin the process.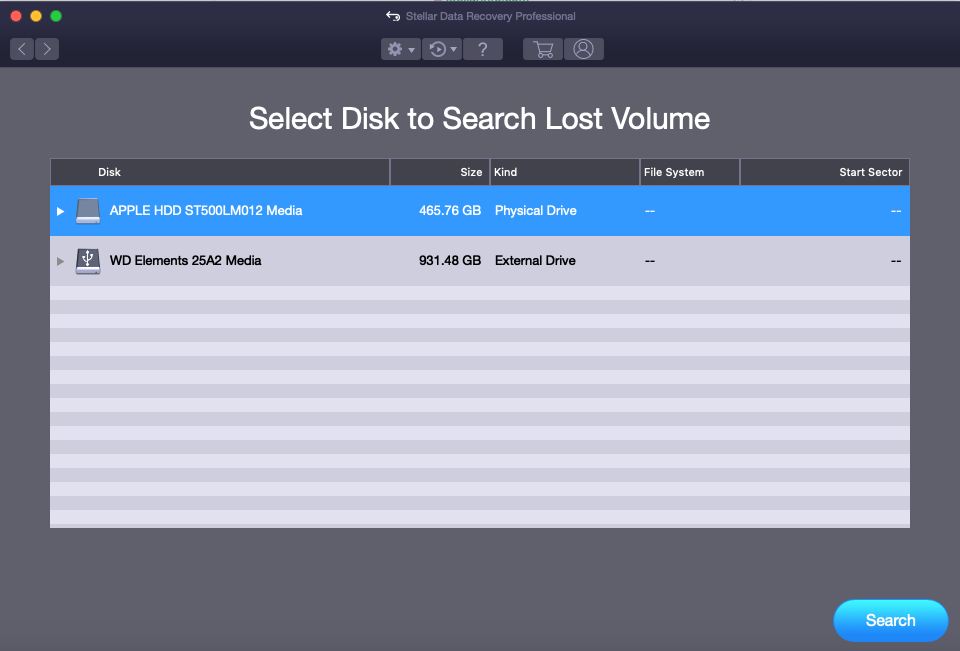 Step 4- The software searches and lists all the lost volumes. Identify the Boot Camp Partition through the NTFS file system.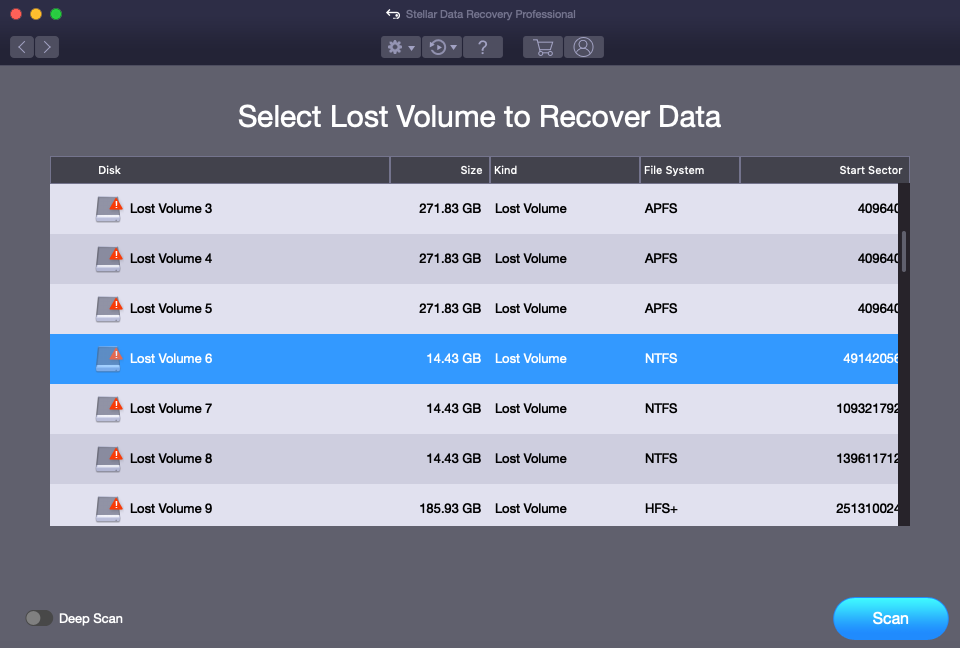 Step 5- Select Lost Volume (NTFS) and toggle "Deep Scan". Now, click Scan and the software will start scanning the NTFS partition.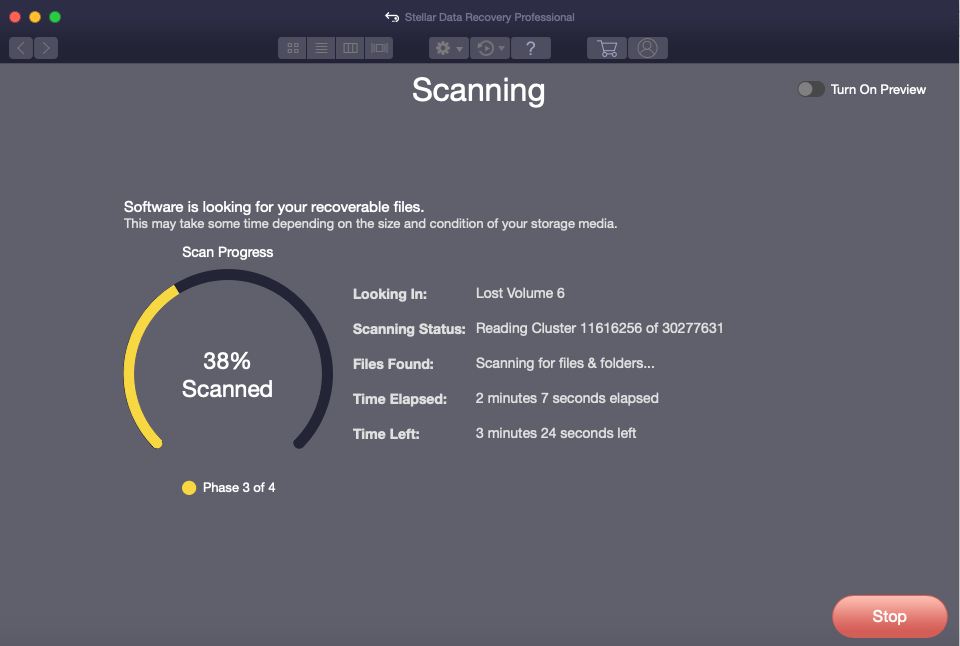 Step 6- Preview, recover & save all your recoverable files to a different volume or an external storage medium.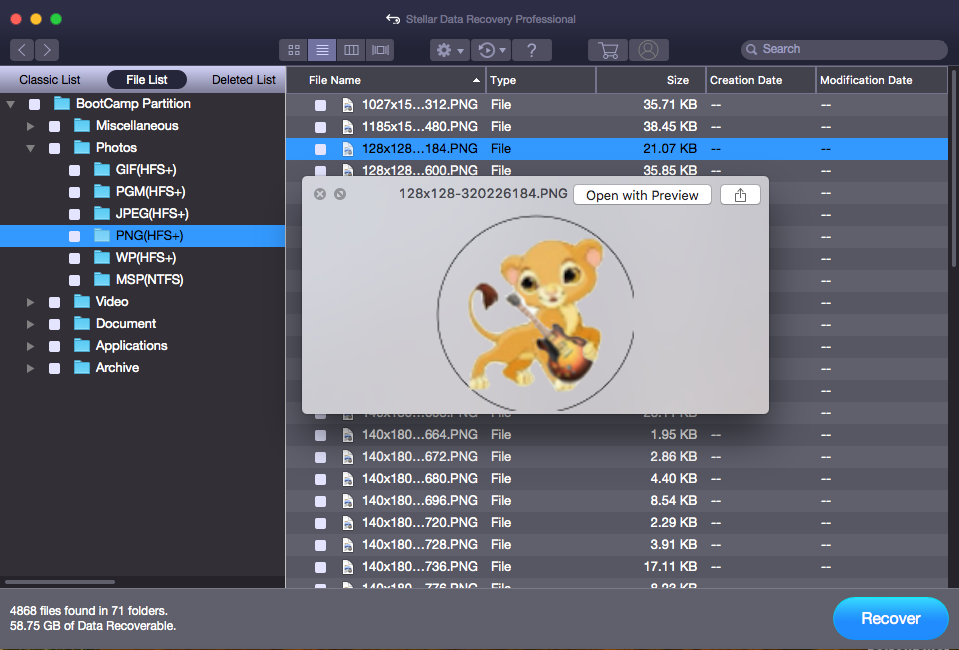 Important: Stellar Data Recovery Professional for Mac is available for free-to-try. But to recover and save the recoverable files, you need to activate the software.
Recover Boot Camp Partition Data from non-booting Mac
Sometimes, your Mac may fail to start up from both macOS and Windows due to storage drive inaccessibility. In such circumstances, recovery of your Boot Camp Partition data becomes quite challenging. You need to boot your Mac from an external boot drive then access the Boot Camp volume. For that, Stellar Data Recovery software has the option of Create Recovery Drive that allows you to create a bootable USB flash drive.
Here is the complete process of recovery drive creation and data recovery.
The only change is that you need to select Boot Camp Partition from the "Recover From" screen then recover your data as usual. Next, recover data from Macintosh HD and other volumes. Once all the data from the Mac storage drive is recovered, format the storage drive and reinstall macOS. If required, you can recreate Boot Camp Partition and reinstall Windows by using Boot Camp Assistant. Next, restore all the recovered data back to their respective locations on your Mac.
Conclusion
We hope the blog helped you recover deleted data from the Boot Camp Partition in macOS Catalina 10.15. The method remains the same for other macOS versions as well. But, remember to keep a backup of the Boot Camp Partition on an external backup drive by using File History or other ways to safeguard your valuable data. In case you don't have a backup and you lose your data, stop using the partition immediately until you recover your data.
To help you recover data from all logical data loss situations including APFS data recovery, Stellar Data Recovery Professional for Mac is highly recommended. The software is fully capable to recover deleted or lost files from the Boot Camp Partition and search deleted NTFS partition. It can also recover data from an external NTFS drive. Moreover, it can recover data from a non-booting, corrupt, or crashed Mac.