Summary: Is it really possible that we can recover data after accidentally converting an External hard disk into a Recovery drive in Windows? Do you have same question? Then here is your question's answer which is really very satisfying.

Accidental formatting of an external storage drive is not usual, yet some people end up formatting their external hard disk. This usually happens due to lack of knowledge; for example, to create a Windows recovery drive, an external storage drive is required. So, people often mistakenly think that a partition on their external hard disk can be used as a recovery drive for Windows. However, that's not the way how you create a 'Windows Recovery Drive'. You should know that when you create a Windows recovery drive, it formats the external drive to FAT32 and all data from external hard drive gets deleted. Also, it doesn't need entire storage to store recovered data that means rest of the storage is unallocated and can't be used.
However, recovery of data from a formatted hard drive (internal or external) or partition is quite possible if the drive or the partition isn't used after formatting. In other words, if you have accidentally formatted your external hard drive or a partition while converting it into a recovery drive and need to recover the lost data from that drive, then it's very important to stop using the hard drive immediately.
When the drive is formatted, your computer marks all storage spaces empty. Actually, data is still on the drive until and unless you don't overwrite it. Overwritten data makes recovery impossible. Data recovery can only be done using a professional data recovery tool like Stellar Data Recovery- Standard for Windows. There is no other convenient way to recover lost data from a formatted hard drive or a deleted partition.
Recover Data from Formatted External Hard Disk
You can follow these steps in order to recover data from an accidentally formatted hard drive or partition.
Step 1: Download and Install Stellar Data Recovery- Standard for Windows on your PC.

Step 2: Connect the External Hard drive to the PC via USB port. If you are prompted to 'Format hard Drive' option box, click 'No'.
Step 3: Launch Stellar Data Recovery- Standard software.
Step 4: Check the 'All Data' checkbox to select and recover drive files, folders, and other deleted data from the external hard drive.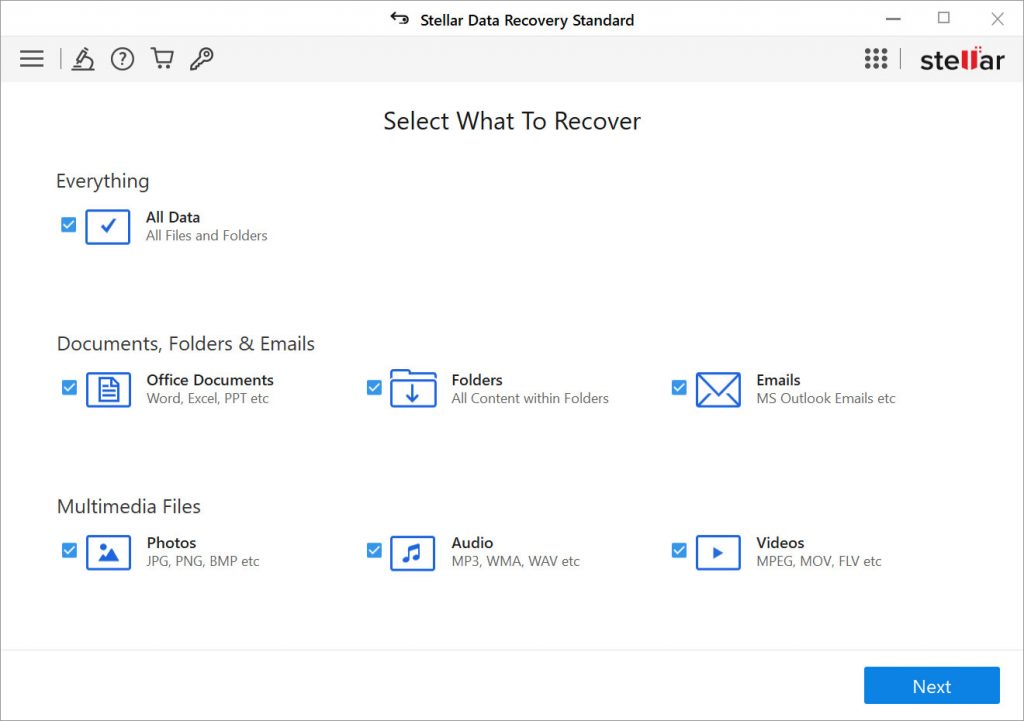 Step 5: Click the 'Next' button and then choose the External Hard drive and Turn on 'Deep Scan'.
The Deep Scan option takes more time as it thoroughly searches for the deleted data deep inside the hard drive based on file signatures and it also facilitates recovery of RAW data.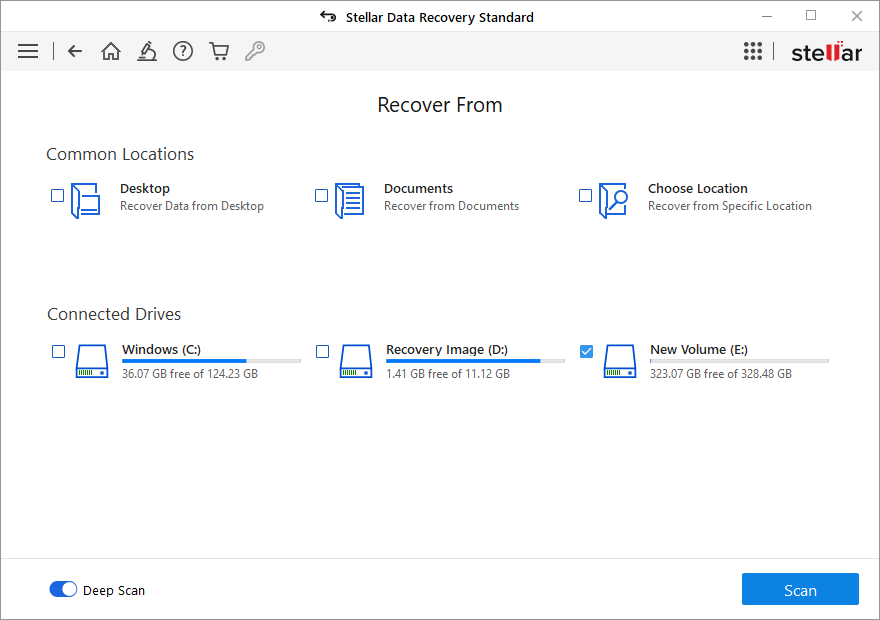 Select the partition and click 'Scan' to start scanning. If nothing is found, click on the 'Click here' link at the bottom to start 'Deep Scan'.
Step 6: In the left Tree View pane, you can see all recovered folders and files. Click on the 'File Type' tab to easily recover required data. You can also click on a file to preview it before you begin recovery.
Step 7: Check the requisite checkboxes of the files that you want to recover and then click the 'Recover' button.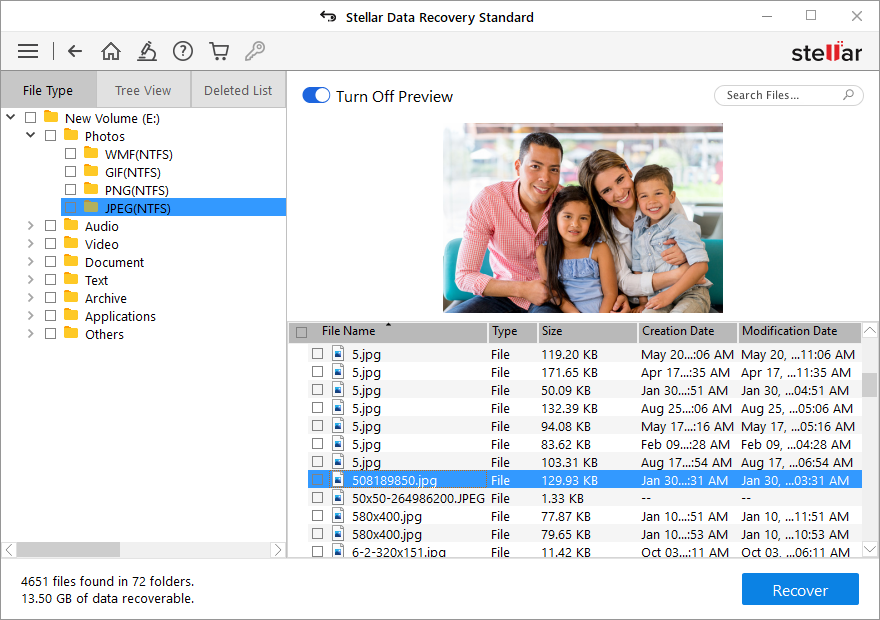 Step 8: Click the 'Browse' button to select the location where you want to save the recovered data. Make sure not to select the same drive. Finally, click the 'Start Saving' button. The selected recovered files and folders are saved at the desired location.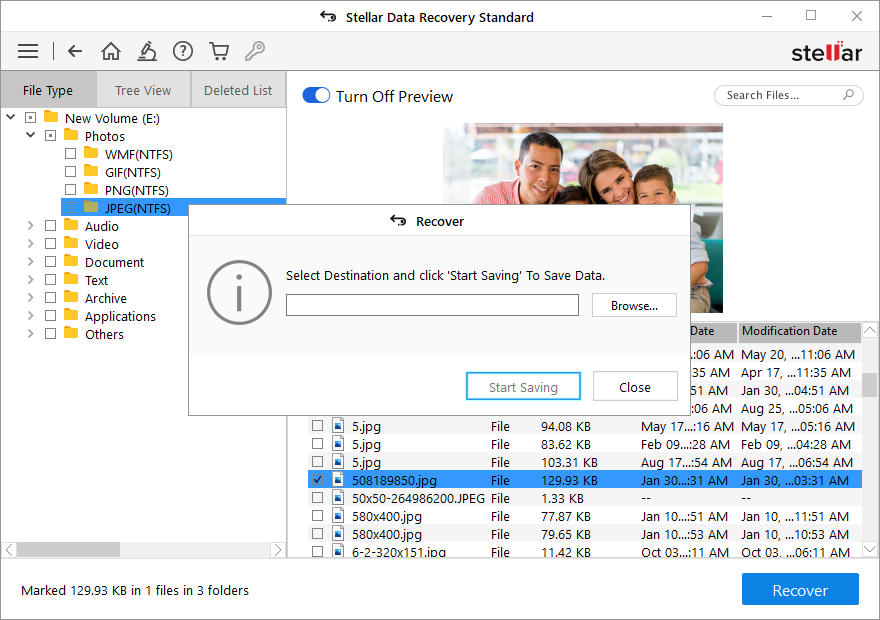 The Stellar Data Recovery- Standard for Windows is quick and provides an option to 'Save Scan information' that allows you to resume recovery at a later stage. This is useful when you have a large hard drive or a huge amount of data needs to be recovered. This tool supports recovery from FAT, NTFS, and exFAT drives and offers other advanced features that can help in the recovery of specific files and formats.
Conclusion:
Always take precautions before you begin to play with your External storage devices. It's important to know the consequences of any process that you perform on your hard drive. Instead of using an external hard disk, you can use a 32GB or 64GB 3.0 thumb drive to store recovered Windows data. Also, it's quite easy to store and carry a thumb drive than an external hard drive. So whenever you need to refresh your PC or recover data, you can connect the thumb drive and get your PC back in working state. Use your external hard drive as a data backup drive to store large files like music, videos, important documents, images, compressed files, etc. Also, don't forget to use Stellar Data Recovery- Standard in case of an emergency.