Summary: This blog shares the common data loss scenarios related to G-DRIVE USB-C and discusses the corresponding native remedies.

It also guides you on how to recover lost, deleted, or inaccessible data from the external hard drive on Mac, including the use of a specialized Mac data recovery software. Take a free trial of the software to get back permanently deleted files from G-Drive USB.

G-Technology®, a brand acquired by Western Digital in 2012, manufactures reliable, stylish, and high-performance external storage drives for Mac & Windows. Its product lines include G-DRIVE, G-RAID, G-SAFE, and G-SPEED.
The versatile product G-DRIVE USB-C comprises a single drive and is compatible with macOS and Time Machine. It delivers USB power for charging compatible laptops and sports an attractive aluminium design.
Potential Data Loss Cases while using G Drive USB on Mac
File Deletion & Formatting on USB G Drive

: You deleted a file or folder from your G-DRIVE USB-C external hard drive and then emptied the Trash while the drive is still connected. Or, you formatted the G-Drive USB with Disk Utility's erase operation.
Remedy: Do not empty the Trash without checking its stashed items. But if you emptied the Trash accidentally, then recover your permanently deleted files via Time Machine application. Similarly, leverage the Time Machine backup to restore the files lost due to G-Drive formatting.
Interruption while Transferring Data

: You pulled out the G-DRIVE USB-C from your Mac during the data transfer process thereby losing (corrupting) the data that was moved.
Remedy: Always safely eject the G-Drive USB by dragging its icon to the Trash. Do not move the data by cut and paste; instead, copy the items and paste them to the external storage drive.
G Drive Corruption

: Your G-DRIVE USB-C's file system turned corrupt due to partition map corruption, APFS container damage, wrong ejection, or other reasons. The affected drive is not recognized or mounted in macOS.
Remedy: Try mounting the G-Drive USB from Disk Utility. Next, run Disk Utility's First Aid to fix minor issues. In case the drive's data is still inaccessible, use a distinct connection method or try mounting the drive on another MacOS.
Bad Sectors on G Drive

: Your G-DRIVE USB-C acquired bad sectors due to use or age. Further, Disk Utility indicated S.M.A.R.T. Status as Failing.
Remedy: Immediately create the disk image of your G-Drive USB to avoid complete data loss. Substitute the failing hard drive with a new one, preferably G-DRIVE mobile SSD.
Note: All hard drives due to their mechanical nature tend to acquire bad. This data loss situation cannot be avoided but outsmarted with the help of backup.
Stellar Data Recovery Professional for Mac (when native methods don't work)
As mentioned at the beginning of this blog, macOS native methods or hit-n-trial tips may not always recover lost data from G Drive USB. A specialized data recovery software for Mac can help recover deleted, formatted or inaccessible data from G-Drive USB in such situations.
G-Tech Drive Data Recovery by Using Stellar Data Recovery Software
Step 1) Download, install and launch the trial* version of Stellar Data Recovery Professional for Mac

Step 2) On the Select What To Recover screen, let the default selection of Everything remain toggled on and click Next.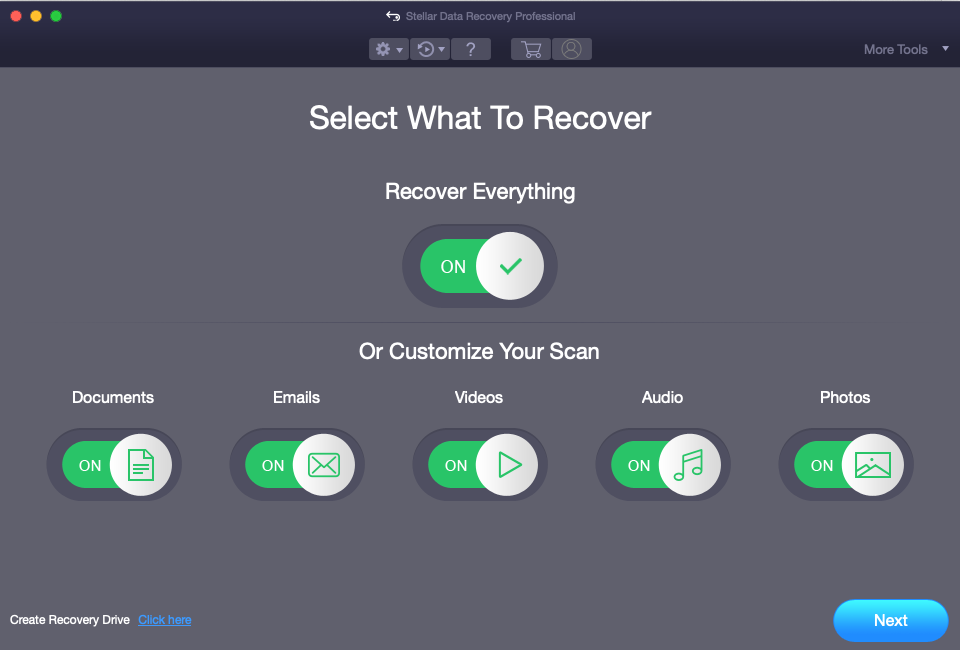 Step 3) On the Select Location screen, select the drive, turn on Deep Scan, and click Scan.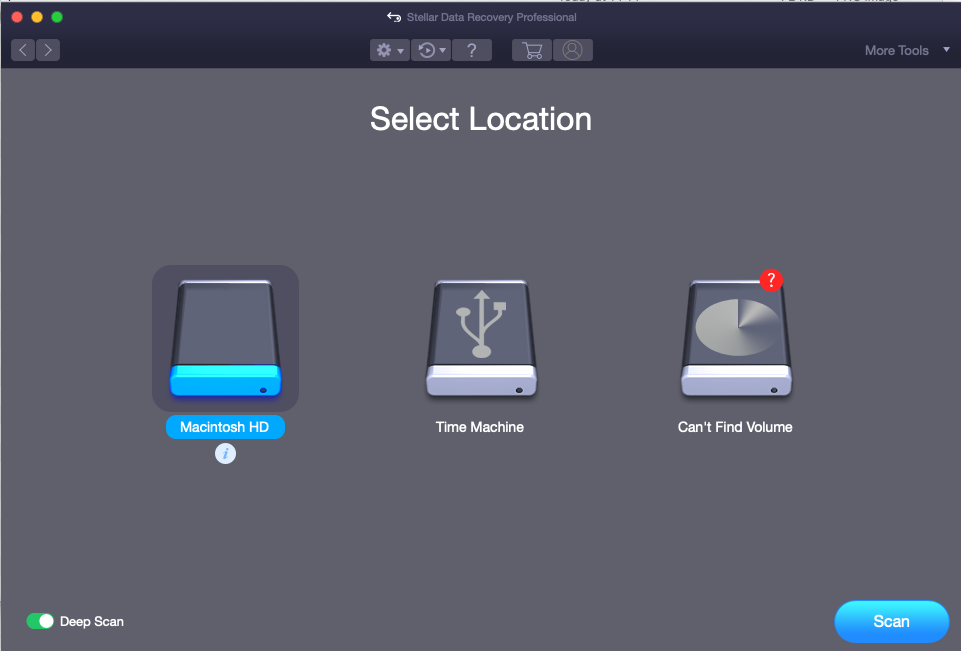 Step 4) Once the scan is finished, preview and choose all the essential files.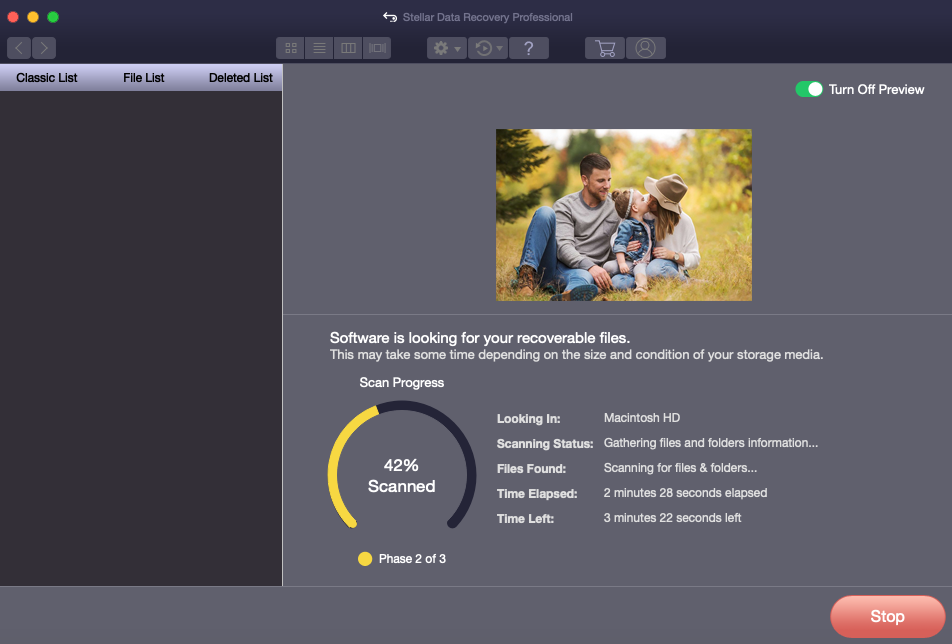 Step 5) Activate the software, Click Recover, specify the save location, and click Save.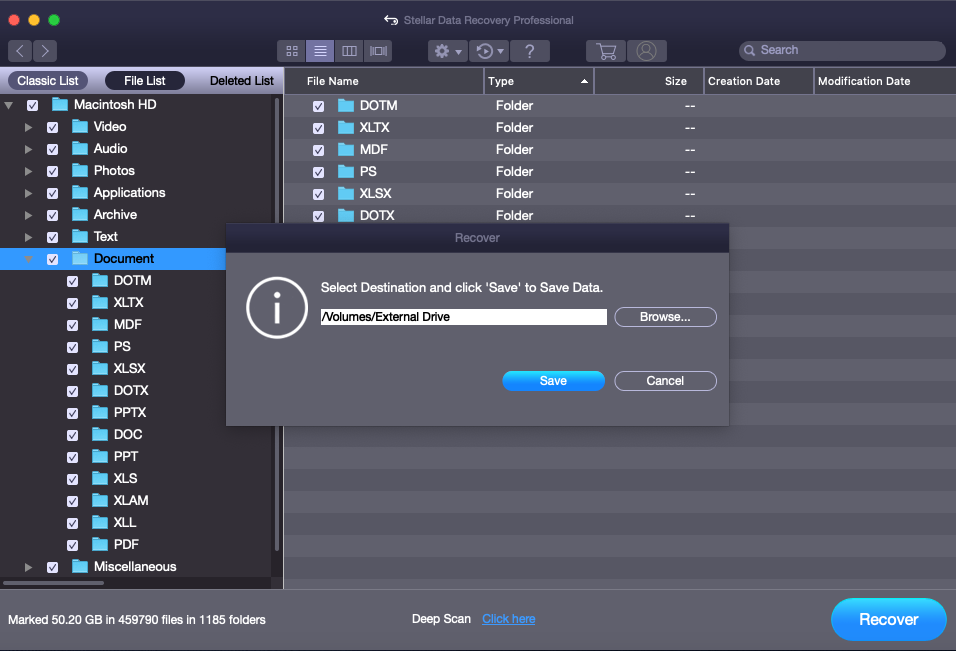 Step 6) When the software completes the recovery task, go to the specified save destination to view the recovered data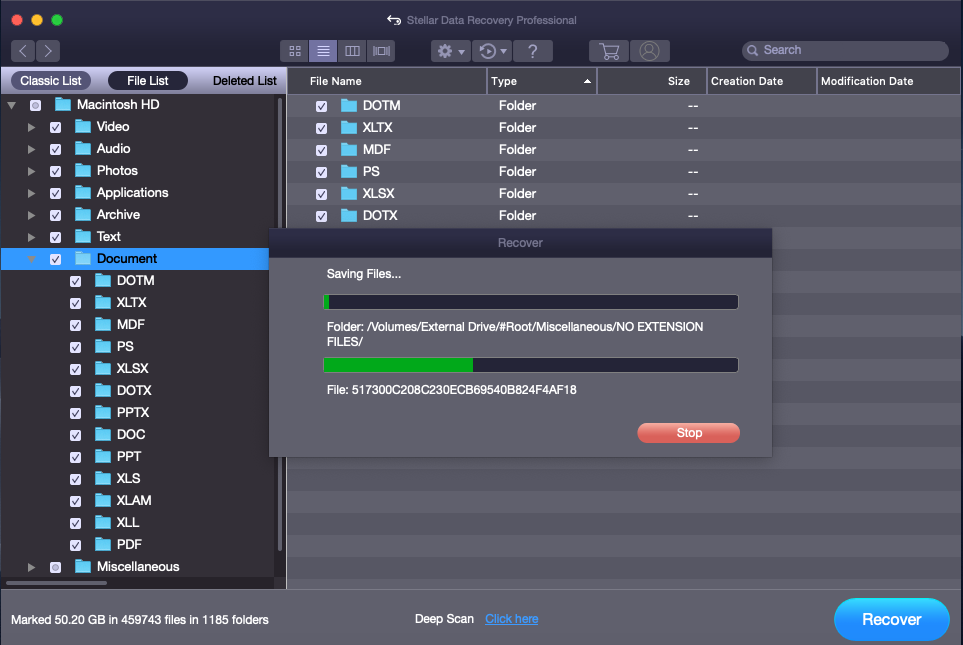 *The trial software scans the media and shows preview of all the recoverable files. Once you are able to ascertain the effectiveness, you can save the recoverable files by activating the software.
Watch the video for quick information about the Mac data recovery software.
Conclusion
Losing valuable files from your G-Technology external hard drive on Mac is common. The blog shared a few potential data loss scenarios and plausible native solutions for G-DRIVE USB-C data recovery. It also outlined a data recovery software with steps to recover lost, deleted, or inaccessible data from high-performance G-DRIVE on Mac.
The free trial version of Stellar Data Recovery Professional for Mac software lets you scan G-Drive USB and preview the recoverable files. Once you've ascertained the effectiveness, you can activate the software to save the recoverable files.
Key Benefits of the Software
100% Safe
Instant Delivery of Activation Key on Email
30-Days Money Back Guarantee
100% Satisfaction Guaranteed
24*5 technical support.