How to Recover Data from macOS Sierra Hard Drive?
Summary: This post highlights how users can seamlessly recover lost or deleted data from Mac OS X Sierra by using Stellar Data Recovery Professional.




The launch of the brand new Apple OS – Mac OS X 10.12 Sierra – has resulted in a string of upgrades by Mac users. Sierra is a worthy successor to El Capitan owing to Continuity enhancements, iCloud enhancements, Apple Pay support and Siri support. Moreover, from this version onwards, OS X will be referred to as macOS, syncing the desktop naming convention with its tablet and mobile operating system naming convention. While a majority of users are successfully upgrading their machines to the new macOS, a few, on the other hand, are facing issues where their photos or other files are no longer detectable post the upgrade.
Infographic – Data Recovery on macOS Sierra 10.12

(Download Stellar Data Recovery Professional Demo for Free)

Data Recovery – macOS Sierra
When it comes to flawless data recovery on Mac, the first name that comes to mind is Stellar Data Recovery Professional. This comprehensive DIY software safely and accurately restores lost documents, photos, music files, or videos that have been deleted from APFS (Apple File System), HFS, HFS+, FAT, ExFAT and NTFS format based file systems. With technically-advanced algorithms, this application is one of the most trusted Mac data recovery products across the globe.
Listed below are the significant features of macOS Sierra data recovery:
Reinstates files lost after being deleted or formatted from iMac, MacBook Pro, Air, Mac Mini, and Mac Pro
Provides Time Machine Recovery Support (MacOS Sierra) and Time Capsule Support OS Sierra
Facilitates RAW recovery on lost Mac volumes (external HD's partitions too)
Enables recovery from un-mounted OS X and macOS volumes
Supports Encrypted Drive Recovery MacOS Sierra
Capable of performing Boot Camp partition recovery
Restores data from damaged or improperly burnt optical media with no alteration to original content
Allows imaging of Mac hard drive and volumes through 'Create Image' feature
Available with system startup disc to start up Mac in case boot volume has been damaged
Provides option to preview files before recovery
Equipped with easy-to-understand GUI
In addition to the above mentioned impressive features, the application also provides you with the option to stop a running scan at any point, save scan information up-to that point, and then resume the scan from that point at any later stage.
How this product works
One of the biggest strengths of this software is its interactive GUI with detailed instructions. The working of the tool is extremely easy to grasp and practice. Here's how you can easily recover lost data from macOS Sierra:
Step 1) Download, install and launch Stellar Data Recovery Professional for Mac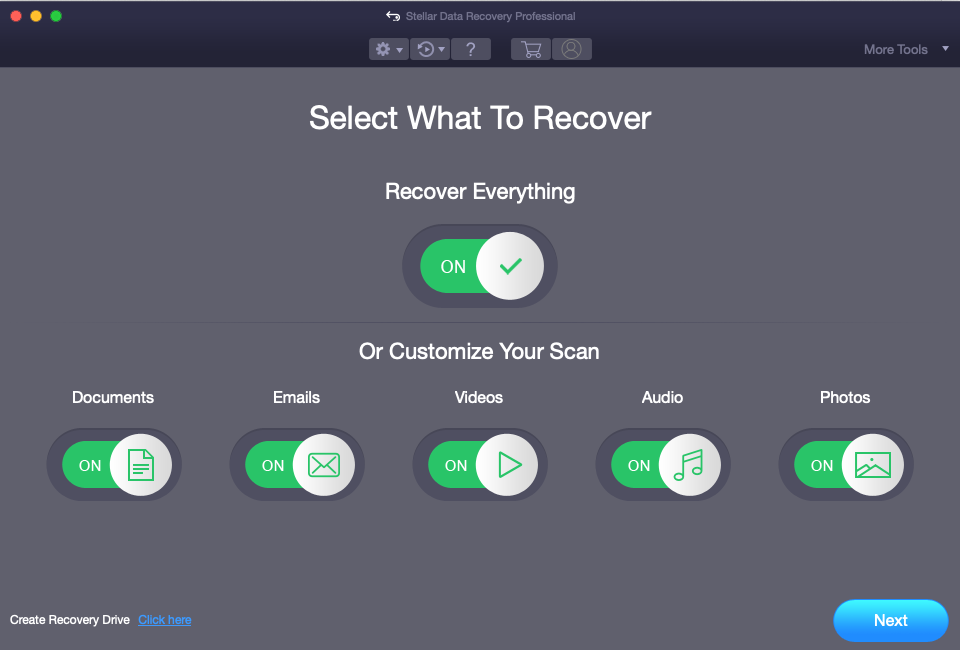 Step 2) On the software's main screen, select 'What to Recover' or 'Customize your Scan'. Press Next
Step 3) All volumes and hard drives connected to the Mac (including any external hard drives) are listed in the window. Select the hard drive from which you wish to recover data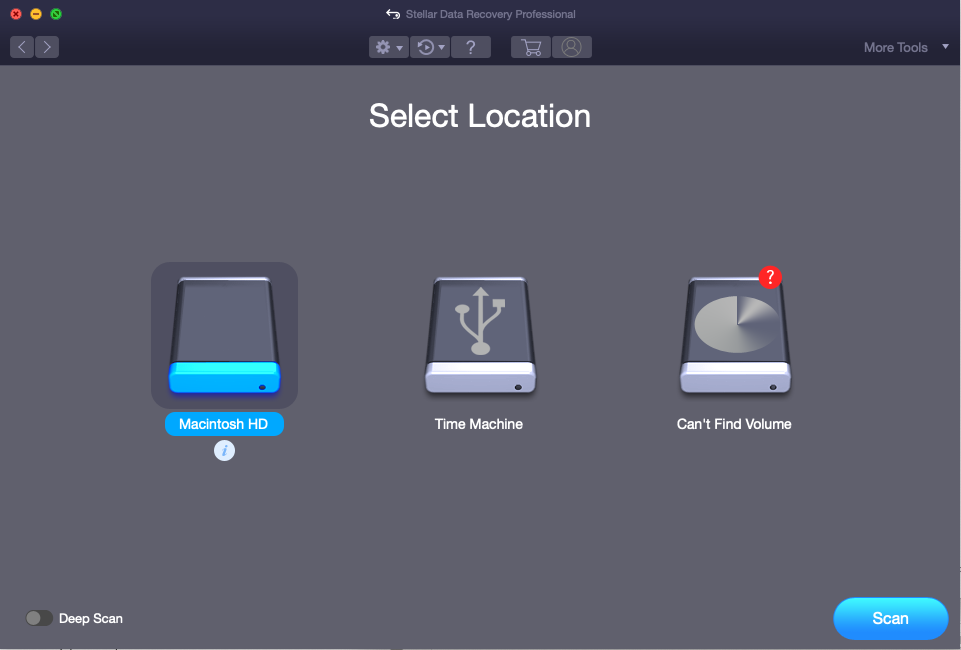 Step 4) You have the option to Toggle On the Deep Scan
Step 5) The software scans your chosen macOS Sierra hard drive efficiently and generates preview of the recoverable data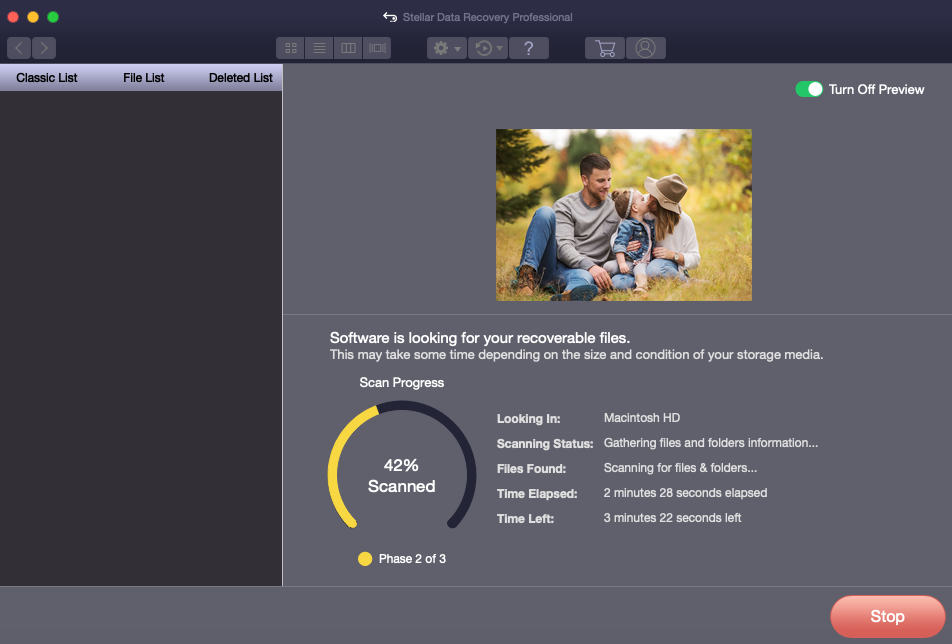 Step 6) Preview your files once scan is completed successfully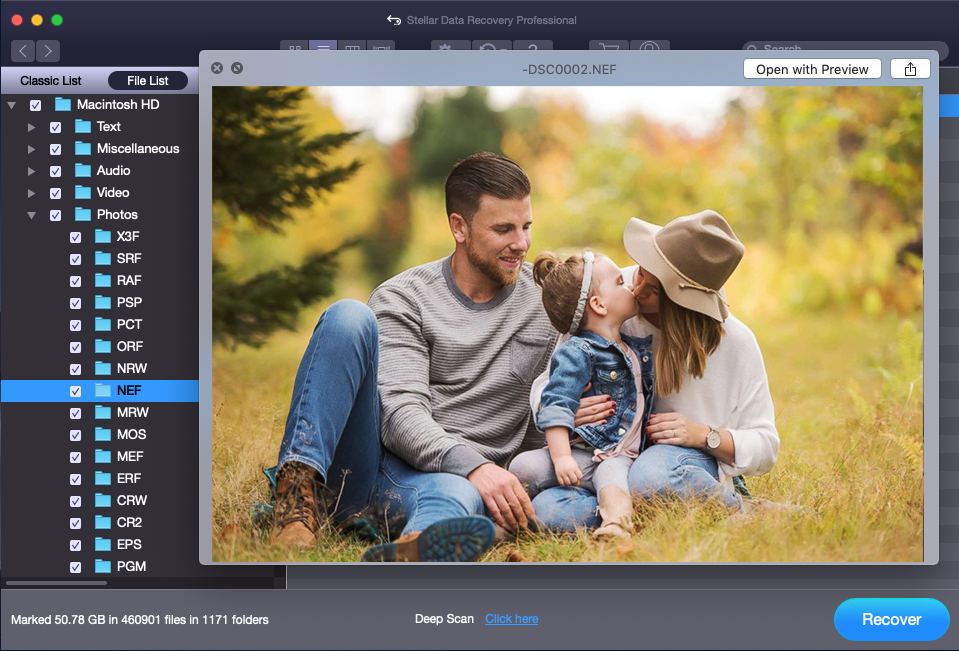 Step 7) Select the files you want to save and press Recover. Now, provide a destination to save all the chosen data.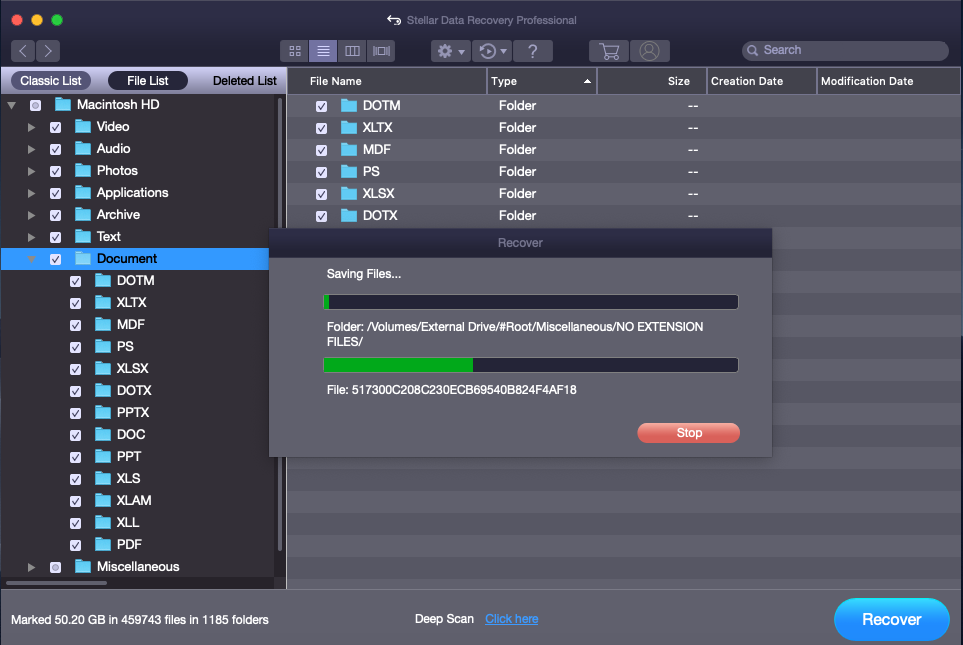 Search Lost/Deleted Volumes
This option can be used to scan the main hard drive for lost or deleted macOS partition recovery. Once the missing volumes are found, they'll be listed with the other hard drives and volumes on the left panel of the software. Thereafter, you can select them and proceed with the deleted data recovery as shown above.
Raw Recovery
This option can be used to recover data from severely damaged or corrupt storage media. This option should be used when other recovery procedures fail to yield the desired results.
Create Image
This option can be used to create an exact image of the selected storage media. The image is saved on the disk as a DMG file which can be used as a backup to restore data in situations of crisis.
Resume Saved Scan
This option can be used to resume a previously saved scan. Mac data recovery software allows you to stop a running the scan at any point and save the scan information up-to that point. Later, the scan can be resumed from that point.
The Bottom Line
The above options may seem overwhelming at first; however, once you begin working with the product, you'll find them to be quite self-explanatory and easy to follow.
Related Links for Complete macOS Data Recovery