Partition loss is not synonymous with data loss; they are different issues. It is technically a more complex task to recover data from deleted partitions than restoring accidentally deleted or formatted files.
Usually, partition loss in Windows occurs due to human errors, and there are circumstances wherein a partition is lost for unknown reasons without leaving any upfront clue. This makes recovery of deleted partition even more difficult and challenging.
The following are a few common reasons that are mainly responsible for partition loss:
1. Loss or Damage of Partition Table
Partition table is a crucial element of the hard drive, which enables the users to view partitions and define new volumes. If a partition table gets damaged or corrupt, the drive becomes dysfunctional. This situation may have several causes such as hot swap failure, software conflict, illegal operation, virus attack, and sudden power outage.
2. Human errors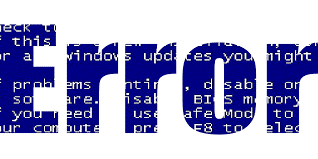 Human errors are the second most common cause of data loss across the globe. Often users aren't aware of powerful inbuilt utilities such as Disk Management and therefore —while creating, editing, or modifying new partitions or disk—sometimes accidentally format and delete an entire partition. Such deleted volume turns into unallocated space which is inaccessible.
3. Virus or Malware Attack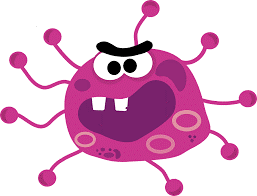 Virus and Malware have become more sophisticated with time, and thus, they are not easy to detect. Each virus and malware is designed for a specific purpose. For example, a malware for stealing private information is different from the one that is meant to delete or encrypt information (referred to as Ransomware).
Thus, a malicious program file from the internet or an infected USB drive can quickly delete or corrupt a partition in a Windows PC.
4. Bad Sectors
In general, a hard drive has several tracks, and each of these tracks includes several sectors to store data. When a sector goes bad, the operating system (OS) can't read or write at the particular sector on the drive. As the number of bad sector increases with time and use, logical issues start appearing on the hard drive. These logical problems can cause drive or volume corruption, which can further result in partition loss.
Now that you know the common reasons that lead to partition loss; follow the below steps to recover data from deleted partition.
How to Recover Data from Deleted Partitions?
First, stop using the system and the affected drive immediately to avoid any further damage.
Second, you may run a CHKDSK scan but only if you see your drive partition as RAW in the Disk Management tool. However, to run a CHKDSK scan, you need to assign a drive letter to the RAW drive, if it does not have one already.
After assigning the letter, the system prompts you to format the drive. Click 'Cancel', as formatting the drive will cause permanent data loss. Then type chkdsk /r /f X: in the CMD window to run the scan, where X is the RAW drive's assigned letter.
Finally, if the CHKDSK scan does not resolve the problem and if the partition is still visible as RAW, free, or unallocated in the Disk Management tool, follow the below steps to recover data from deleted partition:
DIY Software to Recover Data from Deleted Partition
Step 1: Download, install and run Stellar Data Recovery Professional software.

Step 2: From 'Select What to Recover' screen, choose what files you wish to recover and click 'Next.'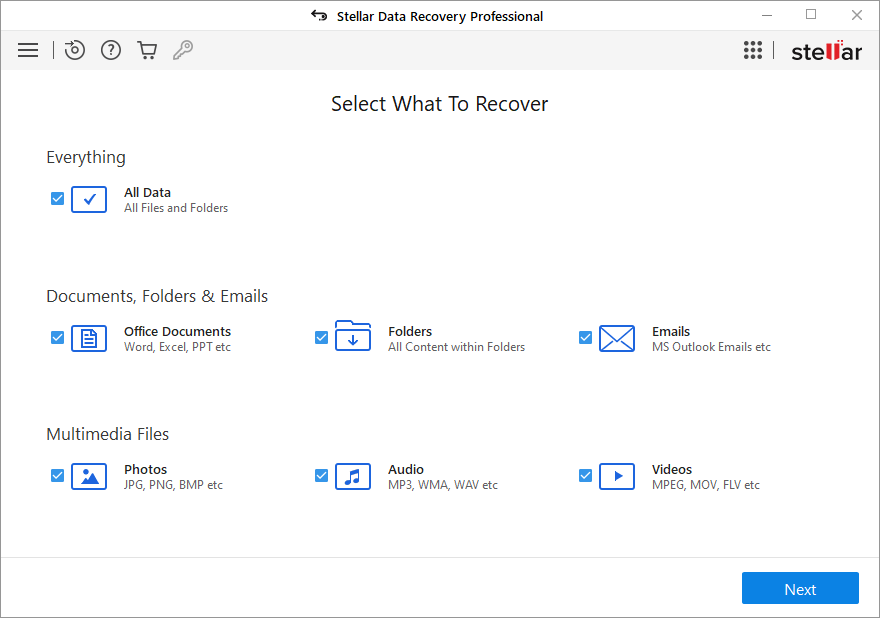 Step 3: From the 'Recover From' screen, choose 'Can't Find Drive' option under 'Connected Drives' and click 'Scan.'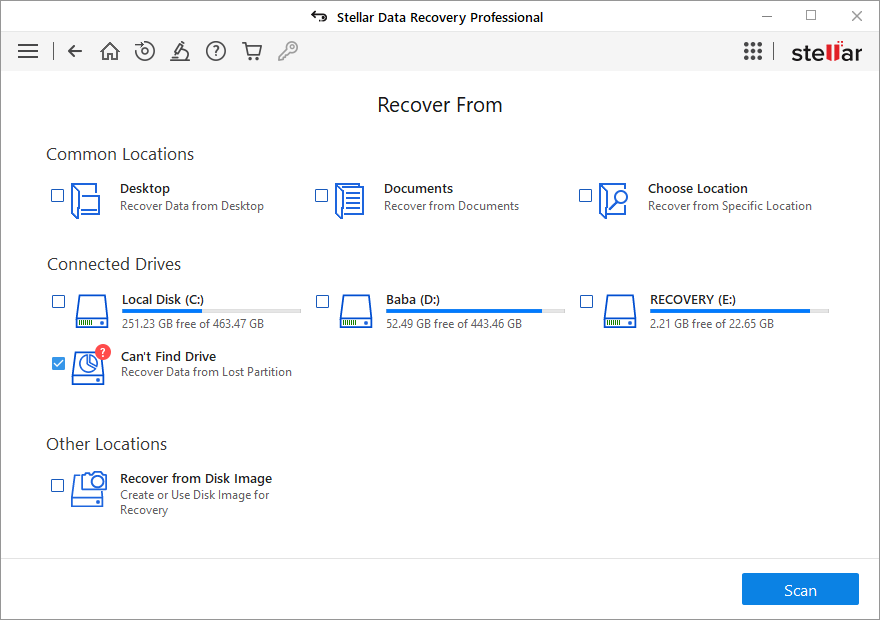 Step 4: Under 'Select Drive' select the affected hard drive and click search to start the scan for lost partition.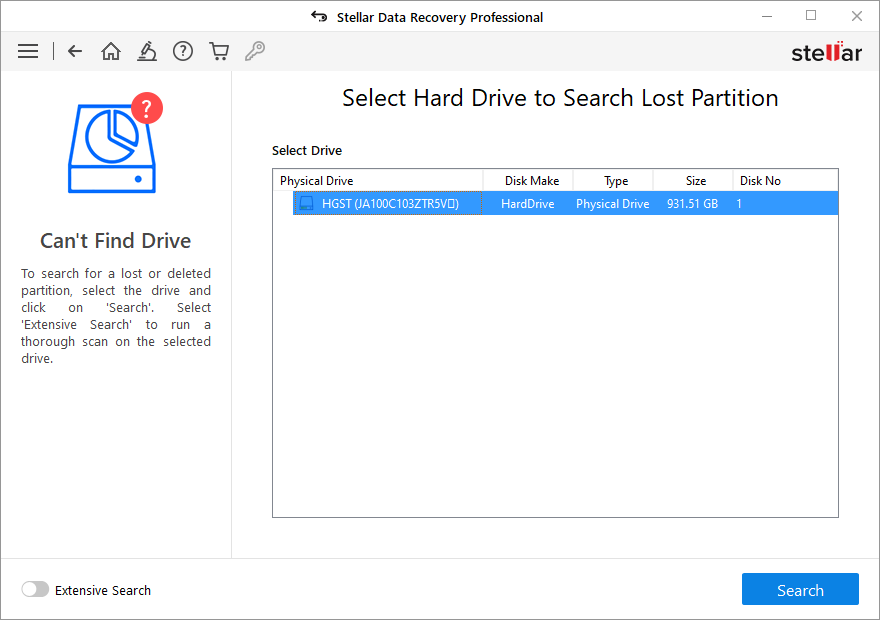 In case the requisite drive or partition is not found in the initial search, click 'Deep Scan' button below 'Partitions Found' list box.
Step 5: On successful completion of the scan, a list of the lost partition will be available in 'Partition Found' list box.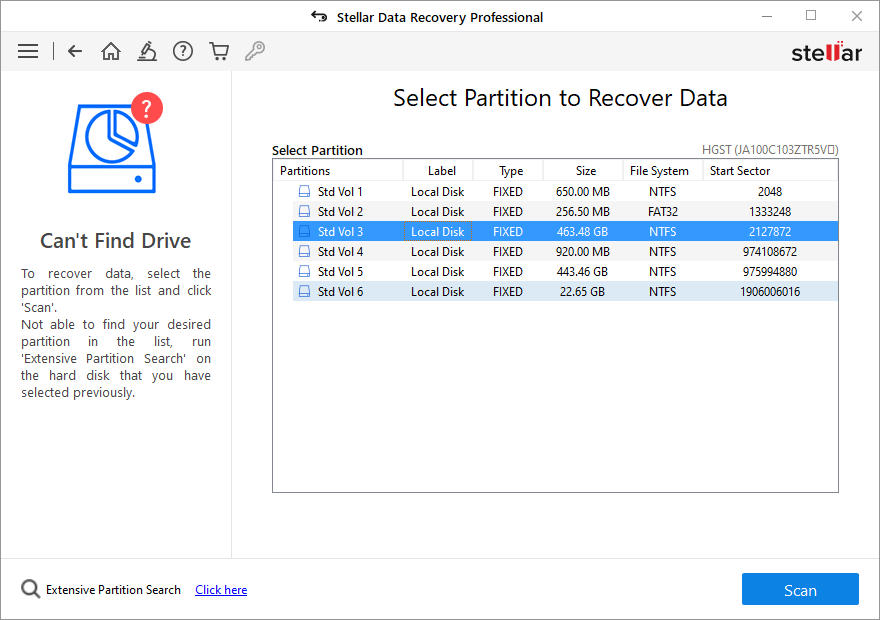 Step 6: Choose the desired partition and click 'Scan.'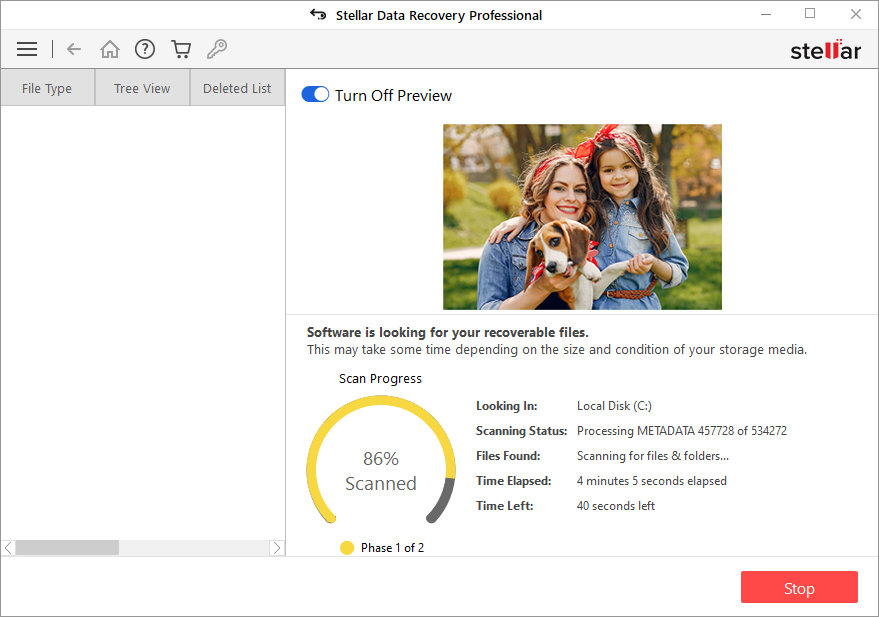 Step 7: Once the scan is complete, the recoverable files are listed that can be sorted based on 'File Type,' 'Tree View,' and 'Deleted List.' Choose any or use the search box to locate desired files quickly.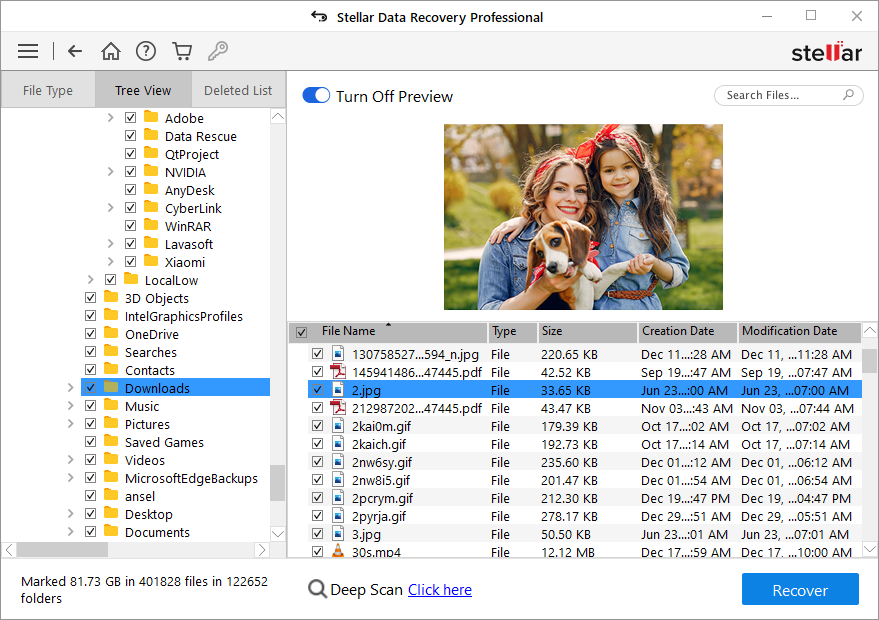 Note: You may click on a file such as a video, photo, audio, document, etc. to see its preview before saving the recoverable data.
Step 8: Select the files you wish to recover and click 'Recover' button. Then a dialog box will open where you have to select the desired location where you want to save the recovered files. Click 'Browse' to choose a save location.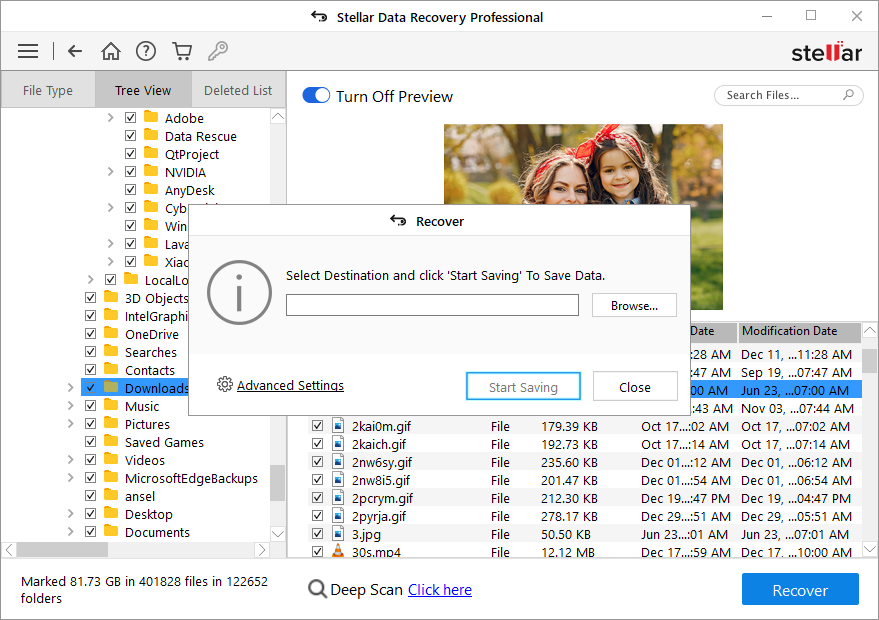 Step 9: Then click 'Start Saving' to finish the recovery process.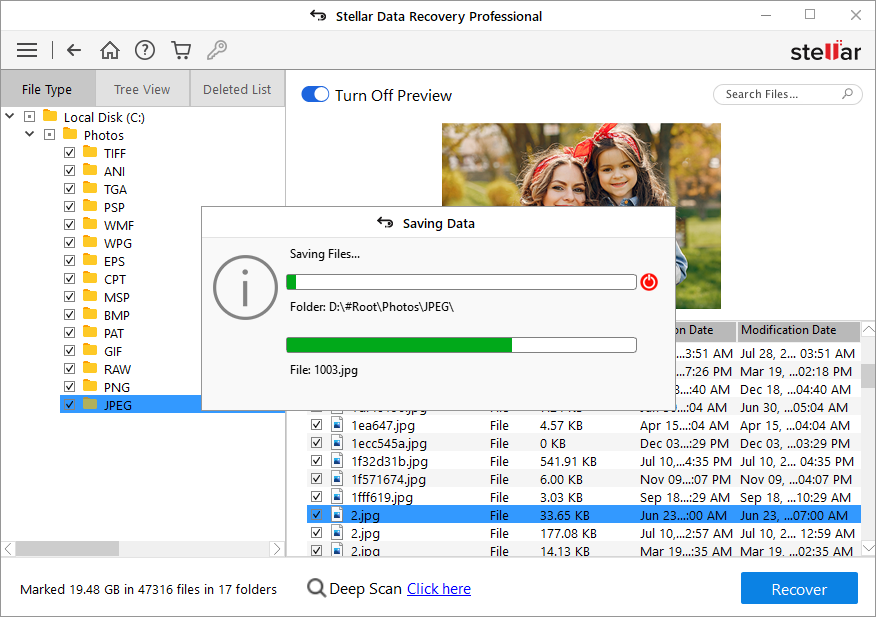 The software supports NTFS, FAT (FAT16/FAT32), exFAT file systems, and is compatible with Windows 10 and earlier versions (up to XP).
The software-based data recovery process is simple and easy-to-understand, which makes it the most effective and reliable way to recover data from deleted partition.
The Final Words
Recovering data from a lost or deleted partition is a tedious task but entirely possible with using the right tools such as the one we mentioned in the post. However, it is only possible in case if the partition or affected drive is not damaged further due to employing trial and error methods.
While RAW drive can be repaired by using CHKDSK scan (if the error pertains to the file system), for all other cases of partition loss, corruption, and deletion, you would need a software tool like Stellar Data Recovery Professional for quick and secure data recovery.