3 Solutions to Recover Deleted Files for Free from Windows 10
Summary: In this post, we will discuss the top 3 solutions to recover deleted files for free from Windows 10. We have also discussed the ways to restore data with a Free Data Recovery software. Moreover, some essential tips to prevent data deletion in the future are mentioned in this post.

"I accidentally deleted a few files from the desktop. I tried 7 programs, but neither of them can recover my files, except a few files that I deleted formerly."
Your files are undeniably important, and you simply can't afford to lose them. Even the thought of losing your essential files might be distressing. However, if you have accidentally deleted your files, no need to panic. Here, we are sharing 3 solutions to recover deleted files for free from Windows 10.
You can restore your important documents, videos, emails, photos, and audio files, etc. with the following methods.
3 Solutions to Recover Deleted Files
Solution 1: Restore Your Files from Recycle Bin
If you have accidentally deleted important files from Windows 10, first check your Recycle Bin. Follow the given steps to get your files back:
Go to the desktop & open the Recycle Bin.
Find and select the files or folders you have deleted mistakenly.
Double-click the selected item(s) and then click Restore to get your important files back (See Figure 1).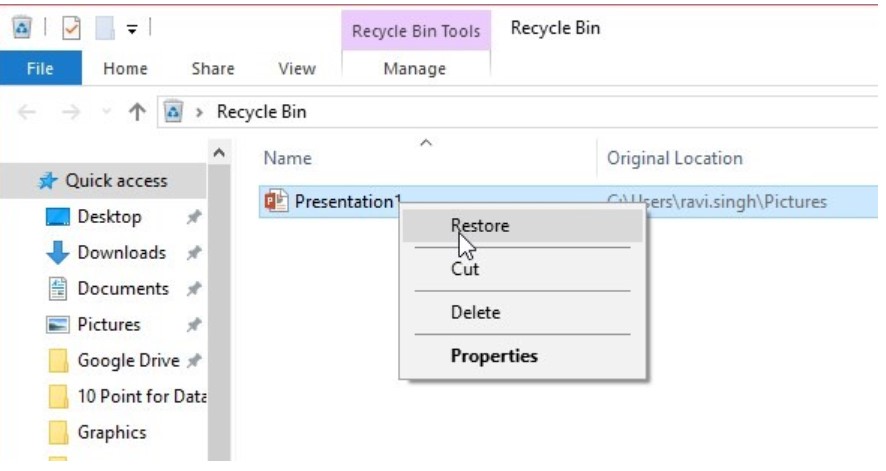 The files or folders will be restored to their original location. Also, you can Cut-Paste the selected files and save them on the desired location.
However, if you have accidentally deleted the files using Shift + Delete key or empty the Recycle Bin option, the files are permanently deleted from the system. In this case, you can retrieve your deleted files with the best file recovery software for Windows available online.
Solution 2: Restore with File History
In case you have accidentally deleted files or folders from your Windows 10 but have kept the built-in 'File History' option on to create a backup of your files, you can easily restore them by following the given steps:
Go to 'Control Panel', and open File History (See Figure 2).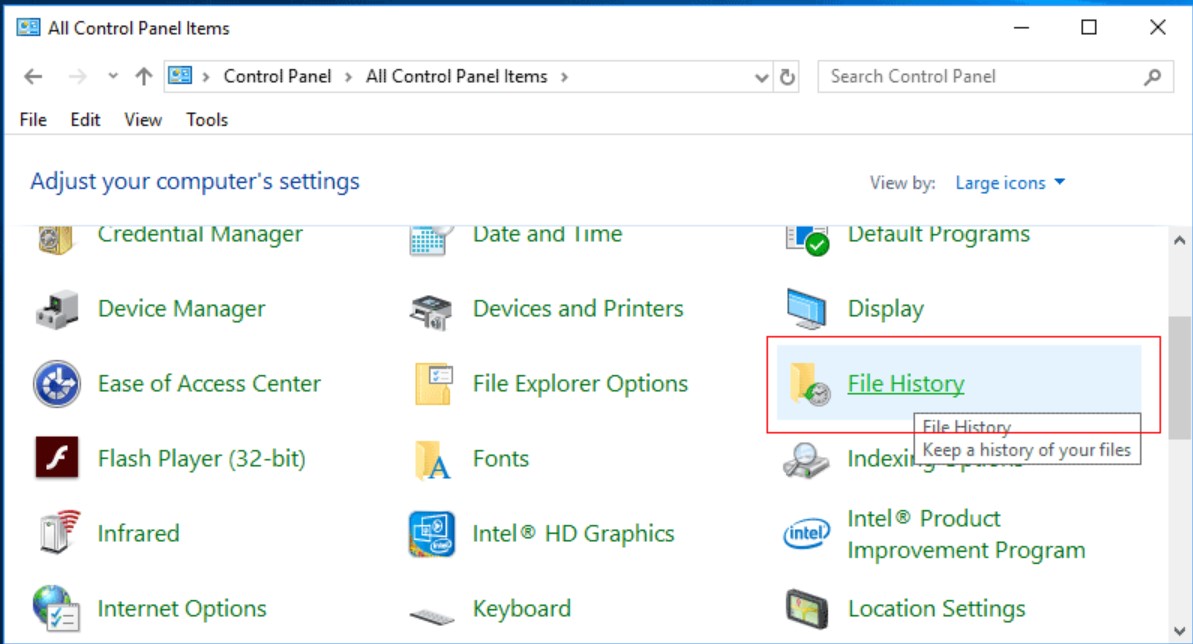 Open Restore Personal Files. You can view files as per the backup time (See Figure 3).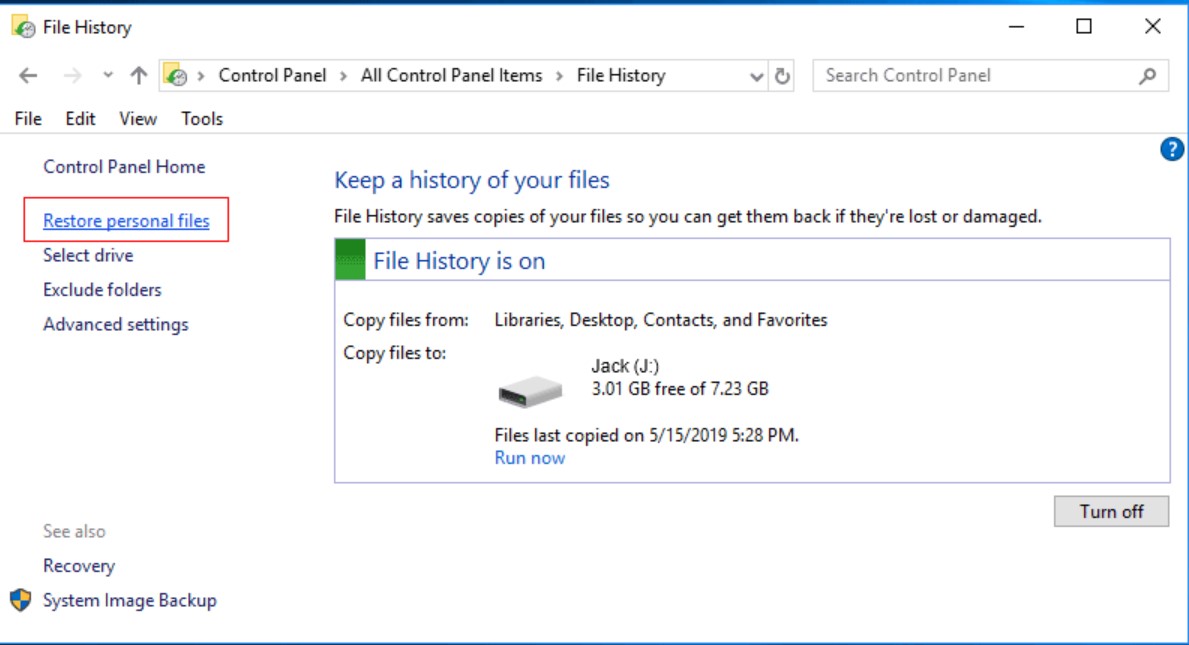 Select the file you want to restore.
Right-click the green button & select Restore to (See Figure 4).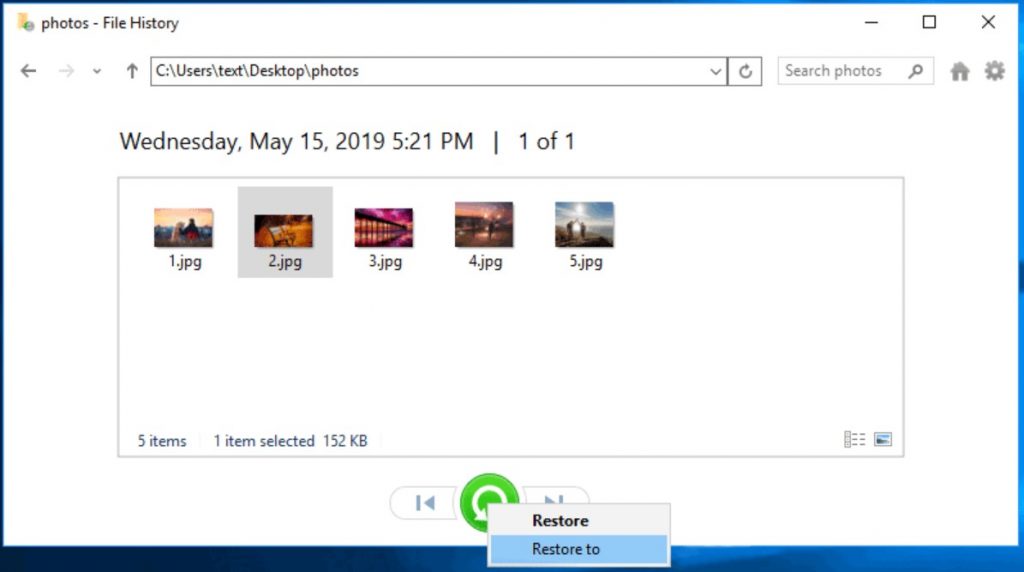 Store the retrieved files at the desired location.
CAUTION: Use an external drive or storage media to save the retrieved files in order to prevent data overwriting.
Solution 3: Retrieve Deleted Files with Free Data Recovery Software
If both of the above methods fail to get your deleted files back, try using a free data recovery software such as Stellar Data Recovery. The software allows you to restore data lost due to accidental deletion, virus attack, etc. You can also retrieve the lost or deleted photos, videos, documents, and more on your Windows PC, laptop, and external storage media. This free data recovery software supports storage drives, having NTFS, FAT (FAT16/FAT32), and an exFAT file system.
This Do-it-Yourself (DIY) software is also capable of retrieving files & folders even from corrupt and formatted volumes. You can download this free software, and restore hundreds of deleted files on Windows by following the given steps:
Download, install & run Stellar Data Recovery for Windows in your PC.

From the Select What to Recover window, select the desired type of files or 'Everything', and click Next. (See Figure 5)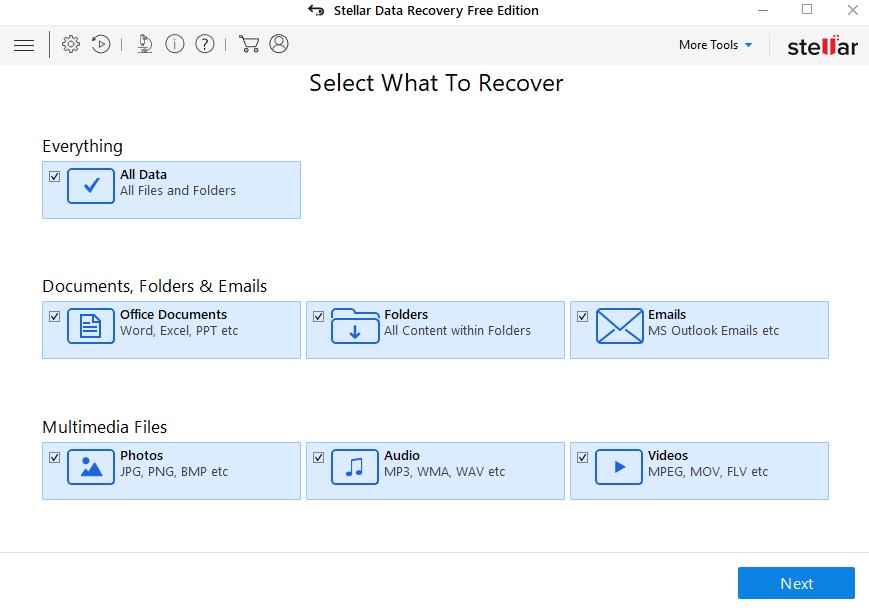 Select the drive or locations from Recover from window, click Scan. (See Figure 6).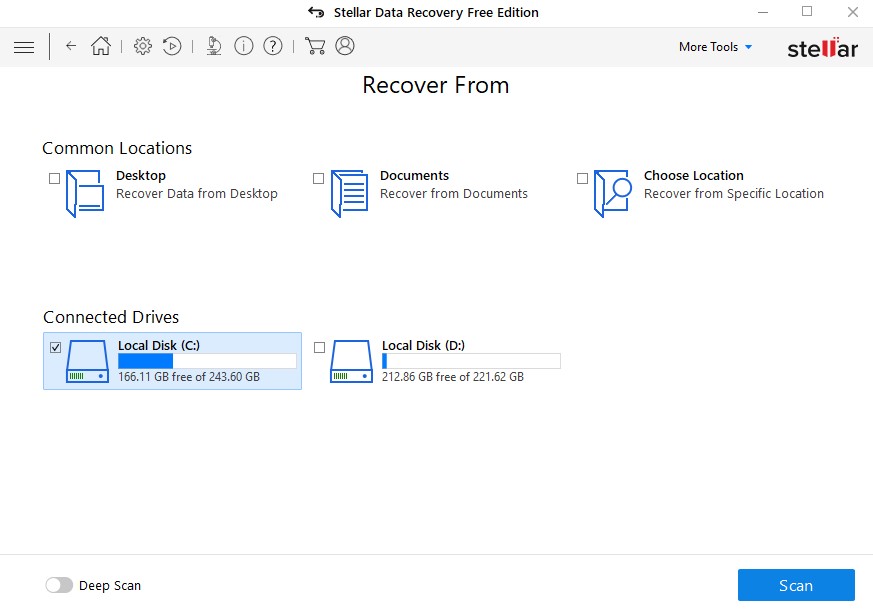 Once the scanning process is completed, the scanned results will show in three panes i.e. Tree View, File Type, and Deleted List. You can also turn On/Off the 'File Preview' to check the scanned files before saving them. (See Figure 7).
Click Recover, and choose a different drive volume from the drop-down list.
Click Start Saving to store the restored files. (See Figure 8).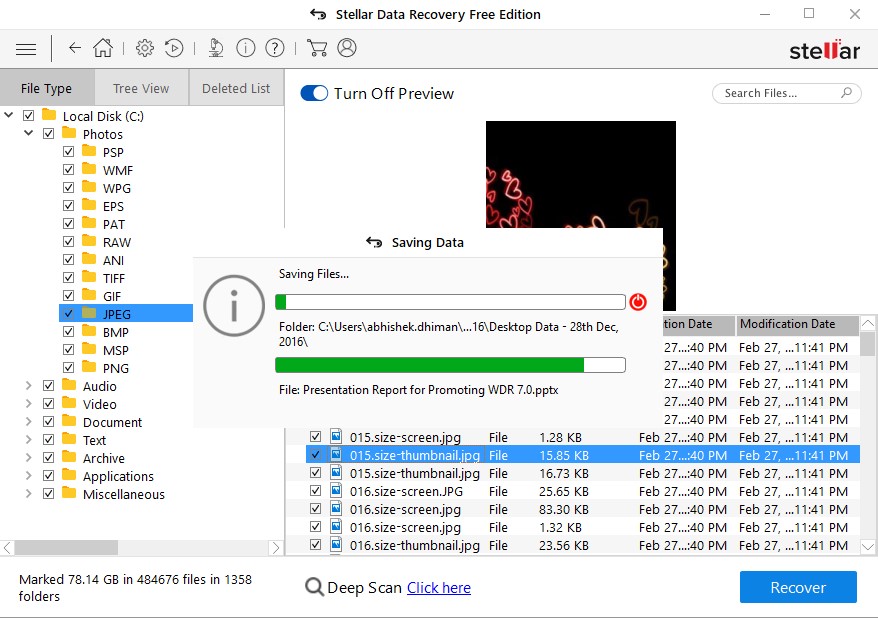 Note: You can easily sort and retrieve the deleted files up to 1 GB for free.
Quick Tips to Prevent Data Loss
Always keep a backup of essential files on the cloud or local storage.
Safely eject any external drive before disconnecting.
Before installing the latest windows update, create a backup of data from C: drive.
Always keep a professional data recovery software handy to restore deleted or formatted data.
Conclusion:
Accidental file deletion cases are prevalent. In case you deleted the files accidentally, you can restore them with the methods shared above. These 3 solutions can help you recover deleted files for free from Windows 10. Either you can get your files back from the recycle bin (if the files are not permanently deleted with Shift + Del key) or you may use Windows built-in backup option such as File History.
And, if these methods fail, using a free data recovery software such as Stellar Data Recovery is the best way to recover your deleted files. However, to prevent data loss in the future, you should always keep a backup of your files in local or cloud storage.