Recover Deleted Files without Using Data Recovery Software
Summary: This blog shares several ways to recover lost or deleted files without the help of a data recovery software.

Read on to learn how to recover deleted files without using a professional data recovery tool in Mac and Windows.

However, if the methods in the blog don't help you in data recovery, download the free trial version of Stellar Data Recovery software to retrieve your lost data.




Data Recovery on Mac (Catalina)
1. Trash/Bin Recovery
If you've accidentally deleted some data from your Mac, the most convenient way is to look for it in the Trash (bin) folder. Select the files that you want to recover, and choose 'Put Back' from the context menu. The deleted data will restore to its original location. Or else, you can drag the selected data from Trash and drop it on the Desktop or anywhere else in Finder.
Related Article: How to Recover Deleted Files from Trash?
2. iCloud
iCloud is a native cloud storage service offered in your Mac. By using the 5 GB free cloud storage space provided with your Apple account, you can sync your important files and folders with iCloud. So, if you've deleted your files by using permanent deletion command or emptied your Trash after deletion, look for those files on iCloud and restore them to your Mac. But, keep in mind that the iCloud sync process requires an uninterrupted Internet connection for regular uploads.
3. Time Machine
Time Machine is an in-built backup app provided in macOS which helps you restore your deleted files. If you've set up an external hard drive as Time Machine backup drive, the app takes incremental backup of your 'Macintosh HD' at a scheduled time. Steps to recover deleted data from Time Machine are as follows:
Step 1: Go to 'System Preference>Time Machine', and 'Enter Time Machine'.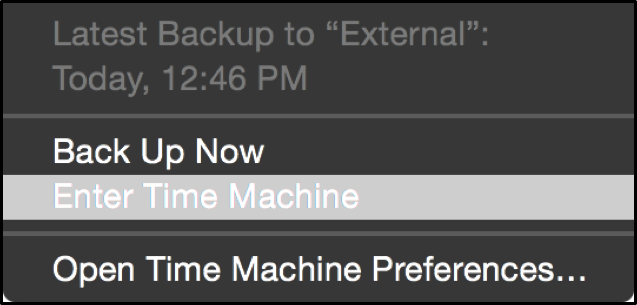 Step 2: Browse through the files using up or down arrows or the timeline.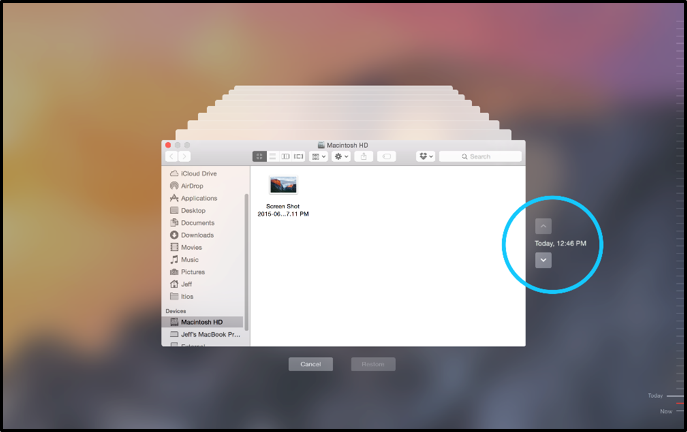 Step 3: Select the required files, then click Restore.
Data Recovery on Windows
1. Recycle Bin
Just like Trash in macOS, Recycle Bin in Windows retains all your deleted files and folders temporarily. When you delete your files on your PC, go to Recycle Bin and look for your deleted data. Select the required items, right-click and then choose 'Restore' to get them back to the location from where the data got deleted. You can even drag and drop the selected items to Desktop.
Related Blog: How to Recover Deleted Files from Recycle Bin?
2. OneDrive
OneDrive is the proprietary cloud storage space provided by Microsoft. By using the 5 GB free storage space linked with your Microsoft account, you can sync your valuable documents, email attachments, pictures, etc. to OneDrive. If you've deleted your data from the synced folder by using Shift + Delete command or by using the Empty Recycle Bin option after deletion, you can restore them from OneDrive.
3. File History
It is a built-in backup feature provided in Windows. If you've set up an external storage drive or network-attached storage for File History, you can restore your deleted files easily by using File History. Following are the steps to recover data using File History:
Step 1: Go to Start menu, type 'Restore your files with File History', and then hit Enter.
Step 2: On the File History window, look for the deleted file and then navigate to its version.
Step 3: Choose 'Restore' to save it to its original location. Or right-click on Restore and select 'Restore to' to save in a new location.
Step 4: Alternatively, you can go to the folder where the deleted files were once stored. Right-click the folder, select Properties, and click the 'Previous Versions' tab. Select the latest version, then click Restore.
Conclusion
Both Windows and macOS have built-in features that help recover deleted files without the need for data recovery software. For instance, macOS provides Trash, iCloud, and Time Machine, while Windows has to Recycle Bin, OneDrive, and File History. By using these built-in and often ignored features, you can recover your deleted files efficiently.
However, all the above methods are rendered useless if you fail to take timely back-up of your files. In such situations, data recovery software is the only solution.
Stellar Data Recovery Professional for Mac: Recovers deleted documents, emails, videos, audio, and photos from the internal or external storage drive. Additionally, it recovers your lost backup files using the Time Machine backup medium. Read more.
Stellar Data Recovery Professional for Windows: Salvages deleted photos, documents, emails, audio, and videos from any storage media. Like a Mac data recovery tool, this software to recovers lost backup files from a File History backup drive. Read more.
Was this helpful?