Proven Methods to Recover Lost macOS System Files and Folders
"How can I get back system files after deleting it from my Mac?" As a Mac user, you may have asked this question umpteenth times, isn't it? Whether you have accidentally deleted your system files and folders, while upgrading to the latest version, you lost macOS system files or due to any other reason, you look for a reliable data recovery software for Mac to recover Mac OS system files.
There are several online forums which cater to problems related to Mac; In addition, there are how-to blogs and posts. Also, there are queries such as "Can I restore deleted Mac OS folders without using the additional software?" "Is there any way I can get back my lost macOS system files and folders?" Well, losing macOS system file is frustrating as it may hinder the functionality of your Mac and the applications installed; therefore, your immediate course of action should be to recover them.
With that being said, let's look at some of the various methods which may recover macOS system files —
Method #1: Look in the Trash Can:
The Trash Can is the first place you should look for deleted macOS system files and folders. The files and folders you delete are moved to the Trash Can and you can retrieve them until they are permanently deleted from the Trash Can.
Here's how you can restore macOS system files from the Trash Can:
Open the Trash can
Locate the deleted files and folders
Right-click the file and select "Put Back" option
Method #2: Check the Time Machine:
Time Machine is one of the efficient ways to backup your data on an external storage device. It is a built-in backup feature that backups all your data so that you can restore them later. You can backup your entire Mac including apps, emails, system files, and folders and all necessary data. When the Time Machine feature is enabled, it automatically backs up your Mac be it hourly, daily, or weekly.
If you've kept backups with the Time Machine, you can restore deleted Mac OS folders from there. Follow the steps below:
Step 1) Click Time Machine in the dock or select Enter Time Machine from the menu

Step 2) Find the files to restore. You can use the search field to find the lost file and then move through time until the file that you wish to recover appears.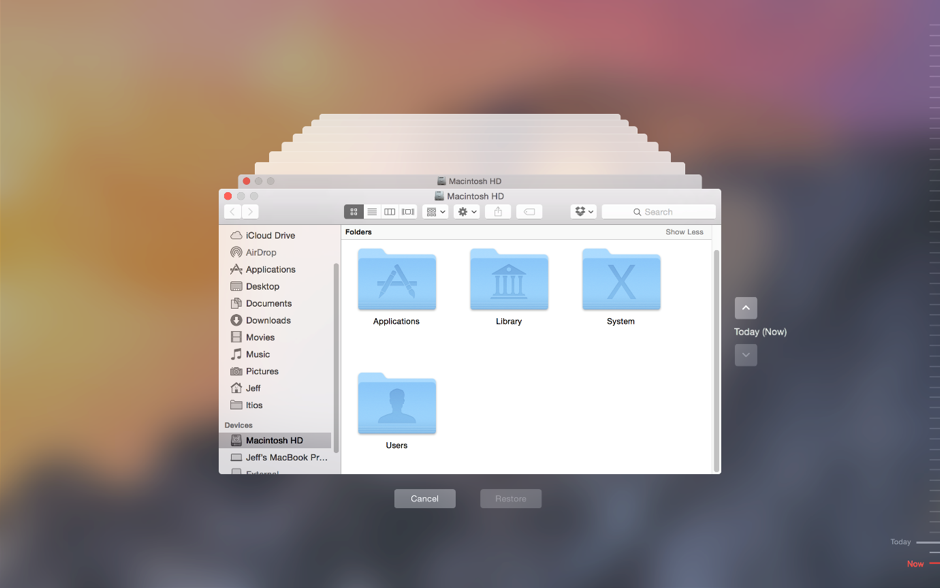 Step 3) Press Space bar to preview the file to ensure that it's the file you want to recover
Step 4) Select the file and click "Restore" tab
And that's it! You now have the lost system files and folders as they originally were!
Method #3: Use a Mac file recovery software:
There is a possibility that you may have emptied the Trash Can or haven't enabled Time Machine backup. Under such situations, you can use a Mac file recovery software to recover lost macOS system files and folders.
Stellar Data Recovery Professional for Mac is a highly recommended software to recover lost macOS system files. It is a sure-shot solution to recover accidentally deleted files from unmounted volumes as well. It provides the create image feature to create a mountable image of your Mac which you can keep to back up your files.
Step 1) Download and install the data recovery tool on your system.

Step 2) Run Stellar Data Recovery Professional and from the given options, toggle-on 'Recover Everything' key and click 'Next'
Step 2) Select you Startup disk and click 'Scan'
Important: If you are using macOS High Sierra 10.13, then you need to disable System Integrity Protection (SIP) first and then run the software to recover deleted macOS system files and folders.
Step 3) The software scans the Startup drive for deleted system files and folders
Step 4) After the scanning is over, the software lists all the recoverable deleted files
Step 5) Preview the files and save them to the user-defined location
The process of recovering macOS system file is complete!
Final Thoughts!
When the files are deleted from Mac, they are not deleted; rather, the index that points to the files is deleted and there are chances to recover lost or deleted files and folders. You can have multiple and updated backup files so as to restore system files from it and make it a point to enable Time Machine. Above all, Stellar Mac Data Recovery is your most viable anchor to recover deleted or lost system files and folders when other options fail. All-in-all, a commendable Mac Data Recovery software!