How to recover deleted Photos from Polaroid Camera SD Card?
Summary: Photo loss from the camera is a common problem. Here's a step-by-step guide to recovering deleted photos from a Polaroid camera SD card. It also shares the best camera photo recovery tool – Stellar Photo Recovery.
Have you accidentally deleted pictures from your Polaroid camera SD card?
Photos lost from the camera is a very common problem. Even professional photographers who use cameras and follow the best practices to protect their pictures and videos have reported data loss cases.
Often in a hurry, you may delete some important photos and videos from your camera's SD card, and later, you realize the data loss. Sometimes, viruses and malware can corrupt or infect your camera SD card, causing corruption and loss of stored photos. Such data loss situations mostly necessitate using SD card recovery software for retrieving deleted photos.
Here we will share specific photo loss problems faced by Polaroid camera users and solutions to recover deleted, RAW, and JPEG images stored on Polaroid camera SD card.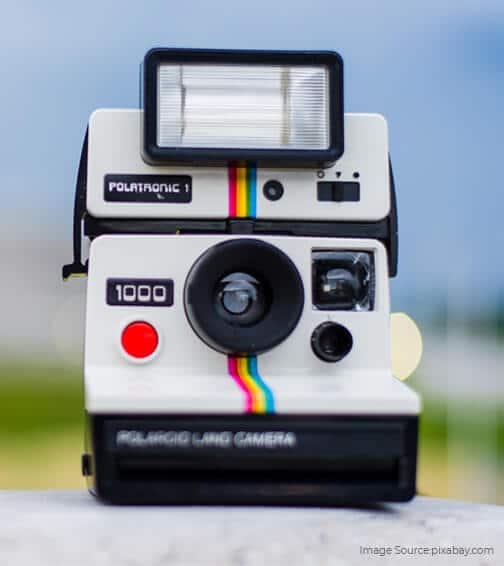 Do Polaroid Camera Have Memory Card?
The craze of the Polaroid camera has grown with time as it allows you to snap, print, and share your photos instantly. Earlier, these camera didn't have memory cards; but nowadays, many modern Polaroid cameras come with an SD card slot. The Polaroid Mint camera supports microSD™ cards up to 256GB and the Polaroid Snap supports microSD cards up to 32GB.
The SD card in the instant camera makes it easier to store more photos so that you can view or print anytime. Moreover, it enables fast transfer of photos. But like any other SD card, you may lose the photos saved on your Polaroid SD card due to multiple reasons.
Probable reasons for losing photos from a Polaroid camera SD card
Accidental deletion, formatting of the SD card, improper file transfer, etc., can result in losing photos from a Polaroid camera SD card.
A virus invasion in the storage drive can also lead to Polaroid camera memory card error, unreadable media files, or missing photos from the camera card. Other reasons reported are Polaroid camera failure, storage media corruption, and OS crash.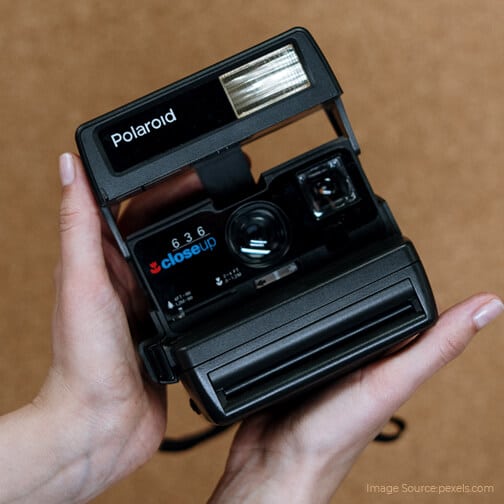 How to Recover Photos from Polaroid Camera SD card?
There are two ways to recover the pictures in case of missing or deleted photos: a backup or a professional Polaroid Camera Photo Recovery software.
Restore from Backup of the Polaroid Camera
Those who maintain a backup and update it regularly have a good chance of recovering deleted Polaroid camera photos.
The first thing you need to do is to check your backup. Do you have a backup of Polaroid camera SD card on your PC, cloud, or other storage media? If yes, restore deleted Polaroid camera pictures from the backup folder.
Recover Deleted Photos using Polaroid Camera Photo Recovery Software
A Polaroid Camera Photo recovery software is the only solution to retrieve deleted photos from a Polaroid camera memory card. However, with so many photo recovery tools available, you might get confused about choosing the right software for your needs. Always remember, while selecting the media files recovery tool, ensure that it is user-friendly and secure to download and restore multimedia files without affecting their original quality.
So look for the following in your Polaroid camera recovery software:
Support photo file formats used by all major cameras.
Support the memory card of your Polaroid camera.
Recover multimedia files in all data loss scenarios, such as deletion, formatting, virus infection, etc.
Restore photos with their original quality intact
Fast and user-friendly
Secure and free from malware
Stellar Photo Recovery is one such software that is fast and can safely recover deleted photos and videos from Polaroid camera SD card.
You can quickly recover thousands of JPEG, JPG, PNG, MOV, MP4, and other media files saved on any SD card or storage drive. The deleted photos are restored with their original file name, date, and timestamp.
To assess the software's capabilities, you can download the free version here:
Steps to recover deleted photos from Polaroid camera SD card
Download and run Stellar Photo Recovery on your computer.
Connect the Polaroid camera SD card from which you lost photos to your computer.
Select the camera SD card or drive on the software's home screen and click Scan.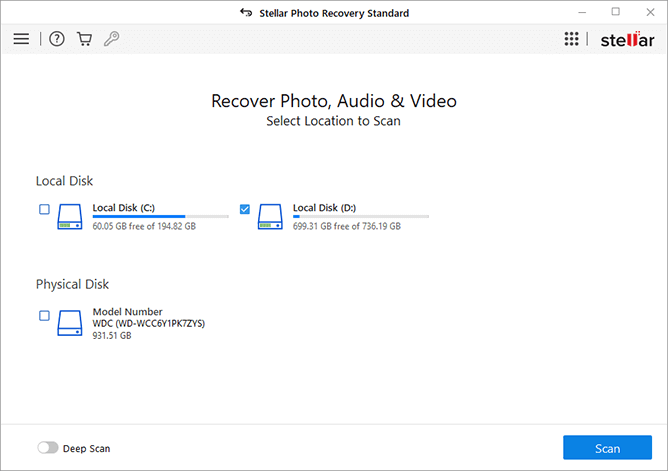 Before scanning, you can select the required 'Photo Formats' by clicking on the Advanced Settings icon to recover exactly what you want. If you are not aware of the format, skip this step.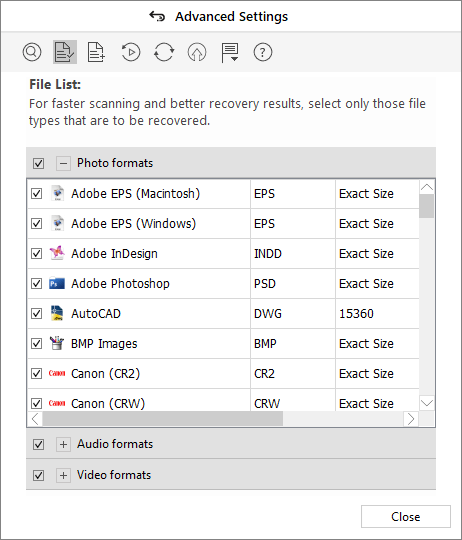 Once the scan is completed, you can see the list of recovered photos.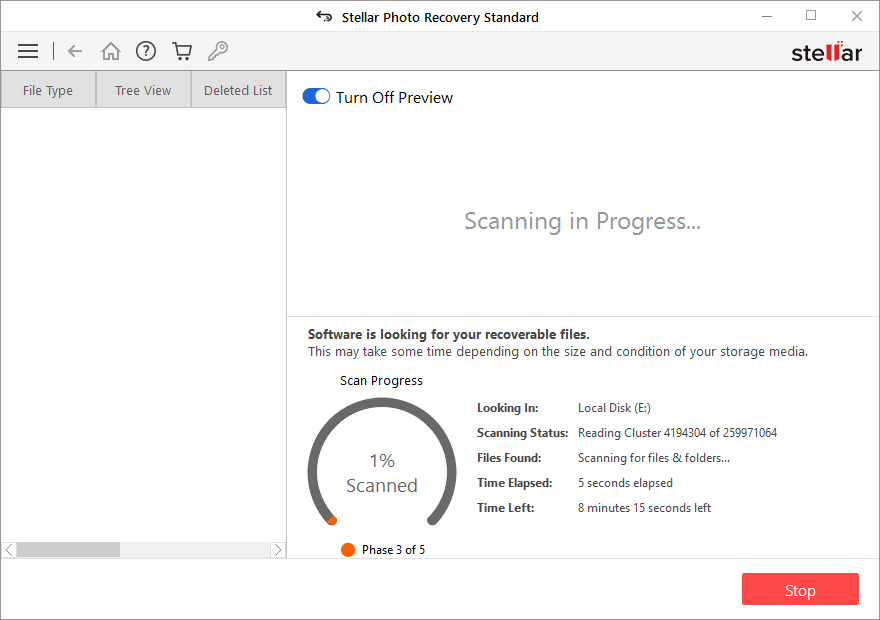 You can preview the found Polaroid camera photos, then select which photo to restore and click Recover.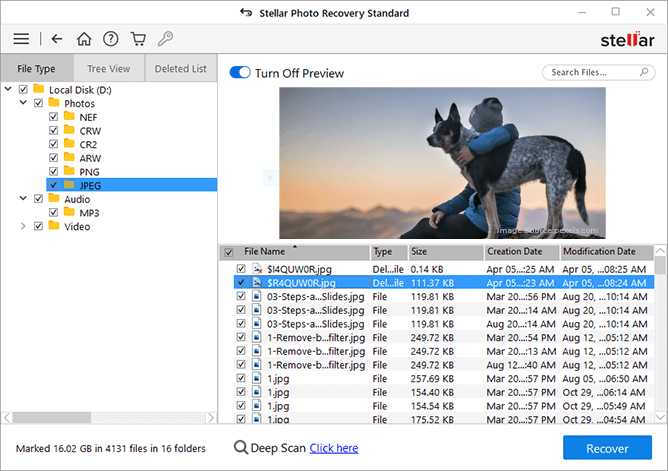 Next, click Browse and select a location on the drive to save recovered Polaroid camera photos.
Don'ts to Prevent Photos Loss from Polaroid cameras SD card
Don't use the camera SD card further until you have recovered lost photos.
Don't record when the Polaroid camera SD card storage memory is full.
Ensure not to use a camera SD card on other devices.
Never insert or eject the camera SD card in haste.
Don't delay antivirus updates on your computer.
The Bottom Line
One of the most frustrating situations is losing the captured memories. There are many ways you can lose photos from Polaroid Camera SD card, be it deletion or formatting, but when it comes to recovering them, always trust a powerful recovery tool.
If you have deleted the pictures, get the best Polaroid camera photos recovery software — Stellar Photo Recovery to restore them. It is a dedicated tool that recovers lost or deleted multimedia files from all types of storage media, be it a digital camera or external HDD, USB sticks, SD cards, hard disks, etc. So take the free trial to assess the software first.
FAQ
1. Why are my photos showing up on my camera but not on my PC?
Some common reasons your photos are visible on the Camera but not on your computer are: faulty SD card reader, SD card slot is not working or infected with the virus, photos are hidden, camera card is write protected, etc. However, you can recover and fix this issue by going through the mentioned methods in this blog.
2. Is your camera taking black pictures?
Camera shooting black or dark photos is a common issue. However, you can fix this issue by implementing the workable solutions mentioned in this blog.