How to Recover Inaccessible Outlook PST File?
Summary: Inaccessible PST files can prevent you from accessing your emails in Outlook or lead to Outlook errors. You may also lose your important emails and other mail items due to inaccessible PST files. In this article, we have discussed two different methods to recover inaccessible Outlook PST files with complete integrity and without losing any mail items.

Outlook PST file corruption is a common issue that can lead to permanent data loss situation. You may lose all your important emails, contacts, attachments, etc. stored in the PST due to damage or corruption caused by reasons, such as:
Oversized or large PST
Virus or malware intrusion
Abrupt shutdown
Power failure
Outlook or system crash
Incompatible or faulty add-ins
A large number of mail folders or mail items per mail folder
To recover all your mail items and prevent permanent data loss, it's important to repair the inaccessible PST file. Fortunately, Microsoft provides an Inbox Repair tool (SCANPST.EXE) with Microsoft Outlook installation to repair inconsistent or inaccessible PST files. Thus, if you have an inaccessible PST file, you can repair it by using this built-in PST file repair tool. However, if the built-in tool fails to fix the corruption, you can still fix your severely damaged or corrupt PST file and recover all mail items by using an advanced Inbox repair tool, such as Stellar Repair for Outlook.
Recover Inaccessible Outlook PST File using SCANPST.EXE
SCANPST is located in the MS Office installation directory. You can locate the SCANPST.EXE at the following locations based on the Outlook and Windows version installed.
C:\Program Files\Microsoft Office\Office16
C:\Program Files(x86)\Microsoft Office\Office16

For more information, you can read this detailed guide on how to find SCANPST location in Outlook 2021, 2019, 2016, 2013, 2010, and 2007.
Once you have located the Inbox Repair tool (SCANPST.EXE), double-click on it to launch it and then follow these steps to recover the inaccessible Outlook PST file.
After launching the SCANPST.EXE, click Browse and select your inaccessible PST file. If you don't know the PST file location, read where is PST file located.
Click Start. This will scan the PST file for errors and inconsistencies.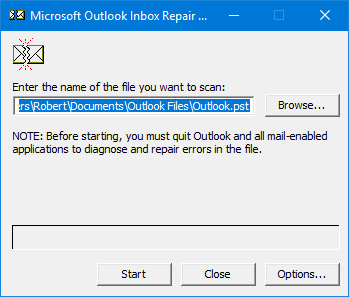 After the scan, it shows whether it has detected errors or inconsistencies in the inaccessible PST file. Click the Repair button.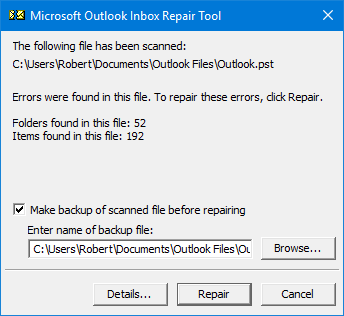 The Inbox Repair tool creates a backup of your original inaccessible PST file with the .bak extension at the same location and then starts repairing your inaccessible PST file.
TIP: You can reinstate the .bak backup PST file by editing the extension from .bak to .pst.
The tool may stop responding or freeze during the repair. This is normal. You must wait for the tool to start responding.

After the repair, it displays a Repair Complete message. Click OK.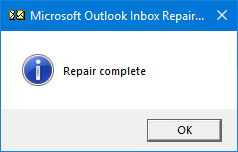 You can now open Outlook to access your PST file and all mail items. We recommend that you create a backup of your recovered PST file to avoid permanent data loss in the future due to corruption or damage.
However, if the tool does not respond in 10 minutes, crashes, or fails to repair the PST file, it means the PST file is large or oversized, or severely corrupt, which is beyond the capabilities of the Inbox Repair tool.
Use Advanced PST File Repair Software
With SCANPST.EXE, you can fix inaccessible PST files up to 2 GB in size having minor corruption, inconsistencies, or errors. Also, the SCANPST.EXE repairs the inaccessible PST file by purging or removing the irrecoverable or damaged mail items. Thus, after the repair, you must check all the mail items and ensure there are no missing mail items.
Sometimes, the Inbox Repair tool may not recognize the inaccessible PST file that you selected due to severe damage. It may display the following error and prevent you from repairing the PST file.

To repair severely damaged or large PST files (50 GB or more) with complete integrity and without losing a single mail item, you should consider using an advanced PST file repair software, such as Stellar Repair for Outlook.
The software is free to download. You can download the software and try to repair your inaccessible PST file. The software previews all mail items after successful repair for free. If you can see the preview of the mail items from your inaccessible PST file in the software's preview screen, it means you can recover all your mail items.
All you need to do is activate the software and then follow these 3 simple steps:
Select the PST file. The software auto-lists default PST files and provide options to select or find PST file on your system.
Repair and preview the PST file and its content.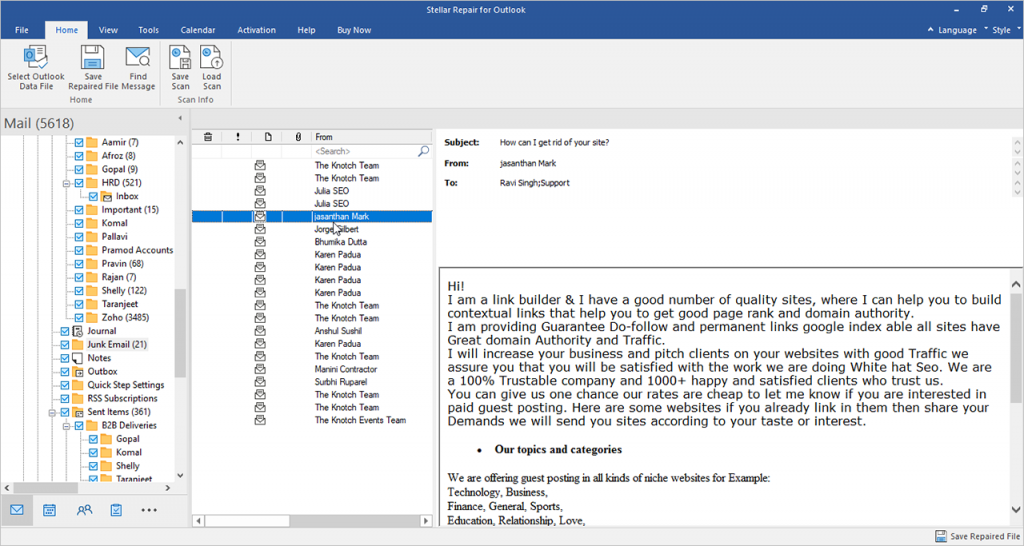 Save the recovered mail items from repaired PST file to a new PST file at your desired location.
That's it. In addition, you can also save your emails or mail items individually in various other file formats, such as EML, MSG, RTF, PDF, HTML, etc. If you use an Exchange or Office 365 account, you can export the recovered PST file directly to your Office 365 or live Exchange mailbox.
Conclusion
An inaccessible PST file can lead to Outlook errors when opening the email client. It also prevents you from accessing your emails or sending/receiving new messages. In such a situation, it's critical to repair the damaged or inaccessible PST file to restore access to your important emails and mail items. It will also help avoid any permanent data loss. You can use the built-in Inbox Repair tool (SCANPST.EXE) to repair the PST file up to 2 GB. It can only help you recover inaccessible PST files with minor inconsistencies and errors. However, if the tool fails due to its limitations, you can use a more advanced and powerful PST file repair software, such as Stellar Repair for Outlook. It can fix PST files up to 50 GB or more size with severe damage or corruption and save the recovered mail items to a new healthy PST file. It can also export the repaired PST file directly to live Exchange or Office 365.