Recover Lost or Deleted MXF Video Files from Panasonic P2 Cards
Panasonic P2, the high-definition video recording camera from Panasonic, captures video of MXF video files type and stores them on a P2 memory card, which makes editing those videos a bit easy and efficient for Avid Systems. The key reason for the ease in editing the MXF video files for Avid Systems is none other than the particular 'file type' that requires no file type conversion and any sort of transcoding. In fact, this type of files can be edited directly from the P2 Card.
P2 Cards
What are P2 Cards? P2 Cards are smart and high-precision intelligent microcomputers, having their own processors, RAID Controller, firmware, and GBs of high-quality solid-state memory chips with almost zero faults. They are quite smart to manage the data files, where each file has passed the write-verification process carried out while writing each byte of its overall size, which ensures for fault-free operations.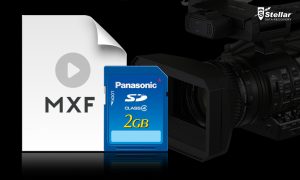 Digging deeper inside the P2 Cards introduces the key difference between both early and newest P2 Cards, and states that the earlier ones used to give high-performance beyond the speed of an individual chip, whilst the newest ones dispense with individual SD cards, thereby utilizing the core component of memory.
Talking about the availability of P2 Cards spotlights its various sizes, i.e. 2 GB, 4GB, 8 GB, 16 GB, 32 GB, and 64 GB where both 32 GB and 64 GB are introduced quite recently.
Recover Lost or Deleted Files from P2 Cards
There are situations when in spite of taking immense care of data, data loss events encounter all of a sudden. Data loss events for photography professionals are like, quite unacceptable. General causes leading to data loss are improper ejection of storage media (which here is P2 Card) that contains extremely valuable MXF videos. Thus, one must be careful while ejecting the P2 Card from the camera.
If you have lost or deleted MXF video files from P2 cards you can restore those priceless videos with the help of Stellar Photo Recovery which is available for both Mac and Windows operating systems. One of the significant features of Stellar Photo Recovery software is that it lets the users add 'file types' in case special type of photo, audio and video files have to be recovered. Download the free trial version of the software from here:
Note: When you are transferring data from a P2 card to a computer, or when rewriting data saved on a computer back to a P2 card, to prevent data loss be sure to download the special "P2 Viewer Plus" software.
Recording Capacity of P2 Cards
When it comes to measuring the recording capacity of the P2 Cards, one must have two key components, i.e. the file format of the recording and the storage capacity of the P2 card itself. Once both the required components have been figured out, the further calculation is a bit easy to perform. Refer to the below-mentioned examples:
The data rate for DVCPRO or DVC is 4 Minutes/GB.
The data rate for DVCPRO50 or AVC-Intra 50 is 2 Minutes/GB.
The data rate for DVCPRO HD or AVC-Intra 100 is 1 Minute/GB.
As per the above calculations, more than 2 hours of DVCPRO video, over 1 hour of DVCPRO50 video, or 32 minutes of DVCPRO HD video can be stored on a 32 GB P2 Card. Moreover, DVCPRO HD 720P and AVC-Intra 720P as well as 1080P modes are able to offer even more storage capacity.
Transfer Speed of P2 Cards
The P2 cards of today's age are quite faster, and therefore are able to offer transfer speed of up to 80Mbps (Megabytes per second) or 640 Megabits per second, enabling real-time editing of six streams of full bandwidth DVCPRO HD concurrently. However, the transfer speed of these storage devices primarily is based on the hardware configuration of the system.
The key reason of the extremely fast transfer speed of P2 Cards is the absence of moving parts and read/write head as in hard drives. Besides, there is no 'seek time', which on the other hand makes switching from one stream to another quite easy and quick. Since P2 Cards are capable of providing high transfer rate, they do not require transferring videos to another disk for editing, or you can say that one can edit MXF video files right from the P2 Card itself.
Type of Data to be Stored on P2 Cards
When it comes to the type of data to be stored on the P2 Cards, I say there is no specific file type apart from which no other file can be saved on P2 Cards. The only barrier to being there would be the storage capacity of the card, as P2 Cards eventually is nothing but a type of removable storage media.
One can store both standard and high definition videos, such as 625 (PAL) and 525 (NTSC) DVCPRO and AVC-Intra, Variable frame rate videos, or a collaboration of multiple formats as well as frame rates of videos of P2 Cards.
As mentioned above, since P2 Cards are nothing but a type of storage media, one can store files on them without fussing over the file type of the stored contents. This makes P2 Cards highly flexible and easy to use.
Types of P2 Devices using P2 Cards
When a small thing is very much essential, it demands to be handled with care. One must understand its worth and put special attention towards it. Well, the same policy is applicable for P2 Cards that enable storing files irrespective of their file types. In fact, since P2 cards are interchangeable, a single P2 Card can be used with multiple P2 devices, viz. P2 HD, P2 camcorders, recorders, and devices.
Though P2 Cards can be used in a range of compatible products, an exception comes when one tries recording HD videos on a 2 GB P2 Card. However, the issue is resolved by itself, as P2 Cards provide immediate interchangeability as well as upgradeability, and the most important thing is compatibility with a range of P2 compatible devices.
In the past a few years, P2 Cards have been over-engineered and now exceed the requirements of compatible devices available today. Therefore, such a high availability of the P2 Cards minimizes the need for further development to meet their in-future needs. Besides, since P2 Cards are highly compatible with multiple devices, they can be used interchangeably in a number of supported devices.
I must tell the users that there is no need to upgrade the hardware configuration of the system to support a new format. The same hardware is good enough to run the P2 Card and the P2 reader.
In the introductory release of P2 HD system, an option to use 720p or 1080p/I DVCPRO HD was provided. However, Panasonic now has launched a brand new format of AVC-Intra, which can efficiently utilize all P2 Cards and P2 Readers. Therefore, you no longer have to upgrade the hardware just to make the most of the enhancements in all formats of recording. All I can say that P2 Cards can be used efficiently with all compatible devices available today as well as the upcoming ones.
HD Quality Full Production
P2 HD makes you capture extraordinarily HD images in DVCPRO HD and AVC-Intra with a production quality of 2/3" 3-MOS, 1/3" 3-MOS, and 4:2:2. Based on the Industry standard for production of HD images, the DVCPRO HD format offers cost-effective and intra-frame compression, enabling the entire frames stand for editing of their own. Besides, the images are allowed to hold up for full 4:2:2 color sampling.
High Reliability
Unlike typical hard drives containing spinning and moving components that make it fairly complex in structure, the simple and solid-state, and practically not even a single moving part of P2 HD make it a stable design that has much lesser downtown issues with its mechanical parts. The structure of P2 HD is quite better, which makes it resistant to high temperature, shock, vibration, and other environmental hazards, as compared to earlier storage devices, such as systems based on mechanical tapes, optical discs, and hard disks.
Faster Workflow
With P2 HD, the entire workflow, including acquiring, recording, transferring, storing, and archiving becomes faster like it has never been before. In fact, the concept is that P2 cards eradicate both the need for a special deck and the time elapsed in ingestion of content, as the content can be easily and efficiently stored on any on-the-shelf data storage media, such as a hard drive, optical disc, USB flash drives, and more. However, at each step, such as data transfer and management, users must be extremely careful to avoid data
Watch this video to know how to recover deled video files :
Wrapping Up
P2 cards are highly reliable and have high data transfer speed. They can offer four times the data storage capacity and four times the transfer speed of the SD card. However, in case you face any kind of loss or deletion of MXF video files, you can safely rely on efficient and reliable Stellar Photo Recovery Software to get back your lost or deleted video files.
Other related articles:
Recover Lost HD MOV Files from Canon 7D Mark II Camera
How to recover deleted Photos from 64 GB micro SD card of GoPro Camera