Summary: The blog describes ways to recover missing or deleted items such as Contacts, Calendars, Journals and Emails from Outlook data file (.pst) or Personal Folders File (PST). You can restore the items if Outlook contacts disappeared or Outlook Contact missing from a PST backup file. But, if backup is not available or the mail items have become inaccessible due to damaged (or corrupt) PST file, using a professional PST file repair software can help.

When using a POP3 account in Outlook, all the Outlook data (email messages, contacts, calendar, journals, etc.) is stored locally on a computer inside a PST file. The .pst file is prone to corruption and can make Outlook mail items inaccessible to users. Also, accidental or intentional deletion of mail items from the .pst file can result in losing valuable information.
How to Recover Deleted Contacts, Calendar, Emails in Outlook?
Following are the two methods that can be used to restore deleted Outlook email items.
Method 1 – Restore a Backup Copy of PST File
NOTE: If the backup is not available or you cannot access missing/deleted Outlook mail items, skip to Method 2.
Follow the given steps to restore backup copy:
Step 1: In Outlook, click File.
Step 2: Select Open & Export, and choose Import/Export.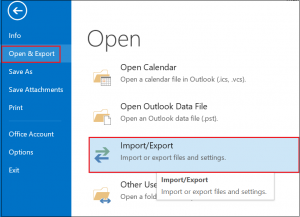 Step 3: The Import and Export Wizard is displayed. Select Import from another program or file, and then click Next.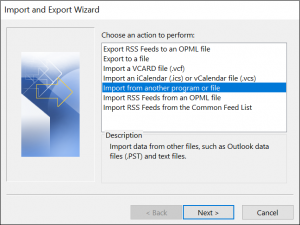 Step 4: Choose Outlook Data File (.pst) under 'Select file type to import from', and then select Next.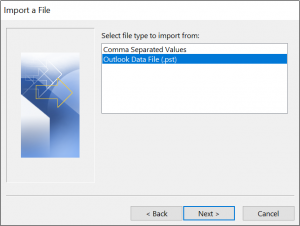 Step 5: Click Browse to find and select the .pst backup file.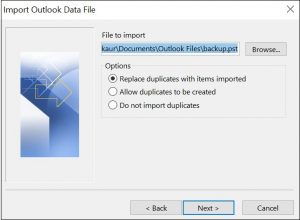 Step 6: Once the file is selected, select one of the following options:
Replace duplicates with items imported: Imports all PST file data and replaces any duplicate data in the existing .pst file.
Allow duplicates to be created: Imports all data including duplicate contacts, calendars, and other mail items in the existing PST file.
Do not import duplicates: Data that is present in the existing file is not imported.
Step 7: Click Next.
Step 8: From Import Outlook Data File dialog box, expand the Outlook Data File folder under 'Select the folder to import from'.
NOTE: If you do not want subfolders to be recovered, make sure to uncheck the "Include subfolders" checkbox.
Step 9: Select Deleted Items folder, and choose to import recovered items into a new folder or an existing folder. Choose Finish.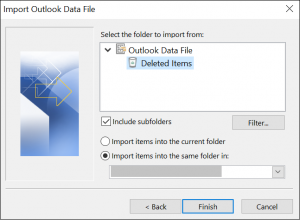 All the deleted contacts, calendar and other items will be restored, however if Outlook Contacts are still disappeared or missing then to restore Outlook contacts & Emails Items Read below;
To Restore Deleted Emails Messages In Outlook Manual Guide
Method 2 – Use Stellar Outlook Recovery Tool
If you do not have PST file backup or the mail items have become inaccessible due to a corrupt PST file, use Stellar Outlook PST Recovery software – for quick, easy, and precise recovery of mailbox data.

The software can help you restore missing or deleted mailbox data from Outlook data file (.pst). Steps are as follows:
Step 1: Download, install and run Stellar Repair for Outlook software.
Step 2: Click Browse or Find to select PST file you want to repair.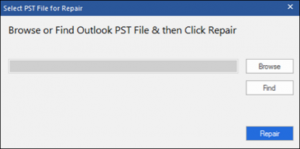 Step 3: Choose Repair to initiate the scanning process of selected .pst file.
Step 4: Click OK, when 'Repair Complete' dialog box appears.
Step 5: The software displays a preview of repaired file along with its original content in a three-pane window. The recoverable deleted items are highlighted in red.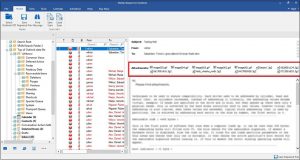 Step 6: To save recoverable mailbox data, click Save Repaired File on Home menu.

Step 7: In Save As window, select PST under Save As, and browse the destination path where you want to save the repaired file. Choose OK.
NOTE: If you want to recover deleted contacts or other items in Outlook, make sure that the 'Do not recover Deleted Items' checkbox is unchecked.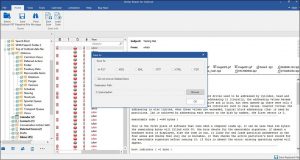 Step 8: When the 'Saving Complete' message box appears, click OK.
The repaired PST file will get saved in the selected location. Import the file in Outlook to retrieve missing or deleted contacts, calendars and other mail items.
Key Features of Software
Can repair severely corrupt, large-sized (50 GB+) PST files.
Retrieves emails, attachments, contacts, calendars, journals, tasks, etc.
The Technician variant of the software allows splitting and compacting PST files.
The Technician variant provides option to directly export repaired file to Office 365.
Conclusion
When using a POP account in Outlook, all data (including calendars, contacts, email messages, journals, etc.) are stored in a PST file. But, PST file corruption or accidental deletion of Outlook data file (.pst) can cause mailbox data to be lost or deleted. You can restore the data from PST file backup. But if backup does not exist, using the Stellar PST File Recovery Tool can help in retrieving missing or deleted contacts, calendar and other data from PST file.
Also Read:
Prevent PST File from Corruption