Recover Deleted Photos from SD Card on Android phone
Summary: You didn't mean to format your Android's SD Card, but now all your photos are lost. Learn how Stellar Photo Recovery software can retrieve all your photos from any formatted SD card.
Are you fretting over the important photos just deleted from the Android Phone SD memory card? Don't worry, here's how to recover deleted photos from Android Phone SD Card.
Photos are one of the most treasured assets of one's life regardless of whether you have deleted them through sheer carelessness or any other cause, the end result is that you have lost those moments and you desperately want them back!
This urges a call for recovery.
Let us see how to recover deleted photos from Android.
How to Recover Deleted Photos from an Android Phone SD Card?
You can recover deleted photos as these files do not get lost. Deleted photo recovery depends on many factors such as file system format, file encryption, root access, etc.
Majorly, when you delete a photo, it is just the pointer or index to that particular file that gets deleted, and its occupied space is marked as free for use. Adding more, unless and until you don't overwrite that space, your data remains intact.

Source: Read More
Figure: Illustrates Used and Free Space
Right Approach to recover deleted Photos from sd card on an android phone
The way to recover deleted photos from SD Card is very simple and straightforward.
Steps are:
Shutdown Your Android Phone
Eject the SD Card
Insert it into a Card Reader
Connect it to your System
Use Trusted Photo Recovery software
Rely on Stellar Photo Recovery Software
Bank upon Stellar Photo Recovery software! A tried, tested, and approved solution recommended by Technocrats to recover photos from SD Card. Specialized Professionals have self-analyzed this tool on several parameters including Quality, Speed, Security, Efficiency, Effectiveness, and most importantly, Recovery Features.
Stellar Photo Recovery is a powerful tool to recover deleted photos from an sd card on an Android phone, Camera, SSDs, HDD, and all types of storage media. The software is compatible with the latest version of Windows and Mac OS.
How to use Stellar Photo Recovery software?
Launch Stellar Photo Recovery Software.
Select the location from where you want to recover. Click Scan to start the scanning process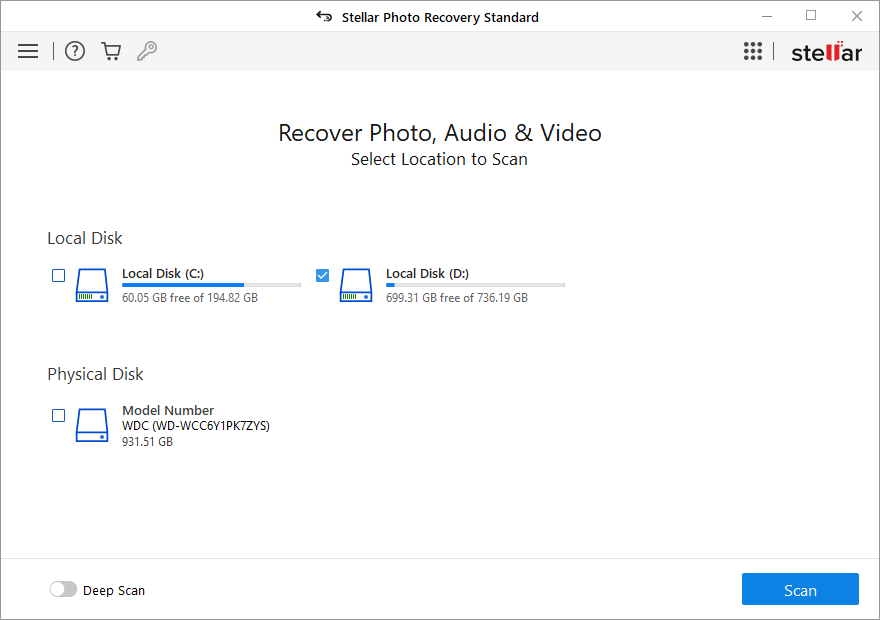 A dialog box of 'Scanning Completed Successfully!' displays the scan results – the number of files found and the size of the data. In the left pane of the main window, all the recovered data is listed. You can preview them in the right pane.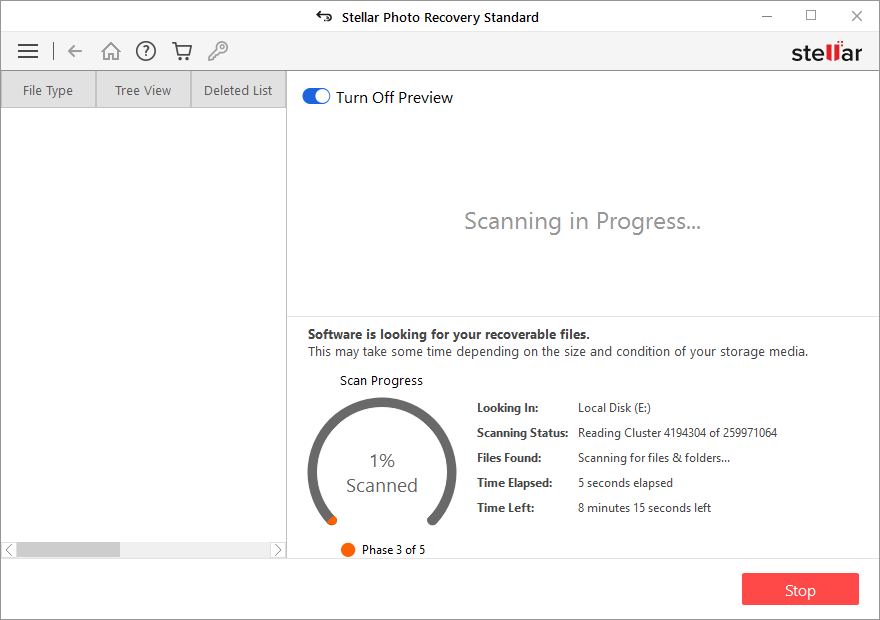 Note: If you do not see the required photos in the list, opt for the Deep Scan option at the bottom.
Click Recover. You can also choose to recover only the selective files – select the photos that you need, right-click, and click Recover.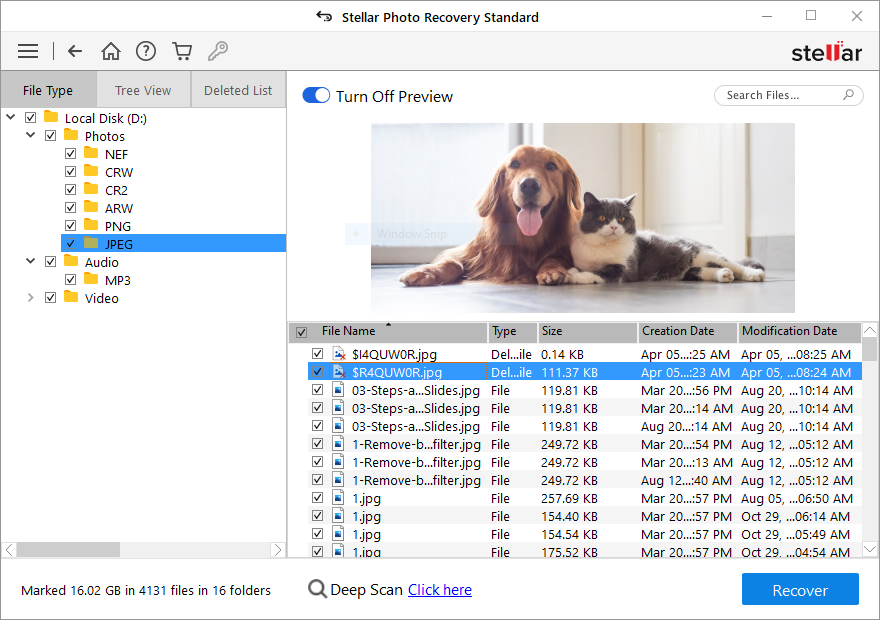 In the dialog box, specify the location to save the image files. Click Save. All the files get saved at the specified location Click Save. All the photos get saved at the specified location.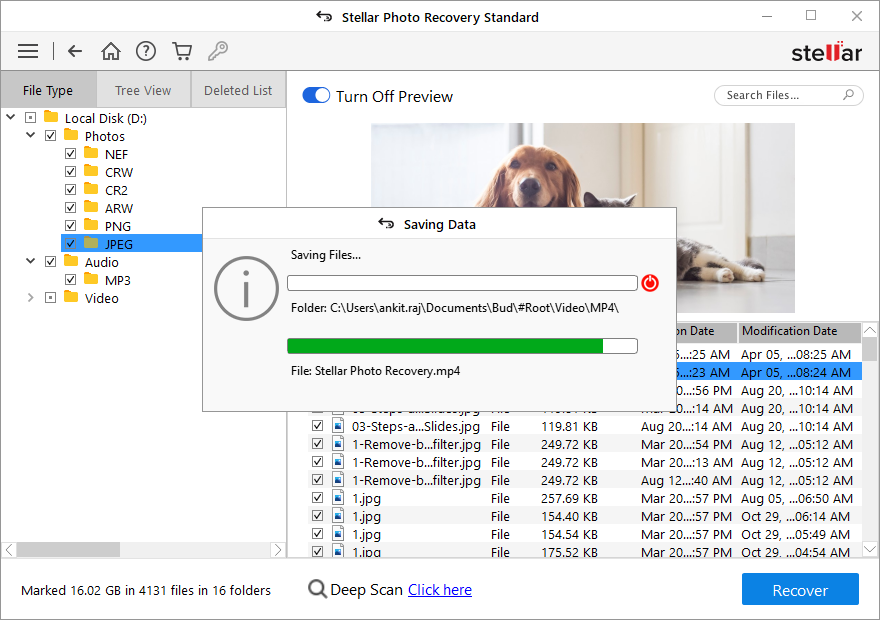 The Process to Recover Deleted Photos from Android Phone's SD Card is complete!
Some Other Points of Consideration
Different Factors that Causes SD Card to Delete Photos
Downloading unsecured applications
Use of Photos in Low Battery State
Unintentionally formatting
Abrupt removal of SD card
Malicious viruses
Accidental deletion
Prevention Tips to Avoid Further Loss
Maintain Backup of Your Photos and make sure to update them regularly
Say No to unknown applications installed on Android Phones
Make sure Your Android Phone has a sufficient amount of Battery When you are accessing photos
Watch this video to learn How to Recover Deleted Photos from any device
The Way Forward!
So, if you have lost photos from your Android phone and looking for the right solution for memory card recovery, try Stellar Photo Recovery software and restore deleted photos Android!