Repair and Manage Outlook Data Files from a Single Utility
Easily overcome Outlook PST corruption, enhance performance, recover PST password, convert ost to pst and more, with the all-in-one Stellar Toolkit for Outlook.
With the release of new version of Stellar Toolkit for Outlook, you can perform a number of operations related to Outlook Data file from a centralized location. The first of its kind is studded with all the features to overcome PST file corruption and other useful options to merge multiple PST files, recover deleted mails from Outlook, convert Outlook OST file to PST and recover passwords of encrypted PST's.
With Stellar Outlook Toolkit, you do not have to install different software to perform different tasks. For the system administrator, managing Outlook data file is considered to be a complex and time-consuming process. In addition, a PST file needs to be regularly checked for errors and size, as a heavy PST file leads to corruption. All these concerns are quickly and efficiently addressed by the options provided with the software.
With Outlook Toolkit is a professional and powerful tool studded with seven power options: Repair PST, Split PST, Compact PST, OST to PST Conversion, Recover Deleted mail from Outlook, Merge PST, Recover PST Password, and Duplicate Mail Remover. The Repair PST option uses an advanced algorithm to recover mail items from a corrupt PST file in the same format. The Split PST option allows you to break a heavy PST into multiple smaller PST's. You can further reduce the size of a PST by separating the attachments from the mail body using the 'Compact PST' option. The software also allows you to merge or Join multiple PST files into a single file easily. You can enhance the performance and reduce the PST size by deleting duplicate mails from the PST. The software proves its worth by recovering lost or forgotten passwords of encrypted PST's. All these functions can be performed from a single console.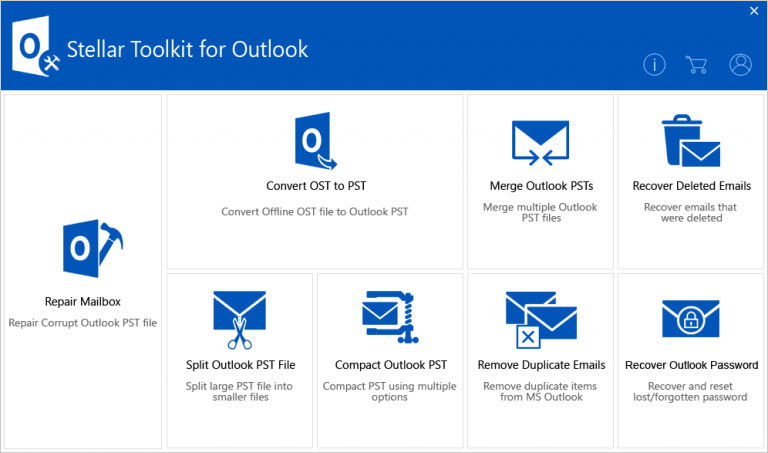 Features – Stellar Toolkit for Outlook
Repair, Manage and Merge PST from a single console
Regain access to mail items by repairing corrupt PST files
Reduce PST size by breaking it into multiple PST's
Extract attachment from the mail body to further reduce the PST size
Converts Outlook OST into PST
Recover deleted mailbox items from MS Outlook
Join or Merge Multiple Outlook PST Files
Recover lost or forgotten password of an encrypted PST file
Remove duplicate mail items
Support the latest Windows 10 & Microsoft Outlook 2019

The software comes with a demo version, which can be used to check the credibility of the software. The free demo version can be downloaded from the product's website. The demo version comes with some limited functionalities and can be used for the evaluation of the software. You can use the demo version of the software to repair and preview PST mail items. The demo version does not provide any functionality beyond this. However, in order to use the full functionality of the software you need to use licensed version, or mail for any query to support@stellarinfo.com .