How to Repair Corrupt MP4 and MOV File using VLC
Summary: The post explains the various processes to deal with inaccessible, corrupt MP4 and MOV media files using VLC integrated features and also suggests using a professional Video Repair tool to repair corrupt files.
Most of us are familiar with VLC, a free media player for viewing movies. But, we are not familiar with the capabilities of the application and the features that it offers to deal with corrupted or damaged media files. This may take you by surprise, but you can repair corrupt MP4 and MOV files using VLC Player. VLC transcode abilities allow converting damaged MOV and MP4 videos into playable files. Alternatively, free download MP4 and MOV video repair tool for Mac and Windows.
At times, you may get an error message while attempting to access media files in VLC that shows that the files are broken, and the player cannot read it. It may prompt to ask for user permission to repair the file. Unaware of the repairing capabilities of VLC, we usually select 'No'. Therefore, the next time you encounter a similar issue, and the application asks to repair MP4, MOV, AVI or other media files, click 'Yes'.
What Causes Corruption in MP4 & MOV Files?
Before proceeding to repair methods, let's look at the reasons that corrupt MOV and MP4 files:
At times, corruption in video files can be a result of a broken header
Loss of internet connectivity while the video file is downloading
Sudden power loss when the media file is playing in VLC or other apps
Inappropriate or incomplete read or write operation may lead to error message
Damaged video files can be due to compression issues
Files downloaded via unreliable internet resources might not play
Lets watch the video to know how to repair corrupt or damaged video files using VLC media player
Method#1: Repair Corrupt MOV & MP4 Files with VLC
Follow the given steps below:
Step 1: Launch VLC Player; go to Media, and then select Convert or Save
Step 2: Next, add input files or streams that need to be transcoded, and then press Convert or Save
Step 3: In the Convert window that appears, provide the file name for the destination file
Step 4: Next, select the desired input Codec from the profile list.
Step 5: Press "Edit Selected Profile" button to check or edit a specified profile settings
Step 6: You can also select to add a new profile or delete any existing profile
Step 7: Next, press Start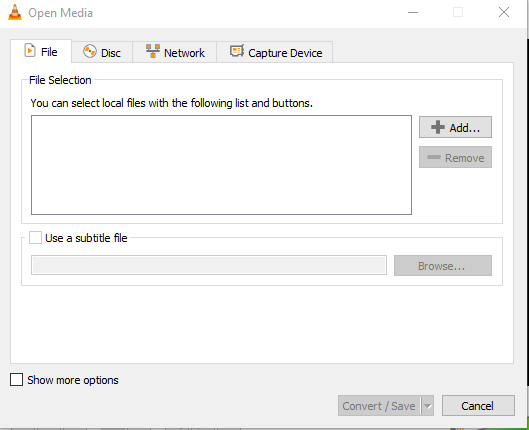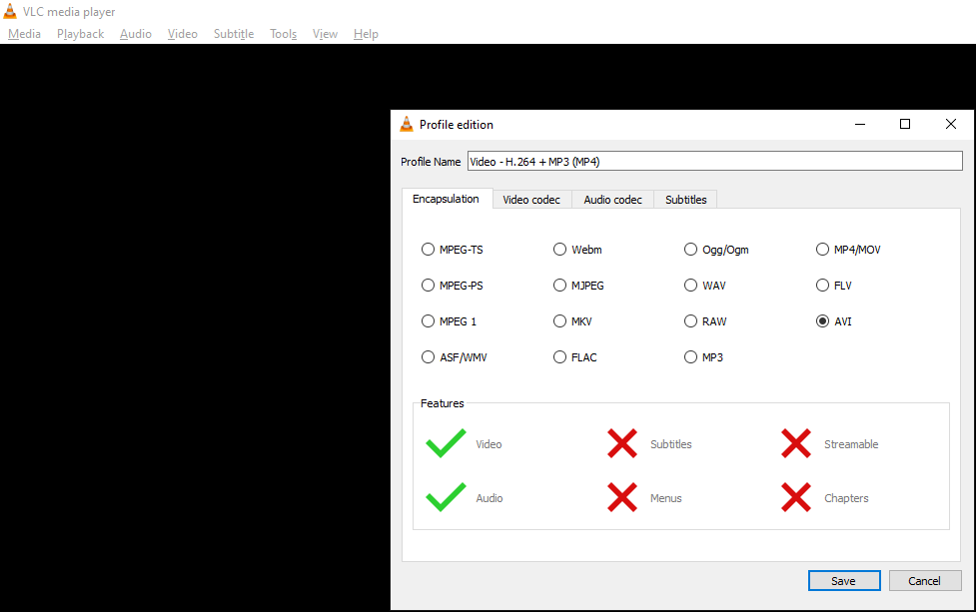 This may help repair video files, therefore, making it playable in VLC and other media players. If not, there are other procedures that can also repair corrupt video files.
Method#2: Replicate Video File to Gain Accessibility
Follow the steps below:
Step 1: To begin, create a copy of the original MP4 or MOV files
Step 2: Rename the video file to AVI
Step 3: Now, launch the VLC player
Step 4: Select VLC, then Preferences, and then click on Input or Codecs
Step 5: Now, select Always Fix next to Repair AVI Files
Step 6: Then click on Save in the bottom section of the Preferences window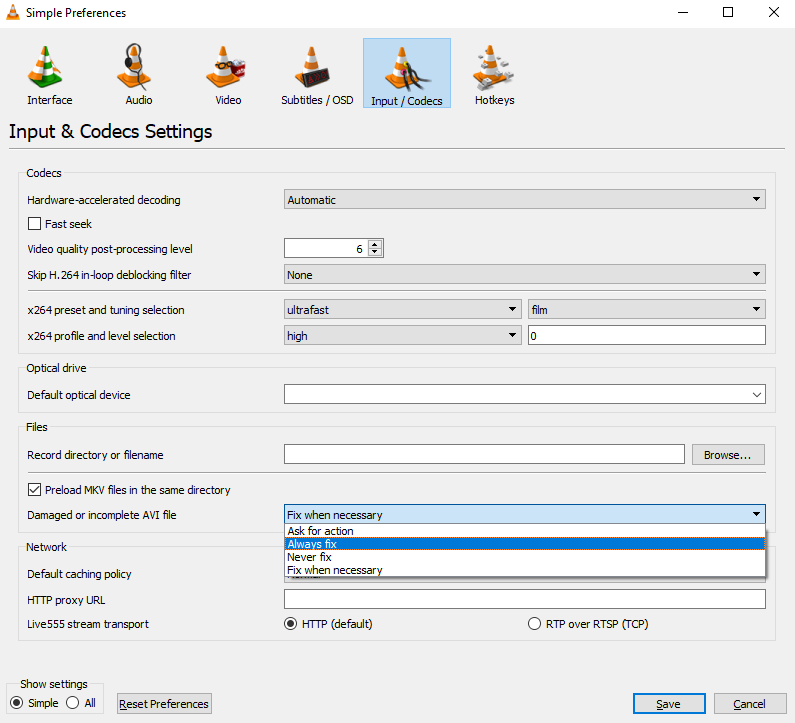 Method#3 Video Repair Software for MOV and MP4
If none of the above-mentioned processes helps much in resolving the issue, you can try using Video Repair Software to repair your corrupt MOV and MP4 files. The tool has the capability to deal with all kinds of MP4, MOV corruption issues including broken file header, compression issues, etc.
Try the free version now:
Steps to Repair Video Files – MOV, MP4
Step 1: Upload all damaged or unplayable MP4 and MOV files to the software, as shown below: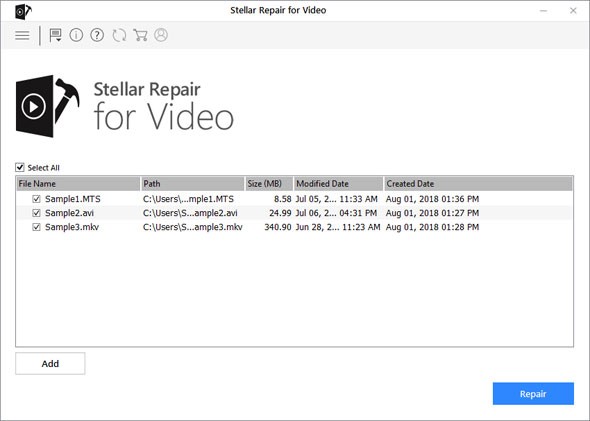 Step 2: Once you click the 'Repair' button, the software will begin repairing your files and simultaneously fixes corruption of – header, slider, duration, movement, and sound.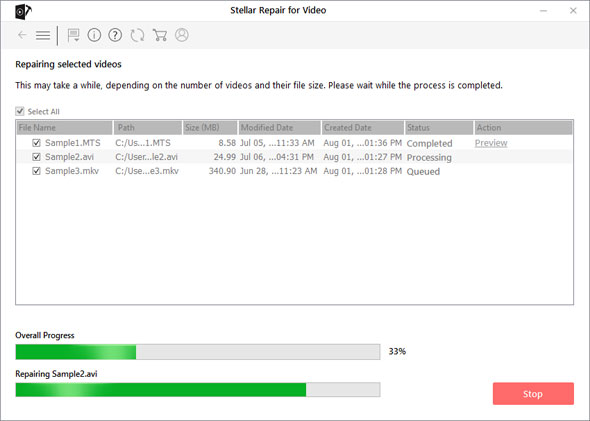 Step 3: Preview all the repaired files before saving the videos to the hard drive.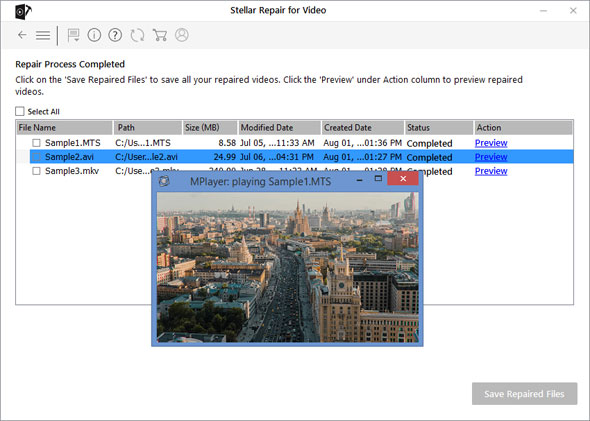 Step 4: Now, select files and click the Save button to save all the files to a safe location.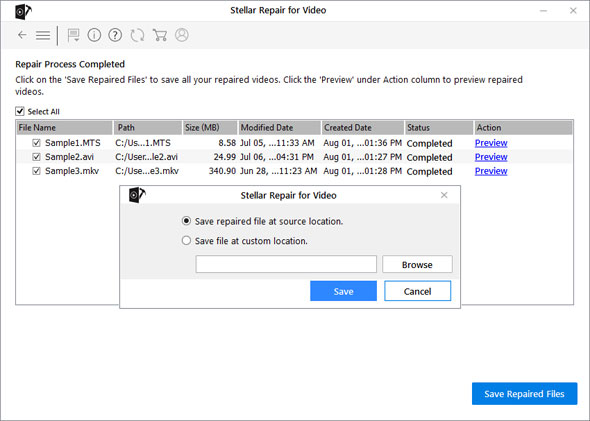 More about the said software
Media files stored on hard drives (external or internal), memory cards, digital camera, smartphones, or other video storage devices can be repaired. The tool supports repairing of major video file formats such as AVI, ASF, WMV, MKV, FLV, DIVX, WEBM, MJPEG, MPEG, AVCHD, MTS, MOV, MP4, 3G2, 3GP, M4V and F4V on the Windows & Mac platform.
After the recovery process, the repaired media file can be stored on the external hard drive. Bulk video files can be fixed in just a few steps using the software. Available in different versions, the software is compatible with Windows and Mac OS X. Since no manual procedures ensure complete and guaranteed repair of media files, the tool can be considered as an efficient option to bring corrupt video files to a playable format.
Note: VLC is a free option to repair corrupt MOV and MP4 but it does so in multiple steps. With the Stellar Repair for Video Software, you can perform batch repair of multiple videos of different file formats in just 3 steps i.e. Upload, Repair and Save. This professional video repair software saves you a good amount of time and you can also approach to an expert for helpful repair advice.

Was this helpful?