How to Repair Outlook 2019, 2016, 2013, 2010 & 2007?
Summary: Several reasons may lead to corrupt PST file in Outlook. Read this blog to know about common reasons behind PST file corruption and methods to repair Outlook 2019, 2016, 2013, 2010 & 2007.
You can easily become a fan of MS Outlook as the email application offers a lot of exciting features. At times you need to Repair Outlook Profile, Apart from sending and receiving emails, Outlook 2019 or Outlook 2016 or any other version provides several useful features such as creating meetings, scheduling tasks, sharing calendars, etc. But, despite all these useful features, Common Outlook issues.
One common issue that you may experience in Outlook 2019, 2016, 2013, and other versions is Outlook data file (.pst) becomes corrupt and inaccessible.
Quick Fix: Try Outlook PST Repair Software to repair Outlook's corrupt/inaccessible PST file quickly with a few simple clicks. The software is compatible with all MS Outlook versions: Outlook 2019, 2016, 2013, 2010, 2007, 2003, 2002, and 2000.


What Might Cause PST File Corruption in MS Outlook 2019/2016/2013/2010/2007?
When it comes to Outlook 2019/2016/2013/2010/2007 PST file, the factors that can lead to its corruption are:
1. New PST File Creation: When migrating from a previous Outlook version to Outlook 2019, a new PST file might be created thereby possibly corrupting the older PST.
2. Large-sized PST File: When PST file exceeds the permissible size limit (owing to over-accumulation of data and lack of archiving), the chances of file corruption also increases.
Read this to know about PST file size: What is maximum PST size limit for different versions of MS Outlook?
3. Using PST File on Network Share: Using a PST file on a network shared drive can lead to its corruption, if the network connection fails or degrades.
4. Bad Sectors on Hard Disk: An often-overlooked factor that might contribute to the corruption of PST files is the development of bad sectors on your hard disk. Possibly, such factors could make PST files inaccessible.
5. Using Unreliable Tools to Compact/Split PST: An oversized PST file is more susceptible to becoming corrupt. And so, it becomes important to trim down the file size to reduce chances of corruption. This can be done by compressing or splitting large PST files with the help of third-party tools. However, using unreliable tools to compact or split an Outlook data file can also corrupt the file.
6. Virus Attack: A virus attack can crash your Outlook application and corrupt the PST files, which can result in data loss and inaccessibility of mailbox folders.
If your PST files get corrupt, you won't be able to access your Outlook data. To overcome this issue, you'll need to repair Outlook PST file.
Additional Tips: Prevent Outlook PST File Corruption! A few Useful Tips
How to Repair Outlook 2019, 2016, 2013, 2010, 2007, & 2003 ?
You can repair Outlook 2016 (or other versions) data files manually by using Microsoft Outlook's built-in repair utility or by using a third-party PST file recovery software.
Manual Method to Repair Outlook 2016/2019!
A corrupt PST can be restored using the Outlook inbuilt utility – ScanPST.exe. Here are the steps to do so:
Step 1: Exit Outlook if it is running.
Step 2: Find ScanPST.exe on your computer (it can usually be found at <disk drive>:\Program Files\Microsoft Office\<your office version>).
Note: The ScanPST.exe location may vary depending on the Outlook version you are using. To find its location read this: How to Find Scanpst.exe in Outlook 2019, 2016, 2013, 2010 and 2007? )
Step 3: Double click ScanPST.exe.
Step 4: In the dialog box that appears, click Browse to locate the PST file that needs to be repaired or physically type its location in the box "Enter the name of the file you want to scan".
Note: If you are not aware of the PST file location, following steps will help you to find it:
1. Launch Outlook, and click File>Info>Account Settings>Account Settings>Data Files.
2. Note the path and file name of your .pst file.
3. Click Close >OK and Exit Outlook.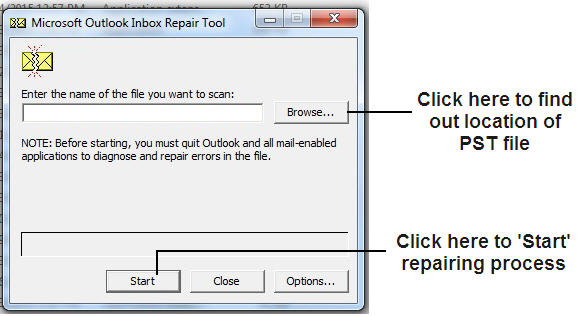 Step 5: Once the file is selected, click Start to initiate the repair process.
Step 6: Once the process ends, launch Outlook and create a new PST in your profile.
Step 7: Drag the recovered items (these will be present in a 'Lost and Found' folder) to your new PST.
Note: These steps apply to repair Outlook 2010 and later versions, including the latest Outlook 2019. For Outlook 2007 and previous versions, replace step 2 with "Click Tools -> Options -> Mail Setup ->Data Files".
This method is quite straightforward and easy to follow. However, it suffers from certain limitations.
Limitations of the Manual Method
Does not Guarantee Data Recovery: The utility cannot fix every Outlook problem resulting in a corrupt .pst file. It can help fix minor corruption issues but may fail to fix severely corrupt Outlook data file. And, in some cases, ScanPST.exe may fail to recover particular mailbox items.
Time-Consuming Process: You may have to run the ScanPST.exe utility multiple times to repair Outlook file, which requires a lot of manual effort and time. Also, running it several times may cause ScanPST to freeze in the middle of the repair process. And you may encounter Microsoft Outlook Inbox Repair Tool not responding error.
Need for Technical Assistance: When using the 'Inbox Repair Tool' to repair the .pst file, you need to be aware of the location of your PST file. Also, when recovering items using the built-in repair tool, you need to manually create a new PST and drag each recovered item individually to the new PST. Performing all these steps can be confusing for first-time users. Thus, technical assistance may be required to run the tool.
No Option to Export PST File to Other Formats: Sometimes, you may need to export the repaired file to other formats such as RTF, PDF, MSG, Office 365, etc. But, the built-in repair tool does not have any provision to export the resultant file into any other format.
To Repair Outlook You can also refer the Manual Guide
You can overcome these limitations, by using a specialized Outlook PST repair tool.
How to Repair Outlook 2019, 2016, 2013, 2010, 2007, & 2003 through Automated Method?
If ScanPST.exe doesn't work for you, use Stellar Repair for Outlook software to repair PST file to overcome its limitations. Here's how:
Ensures Complete PST File Recovery: The software can troubleshoot PST file related issues. With an advanced scan engine, the software can parse through severely corrupt PST file and recover the file data in its original and intact form.
Repairs in Few Clicks: It allows repairing a corrupt PST file in three steps: 'Select', 'Repair', and 'Preview and Save'.
Does not Require Technical Assistance: The interface of the software is easy to navigate and helps perform the repair process in a straightforward manner.
Multiple File Saving Options: With this Outlook repair tool, you can save the repaired file in multiple formats such as EML, MSG, RTF, HTML and PDF formats. The technician version of the software also allows saving of the resultant file in Office 365.

Detailed Steps to Repair PST File by Using Stellar Repair for Outlook Software
Download and install the software. Once installed, run the software and follow these steps to perform PST file repair:
Step 1: In Select PST File for Repair window, browse or find PST file to repair, and then click Repair.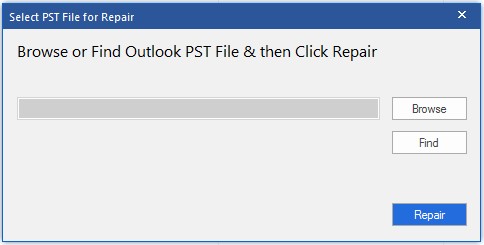 Step 2: The software scans the selected file and shows a preview of repaired file in the three-pane structure.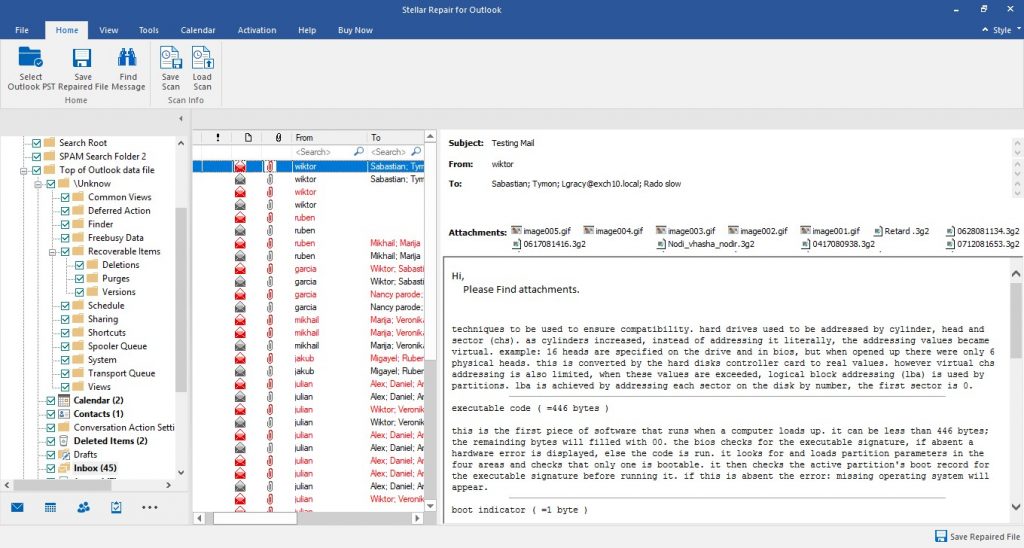 Step 3: Click Save Repaired File on Home menu. From the Save As dialog box, choose PST under Save As and select the destination where you want to save the file. Click OK.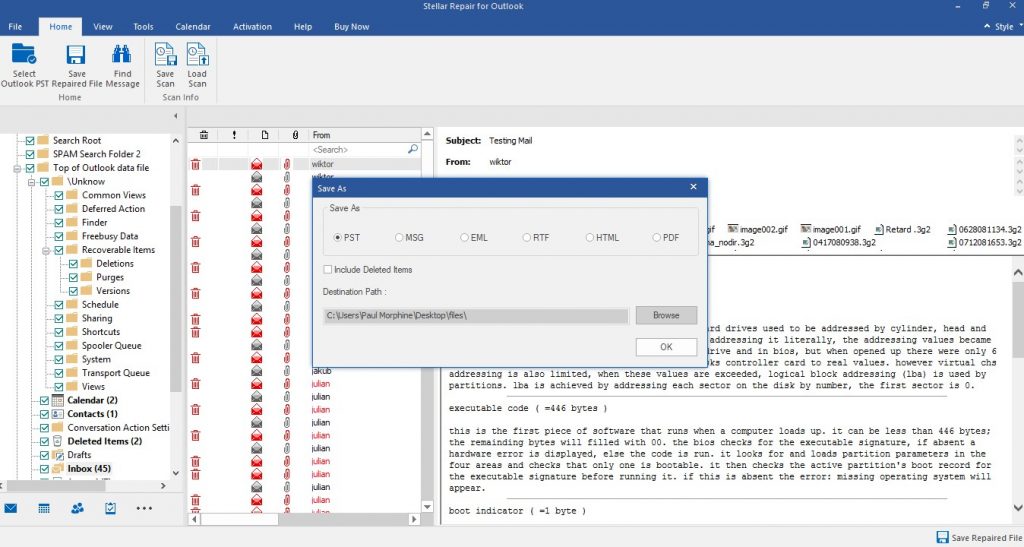 The repaired file will get saved at the selected location.
At a very nominal price, this software repairs PST files with precision and recovers data stored within them safely. This is the most recommended PST Repair software by MVP.
Conclusion
Like all other Outlook versions, Outlook 2016 and 2019 PST file can also turn corrupt due to large size, hardware or software issues, virus infection, etc.
You can try repairing Outlook manually by using Outlook built-in repair tool. But there are a few downsides to using the 'ScanPST.exe' utility. It requires investing a lot of manual effort and time in fixing the file, and might not even deliver expected results. But, using the best PST repair tool such as Stellar Repair for Outlook software can help you quickly and efficiently repair Outlook 2019, 2016, 2013, 2010 & 2007.
Also Read: