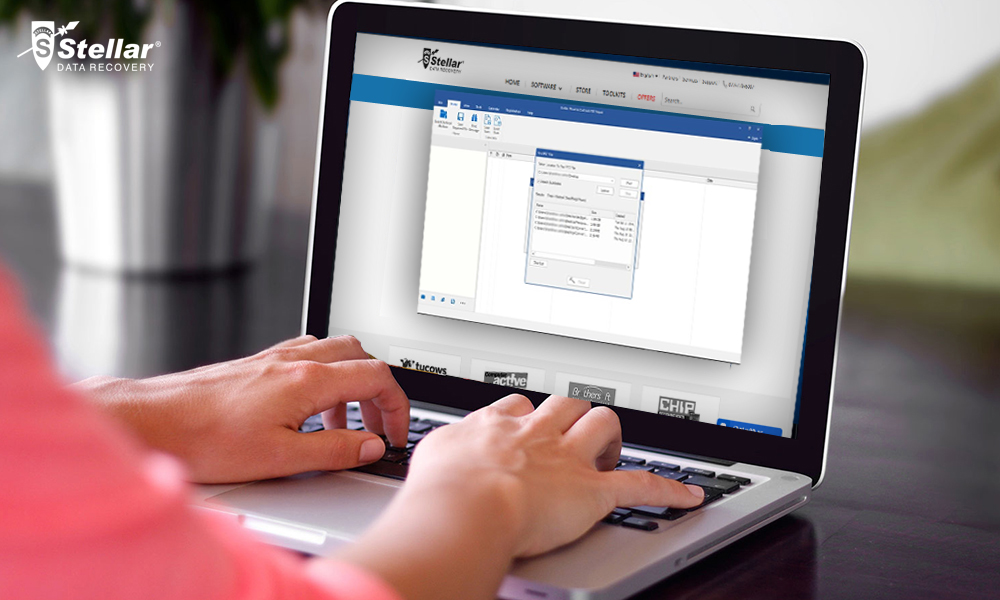 Repairing Outlook 2016,2013,2010,2007 Corrupt PST
If you're an MS Outlook fan, you would have tried out Outlook 2016 preview for Windows. And if you have, we're sure you're as excited as the rest of the world for the full launch later this year. With improved visual tweaks and minor feature updates (Attractive Colourful theme and Ribbon interface, advanced help option, rotation support for the tablet), Office 2016 for Windows will be offering the same kind of upgrade that was offered to Outlook 2013 was launched. However, this Outlook version being aimed at IT developers and professionals requires an active Office 365 subscription. Neat trick by Microsoft to bring more people to Office 365!
Quick Fix: Try Outlook PST Repair Software to repair corrupt/inaccessible PST file. It is compatible with all MS Outlook versions like Outlook 2016, 2013, 2010, 2007, 2003, 2002, and 2000.
Well, keeping the market aspect of the suite aside, in this article we'll be focusing on a technical aspect of the proposed version – corrupt PST file repair in Outlook 2016. Read on to find out all about it and how you can resolve the issue.

What might cause PST file corruption in Outlook 2016?
Though each software upgrade is supposed to make an application's utility and overall user experience better, there are some issues that tend to tag along from one version to the other. When it comes to Outlook 2016 PST files, the factors that can lead to their corruption are pretty much the same as those for the previous versions with a few exceptions.
New PST File Creation:
When migrating from a previous Outlook version to Outlook 2016, a new PST file might be created thereby possibly corrupting the older PST.
Gigantic PST File:
By using Outlook on a daily basis would eventually upsurge the PST file size. When PST file grows enormous (owing to over-accumulation of data and lack of archiving), they can get corrupted easily.
File Partaking on Diverse Networks:

Erstwhile we opt for network drives to share PST files. We are not observant of the fact that sharing PST over a network would be a possible outcome in corrupt PST file. If you happen to share your Outlook PST over a network, technical errors could lead to its corruption.
System Concerns:
An often overlooked factor that might contribute to the corruption of PST files is the development of bad sectors on your hard disk. Possibly such factors could make PST files inaccessible, and chances of data loss would be irretrievable.
Practice of Undependable Tools:
It is true that gigantic size PST files are more prone to corruption. To keep PST error free it is the must to trim down the size of PST's file. While trying to compress or split large PST files through unreliable tools, there are likelihoods Outlook files get corrupt.
Virus Attack:
In the smart world of technology, it is palpable you download and install software. No doubt your web services make necessary software's available for you along with unknown viruses. Such virus infection affects your PST's too and can corrupt them. After your PST got corrupt, then you are inevitably constrained to access your Outlook data.
If your PST files get corrupt from any of the above reasons, you will be barred from accessing your Outlook data. Thus, to overcome this issue, you'll need to repair the PST file through manual methods or third-party PST file repair software.
Repairing Corrupt PST
It might seem catastrophic, but PST corruption is quite a common phenomenon that can strike even the largest of corporations. And if it does, subsequent inaccessibility of Outlook data can lead to loss of time and money. Hence, accurately repairing a corrupt PST as quickly as possible will be needed.
Repairing Corrupt PST – Manual Method
A corrupt PST can be restored using the Outlook ScanPST.exe inbuilt utility. Just find the utility on your machine (location varies as per Outlook version) and run it on the faulty PST to fix minor issues. Here are the steps to do this:
Exit Outlook if it is running
Find ScanPST.exe on your computer (it can usually found at <disk drive>:\Program Files\Microsoft Office\<your office version>)
Double click on ScanPST.exe
Browse to locate the PST file that needs to be repaired or physically type its location in the box "Enter the name of the file you want to scan". If you are not aware of the location of your PST, these steps will help you find it:

Launch Outlook and Click File -> Info -> Account Settings -> Account Settings -> Data Files
Note the path and file name of your .pst file.
Click Close -> OK and Exit Outlook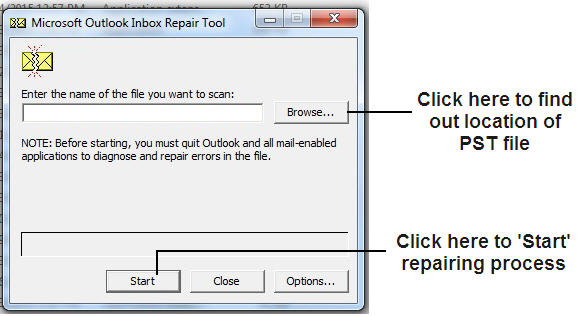 Click on "Start" to initiate the repair process.
Once the process ends, launch Outlook and create a new PST in your profile.
Drag the recovered items (these will be present in a 'Lost and Found' folder) to your new PST.
This method is quite straightforward and easy to follow. However, it suffers from certain limitations.
Note:
These steps apply to Outlook 2010 and later versions including Outlook 2016. For Outlook 2007 and previous versions, replace step 2 with "Click Tools -> Options -> Mail Setup ->Data Files".
Limitations of the Manual Method
Jeopardy of Data loss: This utility cannot repair every problem that is detected in corrupt PST's. Most common Outlook user's faces errors (Run Time Error, Corrupt Header Error) etc. that are not handled by ScanPST.exe. In some cases, there are ample chances particular items may not be recovered. Furthermore, if emails are permanently deleted or corrupted then they are beyond repair.
Technically Sound: To practice for Inbox tool you need to be technically sounded in the sense that you must cognizant for locations of the PST file. After recovering items, you need to manually create a new PST and drag each recovered item individually to the new PST.
To overcome these limitations, the recommended way to go is using an Automated Method i.e. Outlook PST repair tool.
PST repair through Automated Method
In such consequences or to overawe the concerns faced using scanpst.exe opts for Stellar Phoenix Outlook PST Repair software. Endorsed Outlook repair software for repairing corrupt PST achieves much tenacity. At a very nominal price, this software accurately repairs PST files corrupt to any level and recover data stored within them safely.
Final Words
Like all other Outlook versions, Outlook 2016 is probably just another milestone leading up to a still better avatar of the emailing suite. If and whenever that happens, you can rest assured that almost the same steps as mentioned in this guide will help you tackle PST file corruption in the subsequent versions as well. And if there's something else that you should be informed about, we'll be there to let you know!