Summary: If you have accidentally deleted a mailbox in the Exchange Server 2010 database, follow this detailed guide to learn some best methods to restore and recover the deleted mailboxes or emails.
What Happens When Exchange Server Mailbox is Deleted?
When a user account connected to a mailbox is deleted from Exchange's Active Directory (AD) or if a mailbox is deleted by using Exchange Management Console or Exchange Admin Center (EAC), the deleted mailbox is retained as a disconnected or disabled mailbox. The mailbox remains on the Exchange server in a disabled state for a certain time-period, defined in the mailbox retention settings.
Users can reconnect the mailbox to the original or another user account any time before the retention period ends to restore and recover the deleted/disconnected mailbox in Exchange 2010. After the mailbox is connected, the user can log in to Outlook account to access the mailbox items such as emails, contacts, notes, calendars, etc.
Points to Remember
The mailbox that has been deleted may or may not appear as a 'disconnected mailbox' immediately after deletion. It can take about 15 minutes to an hour before the mailbox is marked as disconnected.
If the mailbox still does not appear, it is altogether a different issue and users need to look for a solution.
It is possible to connect a disconnected mailbox to a new user account in AD or existing user account with an associated mailbox.
Methods to Recover Deleted/Disconnect Mailbox in Exchange 2010
The disconnected Exchange 2010 mailbox can be connected and recovered in different ways, such as by using Exchange Management Console (EMC), Exchange Management Shell (EMS), and via third-party Exchange recovery software, such as Stellar Repair for Exchange. The software can recover both deleted mailboxes and mailbox items from the Exchange database in a few clicks.

Method 1: Recover Deleted/Disconnected Mailbox in Exchange 2010 by using EMC
To restore deleted/disconnected Exchange mailbox by using EMC, follow these steps,
Open EMC
In the EMC dialog box, expand the Recipient Configuration node and then choose the Disconnected Mailbox node present under it
Right-click on the mailbox that has to be recovered and then click on the Connect
Choose the 'mailbox type' in the Connect Mailbox dialog box and click Next
From Mailbox Settings in Connect Mailbox dialog box choose Existing User and further click on the 'Browse' tab
From the Select User dialog box, choose the user account to which the mailbox has to be connected. Then, click OK
In Alias box, put in the mailbox name. Then, click Next
In this way, users can connect disconnected mailboxes.
Advantage
Free in-built Exchange utility; therefore, users are not required to make efforts to look for it
Disadvantages
Time taking
Requires technical know-how
Method 2: Recover Deleted Mailbox in Exchange 2010 by using EMS
The other way to connect disconnected mailbox for recovery is by using Exchange Management Shell (EMS). There are two different ways you can use EMS to reconnect and recover deleted/disconnected mailbox in Exchange 2010.
Restore Deleted Mailbox to a New User Account
Enter the following command in the EMS,
Connect-Mailbox -identity "Peter" -Database "RDB1" -User "Peter" 
-Identity parameter: Name of the deleted (retained) mailbox in -Database RDB1.
-User parameter specifies the existing user account name with a mailbox in Active Directory (AD) to which you want to connect the Mailbox.
Recover Deleted Mailbox to Existing Mailbox
In the Exchange Management Shell, enter following commands,
Get-MailboxDatabase | Get-MailboxStatistics | Fl
This will display information about all the disabled and deleted mailboxes in your organization. Copy the MailboxGuid of the mailbox that you want to restore. And then paste the following command. Replace the GUID with the MailboxGuid code you copied.
New-MailboxRestoreRequest -SourceStoreMailbox GUID -SourceDatabase EDB1 -TargetMailbox "Mario" -AllowLegacyDNMismatch
These commands help you connect disconnected mailboxes and recover the deleted mailboxes in Exchange 2010.
Advantages
Disadvantages
Not 100% result-oriented
Requires experience and technical know-how to execute the process
Method 3: Via Exchange Server Recovery Software
You can also recover deleted/disconnected mailbox in Exchange Server 2010 by using a third-party Exchange Server Recovery Software such as Stellar Repair for Exchange. The software can help recover deleted or disconnected mailboxes in Exchange 2010 and other versions via GUI-based interface. This utility also helps if the EDB gets corrupt or fails to connect via the above two methods.
Follow these steps to restore deleted Exchange 2010 Mailbox using the software,
Step 1: First download and install the software.
Step 2: Run the software and select the corrupt EDB file that you want to repair, restore or recover. To do so, click on the Browse tab. If the location of the EDB file is not known, click on the Find EDB tab. The software lists all Exchange database files. You can select multiple EDB files. Click on the Next button.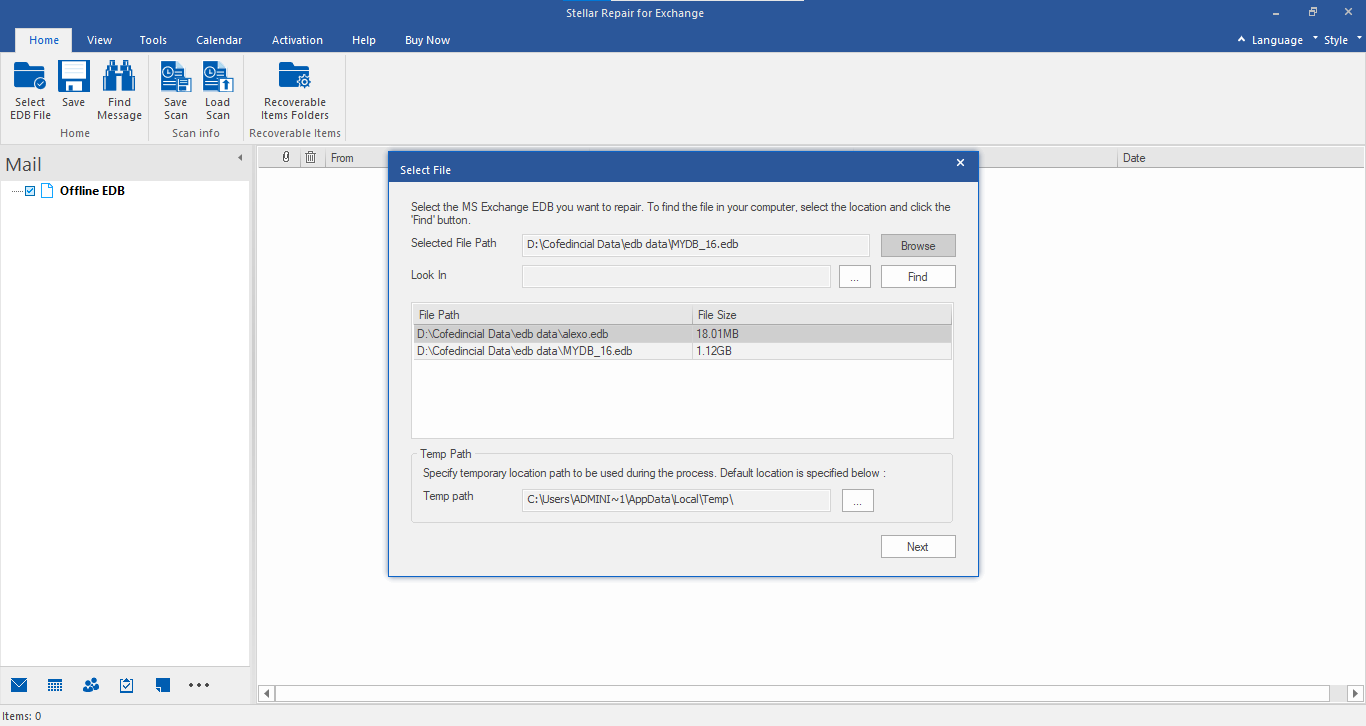 Step 3: Once the EDB file to be repaired has been selected, choose either a Quick Scan or Extensive Scan to scan the database file. Then, click on the Next button. This starts the scan process.
Step 4: Select the recoverable mailboxes and click on Save option from the File menu. This gives the Save As dialog box to save in different file formats that are PST, MSG, EML, HTML, PDF, Live Exchange and Office 365.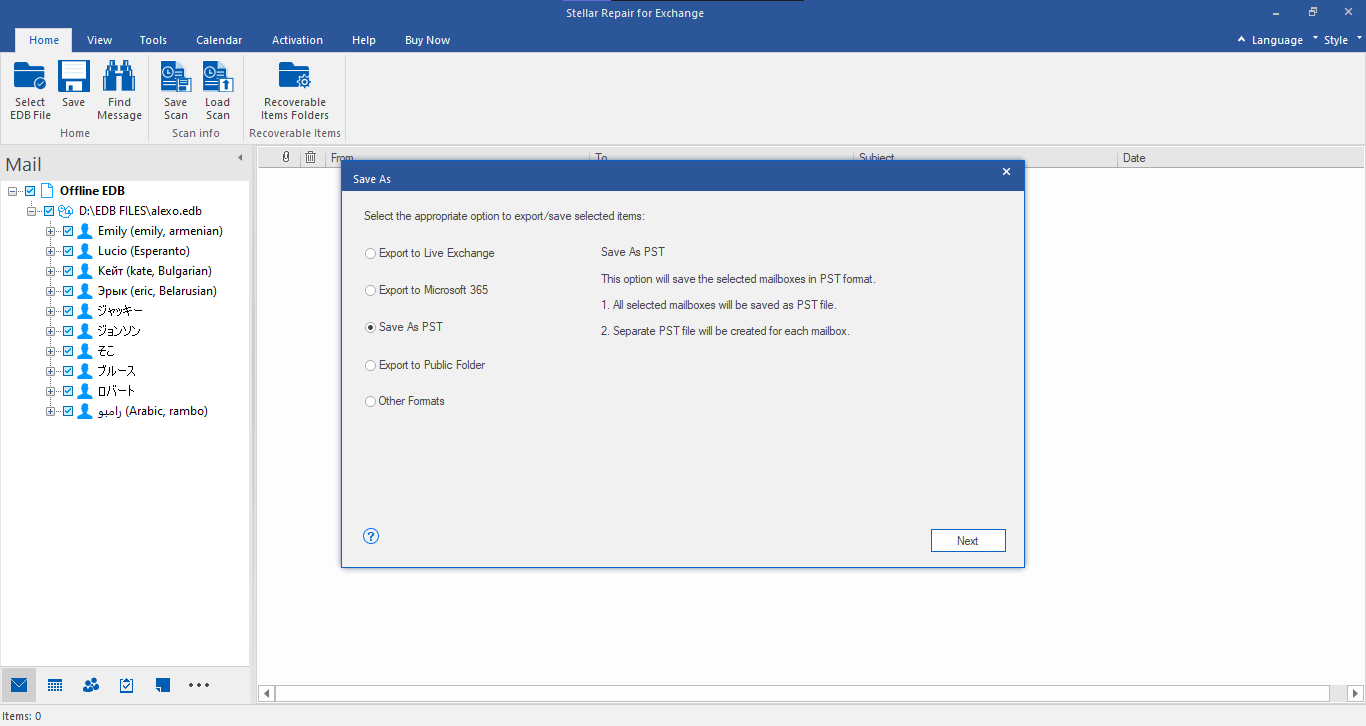 Step 5: Select PST or another file format, then click 'Next' and then 'Browse' to select the destination path. Click on the OK button to save the mailbox items in the selected format.
If you want to export the mailbox to a Live Exchange user account or Office 365 user account, select the respective option and then enter the required user account details. Click 'OK'.
Step 6: Finally, the data gets saved successfully.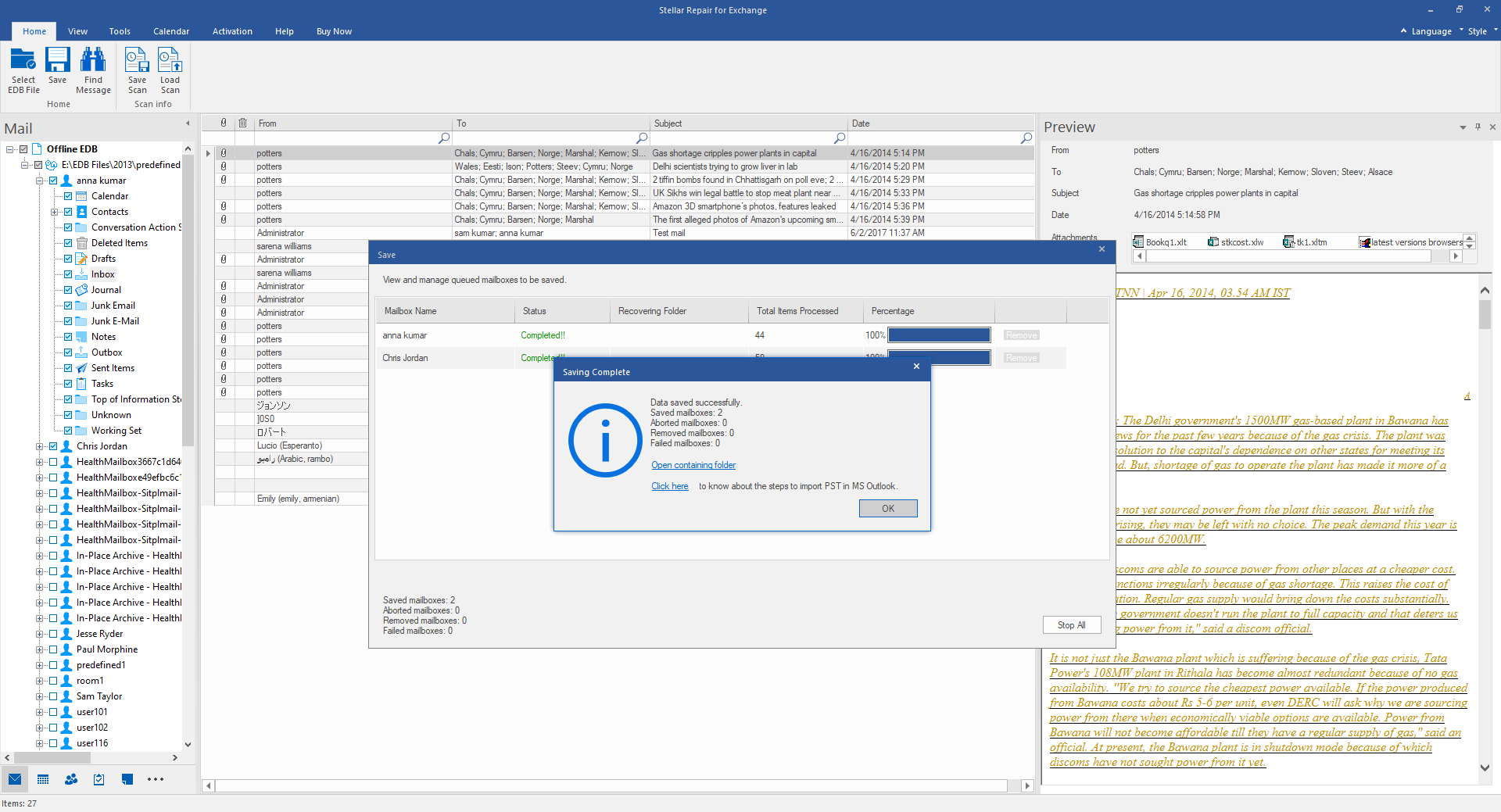 Advantages
Easy-to-use
Relatively faster than manual methods
No manual intervention allowed
You can read more success stories on deleted Exchange 2010 mailboxes recovery with the help of Stellar Repair for Exchange Tool.

Reference: https://community.spiceworks.com/topic/776278-restore-deleted-exchange-2010-mailboxes
The Summing Up
There is no doubt that manual methods, such as using EMC and EMS, do exist to reconnect deleted/disconnected Exchange mailbox or emails. However, they may or may not work based on the reason for mailbox deletion or corruption. In such cases, you should leverage an advance repair and Exchange 2010 mailbox recovery solution such as Stellar Repair for Exchange. The software helps you quickly recover deleted mailboxes and restore your Exchange 2010 server with its easy-to-use and interactive graphical user interface.