How To Secure Delete Windows Confidential Data
Earlier, when PCs and laptops were relatively a new concept, the hard drives were small in storage capacity. But, with the advent of technology, today, we can save a huge data on our computer's hard drive as their capabilities have increased considerably. As there is no need for data deletion, all types of data (both critical and non-critical) keeps on accumulating on the hard drive.
Similarly, in organizations, the data storage servers are equipped with an array of hard drives which are loaded with data, some of which are highly confidential.
In 7% of [breach] cases, the breach goes undiscovered for more than a year."
But, have you ever thought, that when your PCs, laptops, or storage servers become obsolete or useless, or when they are replaced, what happens to the data in it. Well, most of us don't neglect to secure delete the data and dispose of our old systems without deleting the data. Even when you format the hard drive or other storage devices and assume that the data is completely deleted, on the contrary, it is not. Wondering how?
Your Computer's Deleted Data Can Be Easily Recovered!
Well, when you secure delete windows files, they are either moved to the recycle bin or get permanently deleted, depending on which key or command you use for deleting.
However, the truth is none of these assure complete deletion of the file. Even after you deleted the file or data, it does not get permanently deleted and stays on the hard disk. Only, the space acquired by it becomes available for reuse. Now, when some other file acquires the same space, it overwrites the previously present data. Thus, only after this process of overwriting, the earlier data become inaccessible and this process is common in Windows 10/8/7/Vista/XP.
Therefore, if you have simply deleted your data from the hard drive or formatted it, the data which was earlier stored on it can be recovered with the use of data recovery software which was later on accessed in an unauthorized manner and has been misused.
"63% of confirmed data breaches leverage a weak, default, or stolen password."
An Organization that stores sensitive information pertaining to its operations, its customers, or other aspects cannot compromise with the security of data, and that's why needs a permanent data deletion solution before disposing of its old IT assets which were once used for storing or accessing sensitive information.
Apart from the data which is stored on the hard disk, your computer or laptop may contain a lot of other information such as huge archives of program caches, data files, emails, documents, etc.  your email archive or cache may contain your login and payment details for various online services. Also, your system logs and browser caches can reveal a lot of sensitive information!
What should be the next step?
Permanent Deletion of Files and Vital Data is Important
Secure deletion implies removing all the data stored on physical hard drives, and all the data stored by the internet browsers and installed applications to a computer. Given that, we bring to you the Safe, Secure & Reliable Data Erasure software: "BitRaser for file"
You can use "Bitraser file Eraser" which not only secure delete windows based hard drive's files and folders, but also removes:
Browser histories, caches and cookies, and emails
Login information for messaging and data exchange tools like Skype, IM, Google Talk, Yahoo Messenger etc.
Login information and other details pertaining to social networking accounts and much more.
How Bitraser file Eraser Works?
Bitraser file Eraser is simple to use. It's a file eraser software which permanently erases internet activities, system and application traces, folders, and other files. It also overwrites the hard drives with a series of binary codes ( 0's & 1's) which renders the previously stored information unreadable and unrecoverable using 17 advanced erasure standards including dod wipe.
Bitraser is used to securely delete files, which was hidden and contains confidential information on your Windows PC, follow the simple steps below:
Installing Bitraser file Eraser
Install Bitraser file Eraser, and then run the software. You can see a menu on the left side which will direct you to perform various tasks.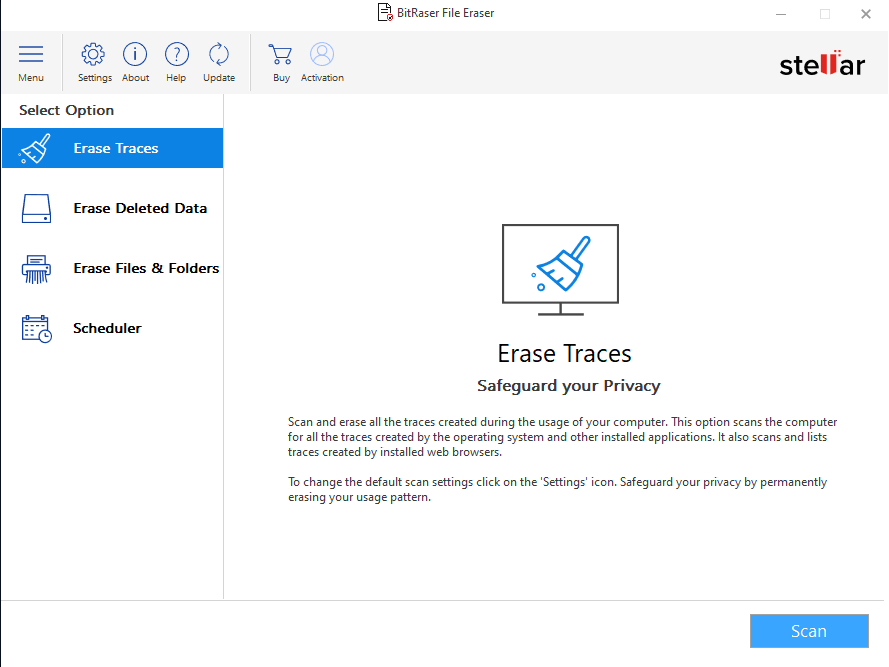 Delete Internet activities, System and other Application Traces
Click Erase Traces from the left pane. The software will then scan your PC and give you a list of options, and then Select the desired application traces option and click on "Erase Now" button located on the bottom of the screen in the right corner.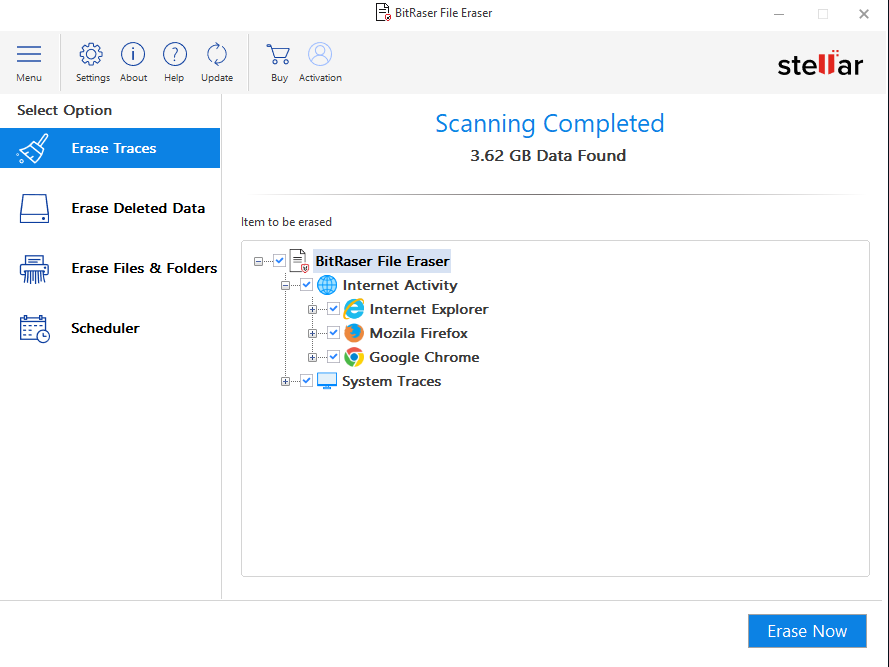 Clear Up Unused Space
To permanently delete any data present in the unused space, click on "Erase Deleted Data". All the used and unused data will be displayed in the right pane, and from here, the desired system volume can be selected for deletion. Now click the "Erase Now" button to proceed with the data erasure process.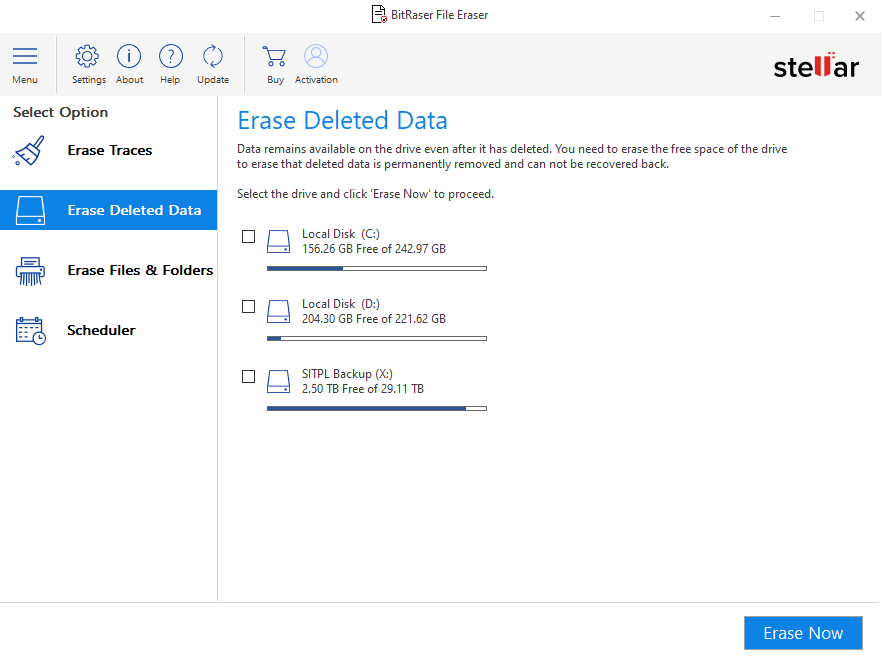 Delete Files Permanently
To delete the selected files permanently, browse the file from "Search File" tab. Here the file name or extension can be added to locate the desired file. To shortlist the search, click the appropriate option in the "Search In" box.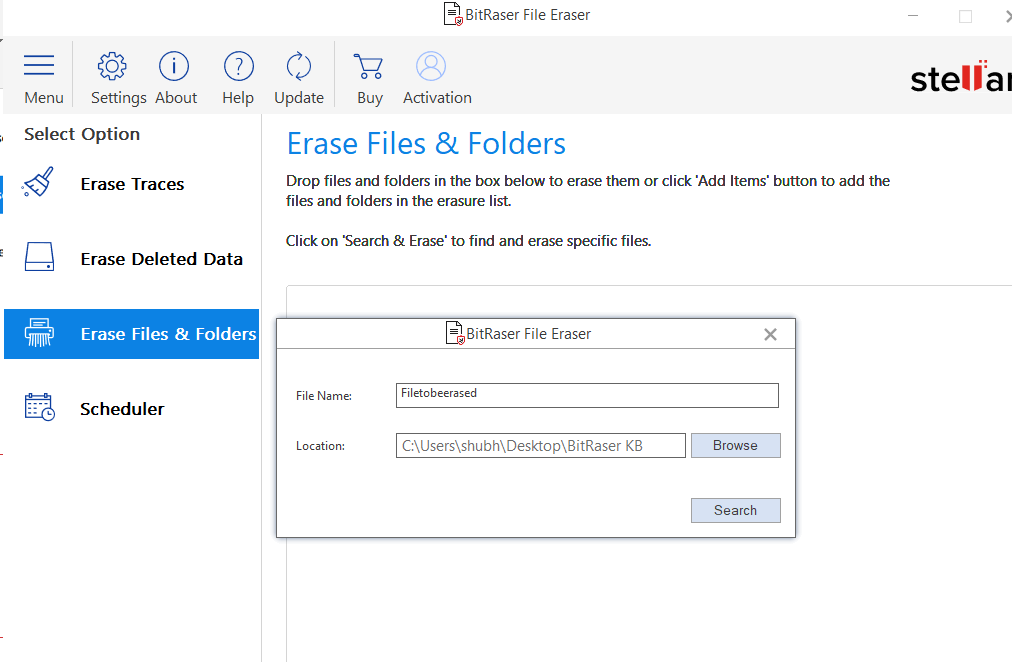 Conclusion:
In this Digital Age, data plays an important role. Thus, protecting it from unlawful activities becomes imperative. While organizations may use built-in methods while disposing of, deleting, or returning IT Assets yet they are not safe means as data does not get permanently deleted. Given that, the Safe, Secure, and Reliable "BitRaser File Eraser" becomes a viable solution.