[Solved] Unable to Erase Data from Raw Format Drive
A storage drive with the RAW format is usually considered damaged or corrupt, as the Windows PC does not recognize a RAW drive or volume. It indicates a storage drive with no file system and thus, cannot be accessed. Windows supports NTFS, FAT32, and exFAT file systems. Therefore, any storage drive formatted with a supported file system and connected to a Windows system via USB ports, SATA, or PCIe is natively supported and recognized by the Windows OS.
Therefore, if you want to erase data from RAW format drive, you first need to format the drive with a supported file system i.e. NTFS, FAT32, or exFAT. It is noteworthy that formatting does not permanently delete all files and folders from the drive. Instead of formatting only replaces the older file indexing table with a new one. As a result, the formatted files remain on the storage drive.
Apparently, the formatted and deleted files from a drive can be easily recovered with a data recovery software, which could pose a serious threat to your privacy.
Therefore, to completely erase data from RAW format drive, you will need a data erasure software that can help you wipe (erase) the empty storage space after formatting to sanitize (secure erase) the formatted drive as well as previously deleted data.
Erasing data from RAW Format Drive
Follow the steps in order to erase data from RAW format drive.
Step 1. Format the Drive with Disk Management Tool
Connect the storage device with your PC via USB or SATA port
Press 'Windows+X' and click 'Disk Management'
Right-click on the RAW drive or volume and choose 'Format…'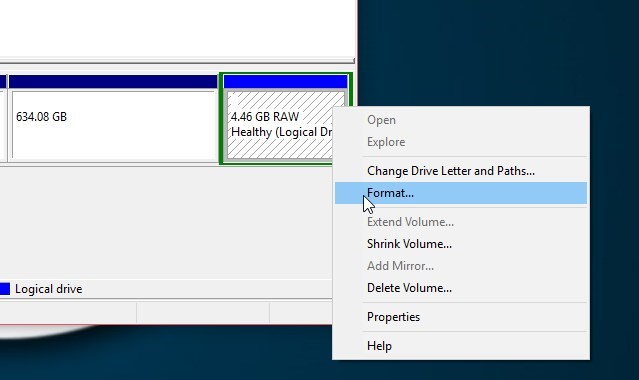 Enter a name, choose the File System as NTFS, FAT32, or exFAT (anyone) from the available option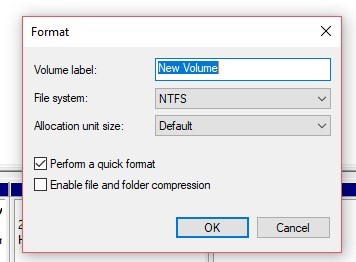 Keep 'Allocation unit size' to default and click 'OK'
After formatting completes, proceed to next step.
Step 2. Use Data Erasure Software
Download, install and run BitRaser File Eraser
Go to 'Tools' and choose a data erasure algorithm out of the 17 internationally acclaimed data erasure algorithms available.
Select the verification method, and click 'Apply'
Click the 'Home' tab
Click 'Erase Unused Space' in the left pane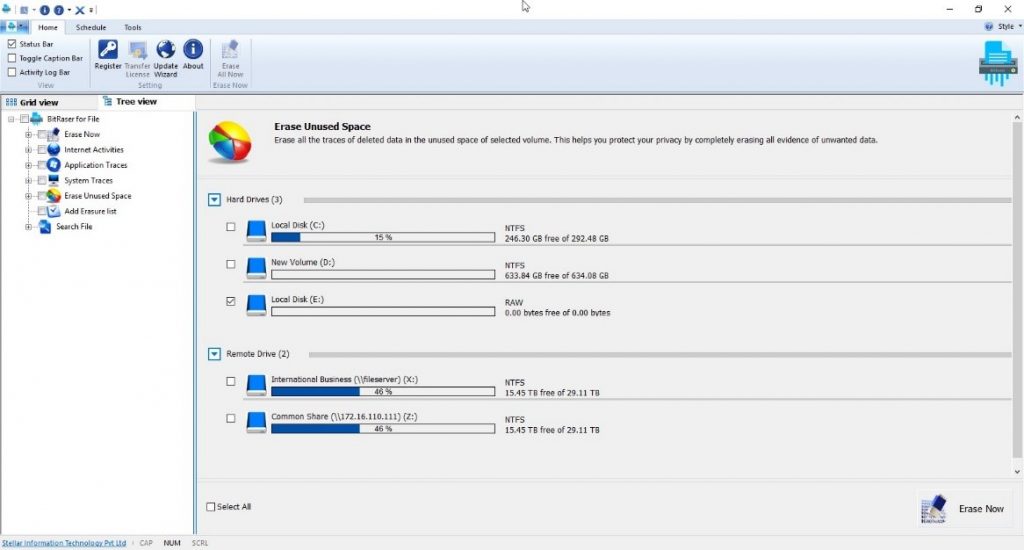 Select the drive or volume that you formatted in Step 1.
Click the 'Erase Now' button that appears at the bottom-right
Confirm when prompted and wait till erasure completes
At this stage, you have successfully wiped off your drive and permanently erased all data from a RAW formatted drive, beyond the scope of recovery.
Conclusion
RAW format volume is a logical partition with an undefined file system that cannot be recognized by Windows operating system. Thus, to securely erase data from RAW format drive, you need the help of a certified data eraser software such as BitRaser File Eraser. The software lets you sanitize the data from all kinds of storage media with the help of 17 international data erasure algorithms. Besides, the software can be also used as a privacy-safeguarding tool to sanitize confidential user data that's stored in the form of internet activities, system traces, and application traces.