Step-by-Step Guide to move user mailboxes from GroupWise to Outlook PST or Office 365
Many organizations have moved from on-premises emailing platforms like GroupWise to cloud-based emailing platform such as Office 365.
That's because, though GroupWise offers features like instant messaging, document management, calendaring and more, it lacks features like scalability, ease-of-use, etc. that are available with Office 365.
In this post, we will help you with an easy, step-by-step guide to move mailboxes from GroupWise to on-premises Outlook or Office 365.
We know that migrating thousands of mailboxes from one platform to another is a painful task that requires meticulous planning, several test-runs, and risks of failure. The manual methods for email migration are tedious, time-consuming and error-prone.
you may also like to read: How to Migrate GroupWise Mailboxes to Outlook?
Key Factors to Include in GroupWise to Office 365 Migration
After reading these, you would like to read the below method.
Stellar Converter for GroupWise provides an easier, fast, and safe way to migrate emails from GroupWise to Office 365.
It's one of the best ways to migrate GroupWise emails to Office 365.
Here's why…
Easy-to-use, reliable, and efficient tool for converting multiple mailboxes
Specializes in migrating mailboxes from the on-premises platform to cloud
Converts email attachments, Contacts, etc., with mailbox preview
Can save the mailboxes in various formats such as PST, MSG, EML, RTF, PDF & HTML
Supports GroupWise GW-2018, 2014, 2012, 8.0, 7.0, 6.5, and 6.0
Steps to convert and move GroupWise to PST format
Here are the detailed steps to migrate emails from GroupWise to Outlook.
Download, install and run the free demo version of Stellar Converter for GroupWise.
Note: The demo version scans and preview the converted GroupWise mailbox items to move into Outlook.
From the main screen, select option to convert GroupWise mailbox to required format using Online, Remote, Caching or Archive Modes. Then, fill in 'GroupWise Server Information' credentials related to the selected mode of moving GroupWise mailboxes to MS Outlook PST file (the converted PST file can be imported into Office 365)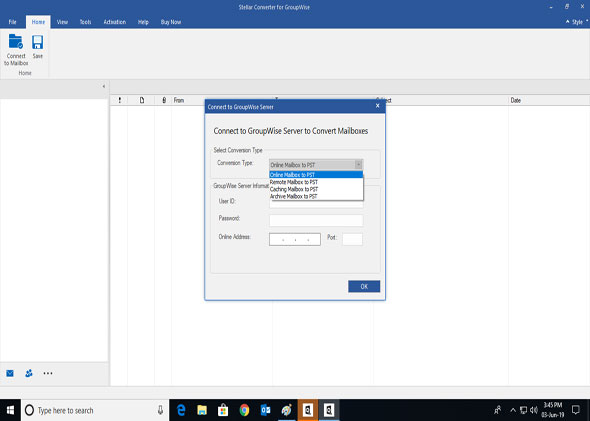 Once all details have been filled, click on OK to proceed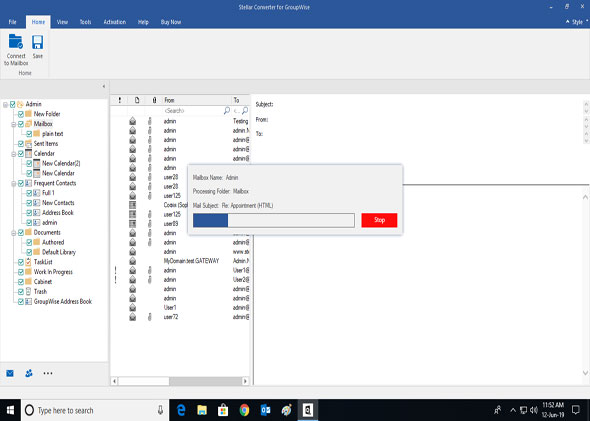 This will initiate the scanning of the mailbox you specified in the 'GroupWise Server Information'. You can stop the scan at any point by hitting the 'Stop' button
Once the scan completes, all convertible data will be displayed in a tree-view list in the left hand panel of the software. From here you can click on any item and preview it in the software window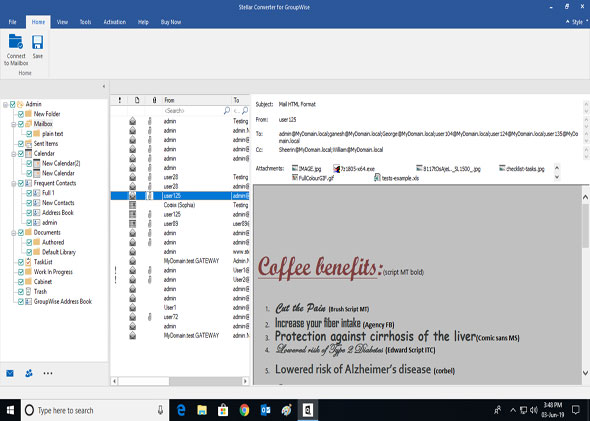 When you're satisfied with preview, you can proceed to save the converted file by clicking on the 'Save' button from the main menu. Remember, the software provides an option to 'Apply Filter' to your GroupWise mailbox data, if required.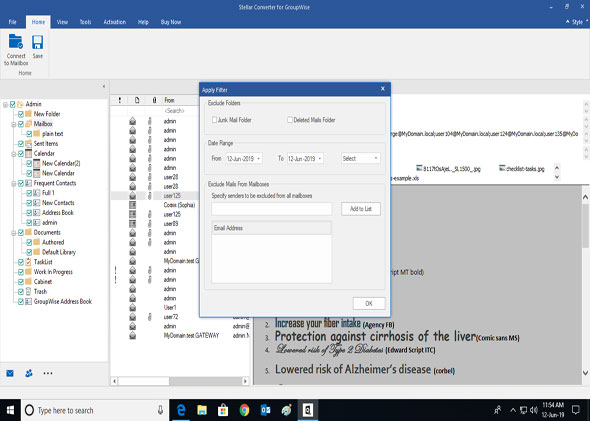 You'll see the option to save converted file as PST, MSG, or EML. Select 'PST' and click on OK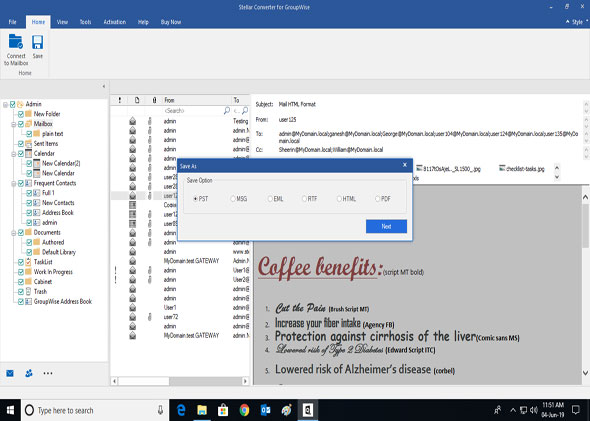 Provide location at which you wish to save the PST file and click on OK to complete the process
Once you have the PST file, you can import it to your Office 365 mailbox directly to complete the migration.
To move GroupWise Mailboxes directly to Office 365, use Stellar GroupWise for Technician edition of the software. Try it Now!!

Wrapping it up
Stellar Converter for GroupWise helps in quick and error-free migration of GroupWise mailboxes to Outlook or Office 365. It allows you to migrate single or multiple mailboxes including the contacts, email attachments, and all other mailbox items. Try out the software by running the demo version which offers free mailbox scan and preview. Once you've ascertained the effectiveness, you can go ahead and purchase the activation key to export your GroupWise mailboxes in multiple