Summary: In this blog post, you will discover the best alternative to TestDisk free data recovery application. We will share a thorough insight into the following aspects of the Mac data loss situation when using the TestDisk tool and how the alternative software can provide a more reliable and comprehensive solution. But before you proceed, download a free trial of Stellar Data Recovery Free Edition software for Mac and keep it handy.

Table of Content
1. TestDisk Mac Data Recovery Utility
2. Pros & Cons of the Utility
3. Stellar Data Recovery Free Edition for Mac
4. How to Use Stellar?
5. Pros & Cons of Stellar
Regardless of the way one uses their Mac machine, data recovery is an area every Mac user comes across at least once in a while. Most aware users take a good amount of security measures to safeguard their data from threats of leakage, theft, and corruption and also engage in regular backup routines. However, data loss evolves with each passing day; hence, new loop-holes are discovered now and then. Awareness of the latest and most efficient Mac data recovery products is thus, the only way one can consider oneself as covered.
Let us now look at the popular free Mac data recovery tool and compare it to test the worth.
TestDisk
TestDisk is open-source software licensed under the GNU General Public License. It's a free utility that restores lost data from MacBook Pro, iMac, Mac Mini and other file systems.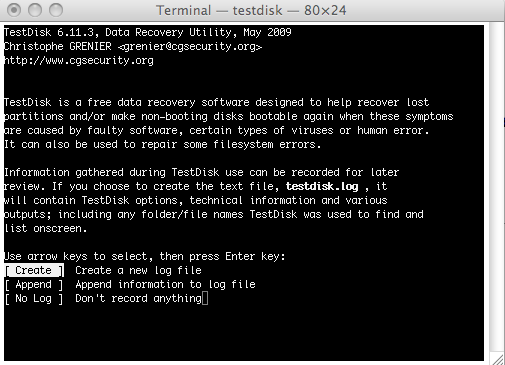 Further, TestDisk Mac data recovery utility can recover Mac partitions and data and helps make non-booting MacOS boot again. This tool helps fight data loss resulting from accidental formatting, unintentional deletion of data, partition table damage, faulty software, etc. Some of the core features of this software include:
Recovers data from HFS, FAT, NTFS, EXT, ex-FAT file systems
Fixes MFT using MFT mirror
Fixes partition table and recover deleted partitions
In addition to Mac, TestDisk can run under DOS, Windows, Linux, FreeBSD, NetBSD, OpenBSD, and SunOS and can find lost partitions for 20+ file systems.
TestDisk Mac Data Recovery – Pros vs. Cons
TestDisk is aimed at recovering different types of data from a variety of platforms. As such, TestDisk has similar advantages and disadvantages.
Pros:
TestDisk recovers lost partitions and help rebuild boot sectors
TestDisk recovers lost documents, photos and media files from a number of storage devices
It provides detailed information and fulfills the exact purpose
It's free, open-source utility
Cons:
TestDisk is purely command-line based utilities, meaning they lack a Graphical User Interface (GUI)
TestDisk is not suitable for novice or less experienced users
TestDisk has no live update feature that shows which files have been found
It can often take a lot of time to complete the process
TestDisk doesn't yet support APFS data recovery
Although TestDisk is a popular free data recovery Mac software, it has some very strong drawbacks, the biggest one being the missing GUI. In the absence of an adequately explained interactive interface, non-technical users may find these tools complicated to work with.
Free Alternative to TestDisk Mac Data Recovery
Leverage Stellar Data Recovery Free Edition for Mac to overcome the shortcomings of the TestDisk and to recover Mac data quickly, accurately, and in a risk-free manner. This Mac data recovery free application restores deleted or lost documents, photos, music files, as well as videos from APFS, HFS, HFS+, FAT, an ex-FAT and NTFS format based file systems.
How to use Stellar Data Recovery Free Edition on Mac Easily?
It deftly reclaims permanently deleted data from iMac, MacBook Pro, MacBook Air, Mac Mini, and Mac Pro. Further, the product facilitates Deep Scan recovery on severely corrupt hard drives, lost APFS volumes and supports Mac data recovery from Encrypted file systems as well as Time Machine backup drives. The software can be downloaded and installed easily, and its highly advanced and interactive GUI makes it super easy for all types of users to work with it.
Pros:
The free edition retrieves 1 GB of lost/deleted data for free
Equipped with one of the best & easiest graphical user interface
Option to recover a corrupt drive with Deep Scan
Previews recoverable Documents, Photos, Videos and more
Supports hard drives, SSDs, external media, SD, Time Machine & more
Cons:
It's not open source like TestDisk
The free version allows limited data recovery
The deep scan might take several hours depending upon the size and condition of the storage drive
Free version doesn't have Create Recovery Drive feature like Professional version. Learn more
The Way Forward – Stellar Data Recovery Free Edition
Therefore, instead of using a command line utility to perform best Mac data recovery, employing the secure and reliable Stellar Data Recovery Free Edition for Mac software would be a more preferred option. Which notable features such as live-update of recoverable files, file preview before recovery, option to save recovered data at the desired location, and many more, Stellar Data Recovery Free Edition for Mac software is a cut above TestDisk!