Top 5 QuickBooks Repair Tools – Free & PAID
Summary: This post highlights the top 5 QuickBooks repair tools for Intuit QuickBooks. Some of these applications are free while some are paid, but all of them hold great potential and can save you from QuickBooks disasters.
Intuit QuickBooks isn't widely acclaimed as the number one desktop accounting software for no reason. It helps you store, sort, and sift through your everyday financial data with ease and precision while ensuring that your critical information is 100% secure. While it is the invoicing and billing software of choice for small and medium-sized businesses, there are some downsides to QuickBooks just as there are to any other software. It can crash unexpectedly, freeze while you're working on it, leave the company file corrupted, or fail while updating data files. Though these issues are similar to those encountered with other applications, the effects they can have are much more impactful since QuickBooks deals directly with your organization's finances. A slight glitch here, a small error there, and you could end up losing invoices, bills, and financial records for a lot of your crucial projects. And that is bound to hurt.
But look at the bright side of things; there's no need to panic if any disaster befalls your QuickBooks application. And that is because Intuit itself and other vendors who're concerned about your data's safety have designed repair programs to help you combat some of the toughest QuickBooks errors without any hassle. Moreover, they've made it so that these remedial programs are easy to use and totally reliable.
Herein, we've compiled a list of the top 5 QuickBooks file repair software which will introduce you to some brilliant applications that you can use to have years of error-free QuickBooks operation.
Top 5 QuickBooks repair tools
(+) Repairs severely damaged data files for QuickBooks 2018 to 2007
(+) Recovers paychecks, payroll transactions, customer / company / vendor information
(+) Supports multiple currencies and advanced data recovery from QBB files
(+) Provides option to preview recoverable data before saving
The best thing you can do for your QuickBooks managed financial data gives it the protection of Stellar Repair for QuickBooks Software. This QuickBooks repair tool is renowned to be the most advanced repair tool for Intuit QuickBooks, capable of fixing even severely damaged or corrupted data files without hampering their components. Powerful scanning algorithms embedded within the product enable it to find out problematic components of QuickBooks company files and fix them while facilitating recovery of company, customer, transaction, employee, and vendor information. It works in a 3-step approach: scan QBW file, make recoverable data available for preview, and recover selected data at desired location.
Some of the key features of the tool include the capability to fix almost all known QuickBooks errors, extraction of data from QuickBooks backup files (QBB), generation of detailed log reports of the repair process, minimal system requirements, and wide compatibility with a number of QuickBooks and Windows versions. To top all that, it comes laced with a fully interactive GUI with descriptive options so that users with little to no technical experience can use it with utmost ease. It even includes a convenient 'Search' function through which users can search for QBW files on their system in case they're unaware of its exact location.
Backed by tons of positive user reviews validating its efficiency and accuracy, Stellar Repair for QuickBooks Software is one product you shouldn't think twice about when trying to protect your QuickBooks data. Having this one tool by your side eliminates the need for any other repair tool for QuickBooks.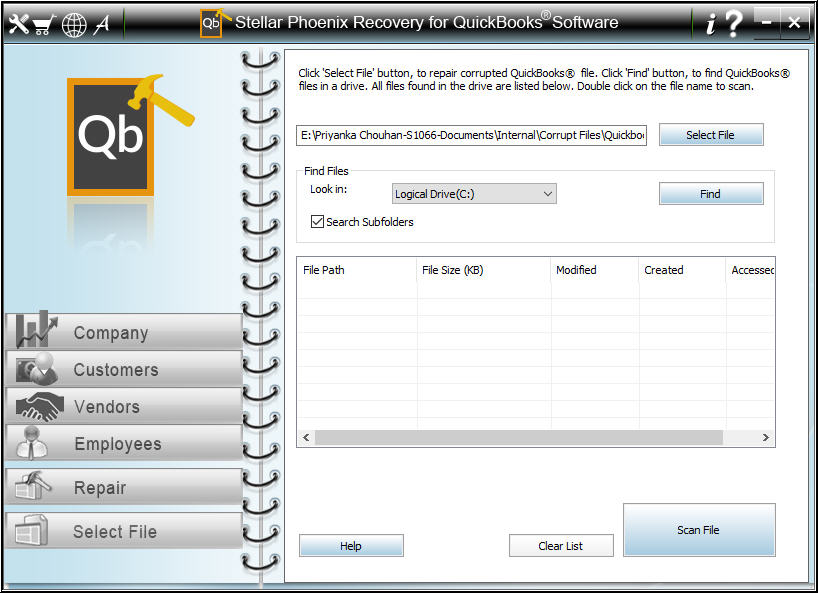 QuickBooks File Doctor (Free)
(+) Fixes QuickBooks company file internal errors like corruption
(+) Helps get rid of Windows setup problems, networking issues and other complex error codes
(-) Fails to repair severely damaged company files
Developed by Intuit, QuickBooks File Doctor repairs damaged company files by detecting and fixing internal issues like file header corruptions. Moreover, it detects networking issues with multi-user setups and helps get rid of many complex QuickBooks errors. The tool can be downloaded easily from Intuit's website and it is freeware. However, this tool cannot fix severe company file corruptions. None-the-less, since running it on a damaged company file doesn't have many side-effects, you can try starting with this QuickBooks repair tool if problems arise and if it is unable to fix them, you can move on to other more competent options like the one mentioned above.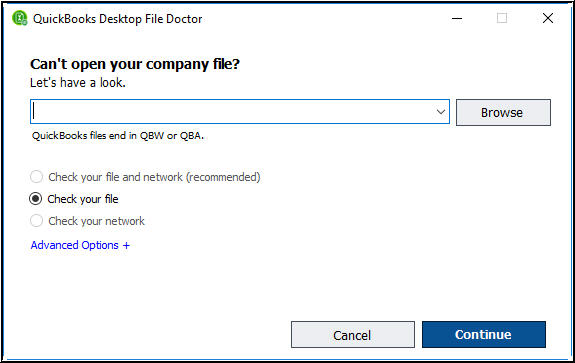 (+) Fixes problems that prevent QuickBooks from running
(-) Limited scope in the resolution of QuickBooks Company file errors
Sometimes when trying to launch QuickBooks, users can face error pop-ups. This may happen due to problems within Intuit or Microsoft components preventing the application to run. The QuickBooks Component Repair Tool can help you beat such hurdles by displaying the exact error that is preventing QuickBooks from launching and identifying the troublesome component. Thereafter, this tool can be used to repair the faulty component to eradicate the issue from source.
(+) Verifies the functioning of .NET framework, MSXML, C++, and other QB components
(-) Limited Scope as far as QuickBooks company file errors are concerned
If you're facing issues while trying to install QuickBooks, the QuickBooks Install Diagnostic Tool, also known as QBInstall Tool, can come to the rescue. It is designed to automatically identify and fix issues with .NET Framework, C++, and MSXML. Prior to performing any manual steps to resolve installation related issues, it is recommended to run the tool since it can decrease the time needed to resolve your issue.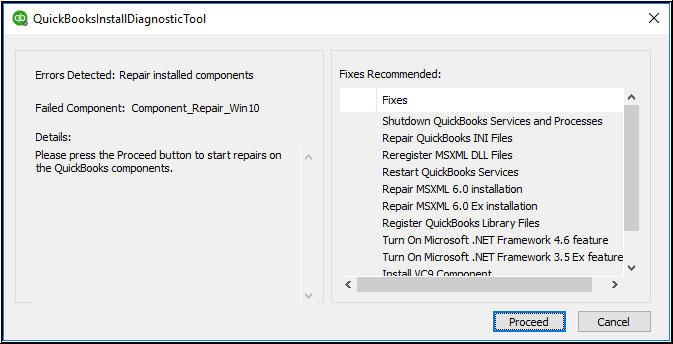 Reboot.bat (Free)
(+) Re-registers QuickBooks related components with Microsoft Windows
(-) Does not solve company data file problems
Whether you've reinstalled QuickBooks after a PC re-format or performed an application repair through Control Panel, unexpected issues can crop up at any time. Fortunately, there is a tool residing on your PC that can help you get over a dozen of QuickBooks errors by cleaning up faulty leftover files messing with the current program instance. This tool is the REBOOT.BAT file which gives you a one-click way to re-register your QuickBooks program files to the Windows registry. This way, you can say goodbye to hidden QuickBooks issues that cannot be spotted at first glance.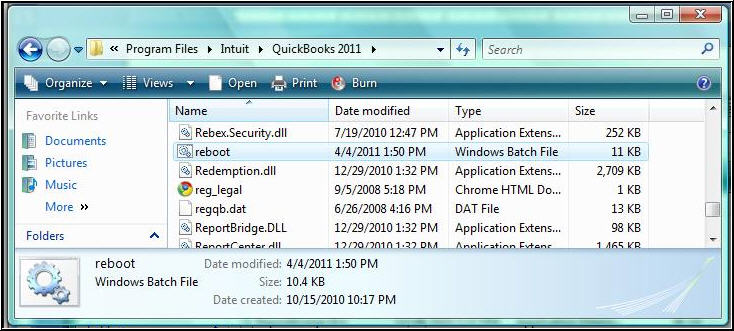 Conclusion
In case, you are unable to login to your QuickBooks installation or witness any cryptic error message, then all you have to do is to remember the above Top 5 Quickbooks Repair tools to resolve the error and be free from such grim situation. You can download the QuickBooks software now and try yourself.