Top Photo Recovery Software for External Hard Drives
Summary: Losing photos from an external hard drive can be devastating, but thankfully, photo recovery software can help. This blog lists the top software options, including Disk Drill, Stellar Photo Recovery, Recuva, R-Studio, AnyRecover, and more. With their user-friendly interfaces and powerful recovery capabilities, you can easily retrieve lost photos from your external hard drive.
The feeling of losing our precious photos forever from an external hard drive is always devastating. It could be because of a momentary lapse of attention, corruption, or a technical malfunction.
However, with several photo recovery software available to retrieve lost media files, you should take a sigh of relief. So, if you are in such a situation and have lost your memorable pictures, this blog is for you. Here, we will list some top software options to get your photos back.
Top 7 Tools to Recover Pictures from External Hard Drive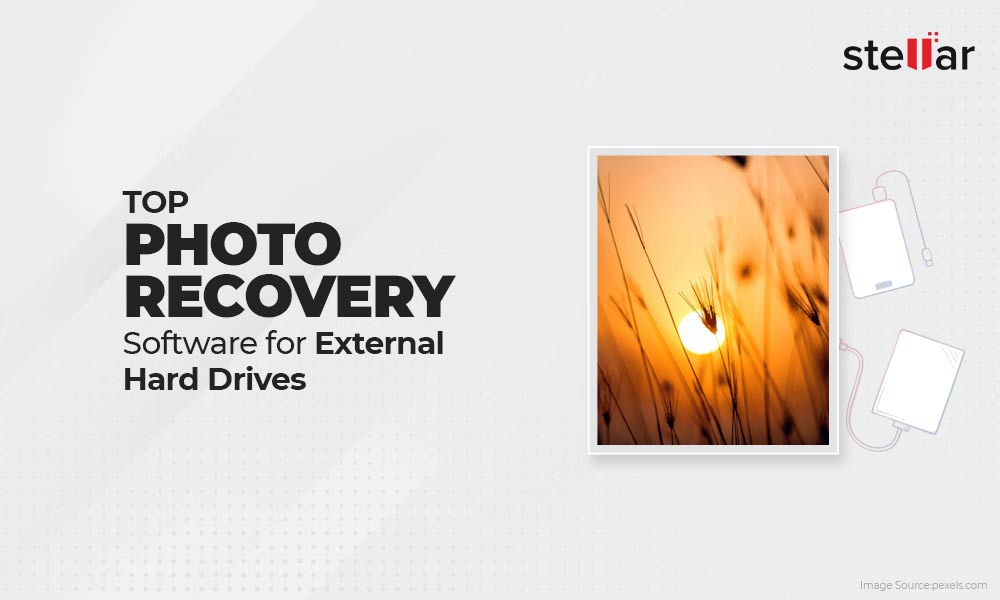 1. Stellar Photo Recovery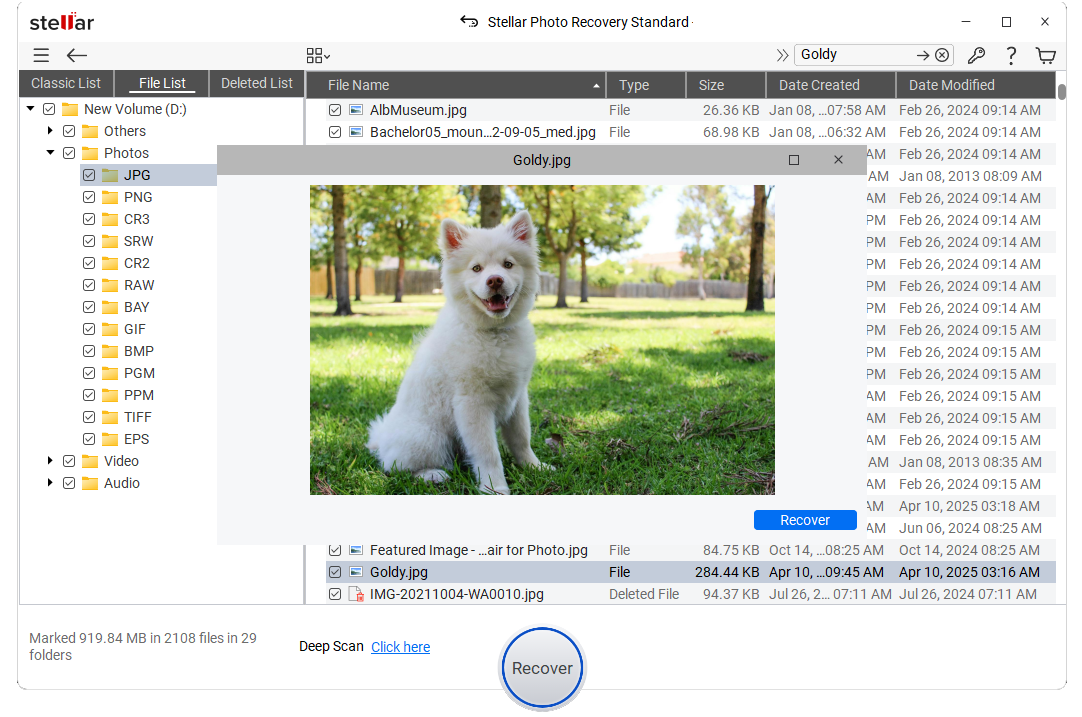 Stellar Photo Recovery a reliable tool for recovering deleted photos, audio, and video files from different storage devices, is the first choice of thousands of users. It allows you to recover photos deleted from SD cards, hard drives, and USB flash drives.
Here are some key features of Stellar Photo Recovery:
It recovers photos from USB, HDD, SSD, SD card, flash drives, smartphones, memory cards, etc.
The tool supports several camera brands – Nikon, Kodakm Canon, Sony, Samsung, Olympus, Fuji, Minolta, etc.
It is compatible with action, mirrorless, and drone cameras, including DJI, GoPro, Garmin, and others.
Pros:
One of the best things about the tool is its user-friendly interface. You don't require training to access it. Just install it in your system and recover the media files.
The tool supports diverse image and video file formats, guaranteeing that users can recover files in most formats.
It offers multiple ways to preview scan results, which assists in determining which files to recover.
Cons:
The free edition of Stellar Photo Recovery only permits you to preview scan results, and you need to buy a premium version to recover files.
Pricing:
Free version: The free version allows users to recover only 10 Files.
1-year Standard Edition: $49.99.
1-year Professional Edition: $59.99.
1-year Premium Edition: $69.99.
2. Disk Drill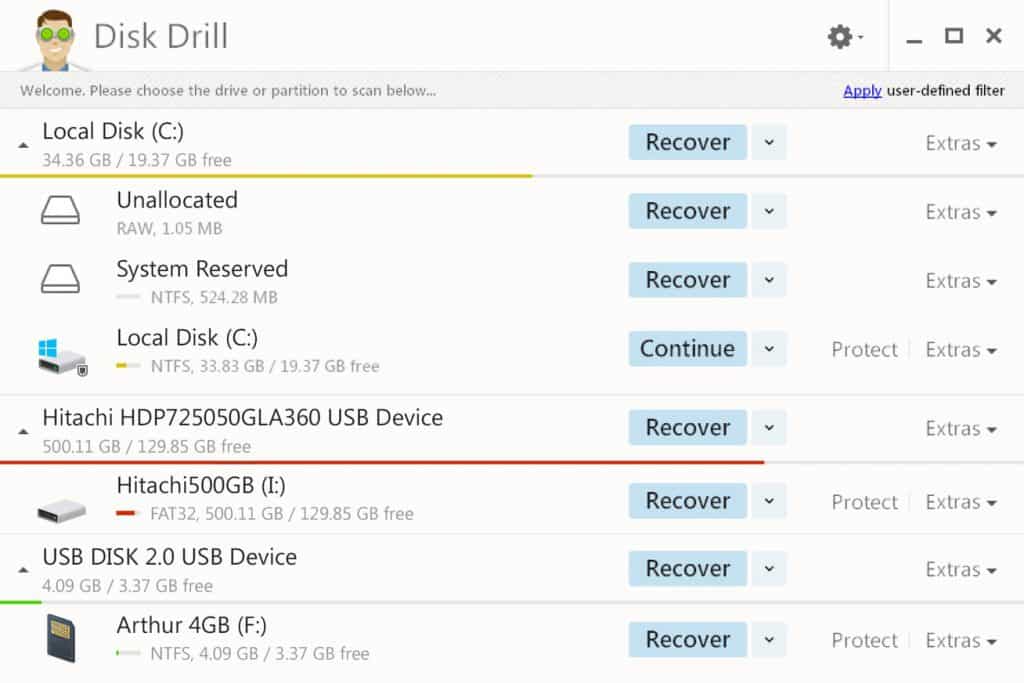 Disk Drill Photo Recovery is a versatile data recovery software specializing in recovering deleted photos from various storage devices. Its user-friendly interface and powerful scanning algorithms make it a popular choice for users of all levels of expertise.
Here are some key features of Disk Drill:
Before recovering your photos, you can preview them to ensure that you recover the right files. This feature helps save time and prevents the recovery of unwanted files.
It supports more than 400 file formats, ensuring that you can recover virtually any photo file format you may come across from any storage device.
It includes several free disk tools designed to help you protect crucial files and keep your data organized.
Pros:
Disk Drill's user interface is designed with beginners in mind, making it easy for anyone, regardless of their technical expertise.
The tool recovers RAW photos, often considered the highest-quality image format.
Disk Drill supports all the most commonly used image file formats, including JPG, PNG, GIF, BMP, and more.
Cons:
While Disk Drill can recover deleted photos, it cannot fix corrupted photos or images.
Pricing:
Disk Drill Basic: Free
Disk Drill PRO: $89.99
Disk Drill Enterprise: $499.99
3. Recuva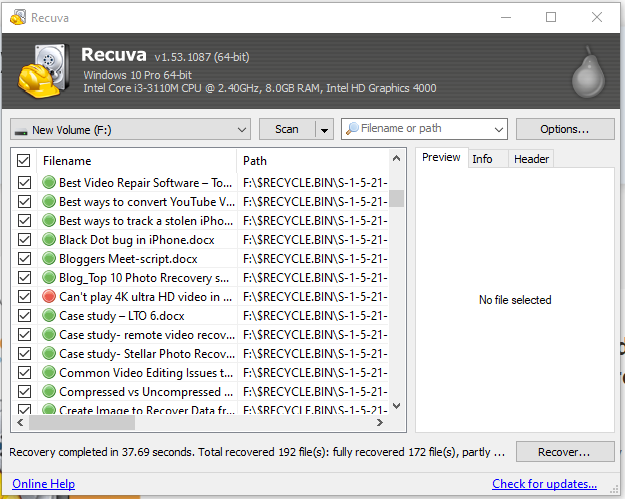 Recuva is a popular file recovery software that allows users to recover deleted photos and other files from various storage devices. Its free version allows users to recover unlimited photos without any major restrictions. Recuva also offers secure file deletion features, using military-standard algorithms to ensure sensitive data is permanently deleted.
Here are some key features of Recuva:
Recuva supports virtual hard drives, letting users retrieve photos from virtual machines.
The deep scan mode checks every sector of a storage device to retrieve media files that other recovery tools may have missed.
Recuva updates automatically guarantee users access to recent features and security updates.
It uses military-standard deletion strategies to securely delete precious media files, making it unattainable for anyone to recover them with advanced photo recovery tools.
Pros:
It offers unlimited free data recovery with the standard version
The tool has a deep scan mode for media files that are tough to discover.
Recuva has a portable edition, too.
It is a 100% free data recovery tool.
Cons
The interface of the tool makes it look old.
It is not possible to preview the outcome during the scan.
Pricing:
Professional for 1 PC (1 Year Premium Subscription): $29.95
Professional for bundle PC (1 Year Subscription): $34.95
4. PhotoRec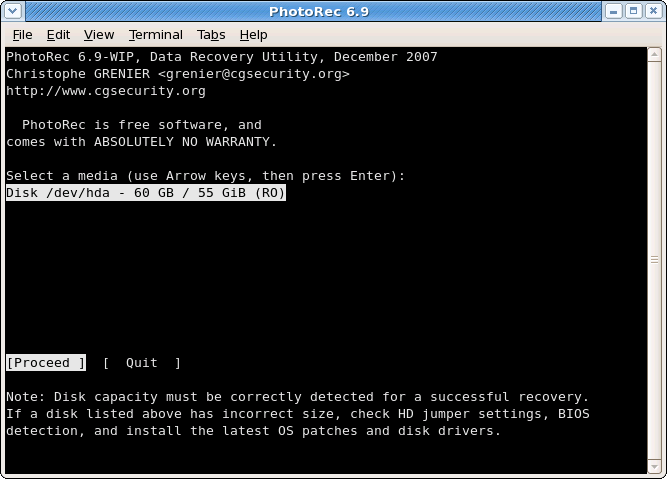 PhotoRec is a powerful recovery tool with a menu-driven command-line interface to interact with users. While it may not be suitable for novice users who prefer an intuitive photo recovery program, PhotoRec can recover more than 480 file extensions from about 300 file families from various storage devices, including hard drives, CD-ROMs, and memory cards.
Here are some key features of PhotoRec:
PhotoRec can run on almost any operating system, including Windows, macOS, and Linux.
The software can recover data even from severely damaged file systems.
PhotoRec is distributed under the GNU General Public License, making it completely free and open-source.
Pros:
PhotoRec is a free and open-source tool that allows users to recover unlimited files without restrictions.
It is a fast and reliable tool for recovering lost or deleted photos and other files.
The software can run on various operating systems, which is helpful for users who need to recover data from multiple devices.
Cons:
There is no preview mode.
Complicated interface.
Pricing:
You can download and use the tool without restrictions.
5. R-Studio
R-Studio is a robust photo recovery software that caters to the needs of professionals and data recovery experts. It is packed with advanced features, such as RAID reconstruction, HEX editor, and network data recovery, making it an ideal choice for recovering lost or deleted photos and files. The software supports Windows, Mac, and Linux file systems, making it accessible to a wide range of users.
Here are some key features of R-Studio:
Supports Windows, Mac, and Linux file systems
It has an advanced data recovery algorithm
Integration with DeepSpar Disk Imager
Pros:
Powerful features for data recovery experts
Supports remote data recovery
Familiar file explorer-style interface
Cons:
Not designed for casual users
Expensive to unlock all features
Pricing:
R-STUDIO: $79.99
R-Studio Technician: $899.00
R-Studio T80+: $80.00
R-Studio Corporate: $179.99
R-Studio NTFS: $59.99
R-Studio FAT: $49.99
6. AnyRecover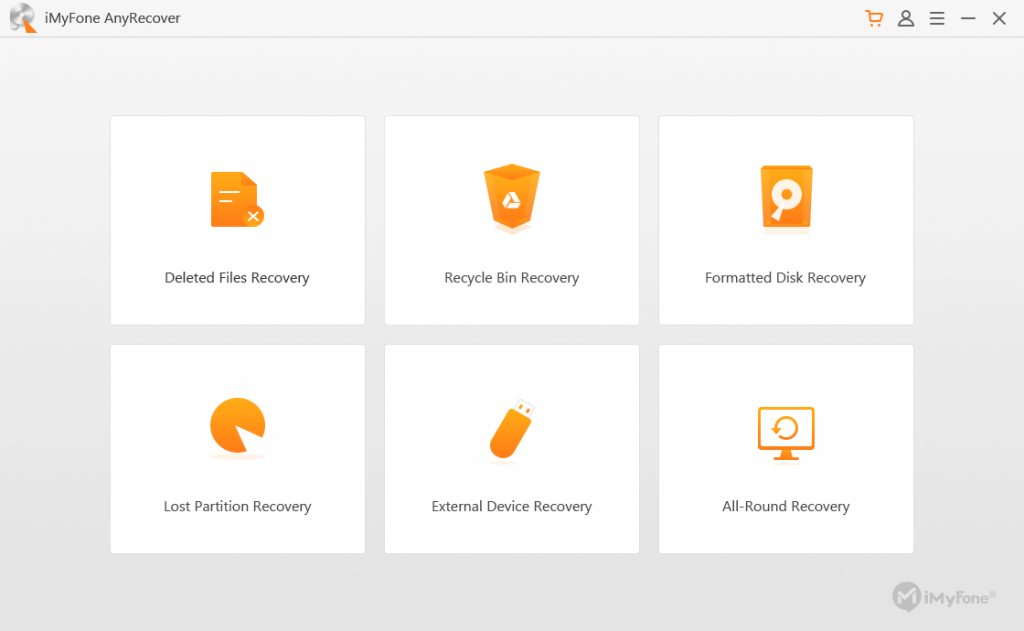 Whether it's accidentally deleted media files, formatting, system crashes, or virus attacks, AnyRecover can entirely recover your photos and other data from external drives, hard drives, SD cards, USBs, or other Devices. The tool is compatible with major brands like GoPro, Sony, Nikon, and more.
Here are some key features of AnyRecover:
It can recover a wide range of multimedia files.
It works seamlessly with several top camera brands, making it an adaptable tool for photographers and videographers.
The software can recover files from data loss scenarios like formatting, accidental deletion, system crashes, and virus attacks.
Pros:
AnyRecover Photo Recovery is affordable, particularly the Windows version.
The trial version gives users access to all features, making it easy to decide if the software is right for you.
It is incredibly user-friendly, with versions available for Windows and Mac, allowing more people to benefit from the software.
Cons:
AnyRecover software's free edition permits the recovery of up to 8 files. This is much less than other data recovery tools within the same price range.
Pricing:
1 Month License: $49.99/Month
1-Year License: $5.83/Month
Lifetime: $79.99/Lifetime
7. CardRecovery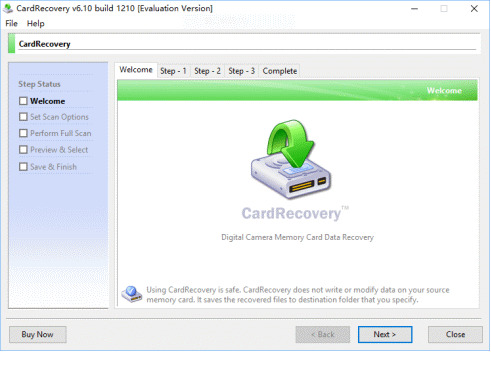 CardRecovery is the trusted photo recovery utility for memory cards utilized by phones or digital cameras. It can recover deleted, damaged, or formatted media and video files from diverse memory cards.
It is compatible with nearly all memory card types, such as CF (Compact Flash) Card, MicroSD, xD Picture Card, XQD Card, SD Card, Flash Drive,
SDHC, Memory Stick, and more.
Here are some key features of CardRecovery:
It has a safe process for recovering your lost media files.
You can preview the photos before recovering them and choose the pictures you want to recover.
CardRecovery supports multiple devices.
It has a raw-recovery feature and supports over 100 file types.
You can recover the photos in bulk in one go.
Pros:
Supports several memory cards.
Fast reply from the support team.
Works on almost all models of digital cameras.
It may not work on overly damaged SD cards.
Pricing:
CardRecovery provides a free trial version with limited functionality, and the full version can be purchased for $52.
Parting Thoughts
The process of recovering lost or deleted photos from external hard drives can be simplified using the right photo recovery software. Users can quickly recover their precious memories by carefully evaluating the available options and selecting a suitable one. We hope this article has provided valuable insights and guidance on recovering photos from external hard drives.
FAQs
What is photo recovery software?
Photo recovery software recovers deleted, corrupted, or lost photos and other media files.
Is it possible to recover photos from a physically damaged external hard drive?
It depends on the severity of the damage. Stellar Photo Recovery can retrieve media files from the damaged external hard drive.
Can I use photo recovery software on a Mac?
Most photo recovery software are compatible with Windows and Mac operating systems.