Urgent! I lost My Critical Business Presentation What to do Now?
Losing a critical business file—such as a presentation—can be disastrous for your career or the organization. It could be a deal breaker and a huge loss of time, energy, money, and endless efforts that went on creating the presentation.
However, the MS Office app in Windows keeps a backup of the presentation as unsaved file. Thus, you can use the PowerPoint app to restore the accidentally deleted and unsaved business presentations.
Below are the steps that help you recover lost PowerPoint presentation. from a Windows PC or an external drive such as thumb drive, SD card, HDD, SSD, etc.
Steps to Deleted Office Document Recovery
Step 1: Restore from Recycle Bin
It is one of the most fundamental data recovery technique as data deleted using Del key or right-click usually goes to Recycle Bin by default. So for example, if you have accidentally deleted a PPT or PPTX file, restore it using the following steps:
Go to Desktop and open Recycle Bin
Right-click on the Presentation and then click Restore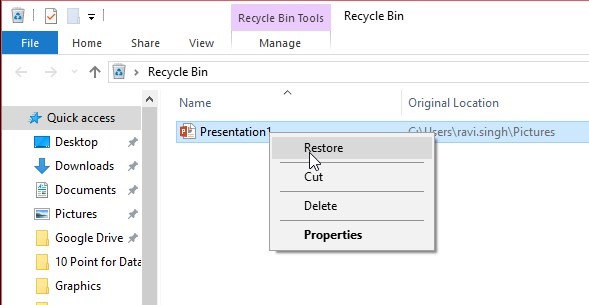 Note: You won't find the deleted presentation file in the Recycle Bin if the 'Shift+ Del' key combination is used to delete the file or Recycle Bin is emptied. Also, when the file is lost due to corruption, during file transfer (cut/paste), power outage, etc.
Step 2: Restore Unsaved Presentation using AutoRecover feature
To use this, you need to verify the state of Auto Recover, i.e., whether it is Enable or Disable. Here are the steps:
Click 'File' and click 'Recover Unsaved Presentations'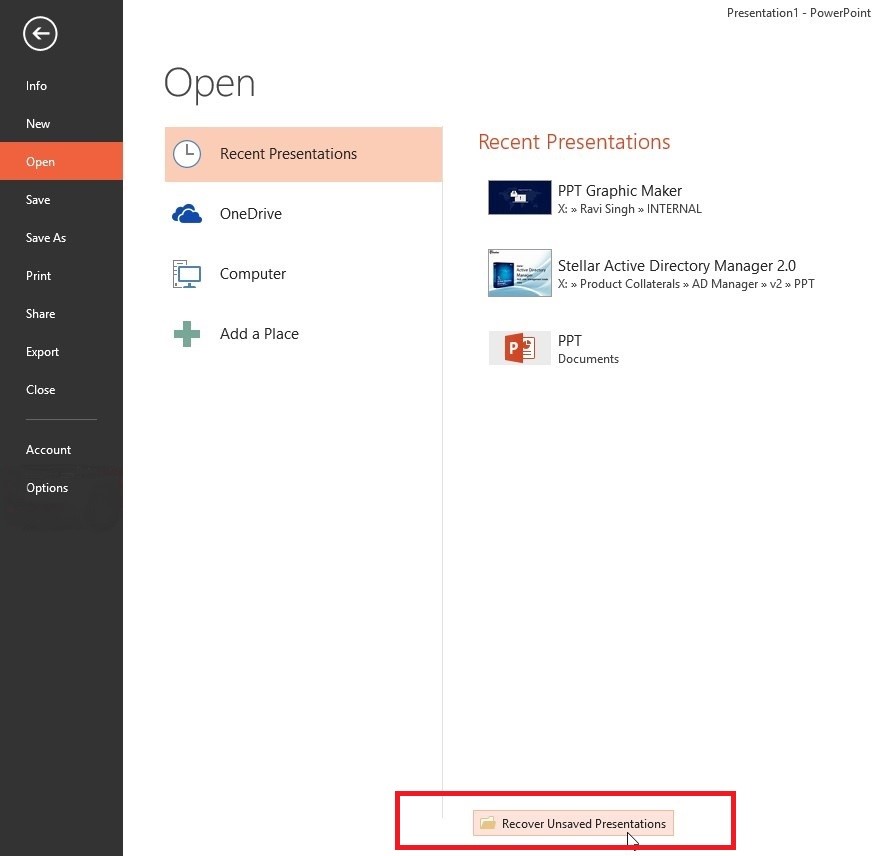 Now, select the unsaved file and click 'Open.'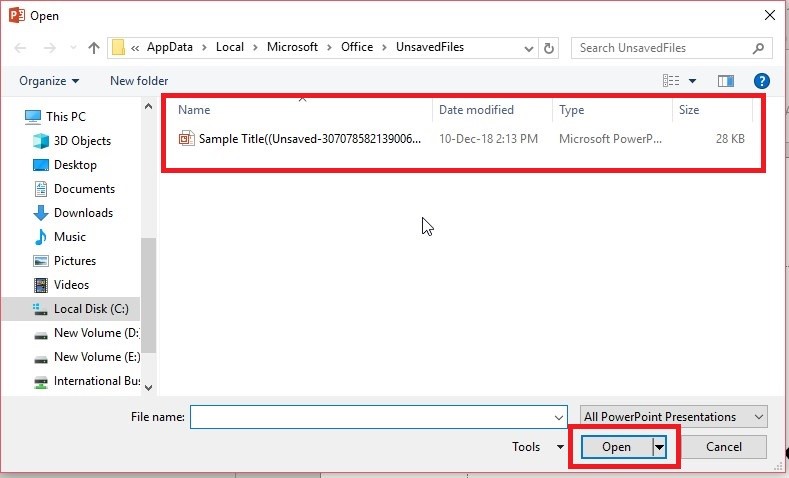 Save the recovered presentation file and continue working on the file after taking the backup
Note: Works mostly in the case when there is an unsaved file backup. The default duration to save unsaved backup file is 10 minutes. You can shorten the time to keep the most recent changes in the backup even if the system crashes; shutdowns abruptly, or app freezes.
Just go to File>Option. Click 'Save' and in 'Save AutoRecover information in every 10 minutes', enter '1'.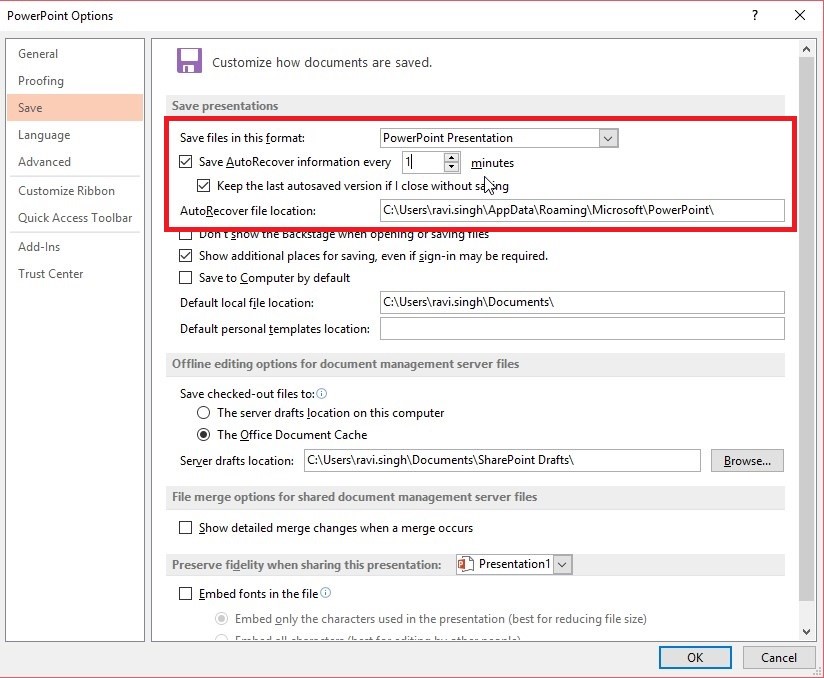 Click 'OK' to save changes.
And from now onwards, you will have better chances to restore the unsaved PowerPoint presentation. You can follow the same steps to configure MS Word and Excel app.
Step 3: Restore from Temporary Files
Fortunately, Windows creates a temporary file for every file at the start stage. This data is available at windows temp directory: C:\Users\<username>\Application Data\Microsoft.
Replace <username> with your Windows profile name; for instance, C:\Users\lizzy \Application Data\Microsoft
Step 4: Recover Deleted PowerPoint Presentation using a Data Recovery Software:
When you are not able to restore the file with 'AutoRecover' and other mentioned steps, immediately install the Stellar Data Recovery software on your PC to recover the lost and deleted presentation file.
The software can also recover presentation files from a severely corrupt or formatted drive or partition.
After installing the Stellar Data Recovery software, you can restore the lost PowerPoint and other MS Office files in just 3-simple steps:

Run the software and select 'Office Documents' under Documents, Folders & Emails and click 'Next.'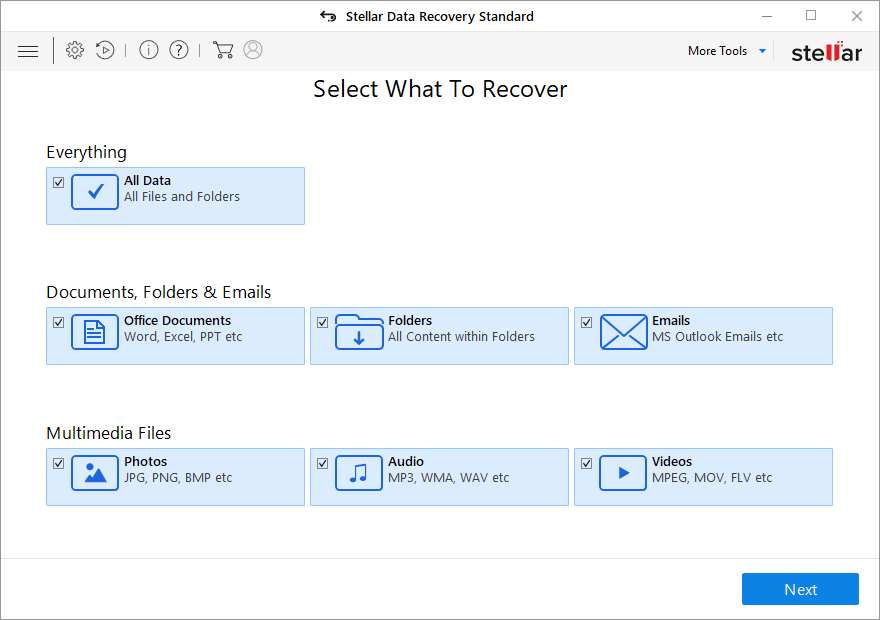 Choose the desired folder or drive location from 'Select Location' interface and click 'Scan.'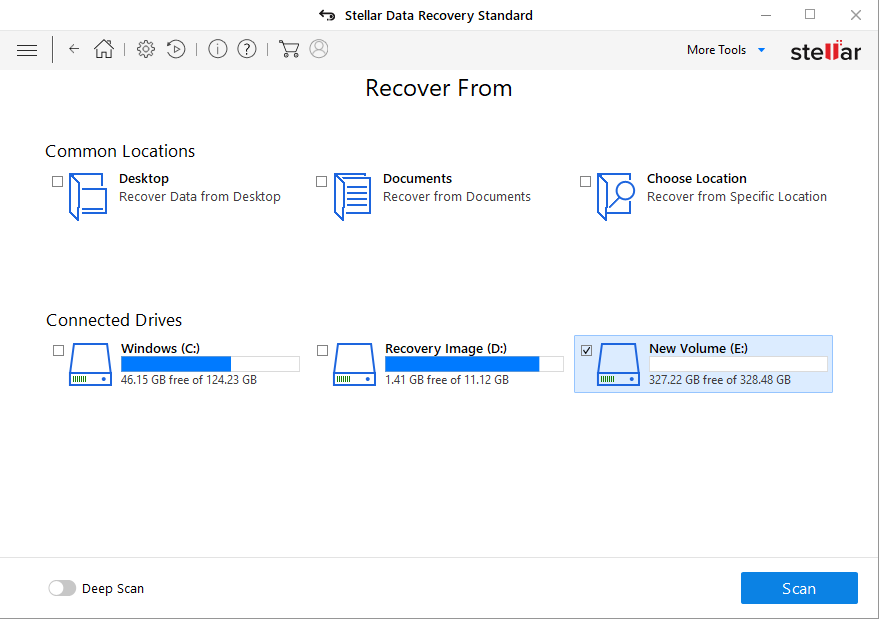 After the scan, search, preview, and then save the recovered presentation files at a desired location on the system.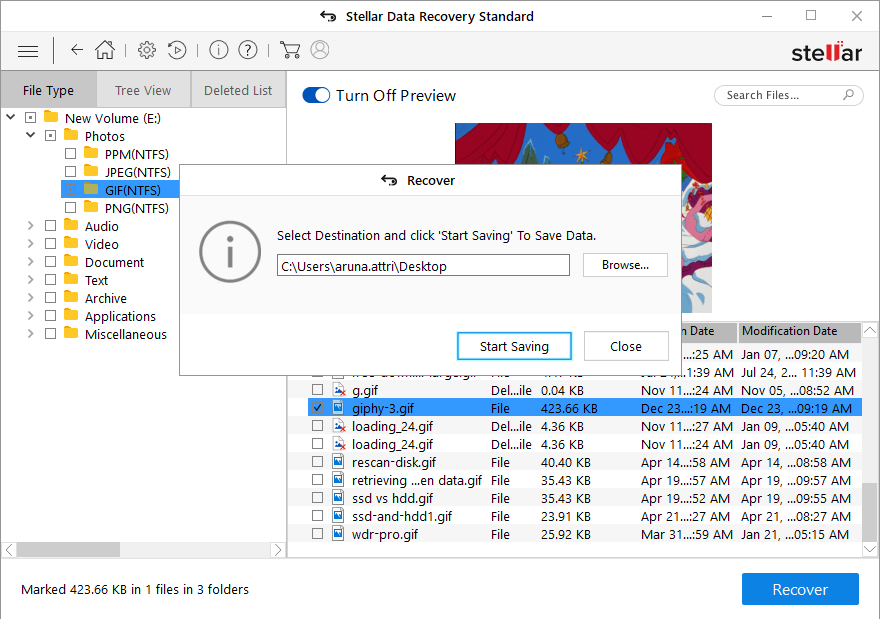 This completes the recovery process of lost or deleted PowerPoint presentation in Windows 10, 8.1, 8, 7, Vista, and XP.
Also, the software can restore unsaved PowerPoint presentations created using MS Office XP, 2003, 2007, 2010, 2013, 2016 or 2019 versions.
Conclusion
Using a data recovery software to restore presentation files is the most efficient way that guarantees maximum chances of your presentation file recovery. All you need is install the software and then in just 3-steps, regain your lost data from any Windows-supported storage media.
The main advantage of using the data recovery software is that it safeguards against data overwriting. Overwriting can cause file corruption and sometimes destroys the file beyond the scope of recovery.
Was this helpful?