Summary: Most Windows users are habitual of using the Windows Media Player (WMP) for playing audio and video files. In Windows 10, you can find the latest version of WMP, which delivers high-quality playback for a various file formats. However, sometimes users experience unanticipated errors like "videos not playing in windows 10" on WMP. This article discusses what this error is, why it occurs, and how you can fix it.
Windows Media Player (WMP) is the staple tool Windows users utilize to watch videos on their PCs. It is easy-to-use, delivers great sound experience, and is compatible with a variety of formats like WMV, AVI, MPG, MOV, MP4, and more.
Although most videos play smoothly with WMP, sometimes, unexpected issues can cause problems with video playback on the media player. These problems can include stuttering, glitches, and mismatched audio-video syncing. Needless to say, such errors can ruin the entire experience for any Windows user. But the good news is that the error is pretty easy to fix using a few easy solutions. But before moving on to the fixes, let's start with a few basics.
Most common windows 10 video playback issues and their causes
Some of the most frequently encountered windows 10 video playback issues and their most common causes include:
Codec issues, outdated media player, corrupt SD card, and poor camera quality while shooting can lead to blurry or jerky video playback
Outdated video drivers can cause WMP videos to play in slow motion
Corrupted video files, missing codec, format incompatibility, or read/write errors can show up a black screen when you try to play videos on Windows 10
If you're facing any of the above issues or any random error codes when playing videos on Windows 10, we're sure you can find a working solution in the next section.
How to fix "video not playing smoothly on Windows 10"
Here are some of the easiest solutions to the issue. We recommend going through them one by one, and restarting your computer after performing each fix to analyze if it's working as expected or not.
1. Restart your video player
This is the most basic thing you should do. Try exiting your video player and restart it. To ensure it is properly closed, go to the Task Manger on your computer and find the process named "wmplayer.exe" or something similar. Select it by clicking on it once and then hit the 'End Task' button at the bottom of the Task Manager. Once the player has completely shut down, restart it from the Start Menu and try playing the video again. If this doesn't work, exit WMP and restart the computer. Then check.
2. Uninstall and Reinstall the Display Adapter
Although a Windows update is meant to fix hidden system bugs and improve your usage experience, sometimes you may experience "windows 10 videos not playing" error after you've performed an update of your OS. You can fix the issue by uninstalling and reinstalling the display adapter. Here are the steps you need to follow:
Open Device Manager by right-clicking on your Windows 10 Start button at the bottom- left corner of the screen. From the list of devices that opens up, expand the "Display adapters" option.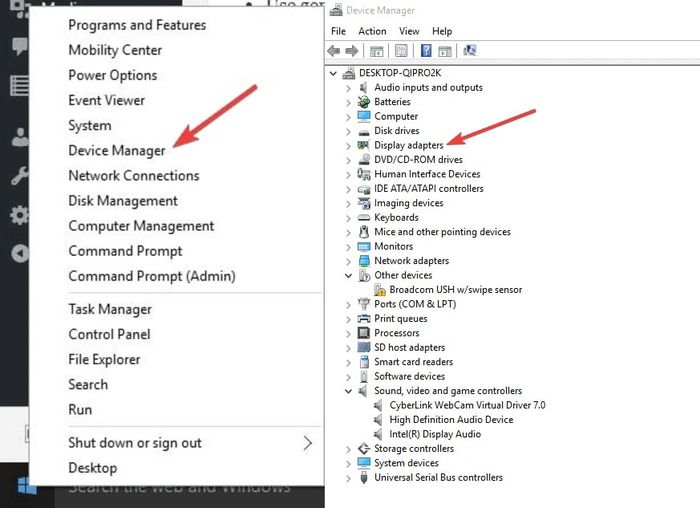 Now right-click on your display driver and choose the "Uninstall" option. Make sure that the option to "remove driver package" is unchecked.
Next, go to the main menu and click on Action > Scan for hardware changes. This will automatically reinstall the driver.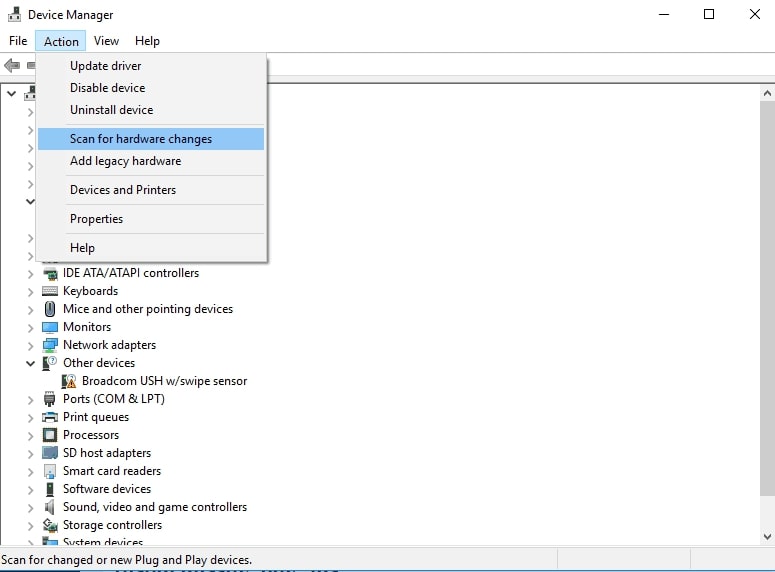 Finally, restart the computer to check if the error is fixed.
3. Run "Video Playback" Troubleshooter
The built-in Windows troubleshooter is quite a handy tool for fixing most problems on your Windows PC. For "windows 10 video playback issues" too, you can use the "video playback" troubleshooter. Follow these steps:
Open Control Panel on your computer and type "Troubleshoot" in the search box of the Control Panel window. This will list down a few options from which you need to select "Troubleshooting."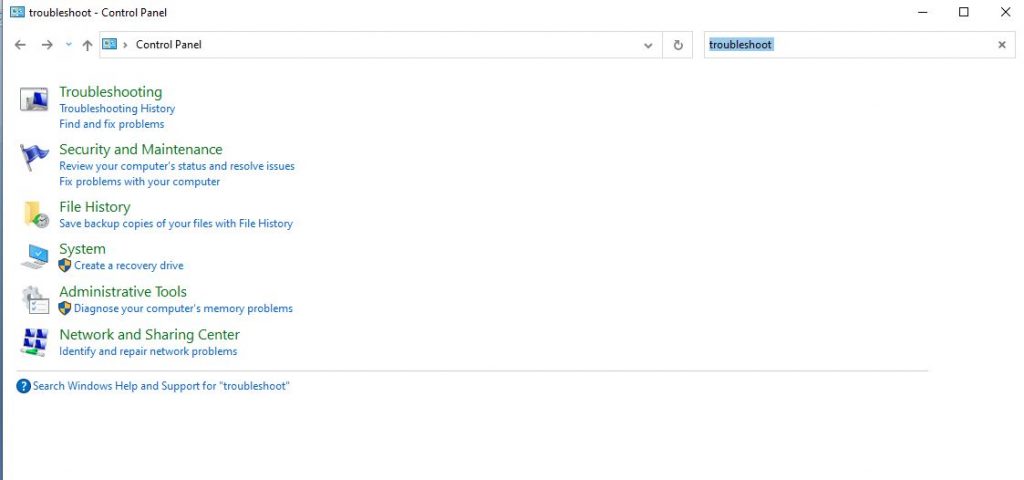 In the "Troubleshoot computer problems" screen that opens, go to the options listed in the left-hand sidebar and click on "View all".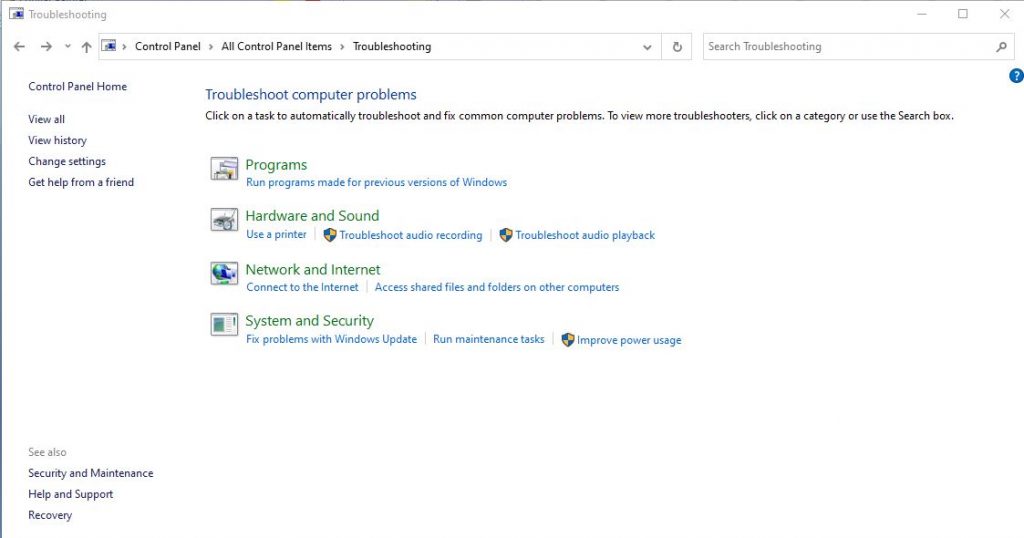 Now you'll see a list of all the troubleshooters that are pre-installed on your system. Find "video playback" troubleshooter and use it to fix the issue.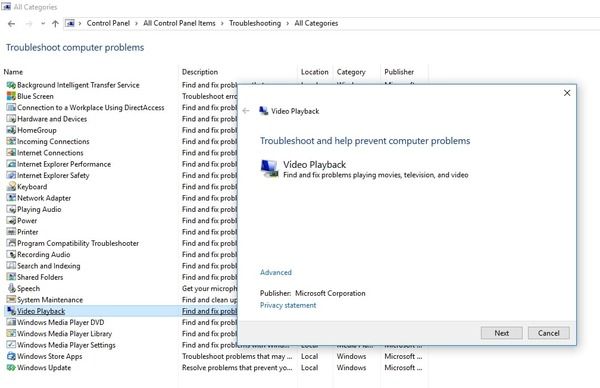 Restart your computer once the troubleshooter finishes working and see if the error is resolved. If not, proceed to the next fix.
4. Change power options
Though this could sound unrelated to the issue, changing your computer's power options from "High performance" to "Balanced" can help solve the video playback issue. Here's what to do:
Open Windows 'Run' dialog and type 'powercfg.cpl'. Click 'OK' or hit Enter.
From the Power Options window, choose the 'Balanced' radio button and close the window.
Restart your computer and check if the problem persists
Even after trying the above-mentioned fixes, if you're dealing with the "videos not playing on windows 10" error, you should know that most probably, you're dealing with a damaged or corrupted video. To remove the error, you need to fix the video using a reliable video repair tool.
5. Fix corrupted video with Stellar Repair for Video
Stellar Repair for Video is an advanced application that lets users fix corrupted and glitchy videos within a few clicks. This software supports most storage media, including SD cards, HDD, SSD, etc. and can repair any format of videos, including MKV, MOV, MP4, etc. It's compatible with Windows as well as macOS, and is quite user-friendly and affordable.
Here are the steps for installing and using this tool:
Go to the download page for Stellar Repair for Video and click on the "Free Download" button. This will save the installer for the demo version of the software (demo version lets you preview repaired files up to 20% of the total video size).
After the file has been downloaded, double-click the exe file to install the software on your machine.
Now launch Stellar Repair for Video and follow these steps to repair your corrupted video files:

From the software's interface, click on the box that says Add File to add the video file that needs to be repaired. You can also add multiple files here.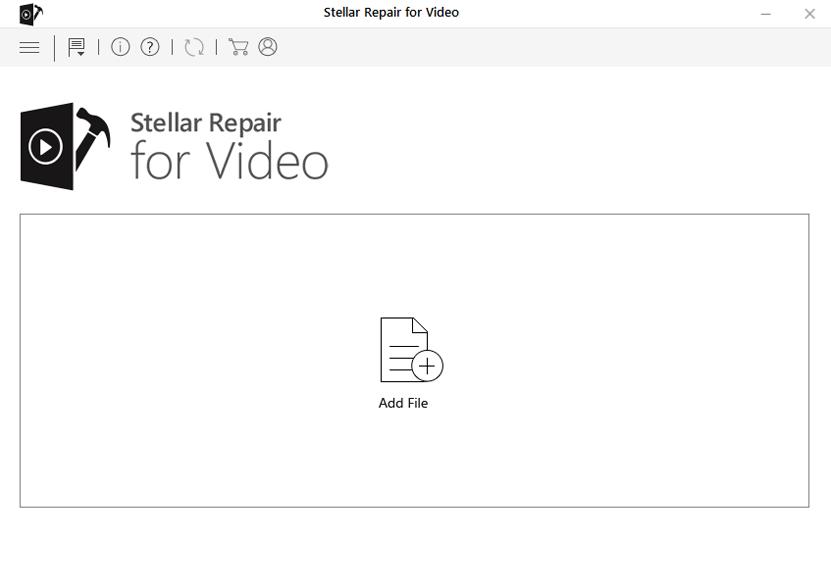 After adding the files to the tool, click on the "Repair" button to start the repair process.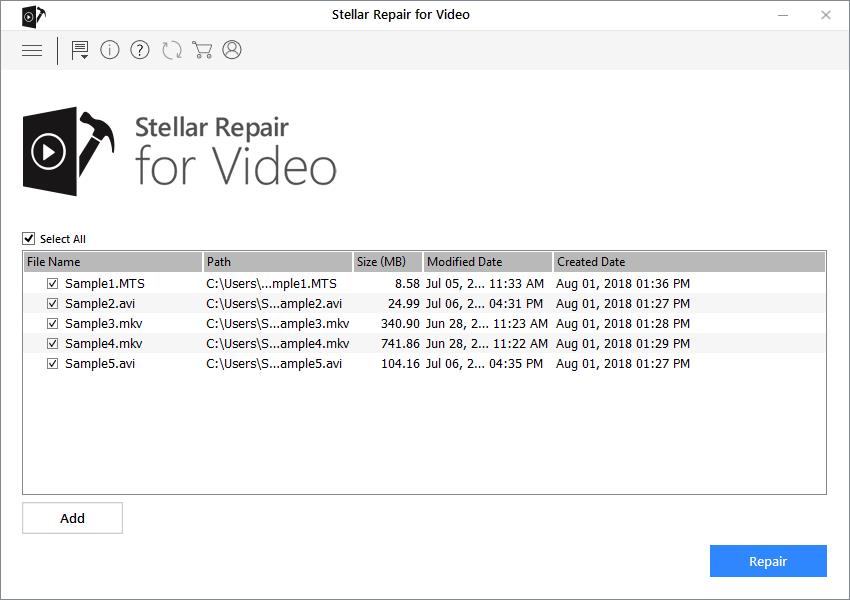 When the repairing process has begun, a progress bar will show how much of the added files have been repaired.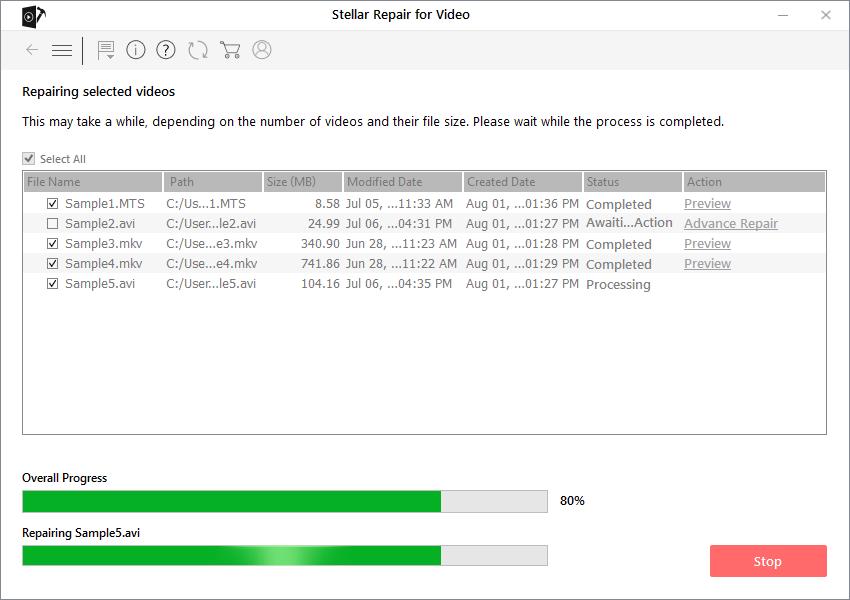 After the video files have been repaired, you can preview them before saving them to your computer.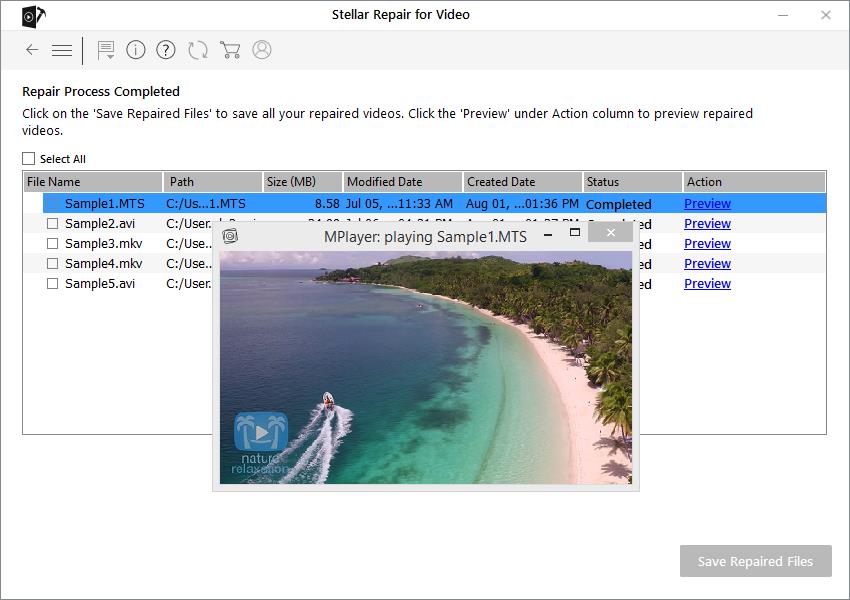 Once the video has been repaired, try loading it into WMP and play it. We're sure you won't face the "videos not playing on windows 10" error anymore.
Conclusion
Despite being a hassle-free media player, users can often experience errors when playing videos on their Windows Media Player on Windows 10. Usually, it's quite easy to resolve simple errors through manual fixes, but sometimes, the issue could be with the videos themselves. In such a case, repairing videos with a reliable tool like Stellar Repair for Video may seem to be the ideal solution.