Summary: Outlook OST file becomes prone to corruption if it exceeds its prescribed size limit. In such a case, it becomes difficult to access it through Outlook to view OST file data. So how can users extract their valuable data stored inside inaccessible OST files through Outlook? Let us try to find out.
When Outlook is used with Cached Mode On, all the data stored within the Microsoft Exchange mail account is saved on the local system for offline access. This offline replica of the Exchange account data is known as Offline Storage Table file or OST file. OST files enable the users to work on their mailboxes in offline mode, even if the connectivity to Exchange Server is temporarily unavailable. Once connectivity is restored, all changes made to the mailboxes are synchronized with the online accounts

Despite being a highly efficient email client, Outlook often faces issues because of problems with OST files. One of the key issues with OST files is that they may get corrupt if their size grows beyond a certain limit. File corruption can turn the data stored in such OST files inaccessible. As such, users need to devise strategies to overcome this problem and gain access to their valuable mailbox data.

Outlook OST reaching a maximum size
Why does an OST file becomes oversized and what is the immediate solution to it?
The Outlook versions that came before Outlook 2002 used a data file format called ANSI. This came with a file size limitation of 2GB. This limit was exhausted in a few months' time, especially with large attachments.
The later versions of the application used UNICODE data files, which had a file size limitation of 20 GB. But the same problem recurred due to regular usage, leading to size issues.
Having two versions of Outlook installed on the same device can hamper Outlook updates, ultimately leading to oversized files.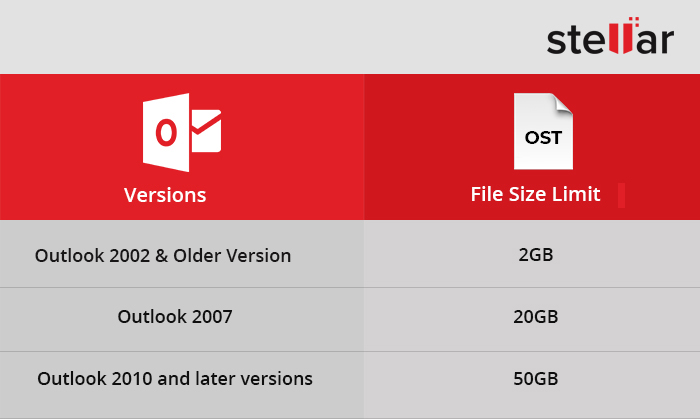 The immediate logical solution to the oversized OST is to delete the unwanted mails because the more mail exchanges happen the more space it occupies. However, this may not be practically feasible for all users since many conversations are important. Moreover, in most cases, even after deleting some of the emails, the error continues to exist. Thus to view OST file which has exceeded its size limit in Outlook, some other workarounds are needed.
Converting to PST format – the only solution
Microsoft does not have any provision to allow viewing OST files in Outlook directly (without the involvement of Exchange). Thus, if an OST file has become corrupt or orphaned, it can become very difficult to open it in Outlook.
In such a scenario, the best and only feasible solution is to convert the OST file into PST format and import the resultant PST file into Outlook. This technique also serves to extract valuable information from a corrupt OST file and make it accessible to users.
Some of the easiest manual techniques to convert OST file to PST format are listed below.
Method 1: Use Outlook Archive Feature
This method is also known as "Archive Facility" and is used to move the data to the mailbox. The steps to be followed are:
1. Open Microsoft Outlook, click on the OST file and choose "Archive"
2. In the dialog box that appears, choose the file or folder that you would like to archive
3. Browse the required destination to store archived Outlook PST file
4. Now press "ok" for the process to commence

This is a manual method, and by using this, one can transfer all the offline storage table data to PST format and view it in MS Outlook. Please note that the outlook address books cannot be viewed by using this method.
Method 2: Drag and Drop Mailbox Items
Open Microsoft Outlook
Under the Microsoft Outlook profile, create a new Outlook data file
To export Outlook PST file, drag and drop the whole mailbox folders
This method is very reliable, but its only drawback is that the entire inbox or address books, calendars, or sent items cannot be dragged all together. Hence, copy just one folder from the offline storage table to personal storage table file and then proceed with another. This method takes a lot of time on manual drag and drops for individual folders.
Method 3: Use OST to PST Converter Software
Stellar Converter for OST provides an efficient and automated solution for converting OST files to PST format. The software extracts all emails, calendars, contacts, and other mailbox items from OST files and converts them into PST format. The software also converts encrypted and severely corrupt OST files into PST format.

Following a convenient 3-step approach of scanning, converting, and saving, this software helps you overcome the drawbacks of manual conversion methods and gain accessibility to your OST file data.
Wrapping it up
While OST files are extremely useful, their management can easily get out of hand if proper attention is not paid on time. Though converting to PST format using manual methods is the best solution to overcome this issue, if manual techniques don't work, you can always rely on automated and efficient Stellar Converter for OST to resolve the problem.