What Is The Wacatac.B!ml Trojan? How to Remove It from Windows
What is Wacatac.B!ml Trojan? It's the first question that comes to mind when Windows Defender detects a severe threat called "Trojan:Script/Wacatac.B!ml," and is unable to remove it.
Windows Security often alerts you to take immediate action. But no matter what fix you try, remove, or quarantine, the threat remains.
Wacatac is a type of Trojan virus that can cause severe damage to your PC and collect all your personal data. That's why the moment you see the warning, you should do everything you can to remove it.
In this guide, we'll go over all possible solutions to remove this threat. Before that, let's see what a Trojan virus is and how it can damage your system and data.
What Can a Trojan Virus Do?
A Trojan virus is a harmful code that can infiltrate your PC via:
Legitimate-looking software, files, etc.
Cracked games or applications
Downloading outdated versions of apps from shady websites
Updating programs from unofficial sources
Clicking on links or attachments received from suspicious or spam emails (usually in the shape of bills, receipts, shipments, and so on that you are unaware of)
Downloading free versions of paid movies or songs with the help of a torrent file
Developers, and cybercriminals, create this malware for:
Stealing personal data like banking info for generating revenue or money laundering
Generating revenue
Collecting passwords for intended political/geopolitical use
Disrupting companies, services, sites, etc., processes for personal or organizational advantage
Using victims' social network accounts to borrow money from their contacts
Mining cryptocurrency using the infected system's resources
When you execute infected files or software, the virus can:
Use your system's resources leading to over-heat components and permanent damage
Interfere with the PC's performance
Cause severe damage to the computer's hardware
Result in data loss, making it almost impossible to retrieve
Inject more viruses into your computer
How Do I Know If I Have Trojan Virus?
If you don't know whether your system has been infected by Trojan virus or not, look for these symptoms:
Your computer is acting on its own: It opens applications, turns off, or does other weird things like sending documents to the printer without your permission.
The system uses a lot of resources: The PC runs tasks that use a lot of resources such as CPU, RAM, etc., resulting in a slow-running computer.
Many messages pop up on the desktop or browser: The moment you turn on your computer or open the browser, it starts showing pop-up advertisements or system warnings over and over again.
PC is unable to run applications: Some applications won't work while others are doing fine. If a quick restart fixes your problem, then your system is potentially infected.
If you experienced any of these symptoms, it's better to run a full scan over your PC following these steps:
Click on the Start menu, search for Windows Security, then press Enter.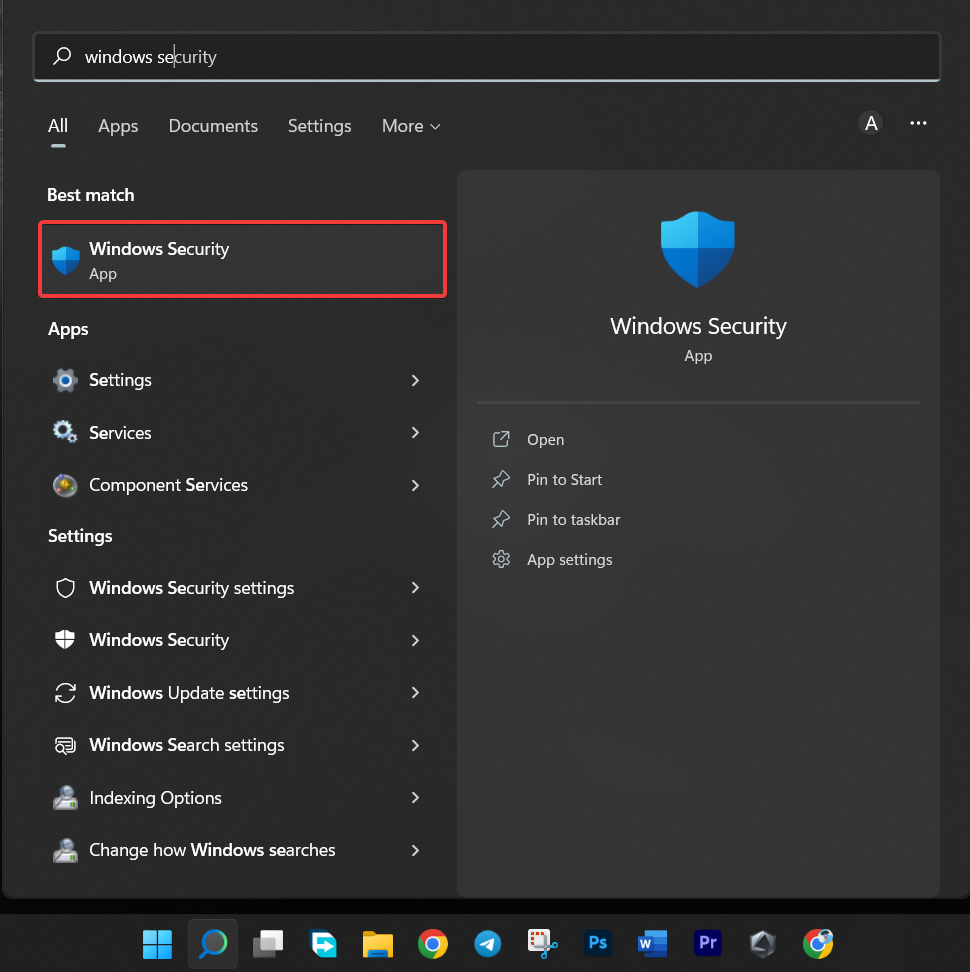 Roll over to Virus & threat protection, then under the Current threats, select Scan options.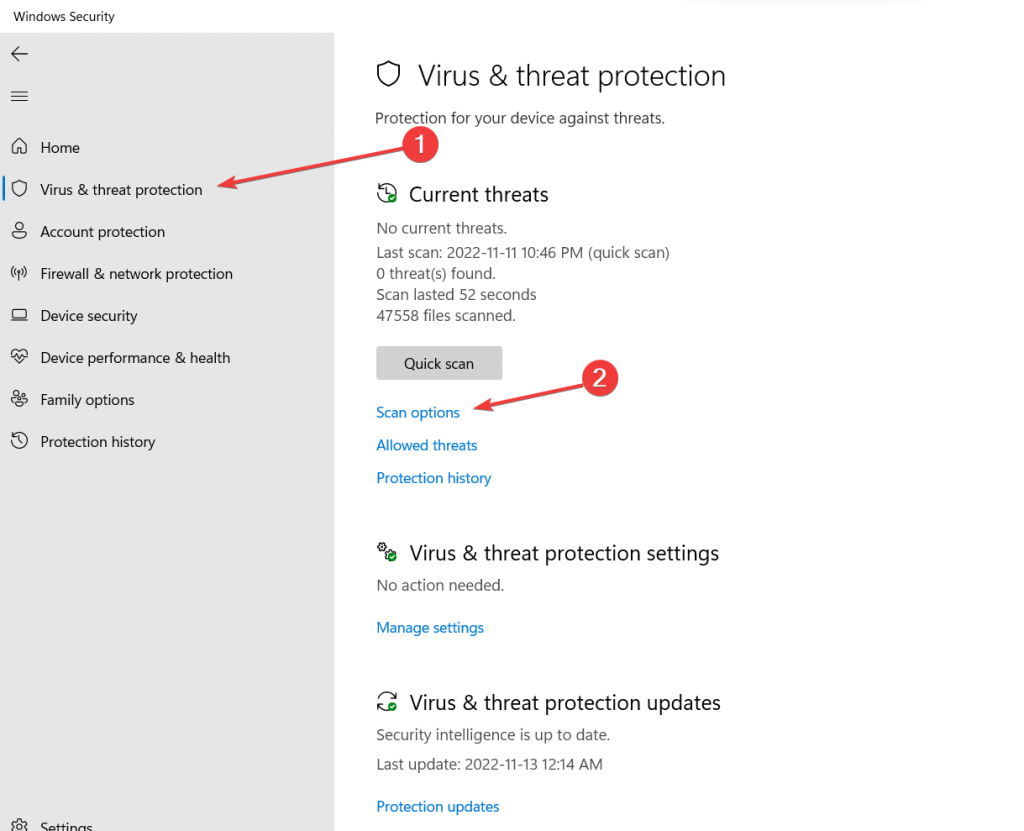 In the drop-down list, change the setting to Full scan, then hit the Scan now button to Initiate scanning.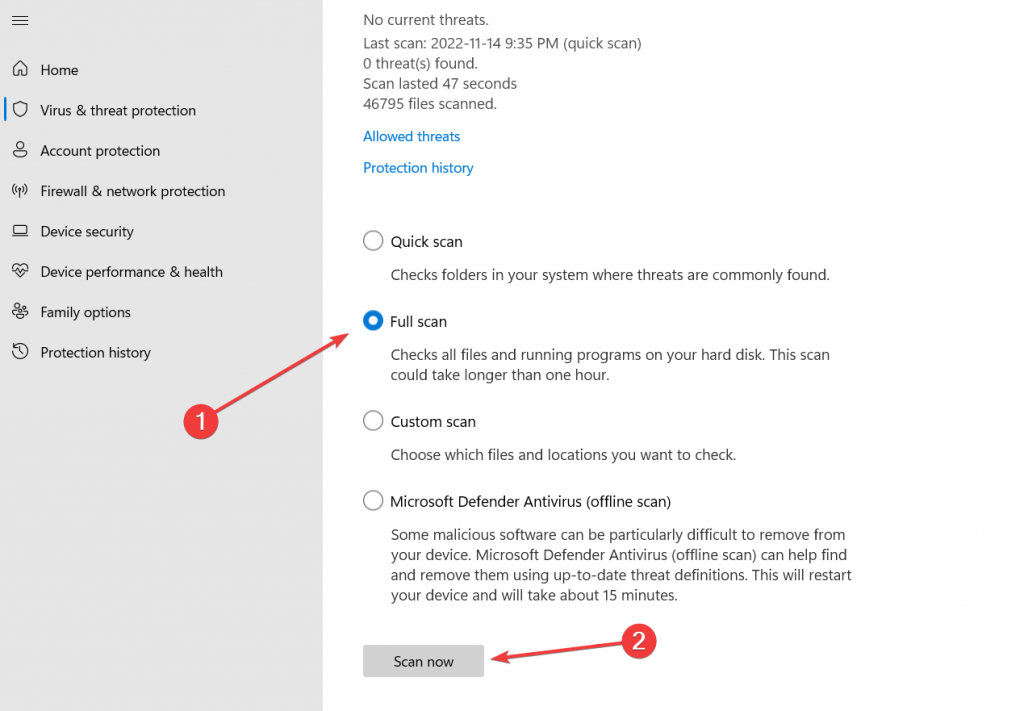 When the scan is complete, the Windows Defender will most probably show a threat called "Trojan:Script/Wacatac.B!ml" and ask you to take the necessary actions to remove it.
What Is The Wacatac.B!ml Trojan?
Wacatac.B!ml, also called Win32/Wacatac virus, is classified as a Trojan virus as it conceals its true nature under a harmless-looking file, program, link, etc., just like other Trojan Horse viruses. However, it mainly targets banking credentials and is designed for phishing purposes.
When Wacatac penetrates your PC, it quickly spreads all over your files, drives, and so on, seeking personal data. In addition, it allows cybercriminals to remotely control your system for their own benefit. That's why it is one of the most dangerous types of Trojans, and you should quarantine and remove it as soon as possible.
This virus can also install other malware on the computer and cause more unrecoverable damage. For example, it can run ransomware on your system, which will encrypt your files and ask for a ransom to decrypt them. In most cases, it is impossible to recover those files, and they are lost for good.
How Can I Remove Wacatac.B!ml Trojan from Windows?
It's not easy to get rid of Wacatac.B!ml Trojan virus. Therefore, if you have little technical knowledge, use automatic antivirus or antimalware applications. In addition, you can have a professional technician do the job for you and make sure your Windows is safe from any threats.
However, if you prefer doing it all by yourself, we've gathered a complete and simple step-by-step guide in the following.
1. Find and Delete the Threat
Check your computer for any suspicious programs. Some malware has obvious titles, so you can detect them immediately. However, many hide under legitimate Microsoft Windows processes.
In that case, close all apps and windows, then go over these steps to find Wacatac.B!ml Trojan:
Right-click the Start menu and select Task Manager.

On the Processes tab, look for an app that is using a lot of your system's resources even though it's not open and running (check the CPU and Memory). Search its name on Google or other search engines to make sure the application is not legitimate.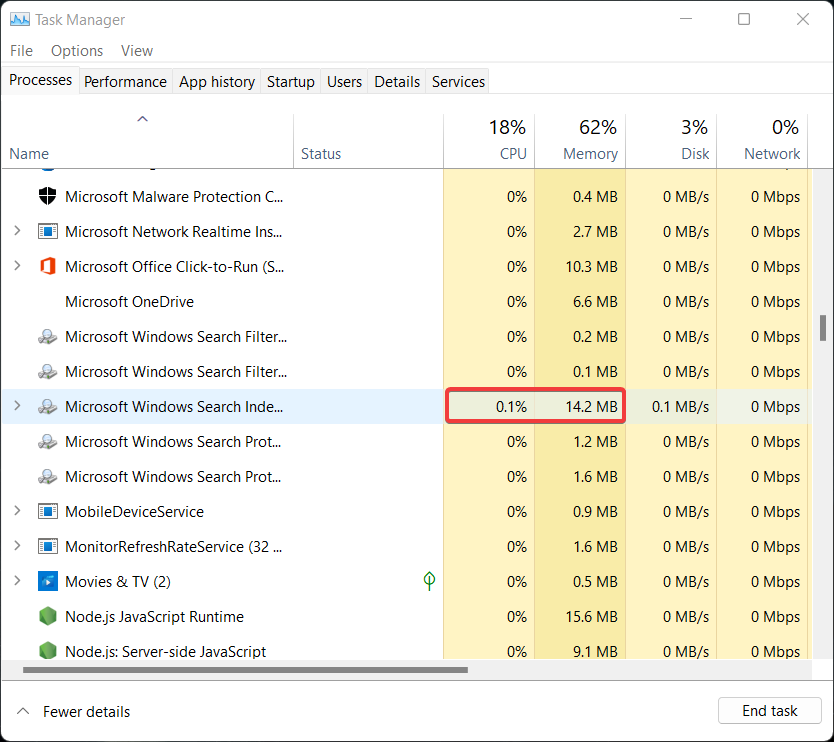 After finding the suspicious app, follow these steps to remove it safely:
On the Task Manager, choose Processes tab, then right-click the app and press End Task.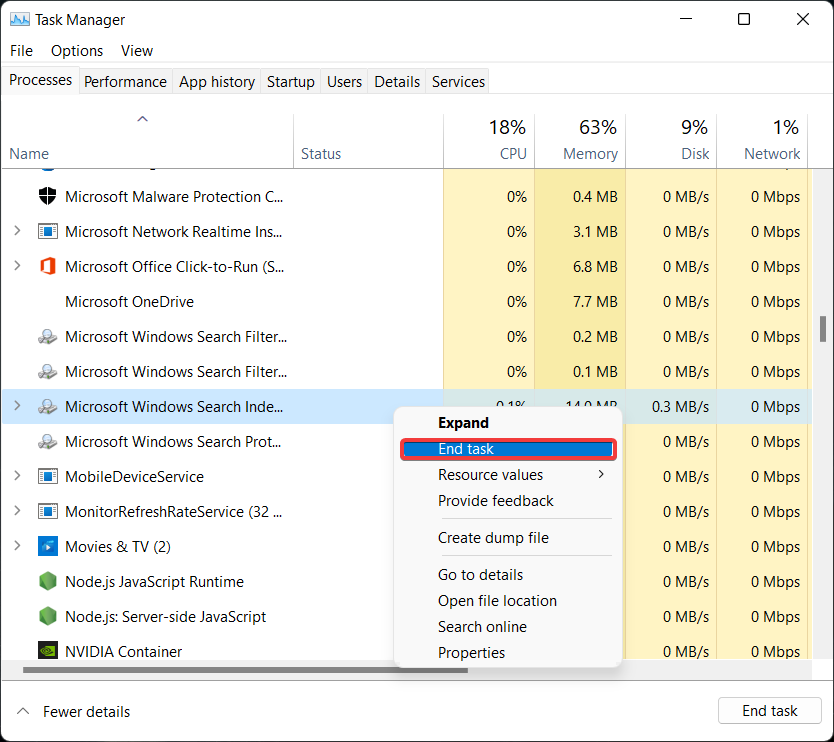 To disable the malware, click on the Startup tab, locate the infected program, right-click on it, and press Disable option.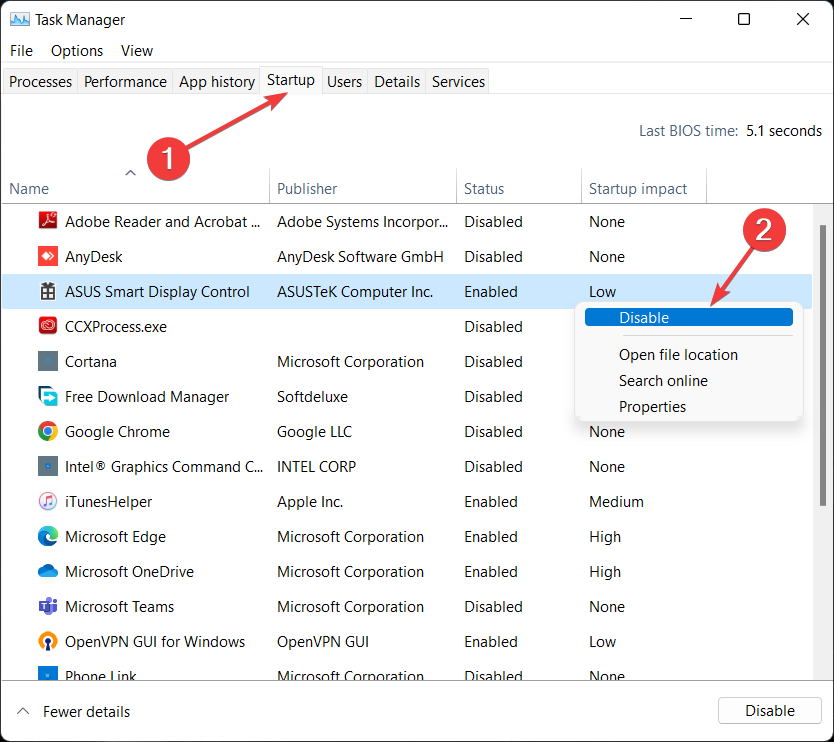 The last step is to remove the program from your PC. However, deleting the app may not be enough. As we mentioned, the Wacatac Trojan can download and install other malware. So, look through your list of applications, and if you see any other suspicious ones, delete them too.
To Uninstall apps:
Right-click the Start menu and select Apps and Features.

Find Wacatac Trojan app and other potentially harmful ones, click on three vertical dots next to the app, then select Uninstall.
On the other hand, if Wacatac.B!ml Trojan is hiding behind an infected file, you can eliminate it by removing the file.
In that case:
Right-click the Start menu and choose File Explorer.

Navigate the path Windows Defender indicates, then click on the file or item and hit the Shift + Delete Key. On the pop-up window, hit yes.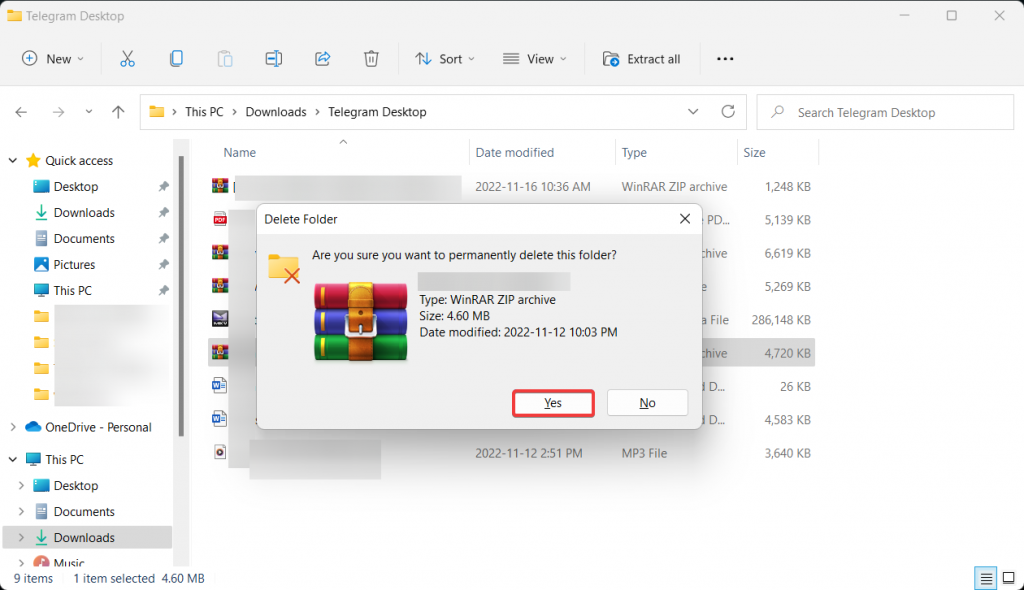 Now, run a full scan to see whether the threat is eliminated or not. If Windows Defender still warns you of a Wacatac Trojan virus, move on to the next step.
2. Remove Wacatac Trojan Manually by Windows Defender
Sometimes Windows Defender detects a Trojan threat by doing a random security check but is unable to remove it automatically. That's why you need to take action and eliminate the virus manually.
How to remove viruses using Windows Security:
Hit the Start menu, type Windows Security, then press Enter.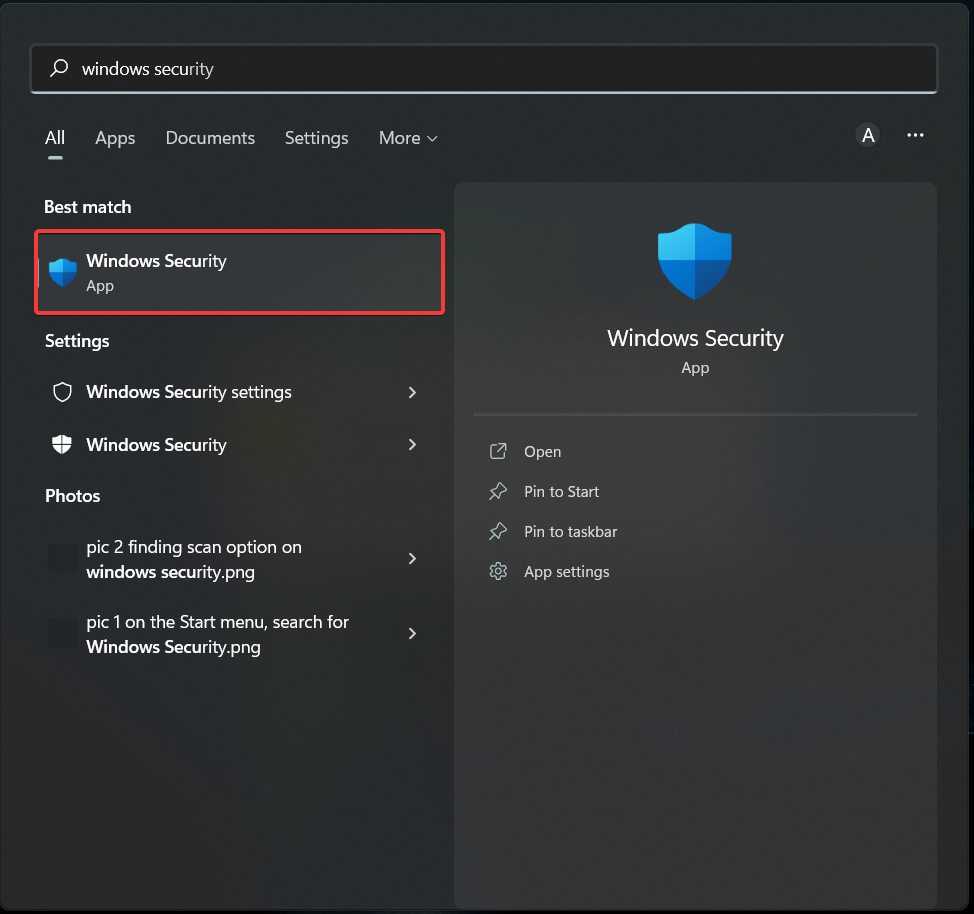 On the left sidebar choose Virus & Protection, then on the right pane, under the Current threats, choose Protection History.
Find the Wacatac virus, click the little arrow on the right side of it, select Action, then choose Remove from the drop-down list.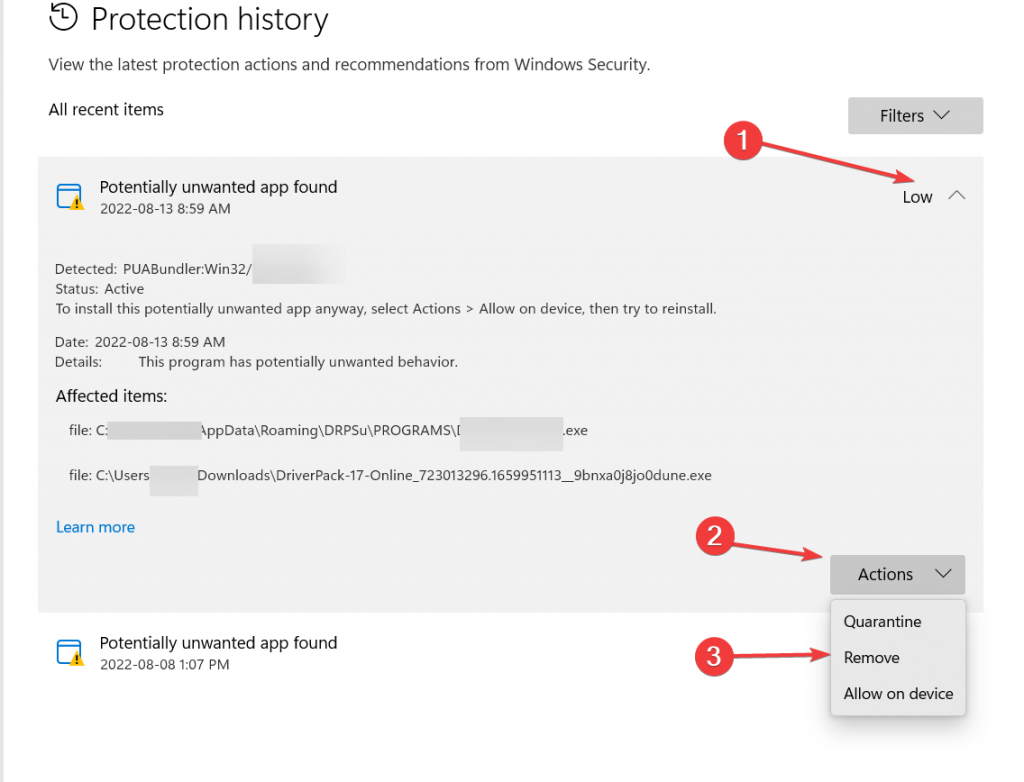 Now scan your system again. If the threat remains, you must stop it from spreading through your computer before moving on to other methods. So:
On the Virus & Protection window, open Protection History, choose the virus, click on Action, and press Quarantine.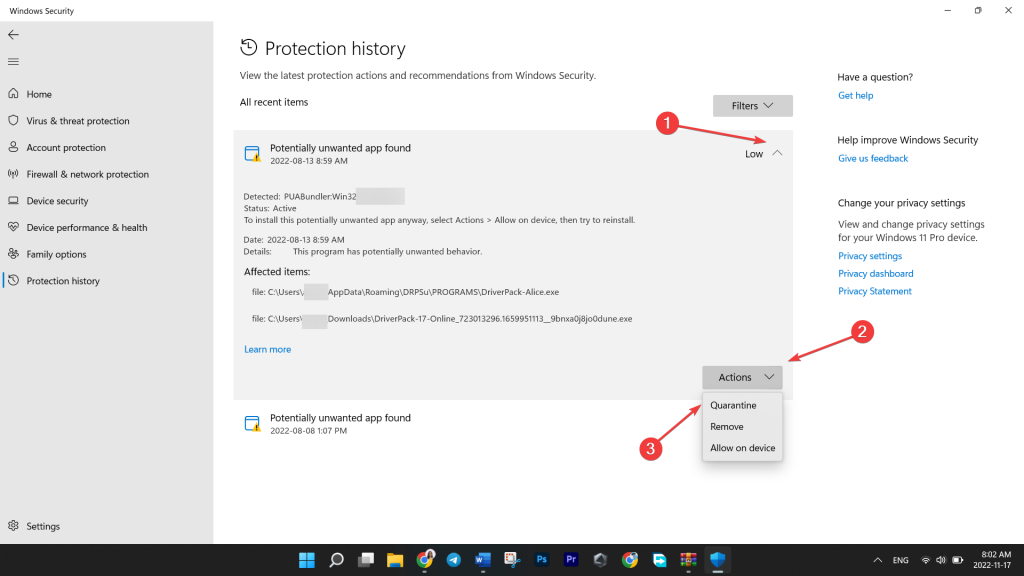 3. Run A Full Scan in Safe Mode
Sometimes, the Wacatac.B!ml Trojan spreads through Windows Security and prevents it from performing the malware removal process. If you tried the previous step and failed, you have the same problem as well. In that case, you need to boot into Windows in Safe Mode, then remove the infected files or programs.
How to start Windows in Safe Mode?
Right-click the Start menu and select Settings.

Choose System on the left pane, then scroll down to find and click on Recovery.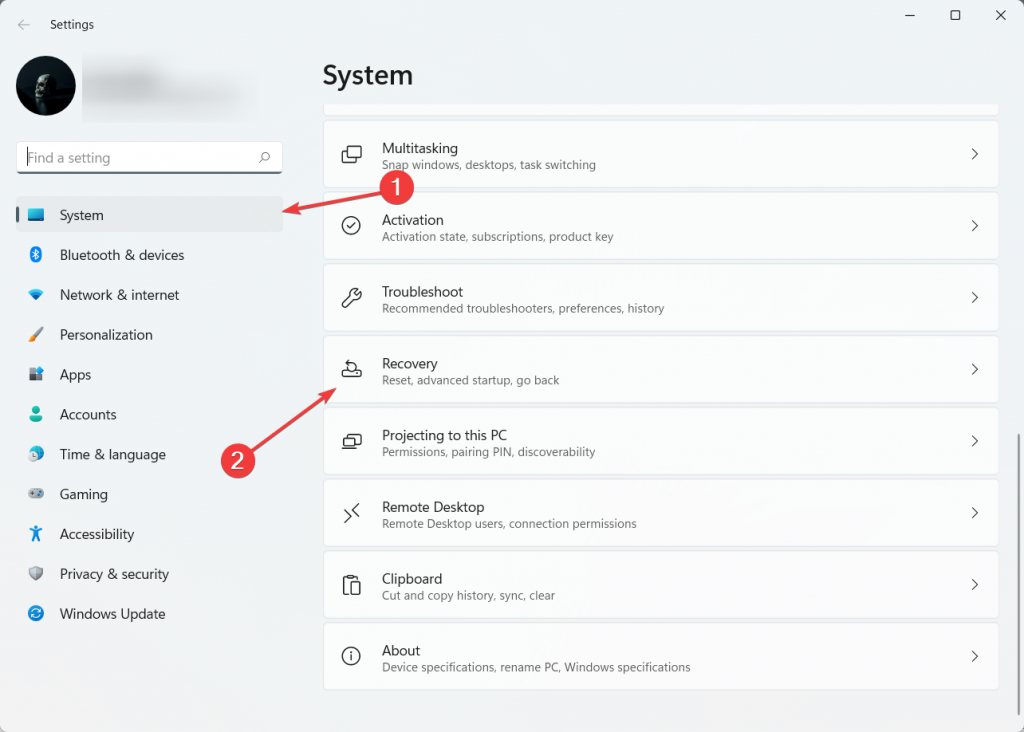 Select Restart now next to Advance startup.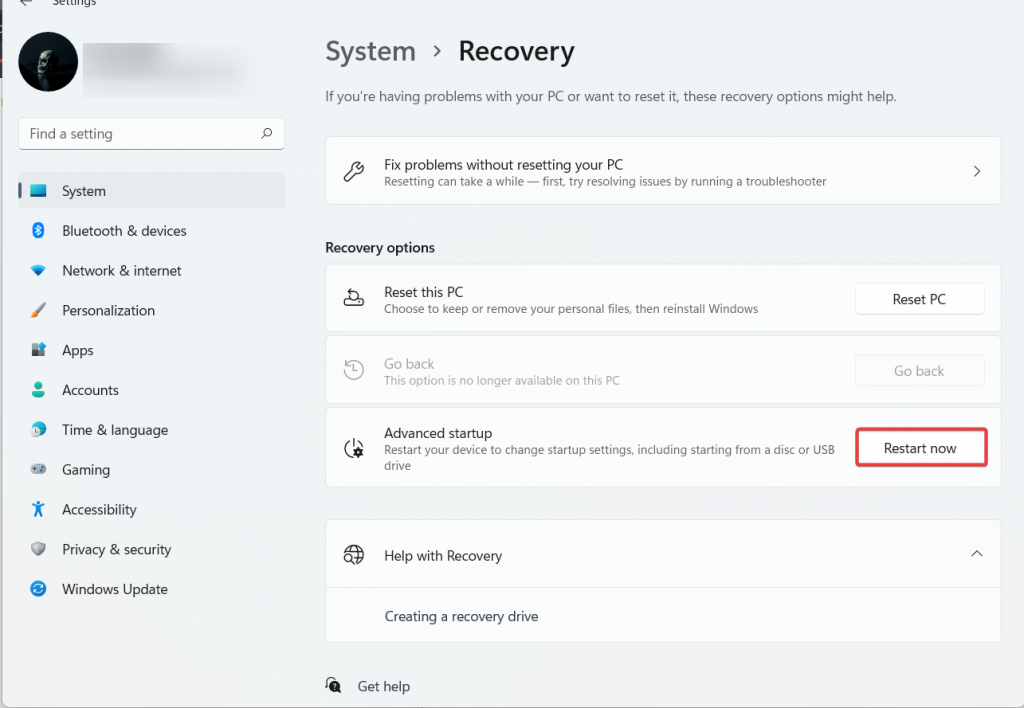 Wait for your system to restart, then on the Choose an option screen, press Troubleshoot.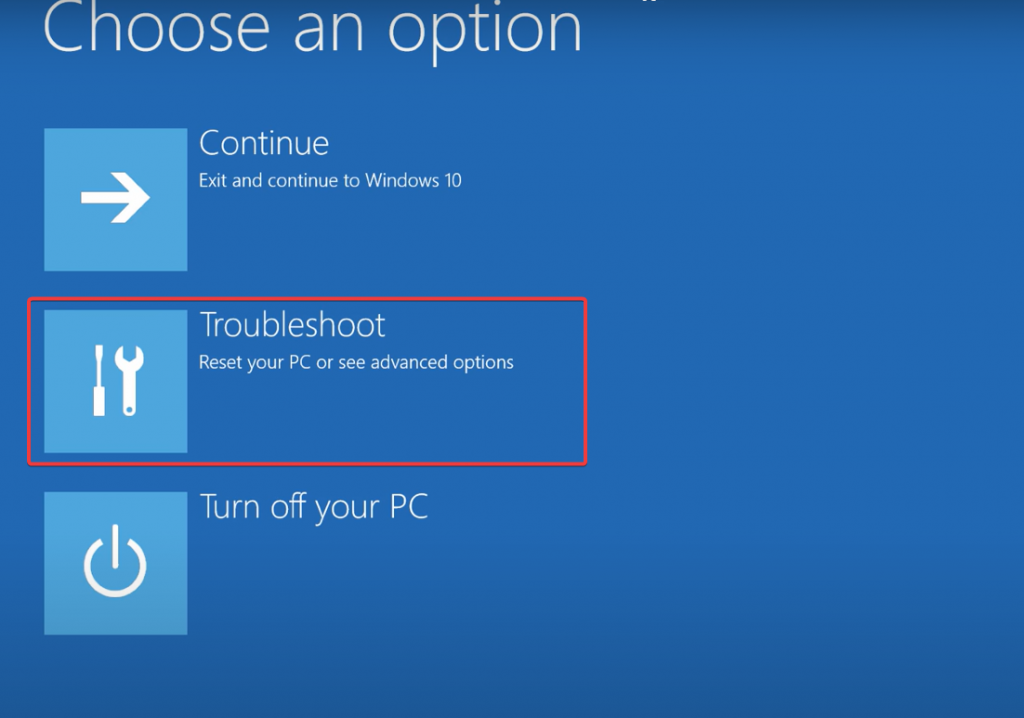 On the next screen, choose Advanced options.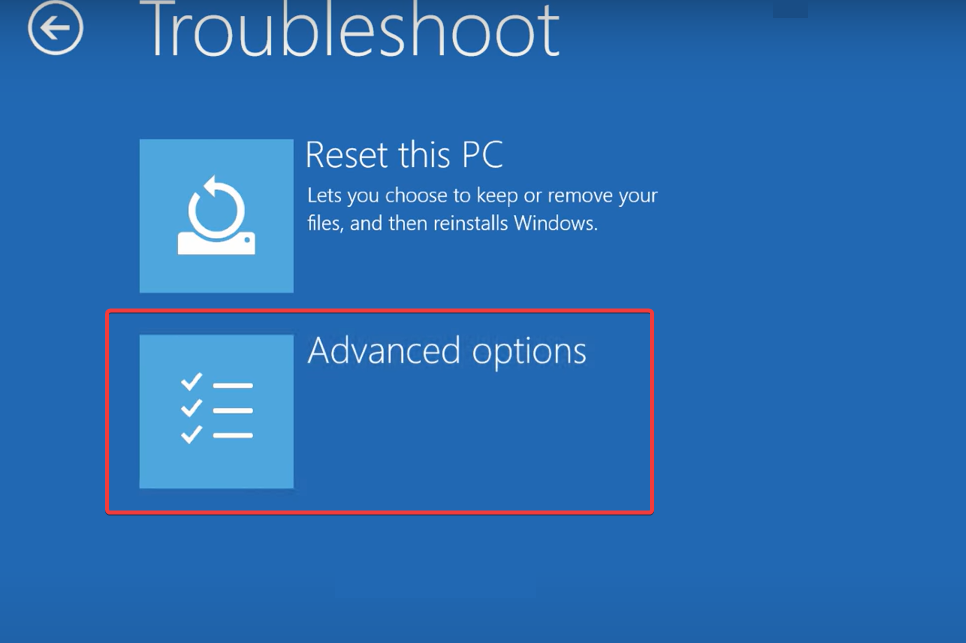 Select the Startup settings.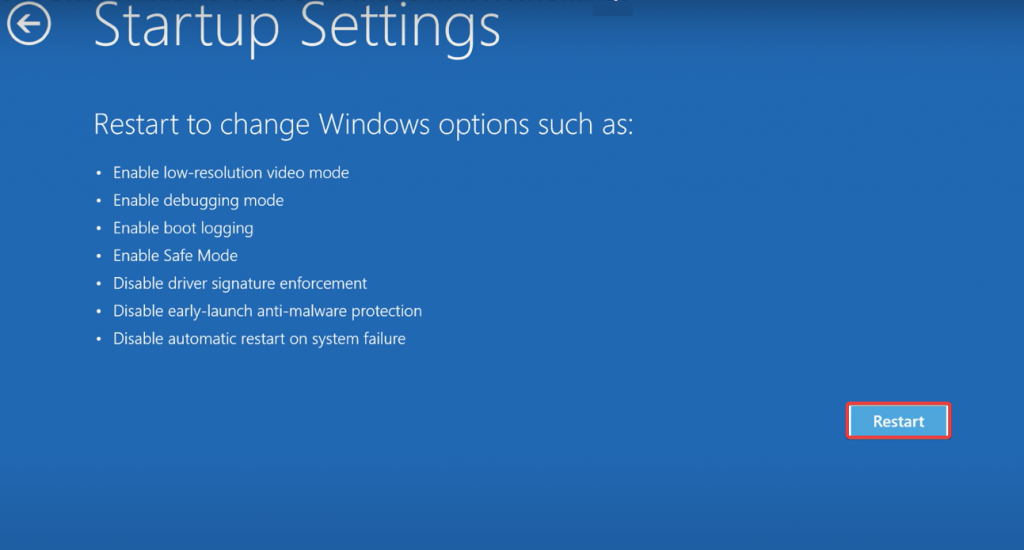 You need to start your PC in Safe Mode. However, it's better not to choose Safe Mode with Networking. So, on the Startup settings screen, press the 4 or F4 keys on your keyboard to enable Safe Mode.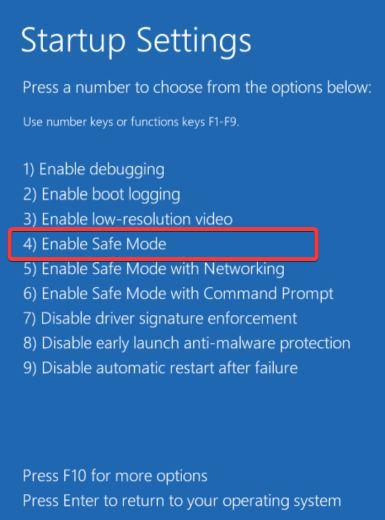 After your PC is turned on, open Windows security on Virus & Protection window, then select Scan options.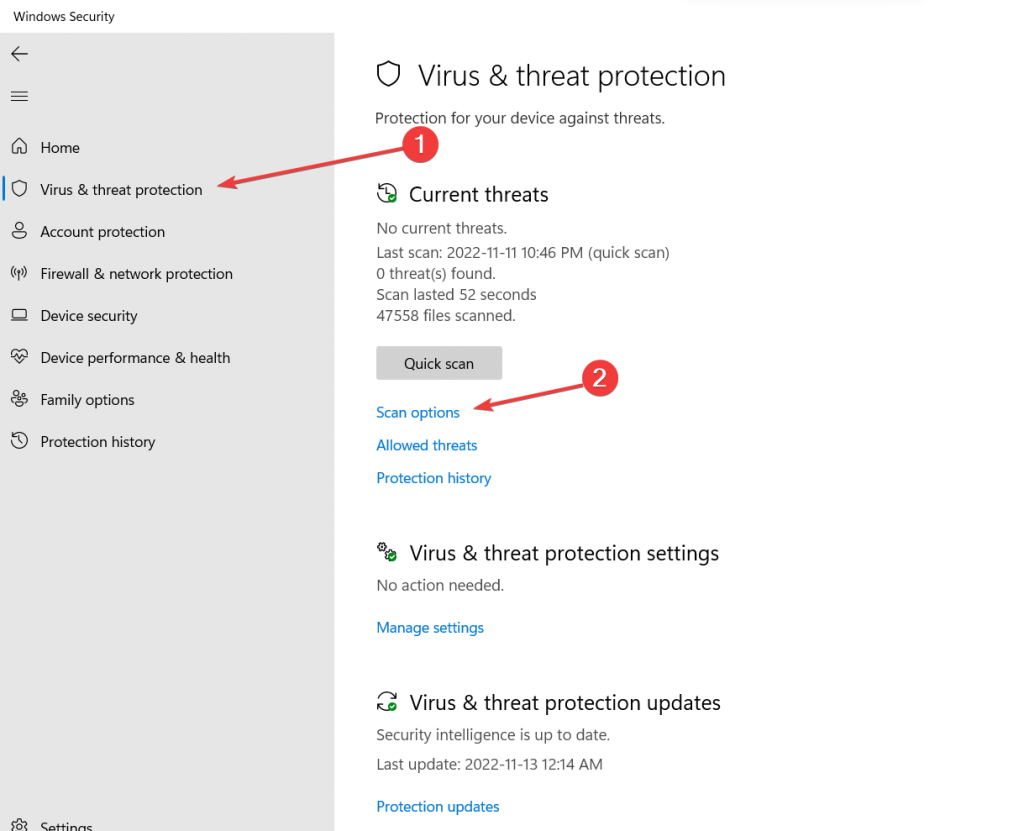 After that, change it to Full scan, then run the security check-up.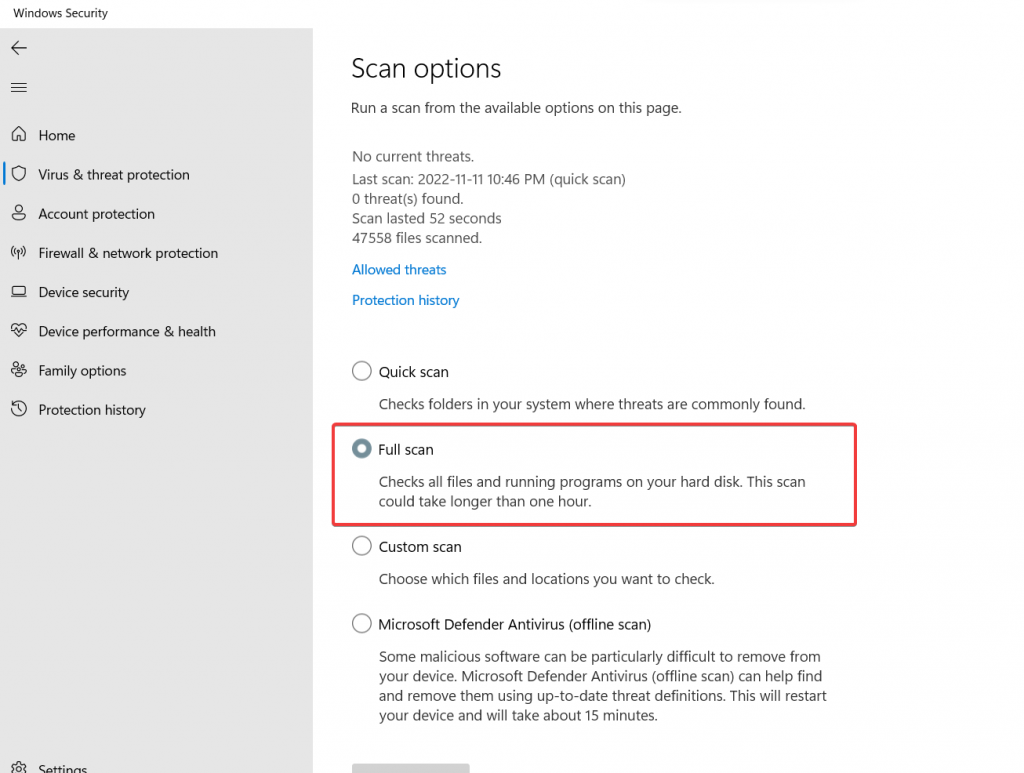 A full scan may take up to an hour, so be patient. After it's done, check whether it is still detecting a Wacatac virus or not. If so, select Protection history again, choose the virus, and on the Action section, press Remove.
At last, run a second scan. If your PC is clear, restart your computer to boot back into Windows. If not, try the next step.
4. Install Reliable Anti-virus
If none of these methods worked, you should use third-party antivirus apps to remove the threat. In that case, you need to find advanced malicious software removal apps to get rid of the malware. For Wacatac.B!ml Trojan, we recommend the following apps:
MalwareBytes
HitmanPro
Emsisoft Emergency Kit
AdwCleaner
Don't forget to download each app from its official website to stay safe from further malicious programs.
5. Reset Your Browsers
If you have successfully removed Trojan:Script/Wacatac.B!ml warning, you need to reset all your browsers. Some viruses, like Trojan, change your browser settings, add extensions, and more to disrupt its regular function. As a result, you need to reset your browser to get rid of those changes. But don't worry; your passwords and bookmarks will remain untouched.
In the following, we'll outline how to reset Chrome and Microsoft Edge. For other browsers the steps are almost the same in other browsers.
How to reset Chrome settings:
Open Chrome, click on the vertical ellipsis on the top right, then choose Settings.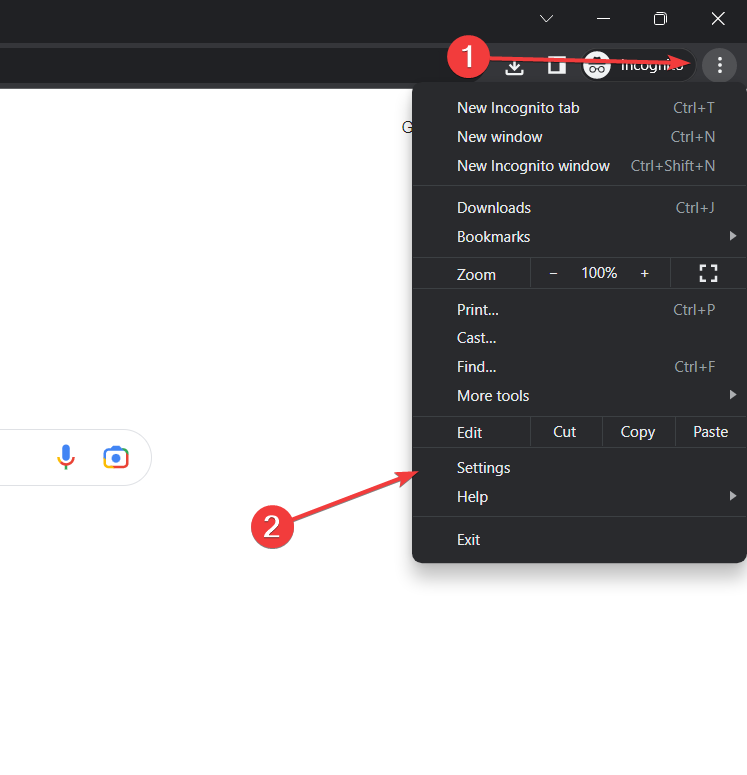 Locate and select Reset and clean up option on the left sidebar, then click on Restore settings to their original defaults on the right pane.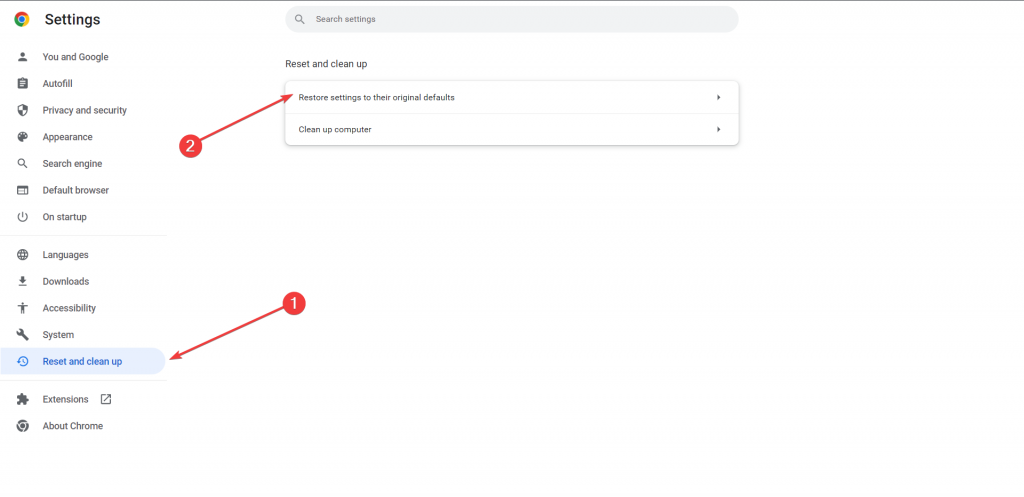 How to reset Microsoft Edge:
Launch Microsoft Edge, click the three horizontal dots on the top right, then select Settings.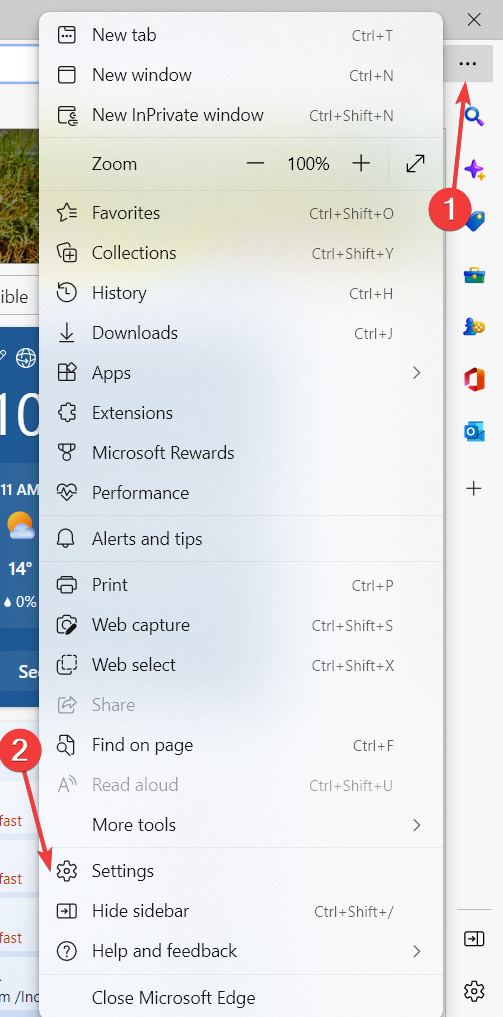 Select Rest Settings at the bottom left bar of the browser, then press Restore settings to their default values.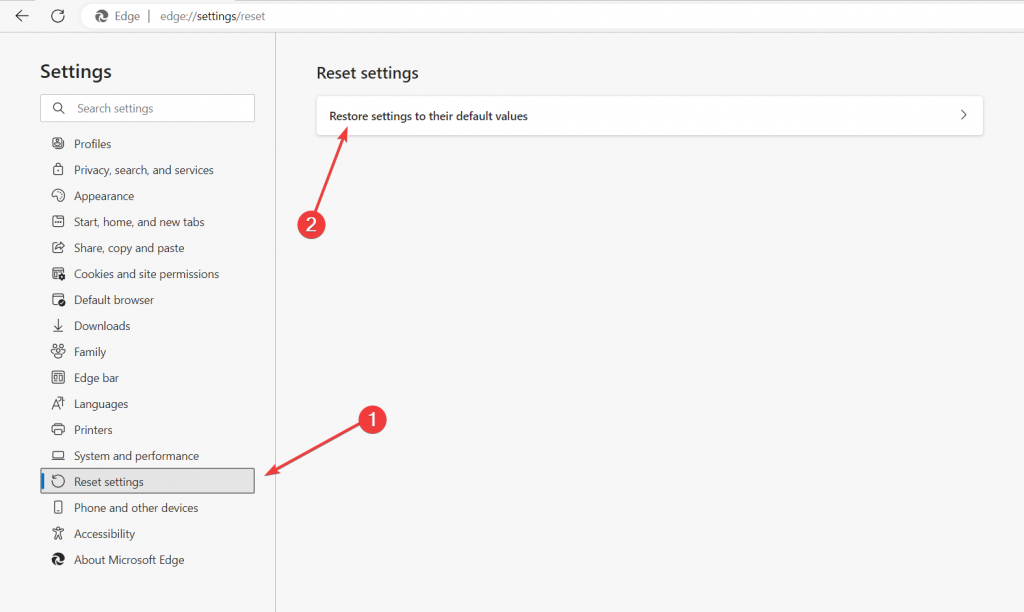 6. Factory Reset Your Windows
What is Wacatac.B!ml Trojan? You already know the answer. It's dangerous malware that can steal and misuse your personal info. So, if none of the solutions indicated in this article could eliminate the virus, resetting your Windows will be your only shot to avoid further damage.
To do so:
Right-click the Start menu, select Settings, then go to System, Recovery.
Next to Reset this PC, press Reset PC.
Follow the on-screen instruction to finish the process. When resetting your system, you can choose to keep your files. However, as Wacatac.B!ml Trojan can hide under your files, it's best to choose Remove everything option.
Is Trojan Wacatac False Positive?
Sometimes Windows Defender sends a false alarm when running a security scan. Especially if you use cracked apps, Windows Security may find them as a Wacatac threat and require immediate action. In that case, you'd better make sure it's not a false positive alert before trying to remove the threat.
To do so:
Visit VirusTotal website.
Look for the file or item that Windows Defender has detected as dangerous. Generally, you can find it in one of the following paths:
C:\WINDOWS\System32\config\systemprofile\AppData\Local\Microsoft\Windows\INetCache\IE\QINNLJOV.htm
C:\Users\Default\AppData\Local\Microsoft\Windows\INetCache
Then select Choose file and upload it.
VirusTotal will scan the file and detect whether it's a false positive or not. In whichever case, it's better to remove the file or item to ensure your data is safe.
Conclusion – Prevent Wacatac.B!ml Trojan Before It's Too Late
As you now know the answer to "What is Wacatac.B!ml Trojan?" you can understand how important it is to avoid the virus before it infects your PC.
Therefore, be careful of your behavior in cyberspace. Don't download or install cracked software and games, use reliable sites to download applications, don't click on links you receive via suspicious email addresses, and, finally, always keep your software up to date.
These methods will ensure no cybercriminal can break into your computer and use your data for their benefit.
FAQ
Does Windows Defender remove Wacatac?
Windows Defender is designed to remove Trojan-type viruses. However, in some cases, it fails to perform the removal process, leaving your PC at risk.
Why do game cracks show up as Trojans?
Cracked games contain some lines of code to bypass the company's DRM. That's why antiviruses usually detect them as malware. However, it doesn't mean they are not infected by a Trojan. Such games can have their usual function and, at the same time, steal your information with the help of a virus.
Why does Antimalware Service eat CPU?
Antimalware programs are constantly running in the background to scan and detect malware immediately, which results in high CPU usage.