Enjoy New GUI, High Speed Scanning & many more with Stellar Windows Data Recovery v7
Like our Window Data Recovery-Professional 6.0, the improved version 7.0 also lets you efficiently recover your data from lost, accidentally deleted or formatted Windows partitions. Similar to version 6.0, this upgraded version also supports various number of  File types, offers Tabbed view of scanned Tree, provides the flexibility to Create Image of volumes, Resume Recovery option, and much more. Further, this upgrade allows you to maintain data integrity without hampering its originality, while salvaging sensitive data, be it important files, critical documents, photos, or videos. Yet, there are a few salient features make this upgrade stand above its sixth version.
| Features | V7 | V6 | Benefit |
| --- | --- | --- | --- |
| Improved Scanning Engine to Locate Lost Partitions | √ | X | Entire partitions that are lost can be found efficiently with up to 40% better results than previous version. |
| Improved Scan Engine for FAT, NTFS, exFAT partitions | √ | X | Finds lost data more accurately with no duplicity. |
| Improved Deleted File Recovery | √ | X | More powerful to recover accidently deleted files even after emptying recycle bin. |
| User Friendly Interface | √ | X | Efficient data recovery has never been easier. Brand new user interface that makes data recovery a cake walk. |
| Deep Scan | √ | X | Scan deeper in case data recovery results of the primary scan are not satisfactory. |
| Add New File Types for Data Recovery | √ | X | Improved support for recovering data of new file types. |
| Dedicated Option for Office Documents Recovery | √ | X | New option to select only documents for data recovery. |
| Dedicated Option for Folder Recovery | √ | X | New Option to select only folders for data recovery. |
| Option for Selecting a Location for Data Recovery | √ | X | Select a location in your drive to look for lost data instead of searching the whole drive. |
Let's look at what Stellar Windows Data Recovery – Pro 7.0 entails as compared to its previous version: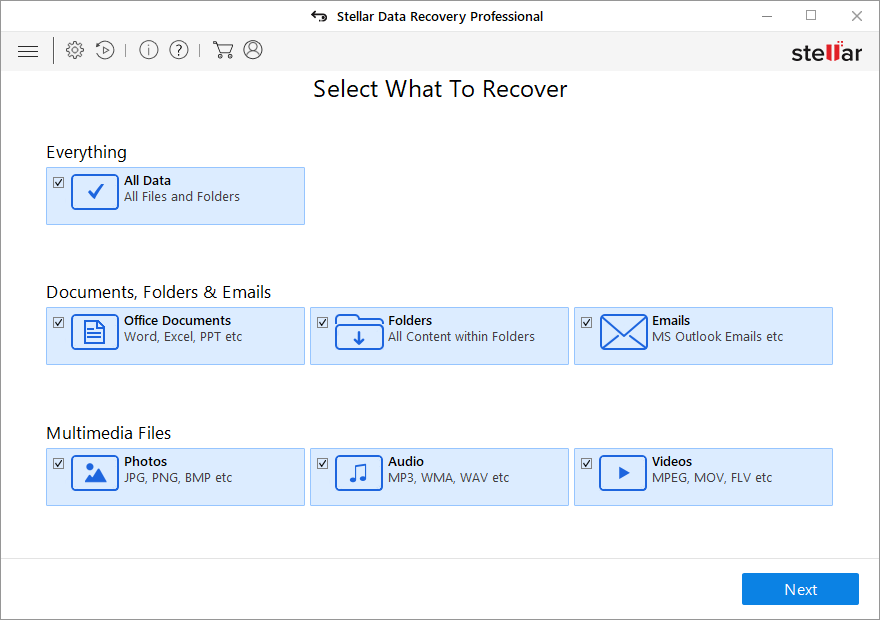 Like its earlier version, this new version also features the Quick Scan option.  In case the Quick Scan option does not deliver the desired results, software will automatically switch to Deep Scan. This advanced scan performs a thorough scan of the selected storage for files on the basis of file signature and recovers every little bit of accidentally deleted as well as lost data. It is a perfect solution to retrieve data from severely corrupted volumes quickly.
This improved software in addition to enhanced scanning also provides a detailed scanning status, which includes scan status, the time taken, and the time left to complete the process. This helps you maintain the track of the scan.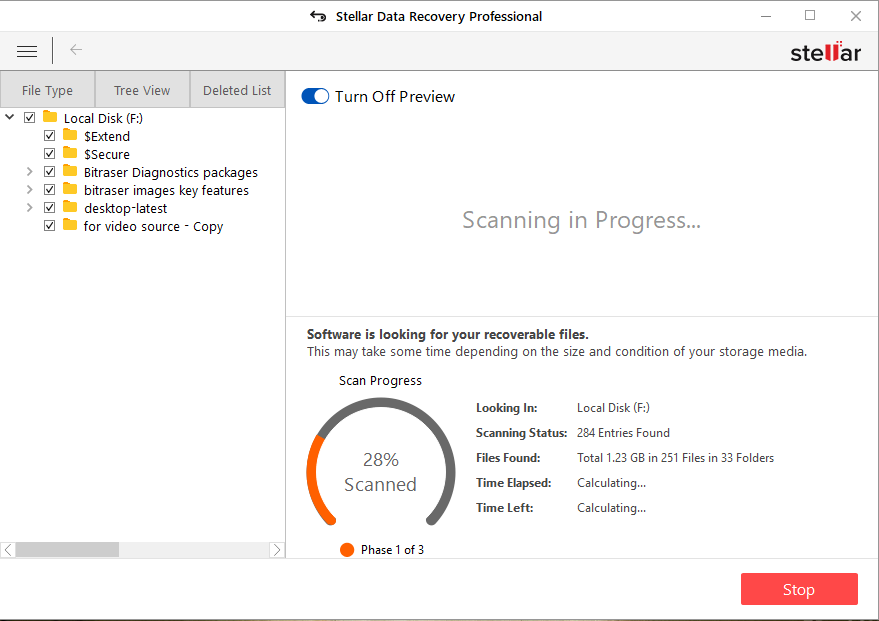 Scan Multiple File System Simultaneously
The improved software is adept to perform efficient scanning of multiple file systems in a logical drive. You can use it to scan NTFS, FAT, FAT16, FAT32, and ExFAT file systems altogether.
The improved Recovery tool is available with Advanced Setting options, which allows you to add a new header or edit the header of specific files. Additionally, this upgraded software also lets you recover the user-defined file headers. This option to run software on personal requirements has made it more user-friendly.
The improved software features effective search options. It allows you to search the specific folder for lost & deleted data as well as search defined type of files in a specific folder/ logical drive. With this enhanced search options, the finding of every hidden file in a volume becomes easier and simpler. Further, this advanced search options also allows you to perform raw file recovery automatically.
Support for Multiple DPIs
This seventh upgrade for Windows recovery natively handles 100%, 125%, and 150% DPI which the previous version did not support. This progressive feature ensures protection against the hassle of incorrectly sized and blurry UI.
Flexibility to Turn On/ Off Preview
This software has the option to on and off the files preview in between, even when scanning is in progress.  This feature in result will increase the scan speed.
Support for HD-MOV Raw Recovery
Another distinguishing feature is HD-MOV Raw Recovery. Thereby, now you do not have to perform full raw recovery module every time, you can quickly recover videos captured via Canon Camera model directly.
More Intuitive and User-Friendly Interface
With simple and effective user-interface, this Data Recovery software is one of the easy-to-use data recovery solutions available in the market. The presence of the three main recovery options – Everything, Multimedia Files, and Documents, Folders & Emails, in the primary interface helps you to retrieve the desired data, be it files, folders, documents, photos, videos, etc. This smart approach let you save your time and boost recovery process. Its 3-step recovery process— Select, Scan, and Recover, ensures secure quick, and successful recovery of data in case of any data loss.
Conclusion:
Now, with these afore-mentioned key traits, you must have understood how these simple and useful options have made Stellar Windows Data Recovery – Professional software superior in comparison to its sixth version. If you wish to perform smooth Windows data recovery without interruption, from a hard drive, or any other storage device, this recovery software is the best bet!