Which Option I Should Use—Data Recovery Software or Service?
Summary: In this guide, you will learn how to choose a data recovery solution for your data loss situation along with some important tips that will help you retrieve up to 100% data lost from a Windows PC or supported storage media.


The pain of losing important data such as official documents, photos, videos, etc., can't be put into words. It could be agonizing for someone and devastating for a business. While you can't recreate lost data, it can surely be recovered with the help of a data recovery solution, if data is not overwritten.
Depending on the complexity and severity of data loss, you have two data recovery solutions to choose from,
DIY professional data recovery software
Expert data recovery services.
But how to decide which one should you choose for your data recovery needs. Well, that's exactly what we cover in this post.
Data Recovery Software vs. Service—Which One to Choose
It isn't tricky to decide whether you need a DIY data recovery software or experts help.
A general rule of thumb is that if your data is business-critical or extremely important, it's better to take the help of a data recovery expert straightaway instead of trying a DIY data recovery software.
But this doesn't mean a data recovery software can't help or is ineffective. Today, data recovery software products such as Stellar Data Recovery have become much more advanced and can help you get back lost files from most data loss situations caused by logical errors. In fact, most local data recovery service providers often leverage these data recovery software to get back lost data.
Software such as Stellar Data Recovery Standard can help you get back lost and deleted data from Windows and Mac system including formatted, corrupt, and missing partitions. More advanced data recovery software also work with complex and more sophisticated data storage media such as RAID.
TIP: Stop using the drive or system immediately after data loss to prevent overwriting as it can lead to permanent data loss, beyond the scope of recovery. Quickly leverage a data recovery software or reach out to a data recovery expert for help.
Use a data recovery software when you have accidentally deleted files, formatted hard disk, or lost your data due to file system error or computer crash.
Briefly, data recovery software is suitable for data loss situations caused by following common logical errors—
Empty Recycle Bin folder
Software failure/crash
Accidental deletion or drive formatting
Lost files due to malware attack
Corrupt hard drive
Abrupt power outage, unexpected system shutdown
System crash (BSOD)
Common disk errors
However, you should immediately reach out to a data recovery expert and service provider if your hard drive is suffering from any of the following physical errors,
Stuck platter
SMART disk errors
Screeching or clicking sound
Glitches in mechanical components
Electronic failure
Unrecognized or nonfunctional storage media
Physically damaged drive due to human errors, natural calamity, or human-made disasters such as fire, earthquake, flood, etc.
NOTE: Data recovery services are more expensive than data recovery software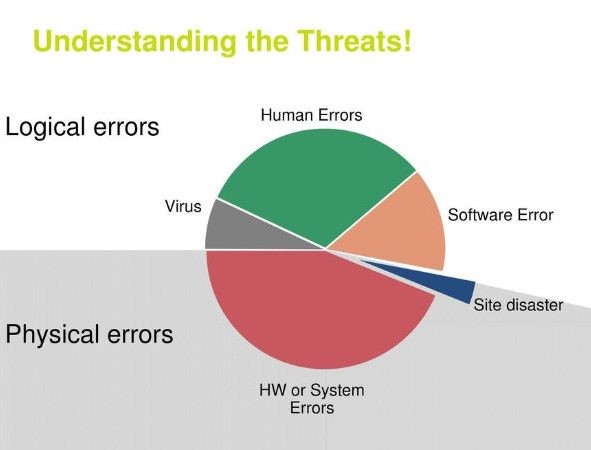 How to Choose Best Data Recovery Software or Service
Today, the market is overwhelmed with several data recovery software. And a good thing about software is that you can choose from a myriad options based on your data loss or recovery needs, that too from the comfort of your home or office.
But finding a reliable data recovery software for your specific needs is not easy. Here's a list of top 10 best data recovery software for Windows that will surely help you choose the right data recovery software for your data loss situation.
On the other hand, finding a reliable data recovery service can be more difficult as only a few data recovery service providers have the right expertise, experience, and infrastructure.
Stellar® is one of the reputed names in the data recovery services domain with over 26 years of experience in providing data care software and services for data recovery, data migration, file repair, and data erasure needs.
Tips to Prevent Data Loss
Backup is the first step to prevent permanent data loss situation. However, backups should be regular and automatic, if possible.
3-2-1 backup is one of the most popular backup rule. The rule says that you must create at least 3 backup copies on two different types of storage media, one of which stored offsite.
This backup rule can help you prevent any data loss situation. Alternatively, you can use a combination of local drives and cloud storage for data backup.
Besides backup, here are a few quick tips to prevent data loss,
Always back up the data before installing major Windows or BIOS (firmware) updates
Keep the device drivers updated
Actively monitor system and backup drives' health with the help of tools such as Drive Monitor
Clutter-free cable management
Run CHKDSK scan once in a while to keep track of bad sectors and disk health
Defragment drive regularly based on your read/write activity
Edit Recycle Bin properties settings
Test the backups
The Final Word
Taking regular data backup is the best practice to prevent data loss situation. But when the backup is obsolete or unavailable, you can leverage a file recovery software such as Stellar Data Recovery to get back up to 100% of the lose data from the comfort of your location with complete privacy.
However, in situations such as physical failure of hard drive or SSD firmware corruption the data can't be recovered by using software. You would need the help of a data recovery expert to carry out precise and secure media diagnosis and data recovery operations in such cases. In all, the success rate of data recovery would largely depend upon the choices made for the data recovery approach (software or service) and the solution itself.