Data Recovery Software VS Data Recovery Services
Everybody knows the pain of losing important data be its official documents, photos, and memories, videos etc. Once it is lost, it's impossible to recreate them. Depending on the complexity and severity of data loss, you have two solutions to choose from i.e. either to go with professional file recovery software or with data recovery services.
In simple words, you need a solution which is:
Efficient in file recovering
Affordable and easy to use
Doesn't compromise on data integrity
Recovers data quickly and accurately
If the File recovery solution encapsulates all these aspects, then you're good to go.
Data Recovery procedures have improved rapidly in the recent years. It is possible to recover lost or deleted files without sending the storage device to the respective service center.
Data Recovery solutions can be sub-divided into two categories:
1. When you have accidentally deleted files, formatted hard disk or lost your data due to some reasons, then this is referred to as "Logical" problem.1. When you have accidentally deleted files, formatted hard disk or lost your data due to some reasons, then this is referred to as "Logical" problem.
2. When your hard drive has some physical issues like platters not working, glitches in mechanical components, completely nonfunctional storage media, or natural calamity strikes your hard drive, then it is referred to as "Physical" problem.
In many cases, a file recovery software can address logical issues, whereas you need to send the hard drive for data recovery service when it has physical problems.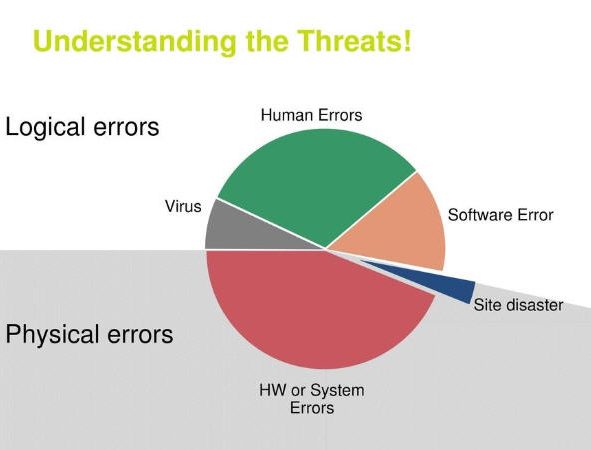 You can leverage some techniques such as chkdsk command or Windows Backup Utilities, Restore from a system restore point etc. to recover your lost data. A reliable recovery software comes into the picture when all the stated methods fail to materialize. Additionally, a software can restore your data from:
Empty Recycle Bin
Accidental deletion or formatting of hard drive
Lost files due to malware attack
Corrupt hard drive
Abrupt power outage, unexpected system shutdown
File Recovery Software VS Services
The market is inundated with lots of file recovery software. You have the privilege to choose from a myriad of options. Moreover, you don't have to visit any service center to buy the product, simply install and run the software and recover your data efficiently. This saves you from the hassle of traveling back and forth to the service center, in case you opt for data recovery services.
On the other hand, finding a reliable data recovery service is quite difficult because it takes expertise to master data recovery process and finding a qualified professional is an onerous task. Whether they have enough resources or are capable enough to efficiently recover data, is questionable. Also, data recovery services are expensive as compared to file recovery software.If your hard disk drive is physically damaged and there is no hope to recover data through software then consider Stellar Data Recovery services a well-known data recovery company is providing data recovery services since 1993.
The tool is intuitive and you don't require technical know-how to operate them. File recovery software can recover all your lost or deleted files, provided that the files have not been overwritten. Data Recovery software has the robust scanning algorithm to scan the storage media thoroughly to trace the information. Moreover, some of the file recovery software has the option of resume recovery i.e. you can stop the scanning process, save it, and then resume it at a later stage.
Overview of Stellar Data Recovery – Standard for Windows
Stellar Data Recovery – Standard is a comprehensive file recovery software to recover your data. It offers complete solutions to restore files such as Photos, audio/video files, presentations, emails, spreadsheets, and office documents and so on and so forth.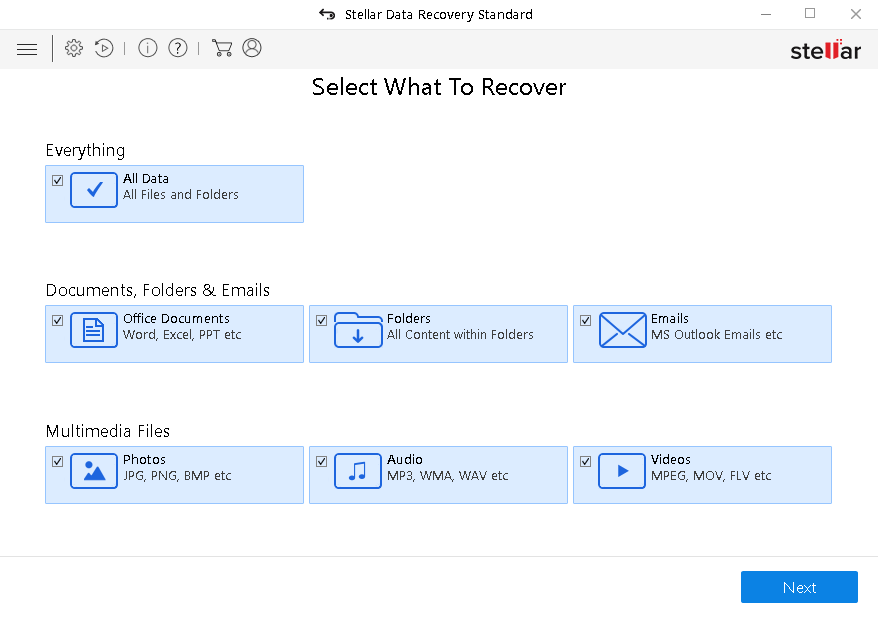 Its striking features are:
Recovers data from a myriad of a storage device and from corrupt hard drives as well
It allows saving scan information to resume recovery at a later stage
You can search a specific type of files in a logical drive/specific folder
Automatic switching from Quick Scan to deep scan
Provides you with the Filtered Tree option to sort your files easily
The simultaneous scan of multiple files in a logical drive
Robust scanning algorithm with scanning details (Time elapsed, scanning status etc.)

The Final Word
Backing up your data is a preferable option and should be practiced so that you can restore your files from it. If you don't have a backup system, then a file recovery software will serve the purpose of recovering data. Sometimes, data can be recovered just using software, whereas data loss due to physical errors needs different repair procedures.
Most physical errors cannot be repaired by end users, especially when a natural calamity strikes the hard drive. In that case, data recovery services come handy. On a whole, a file recovery software offers the best performance, faster results, safe and easy to use, and offers value for money.