Summary: In this blog, you will read about the file erasure scenarios, the importance of file erasure and the best technique available for file erasure. You will also learn about BitRaser File eraser and how it permanently erases files on your PC or Mac.
There are many scenarios wherein you would want to permanently erase files, folders and drives in your PC and Mac to safeguard data privacy. Some of these practical scenarios that necessitate file erasure are listed below:
You are exchanging a laptop or desktop
You want to return a used PC or Mac
You are disposing a hard drive or computer
You use a shared laptop or desktop
You frequently do Internet browsing
Aside from the above, file erasure technology can also help you remove a harmful file or malware by wiping an entire storage space.
Why Data Erasure is Important?
In 2017, Economist released an article where it cited that data and not oil is the most valuable resource in the world. We keep our data at various places such as cell phones, desktops, laptops, external hard drives, flash drives etc. These devices depreciate (in quality and trend) over time and we usually replace these old devices with new ones. For example, studies show that people generally change their cellphone every 18-24 months.
But be aware that the depreciated device that you are not using or perhaps thinking of disposing or exchanging still has your personal data and some of that data might be critical. For e.g. the device might have your financial data such as credit and debit card details, your social security details, personal pictures and videos etc. if you don't deal with this data stored in the used devices then it might become an issue if it falls in the wrong hands. This is the reason; it is vital to permanently erase such files and to have an awareness about the subject of data erasing.
Myths About Erasing Files
Erasing your files seems easy, as you might already know. You can just choose the delete option in your Mac and PC and send the data to Recycle Bin in PC or Trash in Mac. You can then clear your recycle bin/Trash and rest assured that the data is deleted permanently.
It might surprise you that those files are not lost forever. You (or anyone using your system) can recover the lost data using a data recovery software! So, if you need to permanently erase the files, then you must use a file erasure software.
How Does a File Erasure Software Work?
A file erasure software performs a data wiping operation on the drive or selected files/folders. A data wiping operation overwrites the selected space multiple times. This ensures that the original data cannot be recovered. Your data is permanently deleted, and you are completely protected against any mishaps that might occur if your data were to be compromised.
Tool for Permanent File Erasure
File erasure software such as BitRaser File Eraser uses advanced technology to overwrite the existing data or files on your Windows PC or Mac so that the original data becomes impossible to recover. This is the reason; file erasure is the only effective method for wiping drives and deleting files stored in your Mac or PC.
BitRaser File Eraser is a DIY data erasure tool from Stellar, designed for permanent erasure of files, folders and drives. You can also use the tool to overwrite empty storage space in order to sanitize previously deleted but recoverable files.
BitRaser File Eraser also clears the Internet browsing history including sensitive information such as login credentials, financial data etc. This way the tool also protects you from potential online data breaches that can result in identity theft, financial fraud and misattribution.
How to Permanently Erase Files by using BitRaser File Eraser
Install BitRaser File Eraser for Windows
Install and launch the software
Click on Erase Deleted Data from the left hand side menu pane
On the next screen, a list of all your drives will open.
Select the desired volume and click Erase Now button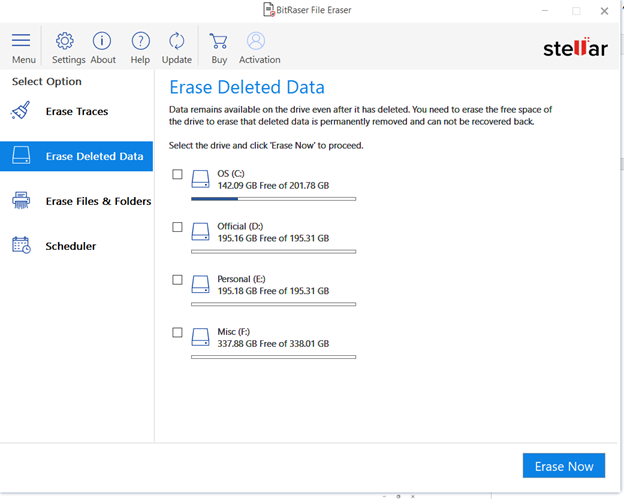 Final Thoughts
To protect your valuable data from breach, it is important to do file cleansing. This is especially true for devices and drives that you are going to sell off, exchange, dump, donate, return or share. Exposure of personal data can cause significant financial and emotional damage. So, we strongly recommend the use of specialized data erasure tools such as BitRaser File Eraser for permanent deletion of files to ensure total peace of mind.