Summary: Have you lost data during the Covid-19 lockdown? Remote working sounds convenient, but it comes with its own troubles. It's easy to lose data at home without an office IT guy immediately coming to the rescue. Whatever may be the cause, you may recover lost data it with the help of Stellar Data Recovery- Free Edition. Some tips to avoid data loss while working from home are also shared in this article. Download the software from here:

Data Security is a priority for businesses and individuals. But COVID-19 and its effect have made data security a much more pressing need of the hour. While the whole world is following intense social distancing and lock down measures, a lot of businesses have asked their employees to work from home to keep them safe from getting infected and ensuring business continuity at the same time. Employees are using their laptops and PCs in a remote environment, without the support of an organizational data security infrastructure, exposing them to virus attacks, email scams, sudden system shutdown, etc.
In case your PC or laptop encounters any error code or other problems that may lead the system to sudden shutdown or crash, you may lose access to your essential data. To avoid such a catastrophe, always back up your data. However, if you end up losing data before creating a back-up, recover it with a free data recovery tool.
Causes of Data Loss during COVID-19
Several reasons may lead to sudden data loss when you are working remotely:
Virus Attack
Catastrophic power failure
Sudden System Shutdown
Sudden Power Surge
Hard disk failure/corruption
Missing or corrupt system files
Missing drive partition
Hardware issues
Faulty RAM
Recover Lost Data with Stellar Free Data Recovery Software
If you have lost valuable files, photos, emails, and other data from PC or storage devices due to the reasons mentioned above, you may try using a Stellar Free Data Recovery Software. The software can extract all kinds of data, including valuable files, photos, videos, and emails from PC or external drives efficiently. You can restore data even from formatted, corrupted, crashed or non-bootable Windows PCs. The software can also retrieve all the essential files and folders from storage drives (internal/external) encrypted with Windows' BitLocker utility.
a. Run Stellar Free Data Recovery Software on your Windows PC.

b. Select either 'Everything' or type of data that you want to recover on 'Select What to Recover' window.
c. Click Next to proceed. (See Image 1)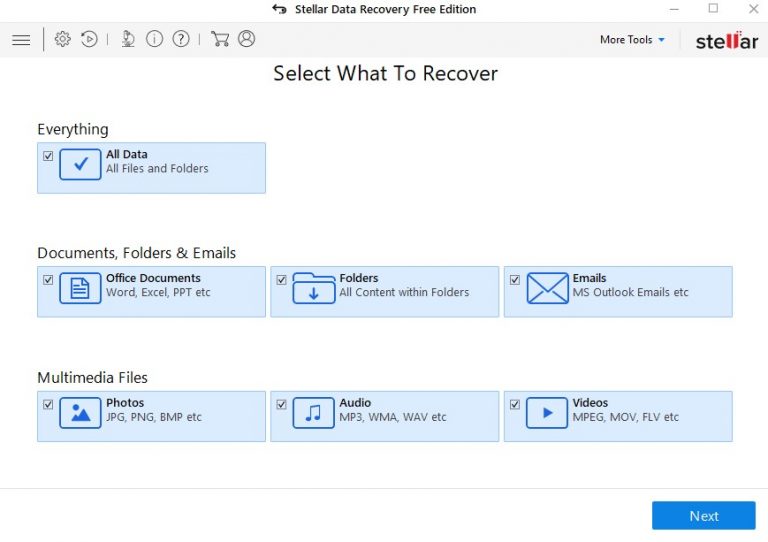 d. On the next prompt, select the drive or location from which you lost the data, and click Scan. (See Image 2)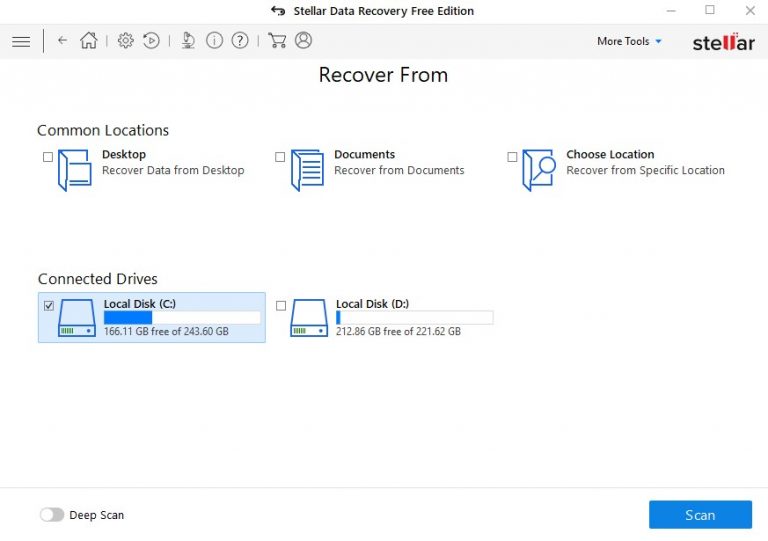 e. Once the scanning procedure is completed, the lost or deleted data will appear on the screen.
f. The results will show in three panes, i.e., Tree View, File Type, and Deleted List.
g. Choose all the data you want to restore, and click Recover. (See Image 3)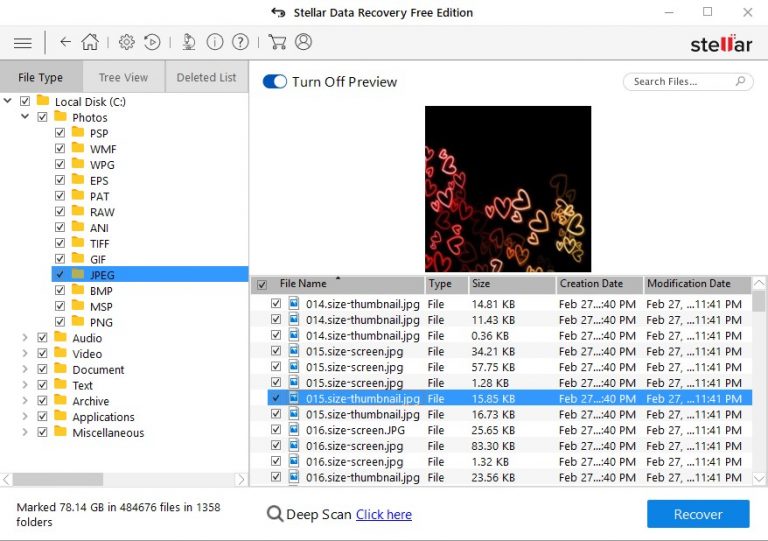 h. Click Browse to choose the location where you wish to save the recovered files.
i. Click Start Saving to store the retrieved data. (See Image 4)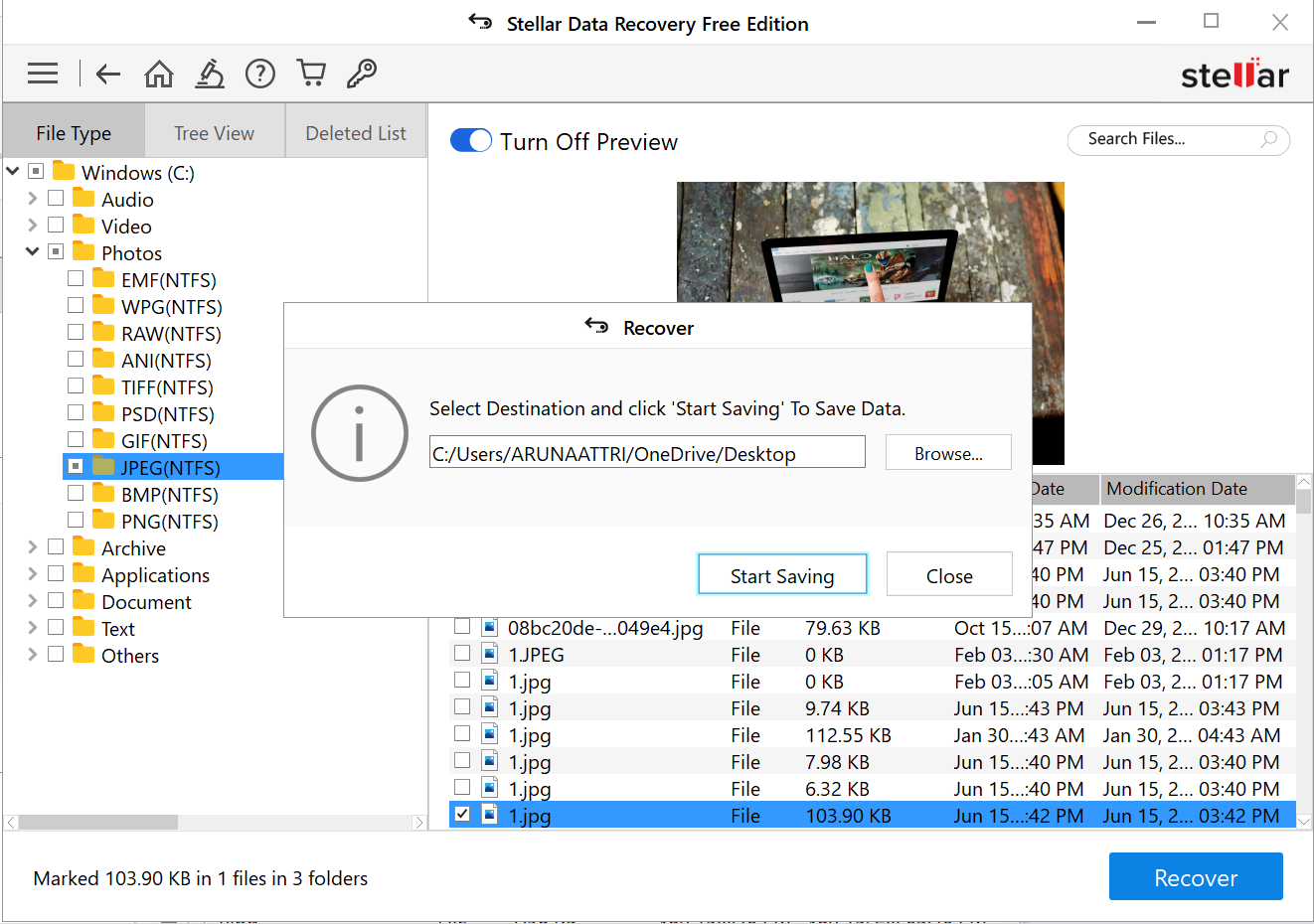 [Caution: Do not save the restored data at the same location/drive to avoid overwriting. Always use a different location or external storage device to protect the data.]
Tips to Avoid Data Loss during Covid-19
Although there are options to recover lost data, you must take certain measures to prevent data loss in the first place to save yourself the hassle of data recovery. Read some useful tips below to avoid data loss.
#1 Keep Your PC Secure with Antivirus Program
Cybercriminals never stop at flooding cyberspace with threat emails, malicious websites, links, etc. The pandemic has made the situation worse as a large number of people received malicious emails, links, brochures, etc. packed with false details about the coronavirus. According to research conducted on April 8, 2020, on 1000 Americans, about 32% of them reported being scammed with links related to COVID-19. To avoid falling prey to such scams and lose access to your data, you must protect your PC by keeping antivirus program updated.
#2 Keep a Back-up of All the Important Data
Eliminate your worries about data loss by keeping a solid back up of your data at all times. Take back-up of your vital data on either a USB flash drive, a Hard disk drive (HDD), SSD, or any other external storage device. You may also use Windows' data back-up utilities such as Previous Versions and File History to keep your data protected. Cloud storage platforms such as Microsoft OneDrive, Google Drive, and Dropbox are also great platforms to upload your data back-up.
#3 Always keep a Data Recovery Software Handy                                           
Sometimes you may lose access to your data even after taking all precautions mentioned above due to an unknown error on your PC, accidental deletion, or malware attack. In such situations, you must always keep data recovery software handy. By using a free data recovery tool such as Stellar Data Recovery Software- Free Edition, you may instantly recover data lost due to any reason.
Wrapping Up
Indeed, there may be different causes for data loss, apart from the recent Covid-19 scams, as discussed in this article. To prevent data loss, keeping a data back-up is the first thing that you must do. To avoid malware attacks, always keep your Antivirus updated. However, if due to any reasons (explained above), you end up losing access to your data or delete it accidentally, you may use a free data recovery tool such as Stellar Data Recovery Software- Free Edition. This software can extract data even from formatted, corrupted, or malware affected Windows PCs and storage devices.