Stellar Phoenix DBF Recovery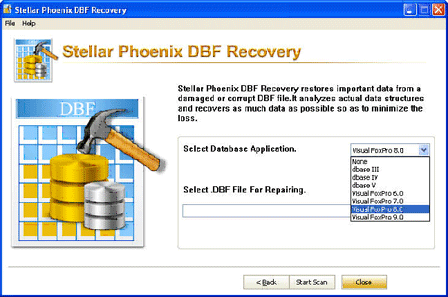 The main user interface of Stellar Phoenix DBF Recovery has list box, menu, and buttons which let you recover your corrupt .DBF file easily and quickly. Either select dBase or the Visual FoxPro application from the 'Select Database Application' drop down according to your corrupt .DBF file.
Note: If you are repairing .DBF file created in Visual FoxPro, then you have to create a new database or use existing database to save the recovered files. However, the same should not be done in case of dBase.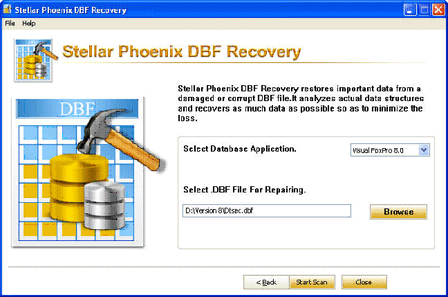 The screenshots shows a corrupt DBF file selected for repair. Click 'Start Scan' button to start the DBF file recovery process.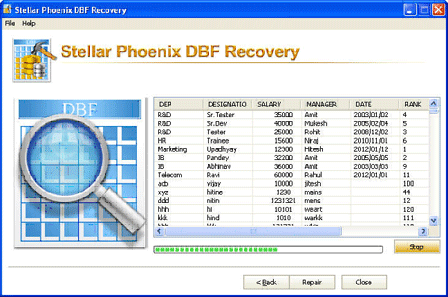 The progress status bar show that the software is scanning of the damaged DBF file. Simultaneously, you can see the preview of the recoverable objects of the DBF file. You can always click 'Stop' button to stop this DBF recovery process at any point of time.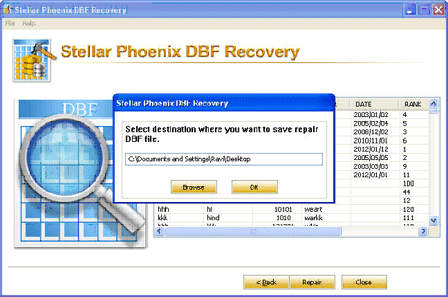 After the successful recovery of the .DBF file, a dialogue box appears which prompts you to select the destination path to save the recovered file. Click 'Browse' to browse the destination location and then press OK.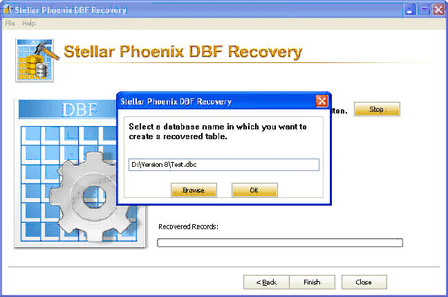 Click 'Browse' to select the database in which you want to save the recovered data of the DBF file and click OK. You can find the recovered file at your specified location with all its data.