Stellar Drive Monitor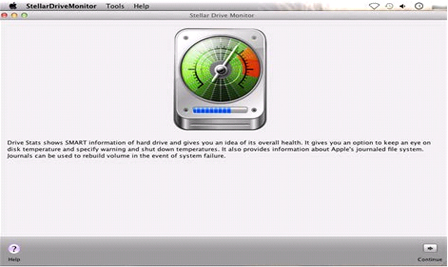 Step 1:- When you launch Stellar Drive Monitor, the main interface of the software appears as shown above. Click 'Continue' button in the bottom-right corner of the screen to proceed.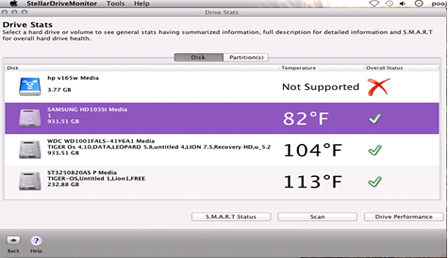 Step 2:- The next screen shows two tabs: 'Disk' (displays both internal and external disks) and 'Partitions' (displays all partitions on these disks). You can select a partition or disk under these tabs, and then choose any of these options displayed at the bottom: 'SMART Status', 'Scan', or 'Drive Performance'. The software does not support external disks.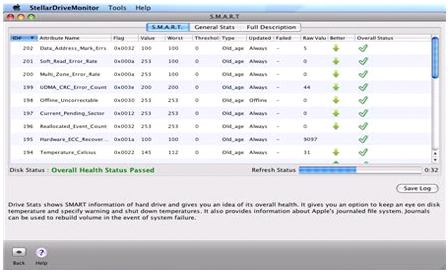 Step 3:- If you clicked 'SMART Status' on the previous screen, the software will display a list of SMART attributes corresponding to the disk selected (SMART will be enabled for hard disks but not volumes). You can see the overall status of each of these attributes in the rightmost column and the overall Disk Status just below the grid. The status refreshes continuously as the tool runs silently in the background.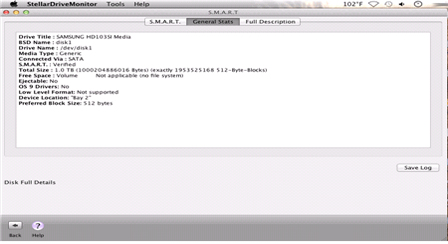 Step 4:- If you click 'General Stats' tab on the 'SMART' screen, you will be presented with a general description of the selected disk or volume (the feature can be used for both disks and volumes).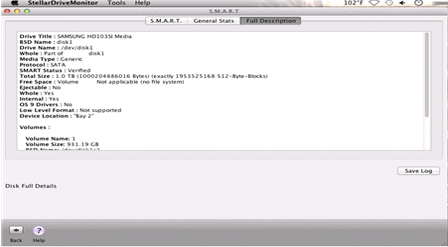 Step 5:- If you select 'Full Description' tab on the 'SMART' screen, the software lists all basic information about your disk including the details of all volumes residing on this disk. You can save the log of entire 'SMART Status' information as a '.txt' file in your system using the 'Save Log' option.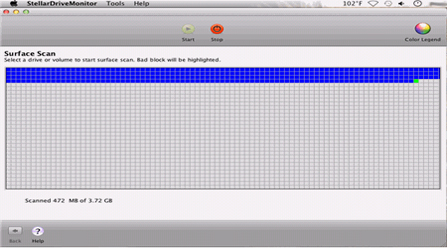 Step 6:- The 'Scan' button on the 'Drive Stats' screen leads you to the above screen. The software starts performing a surface scan and differentiates healthy blocks from bad ones using a unique color scheme. You can change this color scheme by clicking the 'Color Legend' button in the top-right corner. By default, the bad blocks are marked 'red'.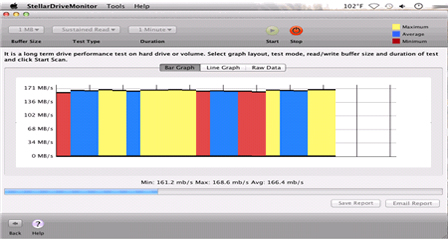 Step 6:- You can also use the software to calculate the performance of your hard disk. When you choose 'Drive Performance' on the 'Drive Stats' screen, you will be redirected to the above window. You can select the 'Buffer Size', 'Test Type', and 'Duration' in the respective drop-down lists at the top. Click 'Start' to initiate the performance test. The software shows you drive performance via three graphs: 'Bar Graph', 'Line Graph', and 'Raw Data'.