This is the home screen of our Exchange Recovery software. You have the option to Open orFind the corrupt EDB file which you want to recover. Click Find EDB button if you don't know the location of EDB file.
Select the drive form the dropdown menu where EDB file could be saved and this software will automatically find and show all the stored EDB files in the selected volume.
'Quick Scan' option is the fast mode to scan and recover corrupt EDB file, or select 'Extensive Scan' if you want to scan the corrupt EDB file extensively for better results.
The progress bar shows the EDB file scanning process.
If you want to scan and recover multiple corrupt EDB files simultaneously, you can select and add another EDB file in the recovery process.
All the recoverable mailboxes from the scanned EDB file will be listed in left side tree. You can select all or any individual mailbox item which you want to recover.
Click 'Save' from the File menu to save recovered mailboxes in different formats. We're selecting PST to save the recovered mailboxes. Select the location where you want to store the recovered file.
Select Office 365 option from the saving options to export recovered mailboxes to Office 365 profile.
Enter Office 365 credentials to export selected mailbox folders to Office 365 mailboxes.
Select mailbox folder from the left side preview pane and right-click on it to select 'Export toExchange Mailbox' option.
Enter live server credentials in the dialog boxto export mailboxes content directly to ConnectedExchange server mailboxes.
In the mailbox export window,select the mailbox in which you want to export recovered mailboxes.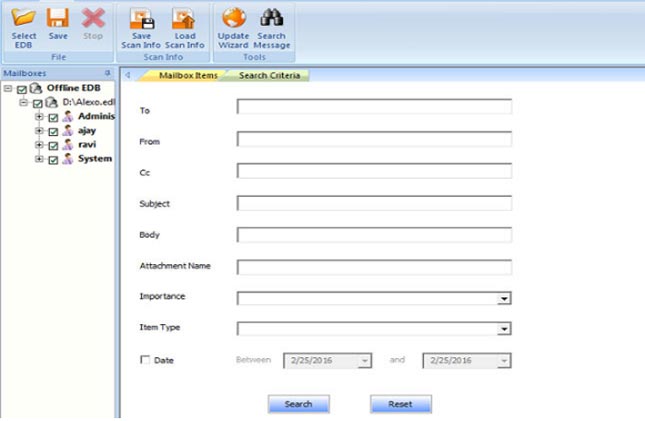 Search any specific mails from the recovered files based on various criteria.
Click 'Save' from the File menu to save search results in different formats.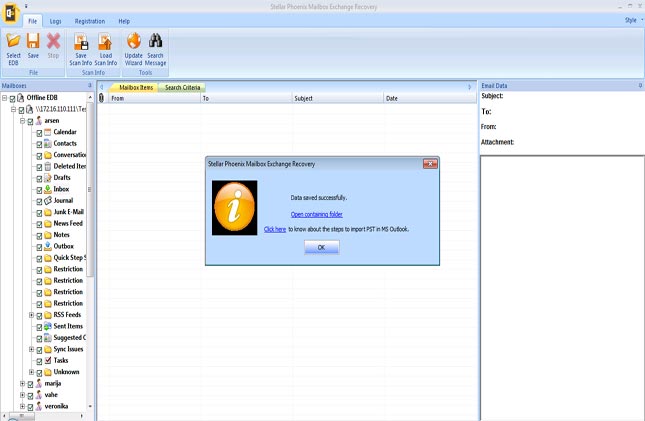 PST file has been saved at your specified location.