Stellar PDF to Image Converter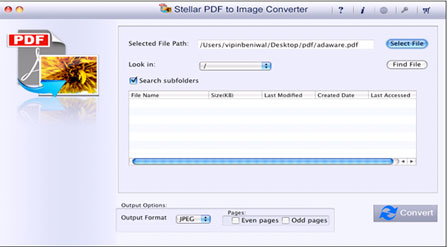 Step 1:- Once you launch Stellar PDF to Image Converter, the main interface of the software appears as shown above. Click 'Select File' to select a PDF file for conversion. If you fail to remember the physical path of your PDF document, click 'Find File' to search the document in any specific drive.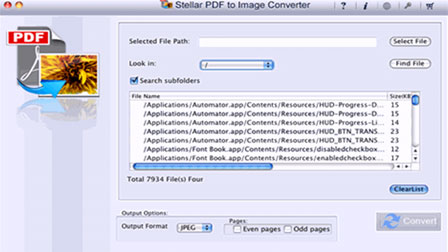 Step 2:- If you choose 'Find File' option, the software will search the drive selected in the 'Look in' drop-down and display a list of all PDF files found in the drive. You can select the desired PDF document for conversion from the list. You may also choose to search within subfolders by marking the 'Search subfolders' check box.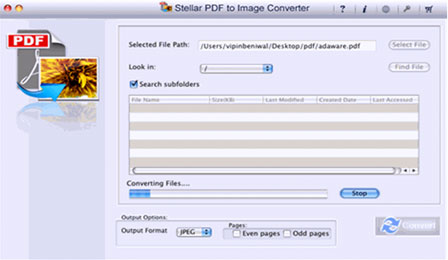 Step 3:- Under 'Output Options', select the output format for converted image files (such as JPEG) and choose between 'Even Pages' and 'Odd Pages'. After providing all the choices, click 'Convert' to start the conversion process. The progress bar in the middle of the screen shows the conversion status. You can stop the process anytime by clicking 'Stop'.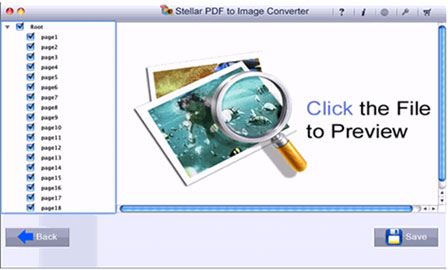 Step 4:- When the conversion process is finished, the software displays a list of converted images in the left pane. You can click an image to preview it in the right pane. Select the images you need to save to your system and then click 'Save'. Provide a desired location to save the converted files. After completion of the process, a message box appears having a link to the folder containing all the saved data. You can click this link to access your files.