Stellar PDF to Image Converter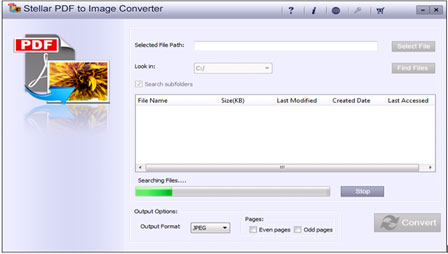 Step 1:- Click Select File to browse to locate and select the desired file. This step is followed when the file location is known. But, when the file location is unknown, Select the desired drive (e.g. :C/) in Look in and click Find Files. The entire list of PDF files located in the selected drive (C:/) appears in the result pane.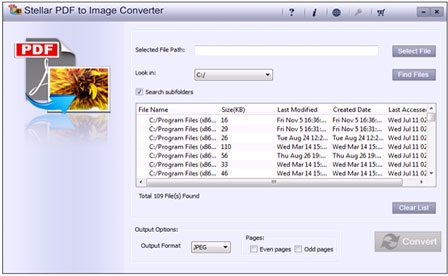 Step 2:- The Output Format is to be set to any one of image file formats (e.g., JPEG, BMP, PNG, GIF, and TIFF). Mark Even Pages or Odd Pages in their respective checkboxes to convert either set of PDF pages. And, leave the boxes blank if the entire PDF file is to be converted. Click Convert to start the conversion process.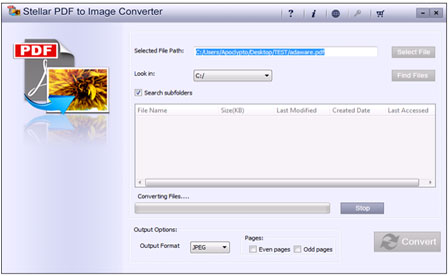 Step 3:- Selected PDF file is being converted to the desired output file format (as set JPEG here). The file selected is listed in the 'Selected File Path' box. The progress bar below shows the file conversion process.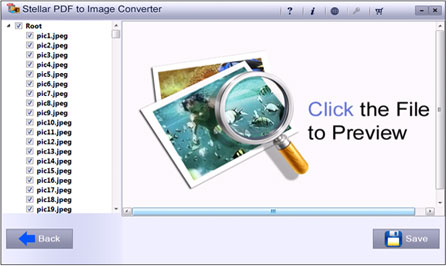 Step 4:- This shows the conversion result of the PDF file into Images. The image will have the extension name as selected in the earlier Output Format. Click any of the files to Preview the contents of the page. Save the result in the desired location on your computer.