Stellar Phoenix SharePoint Server Recovery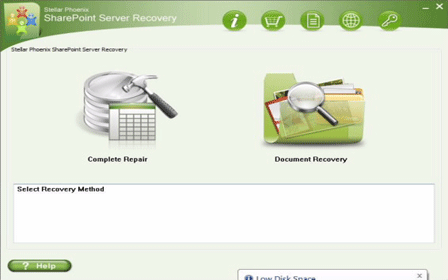 Step 1:- When you launch Stellar Phoenix SharePoint Server Recovery, the main interface appears as shown above. The screen displays two options for recovering SharePoint data: 'Complete Repair' and 'Document Recovery'.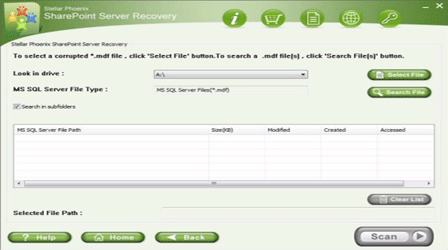 Step 2:- If you choose 'Complete Repair', the next screen shows options for selecting and searching SQL Server (.MDF) files. Click 'Select File' to select a SharePoint database for repair. If you do not know the exact physical path of the database to be repaired, click 'Search File' to locate the MDF file in a specific drive. After selecting the desired database, click 'Scan' to initiate the scanning process.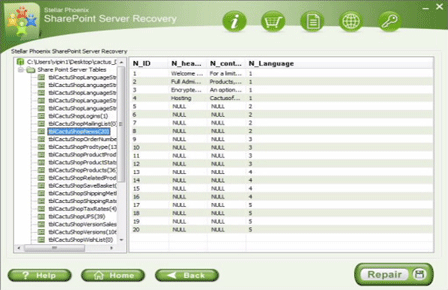 Step 3:- Once the scan is finished, the software generates a tree of all SharePoint database tables and displays it in the left pane. You can select a table in the tree to preview its contents in the right pane. Click 'Repair' to begin repairing the selected database.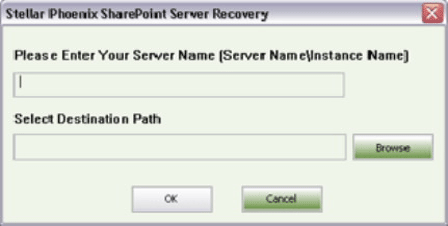 Step 4:- When you click on 'Repair', the above dialog box is displayed. Specify the SQL Server name/Instance name and the desired destination path. Click 'Browse' to choose the destination path. Click 'OK'.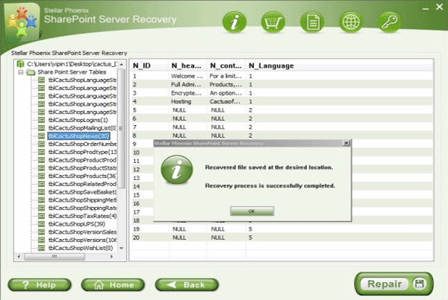 Step 5:- Once the process is completed, you will see a dialog box displaying the message 'Recovered file saved at the desired location. Recovery Process Successfully completed'. Click 'OK'.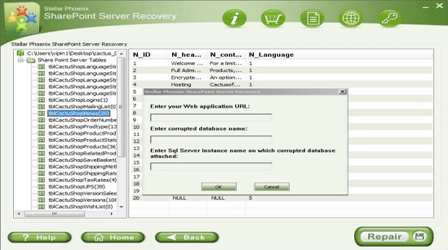 Step 6:- Another dialog box appears asking whether you want to attach the repaired database to the web application. If you click 'Yes', the above dialog box is displayed. Type in the web application URL, name of the corrupt database, and SQL Server Instance name. Click 'OK' to proceed. When the process is finished, you can access the repaired database by opening the web application.