Step 1:- This is the main interface of software. Here, you have 3 options to select the corrupt .BAK file. If you know the exact location of the file then pick 'Select File' option. You can also search the .BAK file in particular folder by using 'Search in Folder' option. To search the file in particular drive, you can use 'Search File(s)' option.
Step 2:- After selecting the corrupt file, click on the 'Scan' button. Now, a "Select BackupSet" dialog box will appear on the screen. Select the backup type and click on the 'Next' button.
Step 3:- Scanning of selected corrupt backup file is in process.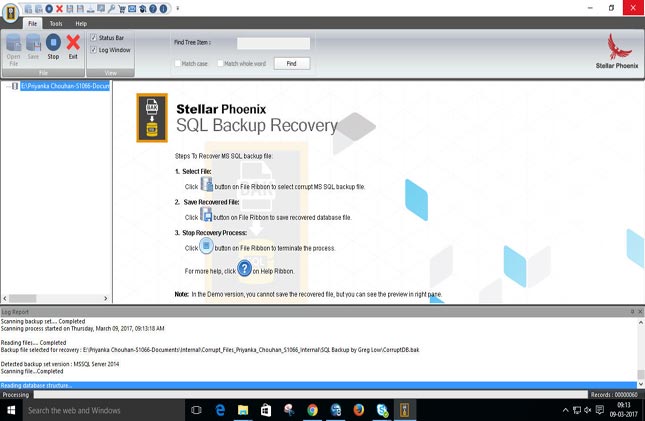 Step 4:- After completion of scanning process, a message box will appear on the screen. Select 'Yes' if want to register the software or 'No' to see the preview first.
Step 5:- The software provides preview of your database in the main interface after scanning. You can select any database object in the left pane to preview the same in the right pane. You can find any object in the list of scanned items using the 'Find' option on the toolbar.
Step 6:- Click on the 'Save' button on file ribbon to save the recovered database file. There are 4 options: "MSSQL", "CSV", "HTML" and, "XLS" to save the repaired file.
Step 7:- If you choose "MSSQL" option then, two options will appear to save the .BAK file. . Choose any one, fill the required information, and click on the 'connect' button.