Step 1:- When you launch Stellar Phoenix SQL Backup Recovery, you will be presented with the above interface.
Click 'Select File' in the displayed dialog box to select an MS SQL database backup (.bak) file. Click 'Search File(s)'
to locate the desired file in any folder or drive. For this, you need to specify the 'Look in' and 'File Type' options.
Click 'Scan File'.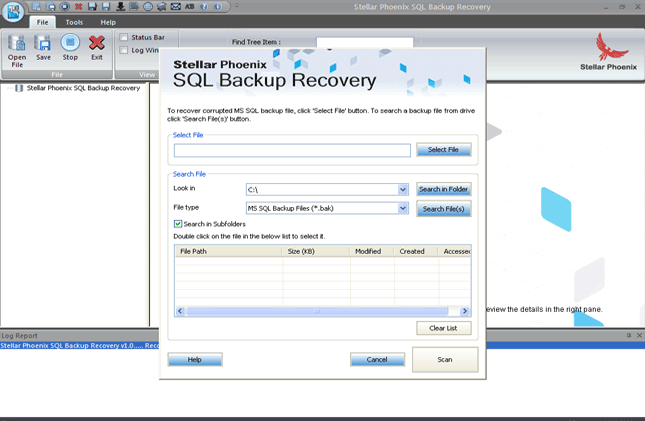 Step 2:- When you click 'Scan File' in the above dialog box, another dialog named 'Select Backup Set' is
displayed. The dialog shows all the backups taken in different backup modes and those stored in multiple files.
Choose a backup set in this dialog and click 'Next'.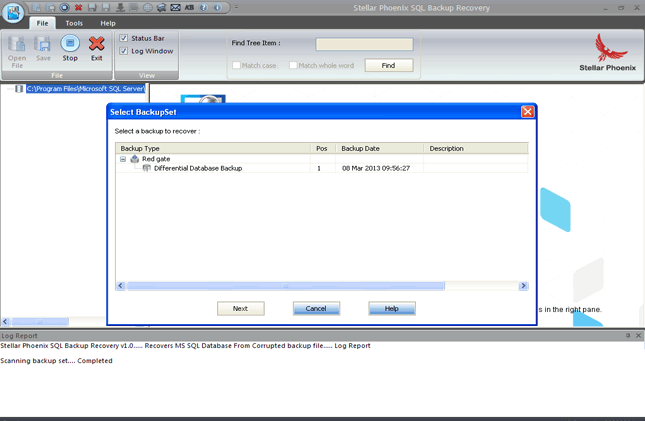 Step 3:- If you selected a backup set that comprises more backup files at other locations, another dialog box
appears as shown above. You can click 'Add' to select the locations of other supplementary files. Once the locations
of all files have been specified, click 'OK' to initiate the scan.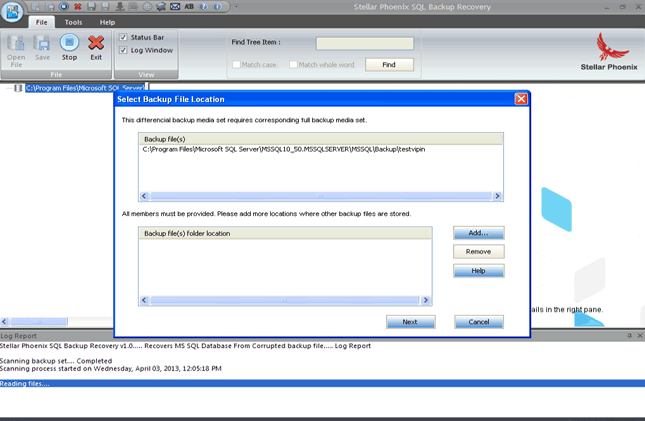 step 4:- After completion of the scan, the software starts counting the total number of records in your database.
You will receive a dialog box while this process is running. Click 'Skip this step' in the dialog box, if you wish to stop
the counting and finish the scan process.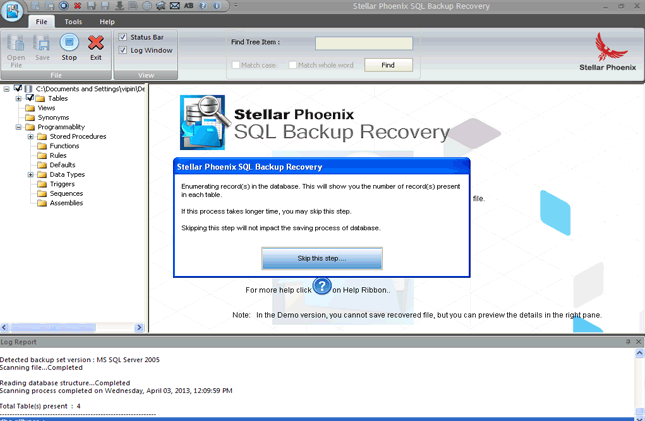 Step 5:- The software provides preview of your database in the main interface after scanning. You can select any
database object in the left pane to preview the same in the right pane. You can find any object in the list of scanned
items using the 'Find' option on the toolbar.
Step 6:- Go to 'File' menu and click 'Save' to save the recovered database. Specify the 'Server Name/Instance
Name' in the dialog box that appears on your screen. You can choose 'Default SQL Location' or 'Select
New Location' to save the restored database.