Stellar Phoenix XFS Data Recovery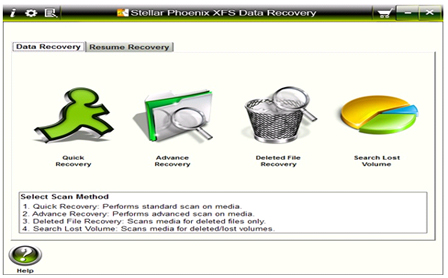 Step 1:- The main interface of Stellar Phoenix XFS Data Recovery is shown above. You can choose from four data recovery options: 'Quick Recovery', 'Advanced Recovery', 'Deleted File Recovery', and 'Search Lost Volume'.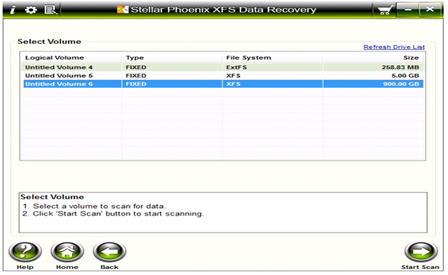 Step 2:- The above screen appears when you select either 'Quick Recovery' or 'Advanced Recovery'. You can choose the logical volume to be scanned for lost or deleted files. Click 'Start Scan' to start scanning the selected volume.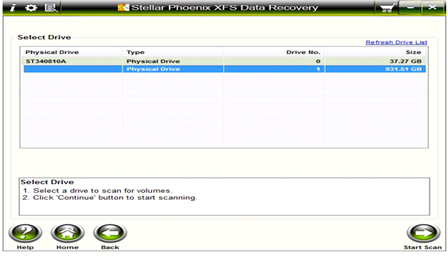 Step 3:- If you click 'Search Lost Volume' on the main screen, you need to select a physical drive to be scanned for logical volumes as shown above. Click 'Start Scan' to initiate the scan process.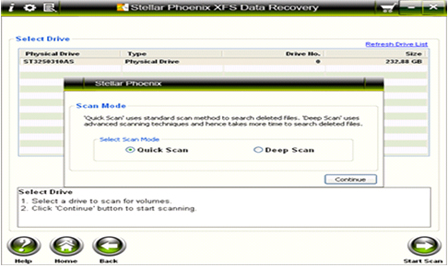 Step 4:- When you are searching for lost volumes, you have two scanning options: 'Quick Scan' and 'Deep Scan'. Choose the appropriate scan method and click 'Continue'.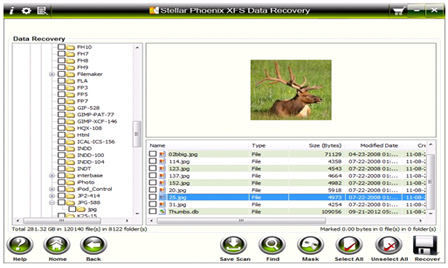 Step 5:- After scanning the selected media, the software displays all scanned folders within a tree inside the left pane. The bottom-right pane lists all files contained in a folder selected in the left pane. You can select a file in this list to see its preview in the top-right pane. Select the items you need to recover and click 'Recover' button at the bottom.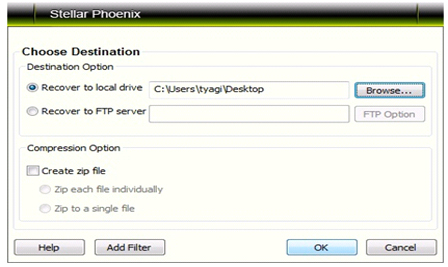 Step 6:- The above dialog appears when you click the 'Recover' button. You can save the selected data to a local drive or to an FTP server. You can also choose to apply compression to each file individually or save the recovered data as a single zip file. Use 'Add Filter' option to save files based on their file types.