We have Stellar Toolkit for Outlook software in which we have Stellar Converter for OST to recover emails from OST file and Stellar Deduplicator for Outlook to remove duplicate emails.
Specification of Stellar Converter for OST: Windows 10, 8.1, 8, 7, Vista, XP and MS Office 2016, 2013, 2010, 2007, 2003, 2002 (XP), 2000
Specification of Stellar Deduplicator for Outlook: Windows 10, 8.1, 8, 7, Vista & XP and Outlook 2016, 2013, 2010, 2007, and 2003
First you need to open Stellar Converter for Outlook tool and select OST file or can find OST file in the system. After selecting OST file, you need to start the scan process. Once scanning process is completed, you will get the folder structure along with all emails and other data.
You can save the converted PST after checking all foThe softwareoftware will ask the desired path to save the converted PST.
Once converted PST save on the system, we can import the converted PST file into MS Outlook.
After importing the PST file, we need to use Stellar Deduplicator for Outlook utility. This software is available as Add ins in MS Outlook after installing on system.
You can open Stellar Deduplicator for Outlook through Add ins and after that all folders on PST file will be located in software, we need to select folders from which we need to remove duplicate emails. After selecting folders, software will show all criteria through which it can find the duplicate emails i.e. sender name, recipient name etc.
Now after selecting criterial, software needs the folder in which all duplicate email will be saved. So for this, you can initially create any folder in which all duplicate emails will be saved.
Hence, this is the complete process in order to recover emails from OST file and removal of duplicate emails.
Kindly find the below screenshots for the functioning of Stellar Converter for Outlook tool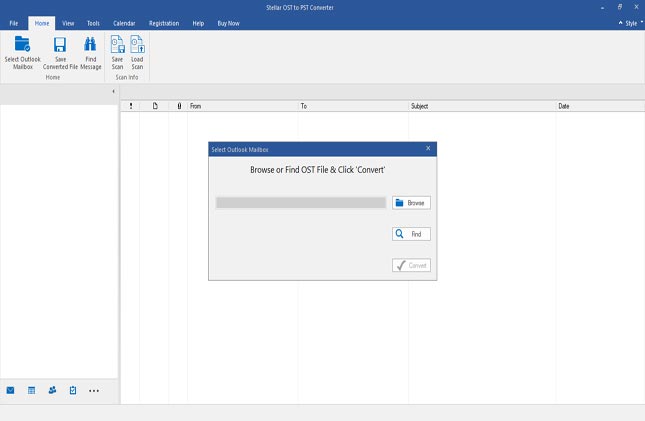 Click on 'Convert' button and converter tool scans through the OST file to find ALL email components including emails (in proper folders like inbox, sent items, deleted items and more), contacts, calendars and more. 
Once this software scans through OST file, it displays the preview of the file in three pane structure including the deleted items folder in the left pane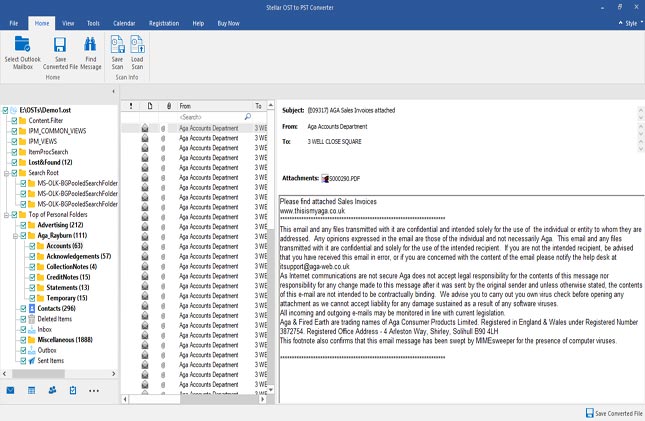 Verify converted file components including deleted emails. Click on Deleted Items folder to verify all deleted mails. 
Click on Save Converted file.
A pop-up appears to select converted OST file with recovered deleted items. Click on PST.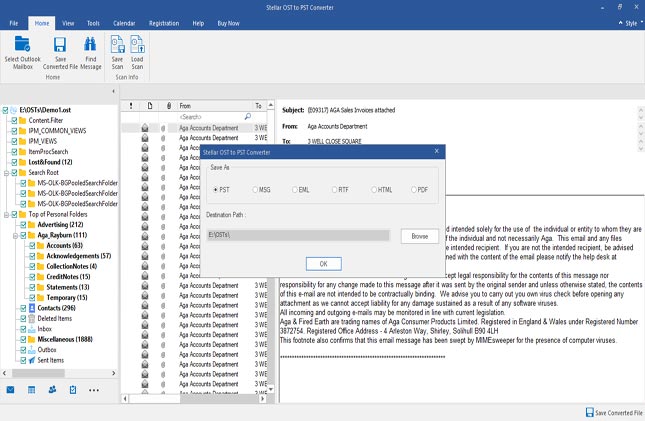 Please find the below screenshots of Stellar Deduplicator for Outlook tool:
After installation, Stellar Deduplicator for Outlook appears as an add-in icon on the top left corner of your Outlook. Once you click on the icon, the 'Folder List' window opens. Select the mail folders, from which you want to search the duplicate emails and click 'Next'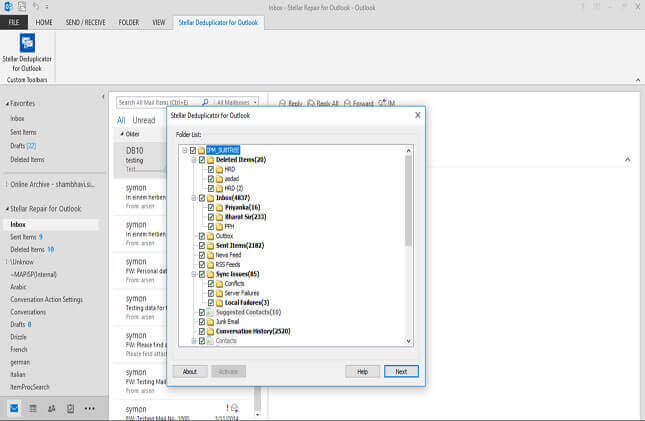 The above window opens, from which you can choose the 'Time Span', 'Comparison Criteria' and 'Action', as per your requirement. Click 'Run Process' to scan for the duplicate mails, depending upon the specified criteria.
When the software finds the duplicate mails and finished executing a specified action on them, a process completed message box is displayed. Click 'OK' to close.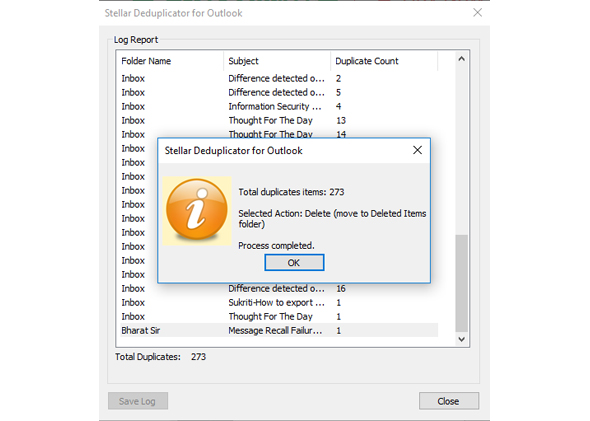 The message opens showing the log report of the entire process. Click 'Save Log' to store the details of the process, which can be useful in future to refer the mails, you have deleted