Stellar Phoenix SharePoint Server Recovery is an efficient tool to perform recovery of your SharePoint database. With various other options to perform repair and retrieve data from your damaged or corrupt database, 'Complete Repair' and 'Document Recovery' are two main features of the tool. Mentioned below is the explanation of basic difference between the functionality of these two options of the software: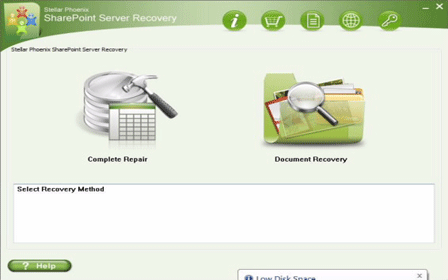 Complete Repair:
As per the name, 'Complete Repair' repairs your complete SharePoint database and saves all the recovered data in a new MDF file. The tool efficiently scans your entire database and lists all the tables that it finds. You can easily repair these tables and save them at the location of your choice. This repair process creates both MDF and LDF files. The MDF file is main database file, which can be attached to the web application on the SharePoint Server, while LDF is the log file for providing you the complete log information.
Document Recovery:
The document recovery option is used to extract website documents in your SharePoint database. These website documents include wiki pages, blogs, etc. If any of these website documents are inaccessible due to damage or corruption, then you have to select the database containing the document for scanning. After completion of the scanning process, all the documents will be listed and you have to select the one that you want to recover. Further, you will be asked to specify the location where you want to save the recovered documents.